Drive sales on autopilot with ecommerce-focused features
See Features
Reading Time:
6
minutes
If you want to boost your revenue, you need to get inside your customers' heads. What makes them buy your product and what would make them buy more?
Using data-driven insights and analytics tools, you can use email segmentation for customer behavior to understand which marketing campaigns work best to convert leads into sales.
This marketing tactic is so effective that 86% of high-revenue companies spend over a fifth of their marketing budget on behavioral targeting.
Want to know how best to harness behavioral data to drive high conversion rates? Check out these 11 ways you can use behavioral targeting to explode your revenue in 2020.
What is Behavioral Targeting?
Behavioral targeting is a marketing tactic that harnesses customer data to enhance future marketing and advertising efforts.
By monitoring and measuring key performance indicators, marketers can understand how customers behave. This allows you to map your users' preferences and tailor marketing campaigns to meet these requirements.
Data-driven insights and behavioral targeting will:
Boost brand awareness
Drive conversions
Foster loyalty
Encourage referrals
The proof is in the pudding. 93% of brands with robust behavioral targeting strategies see profit increases.
To leverage behavioral marketing tactics in your marketing campaign, you need to personalize your marketing efforts to meet the needs of your ideal target clients.
Using analytics software, you need to analyze your current customer base and the trends in your industry.
Customize your marketing efforts to target the behaviors and topics your customers indulge in, desire, and prefer.
11 Ways to Use Behavioral Targeting to Increase Revenue
Harness the power of data-driven insights to give you a look into your customers' behavior.
Consider all your customer functions and the content they prefer, so that you can tailor your marketing campaigns to match customer needs.
Try these eleven behavioral targeting techniques to boost your revenue.
Behavioral targeting example #1: advanced audience segments
The key to behavioral targeting is to leverage customer preferences to show off your product.
While you may have created a handful of key buyer personas as a brand, you'll find that these are somewhat broad.
Niche these target audiences down further by appealing to specific interests or behaviors within those audience segments.
Segment your audience by:
Demographics
Location
Device
Platform
Online behaviors, such as page views, return visits, clicks, etc
Tailor your content to appeal to each of these subsectors of your buyer personas.
Use different formats, timing, phrasing, and visual presentation to measure the effect on your key performance indicators.
Behavioral targeting example #2: tailored landing page questionnaire
When you head to Spruce's webpage, a pop-up offers help after a few seconds. For those new to CBD products, this is very helpful.
The questionnaire enables Spruce to recommend products based on the customer's needs.
Taking just a few moments, your automated lead qualification system nurtures your new customer, increasing the chance of a sale.
Customers are much more likely to buy personalized recommendations from brands, so try this behavioral tactic.
Behavioral targeting example #3: Correctly-timed marketing campaigns
Timing is everything in marketing. It doesn't matter how good your marketing campaigns are if nobody gets to see them.
The time that you post content and send emails will drastically affect your visibility.
It's your responsibility to analyze existing customers and your target audience to determine the best times to post content to elicit the most engagement.
Research shows that the best time to send emails is at 6am, 10am, 2pm, and 8pm; and the best days to send emails are on Tuesdays and Thursdays. If you only send one email a week, make it a Tuesday.
Remember that ideal post timings vary by platform, device, and target audience. Use social media and website analytics tools to model engagement and capitalize on popular times for interaction.
Behavioral targeting example #4: Video marketing
One of the most apparent changes in online user behavior in the last few years is the rise of video.
In today's world, it's common for customers to search for videos to solve problems with products. 98% of people claim to have watched explainer videos to educate themselves on a product or service.
With this in mind, it's smart to devise video campaigns that target your customers' problems and aim to help solve them.
Since video is twice as likely to be shared than any other type of content, an engaging video campaign encourages sharing-behavior on social media.
Behavioral targeting example #5: Targeted landing pages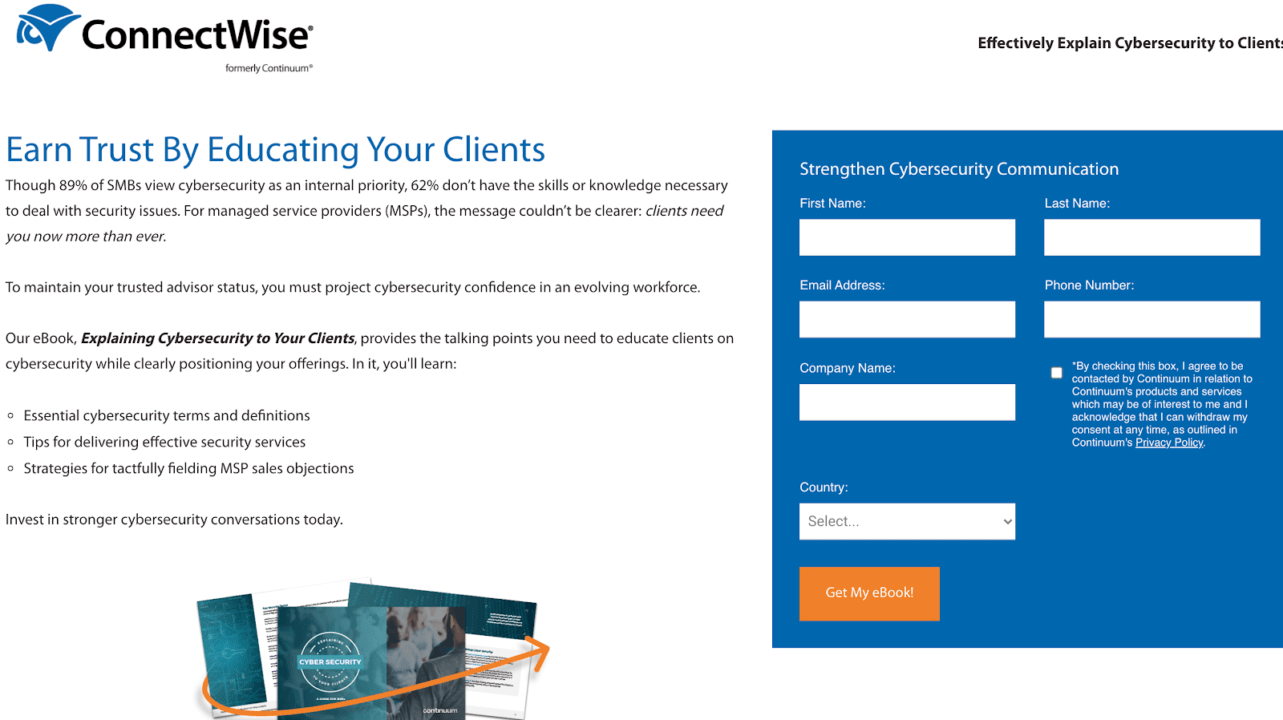 Cybersecurity brand, ConnectWise, targets business owners and key company decision makers with this free guide.
By giving away free high-quality, educational content, ConnectWise can capture customer data with this targeted lead capture form.
ConnectWise knows that data collected from this landing page form belongs to customers with an interest in educating their own clients.
If customers are willing to exchange personal data for this information, this signals to ConnectWise that certain customer profiles will convert for this type of education.
With this in mind, ConnectWise's future marketing efforts target this sector with promotions tailored to this concept.
Test different free content to see the kinds of landing pages that attract positive behaviors. A/B testing your landing pages will put you ahead of the 83% failing to measure and benefit from landing page customer behavior.
Behavioral targeting example #6: Cart abandonment emails
Moving your online shoppers from window browsers to converted customers is a difficult process. The average ecommerce store has a cart abandonment rate of nearly 70%!
As shocking as that sounds, you can increase conversion rates with cart abandonment emails.
A behavioral targeting tactic that reminds users of their forgotten purchases, cart abandonment emails have an 8.24% conversion rate.
When you consider this in terms of behavior, 8% of customers will buy when offered the deal a second time. That's an extra 8% revenue you were missing out on.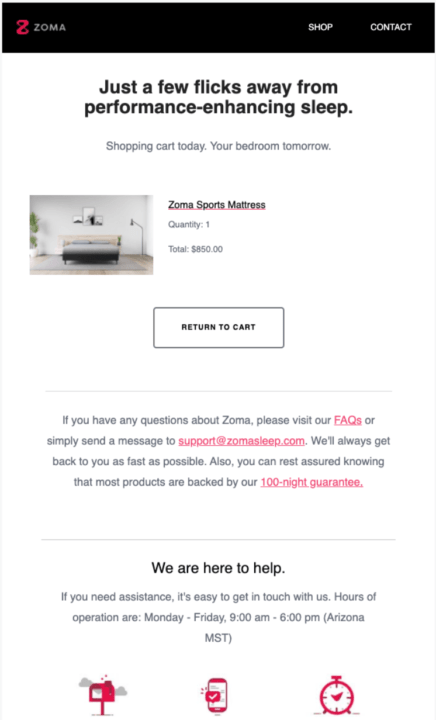 See how mattress brand, Zoma, overcomes cart abandonment with this simple cart abandonment email.
Reminding users of their potential purchase, this email offers customers to return to their cart at a more convenient time.
It also gives a chance for Zoma to link to more information on their guarantee and FAQs to help guide the customer through the buying process.
Behavioral targeting example #7: Delayed pop-ups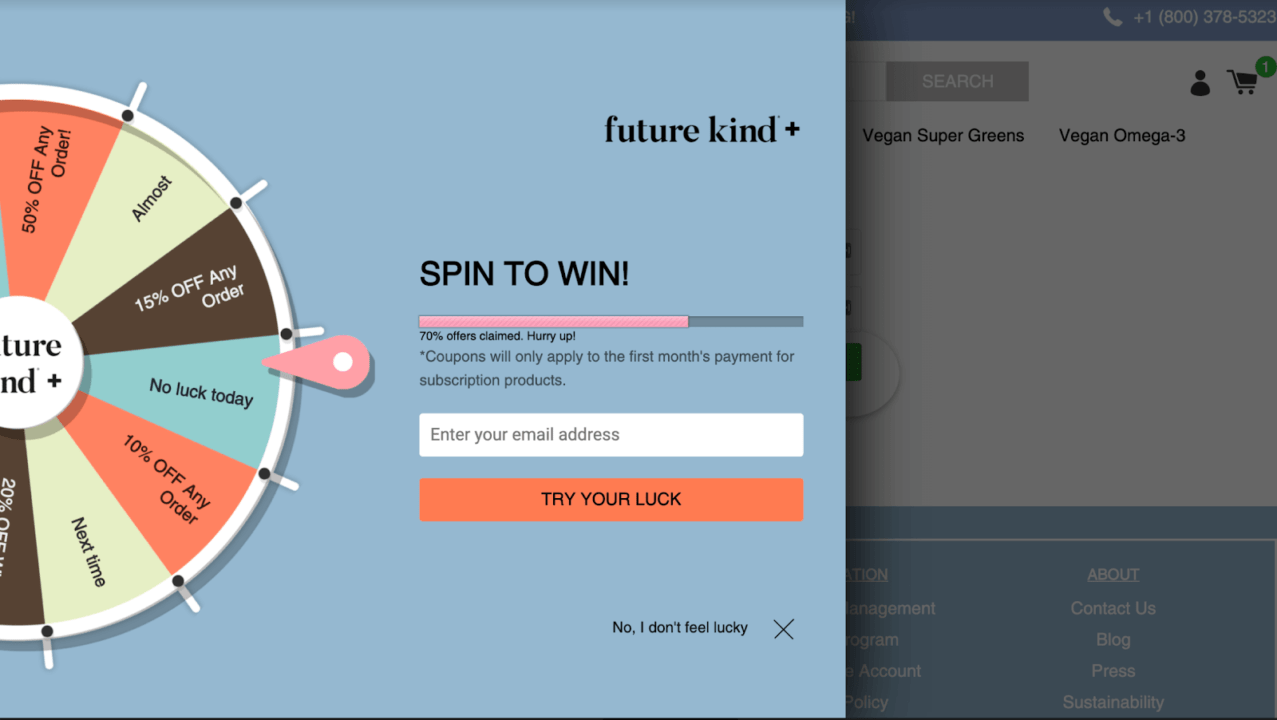 See how vegan vitamin brand, Future Kind uses behavioral targeting to convince buyers to sign up to the newsletter.
Understanding that immediate pop-ups lower conversion rates, Future Kind doesn't bombard customers with this offer instantly.
Instead, Future Kind uses a delayed pop-up promotion, in keeping with the behavioral data that shows that customers dislike early website interruptions.
Behavioral targeting example #8: Start remarketing
Remarketing or retargeting is a marketing technique where you follow users who bounce off your website.
After a user leaves your site, retargeting campaigns will show targeted ads of your products and services to the user on other websites.
Remarketing is highly powerful, increasing conversion rates up to 43%. As web users tend to notice targeted ads for websites they've visited more than those they haven't, retargeting advertising has a click-rate 10x higher than regular advertising.
Behavioral targeting example #9: Automate problem-solving
User experience is one of the main factors that affects business success in 2020.
Friction in the problem-solving process will cause your users to bounce off your site without a sale.
Why not use systems to automate problem-solving and support to help each consumer find the resources they need as simply as possible, while simultaneously identifying your key customer bottlenecks for future marketing campaigns.
For example, customers prefer live chat over any other form of online support. Solving most problems in under 11 minutes, customers flow through the customer journey with satisfaction.
Equally, live chat software such as Messagely, Drift or Intercom will enable you to understand the questions your audience asks most, so you can tailor content and solutions to better serve these behaviors.
Behavioral targeting example #10: Use a click tracker
Click tracking tools, like Hotjar or Redtrack, enable you to map where visitors click on your website and the order in which they do this.
This gives you an idea of the natural flow of your website and the areas that get the most visibility.
With this information, you can rearrange your website design to highlight specific products and encourage better conversions by placing call-to-action links on popular web page segments.
Behavioral targeting example #11: Tailor social media campaigns using analytics
Not only can you use Google Analytics to measure your website traffic, most social media platforms also have comprehensive analytics suites attached.
For every Facebook ad or Twitter campaign you run, you'll find a full stack of analytics tools on the backend to decipher patterns in this customer behavioral data.
Analytics are the backbone of behavioral targeting. Use this data to understand which content your ideal customer responds to and engages with. This helps you to create future marketing campaigns that use online behavioral targeting to capitalize on this data.
Marketers who combine five or more analytics tools to evaluate consumer behavioral data across all are 39% more likely to be successful in driving revenue.
Conclusion
No doubt you'll have a much clearer idea of what behavioral targeting is and how you can harness this highly-effective marketing tactic to increase your revenue.
Remember to leverage a full stack of analytics tools to pattern your customers' behavioral data across all platforms, devices, and channels.
Get started with Omnisend today & drive sales on autopilot with pre-built automation workflows
Start Free Today
related features
Want more sales?
Omnisend has everything you need to succeed.
Start free now
No Credit Card needed.