The Absolute Best Time to Send Your Black Friday Emails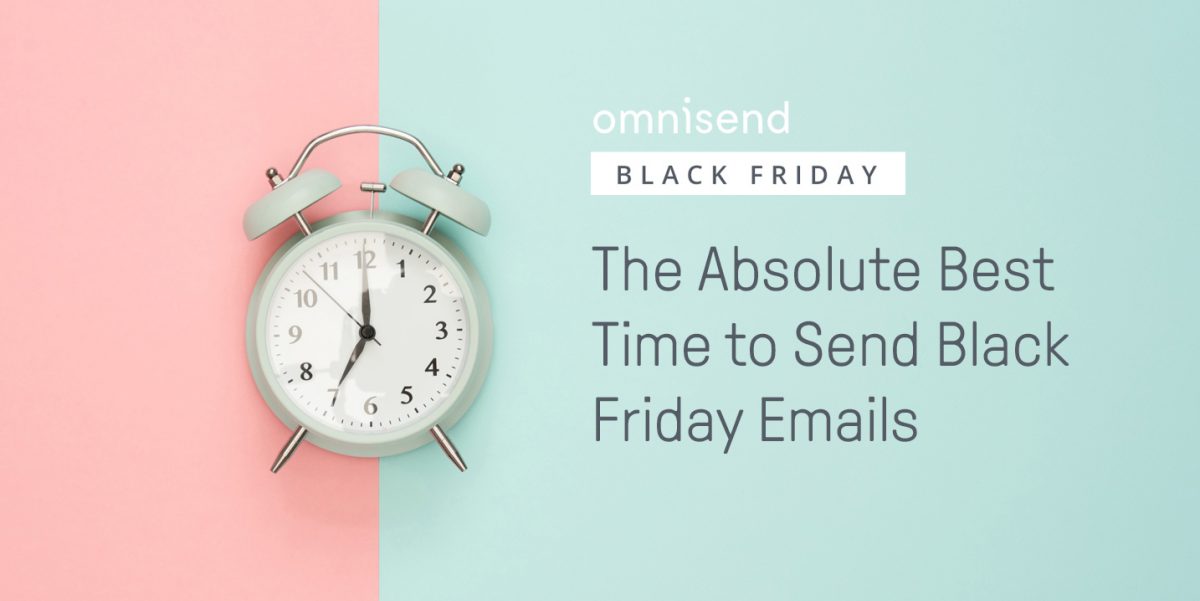 Reading Time:
4
minutes
We pored through millions of emails sent during 2017's Black Friday – Cyber Monday weekend to see what is the best time to send Black Friday email.
Specifically, we analyzed more than 2.5 million emails sent during the Black Friday period.
And these results below may surprise you.
But first…
Why should you know the best time to send Black Friday email?
Well, as you know, the Black Friday weekend (which includes Cyber Monday) is the highest sales period of the year.
If you want to make the most money of the year for your online store, you'll need to master your email marketing during this period.
But, because of that, it's also the time of the year when your customers and subscribers are going to get a lot of emails from other ecommerce stores.
And if you send your emails too early or too late, then your email campaigns are going to simply be ignored.
And you just won't get a lot of sales.
So that's why we'll look at our data to see not what the most popular times are, but what the highest converting times are to send your emails.
That means higher open rates, higher click rates, and great sales.
So let's dive into the data.
The best time to send Black Friday emails based on open rates
Of course, one of the most important metrics your probably going to be looking at is the open rate.
If your customers are opening your emails, they're going to be much more likely to click on your offers and end up buying from you.
If they don't open your emails, it's pretty unlikely that they'll buy from you during that campaign.
One important note though:
We're only looking at the logical times here, meaning we'll focus on 8am to 11pm (23h00).
Anything before or after that will show skewed data, since fewer emails are being sent (and therefore, each open and click has more impact on the data, but less significance).
Looking at our data, Black Friday open rates show the following: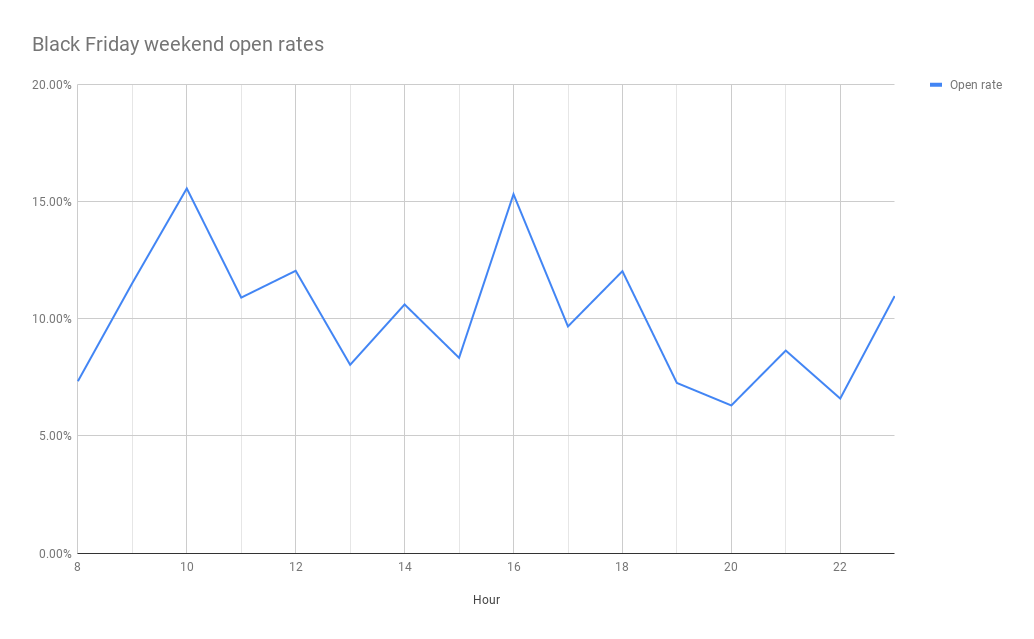 Immediately, you'll notice something important: open rates are a bit lower for this period.
Averages go around 16-18%, with a generally normal-to-good campaign hovering around 21% (depending on your industry, of course).
But, if you've seen our recently-released email marketing statistics for 2018, you'd have seen this graph:

Here we can see that while November (Black Friday mostly) had the most campaigns sent, it also had lower than average click rates and open rates in general.
More participants, fewer seats.
But anyways, back to the stats from the Black Friday open rate graph. We can make the following conclusions:
open rates seem to be the best at 10am and 4pm (16h00)
the second-best times for open rates are 12pm and 6pm (18h00)
These numbers correlate with our own experiences. At 10am, people are generally going through their inboxes to answer emails. Around 4pm, they are in the mood to close up their day at work, meaning they'll go through their emails again to check for new messages.
These are then logical times for you to send your email campaigns, as you'll have their attention.
However, just because they opened an email, that doesn't mean they did anything with it.
For that, we'll need to check the click rates.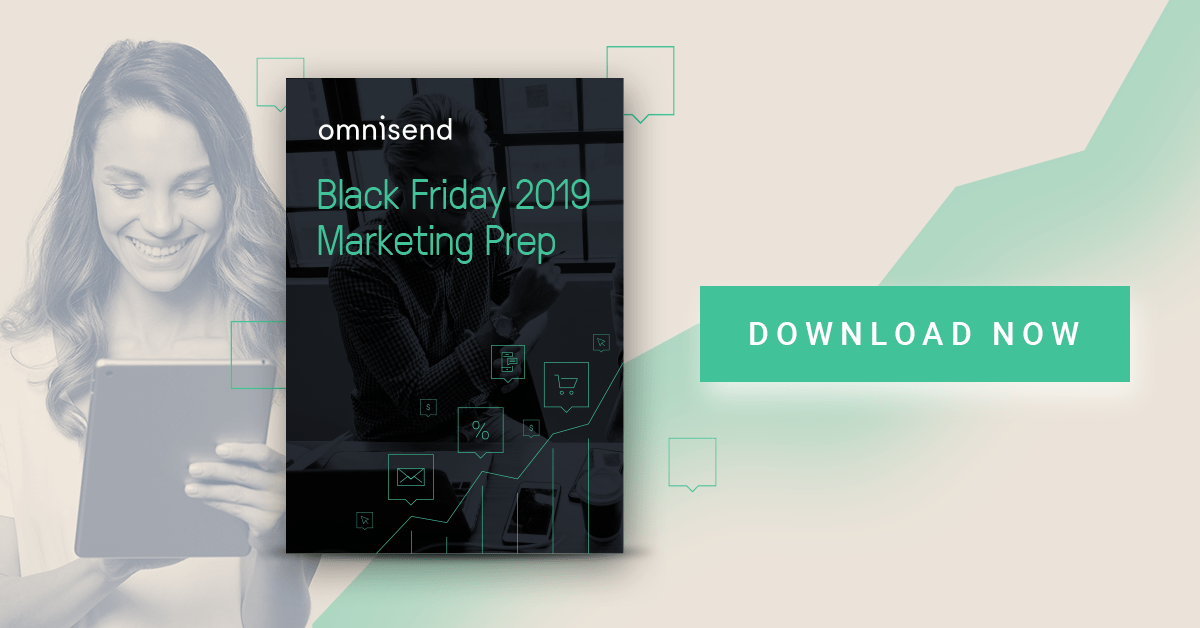 The best time to send Black Friday emails based on click rates
When we look at the click rates, we see something similar: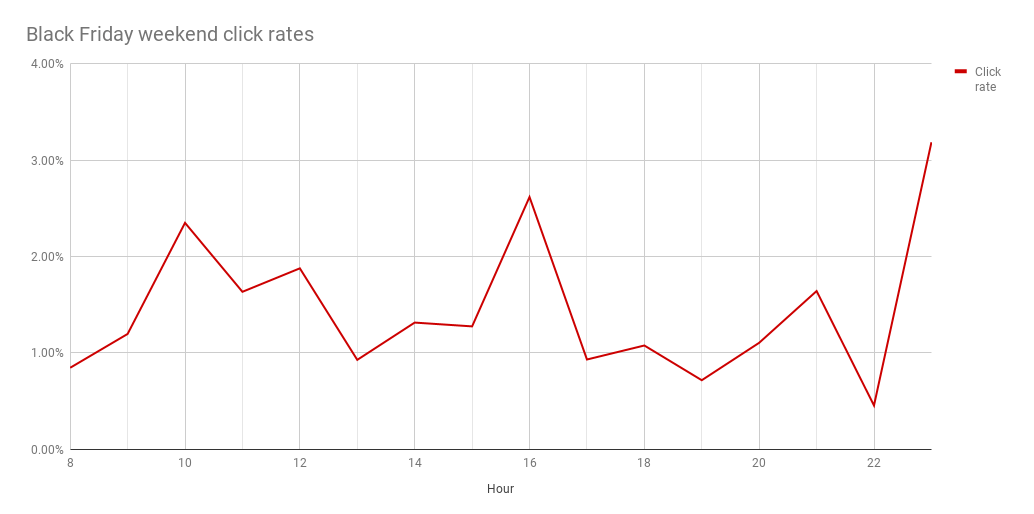 4pm (16h00) has the highest click rate (coming in at 2.62%), followed by 10am, coming in at 2.35%.
Okay, I'm lying—4pm doesn't have the highest click rate. 11pm does, with a 3.19% click rate.
But I'm willing to call this an outlier, seeing as the amount of campaigns sent at this time is much lower than that during the day.
However, it's always best to take a complete look at the open and click rates, so let's put them together to see what the best time for Black Friday email is overall.
The best time overall for Black Friday emails
Combined on one graph, we get the following: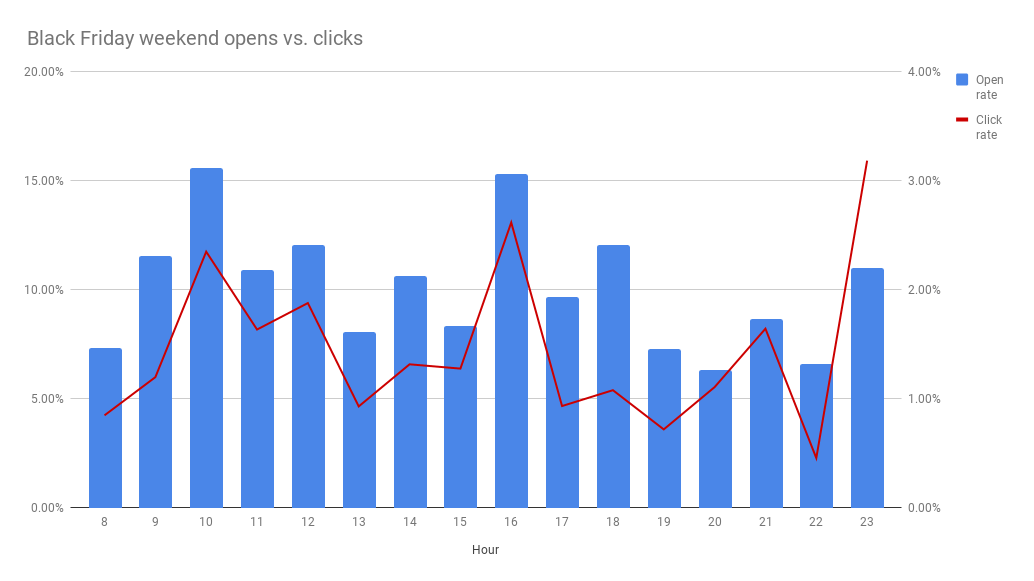 As we can see here, that outlier—11pm—sees an uptick in both open and click rates.
So it seems like a good choice.
But the best combined open and click rates goes to our good friends, 10am and 4pm.
While 10am has slightly better open rates than 4pm's, 4pm has much better click rates.
So, therefore, with great confidence I can say:
The best time to send your Black Friday email is 4pm.
Of course, you're going to have to make sure you understand this: 4pm in your recipient's time zone, not yours.
If you're in Europe (let's say London), then you'll be sending out your Black Friday emails to your American recipients at around 9pm Eastern Time, or as late as midnight (Pacific Time).
Just know who your customers are and what their time zones are. Then, segment your lists, and send the same email to those separate segments at different times, so that they'll get it around 4pm local time.
Related posts
For more Black Friday email marketing tips and statistics, check out the following:
Get a personal 1-on-1 Omnisend demo that will supercharge your next campaign!
Get My Demo