Drive sales on autopilot with ecommerce-focused features
See Features
did you know
Omnisend customers automate 32% of their email conversions. Are you maximizing sales?
automate my sales
Reading Time:
3
minutes
Black Friday as a single-day holiday is long gone. Year after year, it has expanded to Grey November and in many cases it lasts a month or even longer.
However, during this busy period, retailers should stay focused on the most critical days and avoid missing the best time to send Black Friday emails.
Consider kicking off on the second half of October weekends
When Amazon's Prime Day begins, people start to feel the holiday vibes. The dates change every year and have occurred anywhere between late June and early October.
Keep an eye out for when Amazon Prime Day kicks off and consider it as the unofficial start of the holiday shopping season—especially if it's leaning towards October. Pick the following weekends to introduce upcoming holiday deals and consider launching some early-access campaigns.
Why weekends? They tend to see a lower sending volume. People have time to read emails and do online shopping. Use these days throughout the entire sales season to your advantage.
These are some ideas for emails in advance:
Sneak-peek/sale teaser emails.
An early-access offer email.
Invitation to join an exclusive 'SMS offers only club' email list.
Sale announcement emails.
Our reports always point towards SMS marketing seeing a lot of potential for merchants. Whether it's early in Q4 or a few weeks before Black Friday, it's never too late to ask your subscribers to also sign up for your SMS program. You can incentivize this with SMS-only deals and early-bird access to deals throughout the entire holiday season.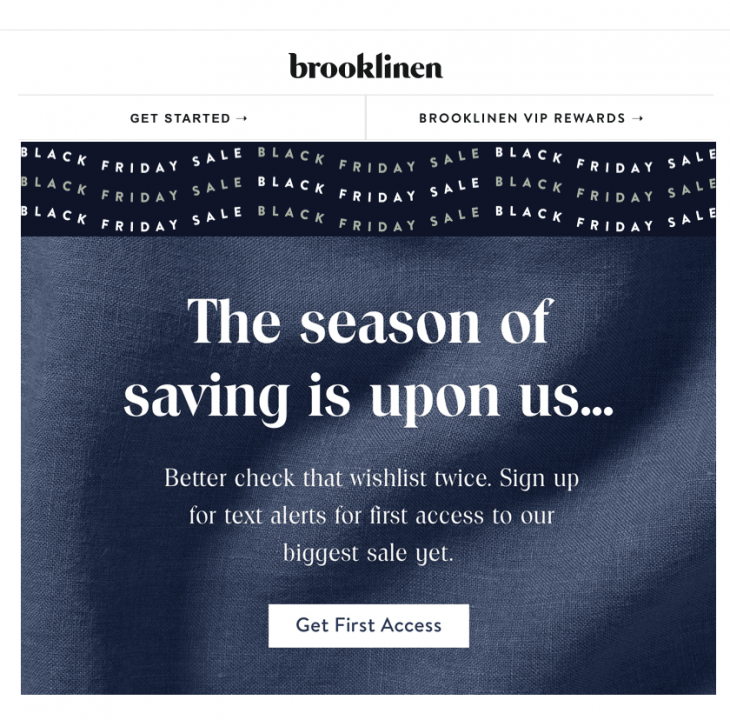 The best time to email in November
When it comes to Gray November, let the show begin during the first days of the month. That's the time to start sending irresistible marketing messages and increasing your email cadence.
Also, consider supplementing emails with SMS messages. You can send an SMS to those who didn't open your emails, or to your most engaged customers to boost their anticipation even more.
Remember, we've previously discussed the customer segments that should get the majority of your messages.
November 11th can be another holiday season tentpole. Two weeks before Black Friday, you can expect significant growth in competition. Don't let other retailers steal your customers—it's time to reveal your trump cards and create more actionable campaigns for these days. If nothing else, you can reinforce them with Black Friday SMS.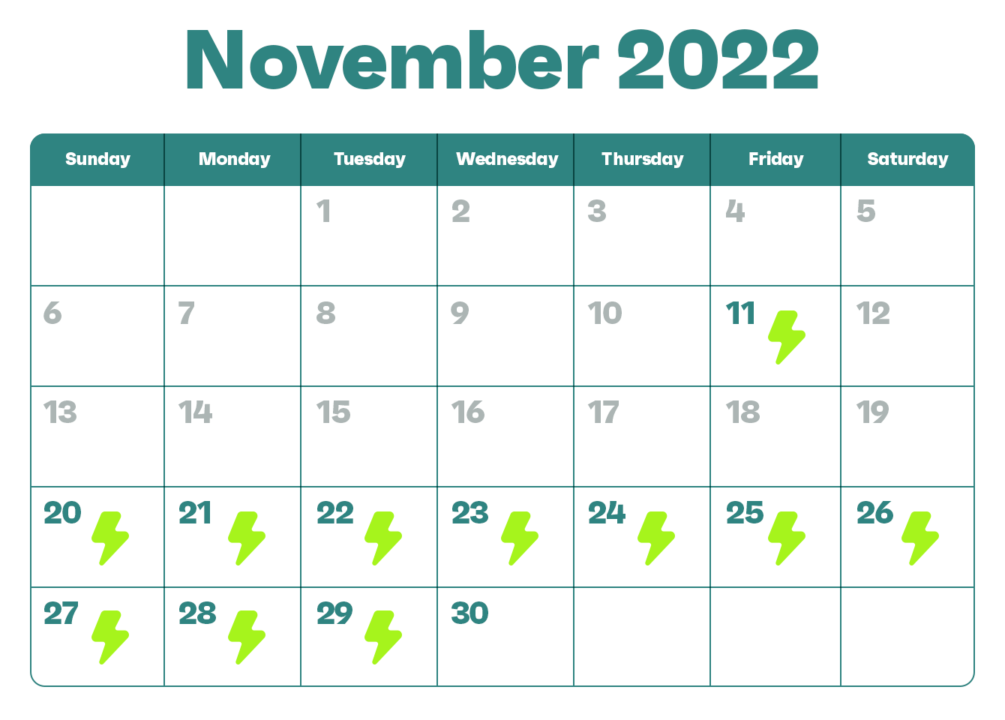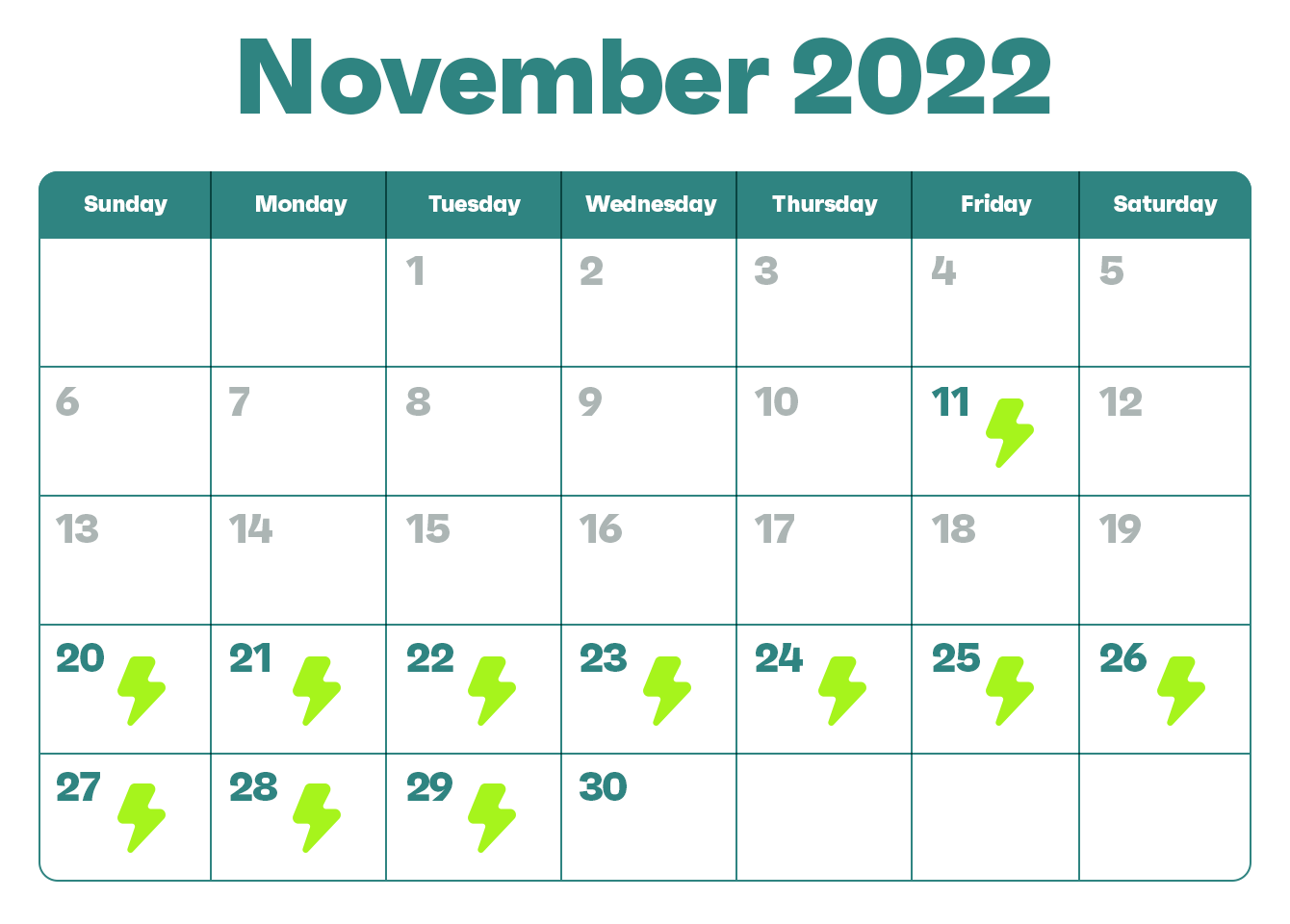 Finally, the Cyber 10. This period usually starts towards the end of November and ends on the last Tuesday of the month with the day known as Cyber Tuesday.
These 10 days are the peak time for Black Friday deals and promotions. Arm your communication with the best deals, free shipping, and intensive communication via email and SMS. It's most likely that Thanksgiving Day, Black Friday, and Cyber Monday will be the most intense both in sales as well as competition-wise.
Ultimately, remember not to wait until Black Friday to start your deals—promote them in advance.
These are a few email content ideas:
Sale announcement emails.
Sale reminder emails.
Final hours emails.
Best-sellers on sale emails.
Cyber Monday emails.
Cyber Tuesday—the last chance—emails.
Wrap up
This year, ecommerce retailers will be active like never before. To overcome the increased competition, arm your business with compelling sale offers and bulletproof communication.
Start promoting your Black Friday deals in advance, don't be afraid to send messages over the weekends, offer early access, and reinforce your communication with SMS messages.
Start Omnisend for free and supercharge your Black Friday email campaign!
Start For Free
related features
Want more sales?
Omnisend has everything you need to succeed.
Start free now
No Credit Card needed.