Drive sales on autopilot with ecommerce-focused features
See Features
7 Proven Ways to Convert Your Visitors into Newsletter Subscribers
Reading Time:
9
minutes
It's quite rare for a shopper to arrive on your site for the first time and immediately make a purchase.
Turning visitors into newsletter subscribers and then paying customers takes effort and that effort must start with engaging your traffic.
So why do we continue to spend all of this time, effort, and money on driving traffic to our site with little to no focus on actively converting these visitors? We've been doing it all wrong!
If you're looking for more ways to build an email list (9 proven tactics, to be exact), you can head over to our in-depth article on how to build an email list from scratch.
Why On-Site Marketing and Engagement is Important
Let's start off with some numbers:
Converting traffic is a difficult task so make it easier for yourself. In order to drive engagement, you have to engage your visitors.
If you owned a brick and mortar store, you wouldn't let someone walk through the door and then not say anything to them during their visit. Engage ecommerce shoppers in the most effective ways to drive action.
7 Ways to Get Your Visitors' Emails
These are the 5 best methods you can use on your ecommerce shop to increase your subscriber list.
#1 Host a draw
Many of your customers will feel tempted to try their luck in participating in a draw.
The more valuable the prize is, the higher the chance will be shoppers will leave their e-mail to get notified if they have won something.
In fact, out of all list building tactics out there, nothing works better than a contest.
Present shoppers with the opportunity to win a big ticket item by simply entering their email address.
This type of offer is universally attractive and will enable you to convert high percentages of traffic into email subscribers.
Use a contest to engage new traffic within the first 15 seconds of their visit. This will ensure that the majority of traffic will see the contest offer and provides the best possible way to convert new visitors on your site.
One key thing to remember is to use a contest item that your ideal customer would be interested in.
That way, you're acquiring email leads that would be interested in purchasing from you in the future.
#2 Use discount coupons and free shipping
Another way to collect emails is to announce that you are sending out discount coupons. In order to get customers interested, you can give examples of the discount range you are offering and what can be purchased using that.
You can also set a fixed discount, e.g. "Leave your email and get a $10 off coupon."
Still, most purchasing decisions hinge on price and shipping options.
Did you know that 73% of online shoppers stated that free shipping is the #1 criterion for making a purchase?
When shopper's needs aren't met, they will go to competitors and find a retailer that will provide the added value that they are looking for.
Incentivize them with free shipping like in this newsletter signup example: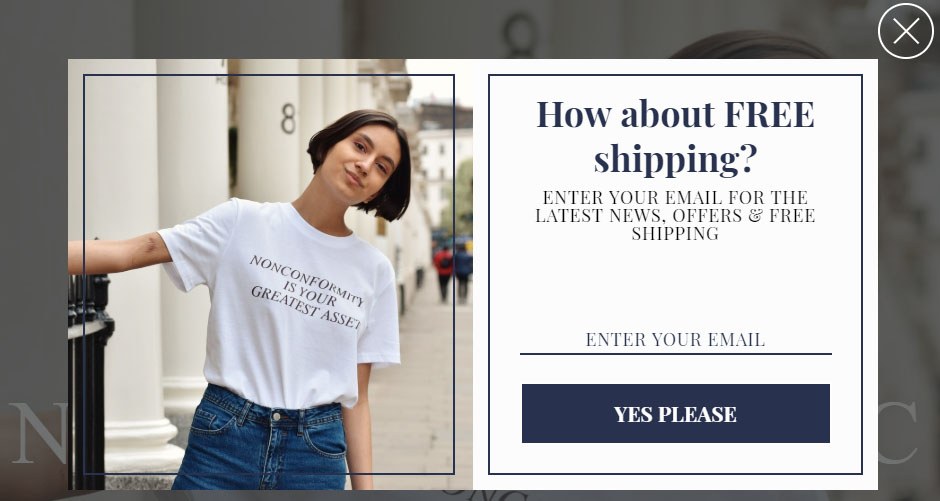 If you can only offer free shipping on bigger orders, then only offer free shipping on orders of $100 or more.
Ecommerce promotions are effective sales tools but only if they are mutually beneficial to the retailer and customer.
#3 Use a popup
If it is a brand new visitor to your store, you can show a welcome popup offering users to sign up for your newsletter, or also receive a discount link in the email.

When you're engaging shoppers, there are a few things that work very well.
First, you must grab the attention of a visitor.
Second, your marketing message must be accessible and highly visible.
Lastly, you must provide a strong call to action.
Pop ups hit on these three keys providing you with the perfect solution to drive shopper engagement and website conversions.
The beautiful thing about using pop ups is the versatility. You can use pop ups for email capture, to drive traffic to key areas of your website, or to notify shoppers of ongoing promotions.
Pair this with a branded design and you've got the ultimate website engagement tool.
#4 Send quotes by email
If you are offering services, you can suggest a potential customer to send a quote for any service via email with a detailed step-by-step explanation of how you are approaching the tasks.
You can create a form where a user needs to fill out request details and leave an email. Or it can just be single field "leave your email or phone and we'll contact you within 12 hours."
#5 Use a notification Bar

Want to display a marketing message on every page of your website? It's easy with a notification bar.
Craft a message that you'd like to display across your site and place it in a subtle, yet visible bar that sits at the top or bottom of your site.
This ensures that your message is getting seen by the majority of visitors, regardless of which page they land on.
Common messages to display with a notification bar are current sales promotions, shipping thresholds (Free shipping on orders of $75+), and even a call to action for a specific landing page.
This gives you the ability to drive traffic to clearance pages, special collections, and even product pages.
#6 Use a slide-in email signup form
For a slightly less obtrusive way to engage shoppers on your website, a slide-in email form is your best bet. This still puts your call to action in a visible area on your site but still allows visitors to perform actions.
For example, a slide-in sign up form on your blog would engage readers but also allow the visitor to continue to read the particular piece of content.
How it works we can see even in this article! Don't forget to subscribe! 🙂
Remember, one of the reasons pop ups are so effective at driving action is because they interrupt and grab the attention of the visitor.
Slide-in forms are a great alternative to pop ups for certain parts of your website. Consider using a slide-in email signup form on your blog, product pages, and pages with heavy text.
#7 Incentivize them with exit-intent offers
We discussed this earlier, but a large portion of shoppers are going to leave your website without subscribing to your newsletter or making a purchase.
It's this reason that you need something in place that specifically aims to convert these leaving shoppers. Exit intent offers give you one last shot at converting a shopper into an email lead or sale.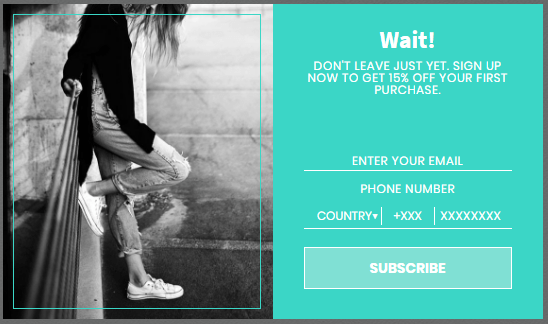 Exit intent technology senses the exact moment when a shopper decides to leave your website and presents a pop up with messaging urging them to take an action.
Using targeted copy like "Before you go" and "Wait, don't leave" can help grab a shopper's attention and get them to take the desired action.
You may like these 30 examples of exit-intent popups.
The tools you'll need
Depending on how you are going to manage the email list you collect, you can use different available marketing tools such as Omnisend (previously Soundest). It integrates with Shopify, which is great for Shopify store owners.
In order for users to leave you their contact information, it's important that the offer is not just interesting, but the subscription form is also attractive and user friendly.
Shopify users can use a convenient popup appwhich can help to effectively collect emails from your store visitors. Also, each email that a customer leaves gets sent to your Omnisend account, to the list that you choose.
Or, you can use OptinMonsterto create even more powerful Shopify popups. OptinMonster comes with a huge library of popup templates, an easy drag-and-drop builder, and multiple campaign types to choose from. OptinMonster also comes with advanced targeting rules, campaign scheduling, A/B testing, and you can connect it with OmniSend via the Zapier app to automate your workflows.
After you collect emails, you can send sales announcements, store specials, new featured products or some other information. Special offers for email subscribers can be managed using the Shopify Upsell app.
This app will allow you to add free or discounted gifts to existing products. This way you will be able to encourage your customers with unique sales or gifts, created especially for them.
Of course it would be a good idea to include the "unsubscribe" link at the bottom of your emails.
What to do if customers don't believe your offers, or think it could be scam
Many customers might be skeptical of the offer validity, if they have encountered some misinformation on other websites popups. Therefore they will be happier if they see some kind of proof that you are being serious about offering them the deals.
If you are encouraging customers to participate in a draw, be sure to include images or links to the previous draws, with happy winners and their names. Of course, to ensure privacy, you can change the names.
The winners on the images can be holding the gifts and smiling, demonstrating the draws are not fake.
For example, it would also be a good idea to explain in detail how the draw is organized: what steps you are taking to select the random numbers, to which you have previously assigned the customers' names.
If you don't have such software, you can make an "old style" YouTube video of how you are selecting the cut-out digits from a hat.
Of course, you can also always order custom programming at outsourcing companies.
#1 What to offer in a Draw
There are quite a few different options for deciding on what you should offer in your draw.
For example, you can offer $80 or some other amount as a store credit, or free gifts with a free shipment.
#2 Explain your procedure
For inquisitive shoppers it would also be helpful to explain in detail how the draw will be organized. You can place this information into a separate page, or as a hide/show text block.
This can be something like "more details:…" or a question mark icon followed by, for example, a random number generator program, which will choose the number of the winner.
If you are offering coupons, explain how it can be applied and if there are any restrictions. Attach screenshots of how to apply them.
If you're curious to see an example that also integrates with Omnisend, you can check out this Shopify webstore application description.
The app does the described above: it collects emails while offering participation in a draw just when the customer is about to leave the store.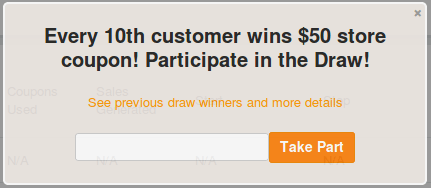 All addresses that customers leave go directly to your Omnisend email list.
The text is customizable, of course, and you can place any message there, including other marketing messages discussed below. For example, you can also put a coupon code in the message which gives $5 off, and say that the customer can get another such coupon if they leave an email.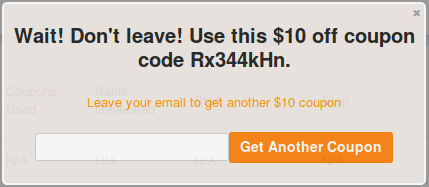 In the above example you're already giving the customer the coupon, but you can also offer it to them only in exchange for an email. i.e. you can say, "Please leave your email and we'll send you a $10 coupon."
You can also include various links in that popup.
Key Takeaways
#1 Traffic doesn't equal sales
Driving traffic is an absolute necessity in ecommerce but it doesn't automatically result in more sales. Pair your traffic strategy with a conversion strategy that makes sense.
Use incentives, catchy copy, and eye-popping imagery to get shoppers to convert into new subscribers and customers.
Converting a higher percentage of traffic will increase sales and boost ROI from paid traffic campaigns.
#2 Engage Shoppers in Different Ways
Whether it's through pop ups, a signup bar, or exit offers, you have a variety of ways to interact and engage shoppers. Experiment with how you are delivering your message or promotion to visitors and see what works for you.
Even though we've discussed using ecommerce promotions heavily, some of these tactics just aren't feasible for certain businesses.
If that's the case, you can still engage shoppers in different ways. Simply ask for an email or drive traffic to your clearance section. By simply engaging shoppers, you can still drive ecommerce conversions!
#3 Engage with a Purpose
What are you trying to accomplish with traffic on your site? Ultimately, the main goal is to convert more sales but get a bit more strategic with it.
Have goals like convert new visitors into email subscribers, drive repeat purchases with free shipping promotions, or decrease cart abandonment with exit offers.
Even look to run ecommerce promotions on key sales dates. By focusing on key segments of visitors and goals, you can create a more effective on-site engagement strategy.
There are enough aspects of ecommerce that you can't control but on-site engagement and website conversion doesn't have doesn't have to be one of them.
Take action with pop ups, ecommerce promotions, and on-site cart abandonment offers. By engaging shoppers at key points with a conversion-oriented marketing message, you'll convert more sales and see the true value of on-site marketing.

related features
Want more sales?
Omnisend has everything you need to succeed.
Start free now
No Credit Card needed.