Drive sales on autopilot with ecommerce-focused features
See Features
Reading Time:
9
minutes
Have you heard that great list-building software has to be expensive? If so, don't worry: this myth is completely wrong, and the best list building tools can be as affordable as they are useful.
Whether you're a B2B or B2C marketer, the importance of generating an email list with list-building tools can't be overstated. Email offers a lucrative opportunity to generate more sales.
According to our Ecommerce Statistics Report 2020, the already high conversion rate earned by email increased by 111% in 2020. With that being said, growing your list is about more than quantity—it's critical to attract subscribers who are genuinely interested in your content and brand.
But where do you begin with list-building tools, and which is the right one for your ecommerce store?
Read on for our full rundown of the best list-building tools for ecommerce, the features you should look for in your search, and even some tips and resources to get you started.
What is list-building software?
While some aspects of building a list need to be done manually, list-building software is now a virtual necessity. Many list-building tools cover a wide range of functions including pop-ups, lead capture forms, social media giveaways, and more.
In this article, we'll cover some of the best list-building tools for digital marketers to be aware of in 2022. With the right tools, you'll be able to generate leads more efficiently and move more users through your sales funnel.
Want to take the guesswork out of email list-building tools? Start Omnisend for free and let your list build itself!

The 6 best list-building tools
Omnisend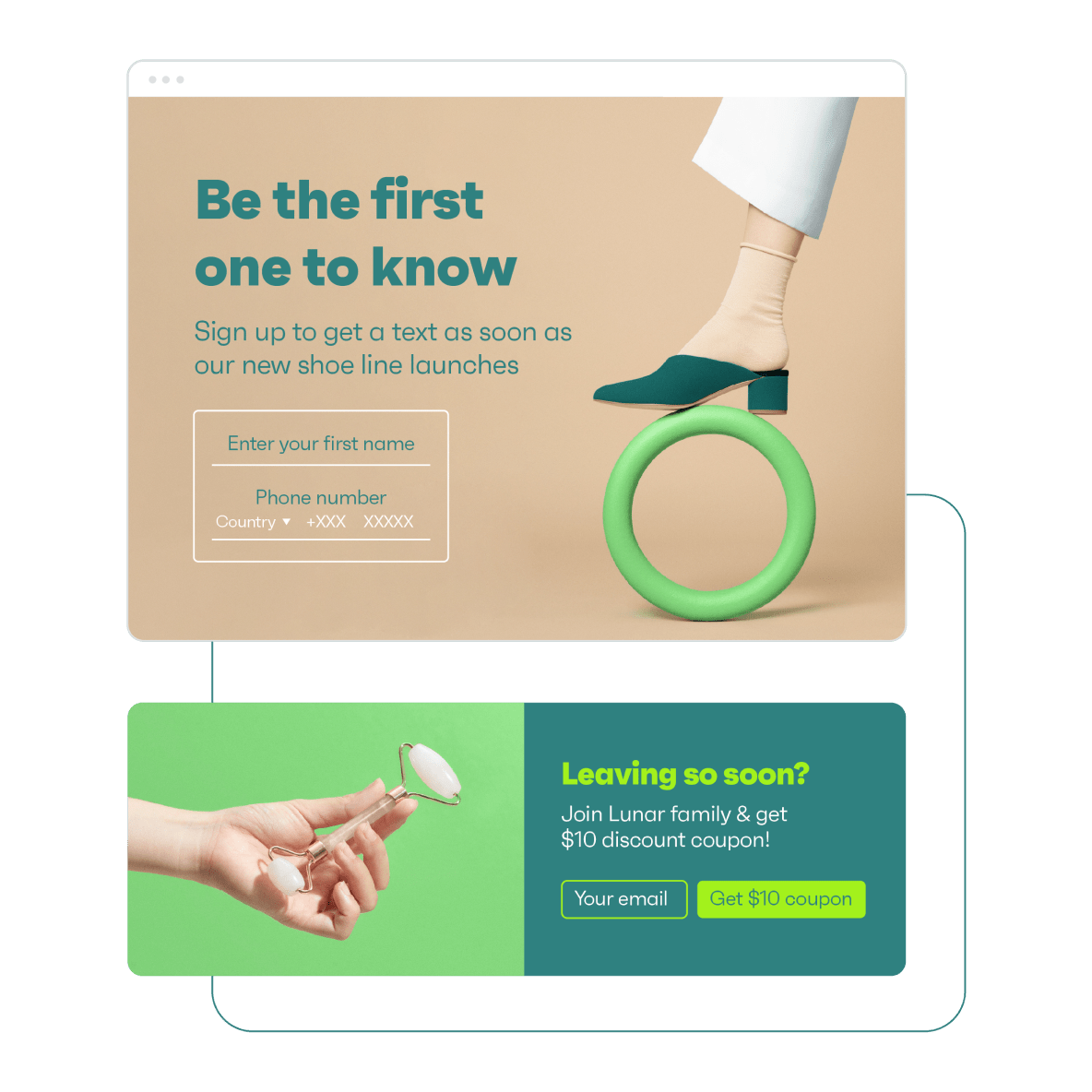 If you've heard the myth that email list building has to be expensive, you'll want to pay attention to Omnisend. It's 40% more affordable than the leading list-building tools, and even its free plan has the same features that you'll find on the paid plans.
Omnisend is an all-in-one omnichannel solution that covers everything from list building to generating sales. You can use Omnisend to set up pop-ups, sign-up boxes, landing pages, and even a "Wheel of Fortune"-style lead generation game that gives users the chance to spin the wheel when they provide their contact information.
As an omnichannel provider, Omnisend is compatible with numerous marketing platforms including email, SMS, push notifications, Google, and Facebook. Having access to all these channels from a single application makes it easy to maintain engagement across platforms.
Joining your email list is a key step in the customer journey, but subscribers often need to engage several times before they're ready to make their first purchase. Omnisend supports cart abandonment sequences as well as other automation workflows that target lead at particular points in the sales cycle.
Even after a subscriber becomes a customer, you'll still need to keep them engaged in order to maximize their lifetime value. Fortunately, Omnisend streamlines a number of messages for existing customers such as order confirmations, shipping notifications, cross-selling promotions, and reactivation notices for inactive subscribers.
Email Collection Bar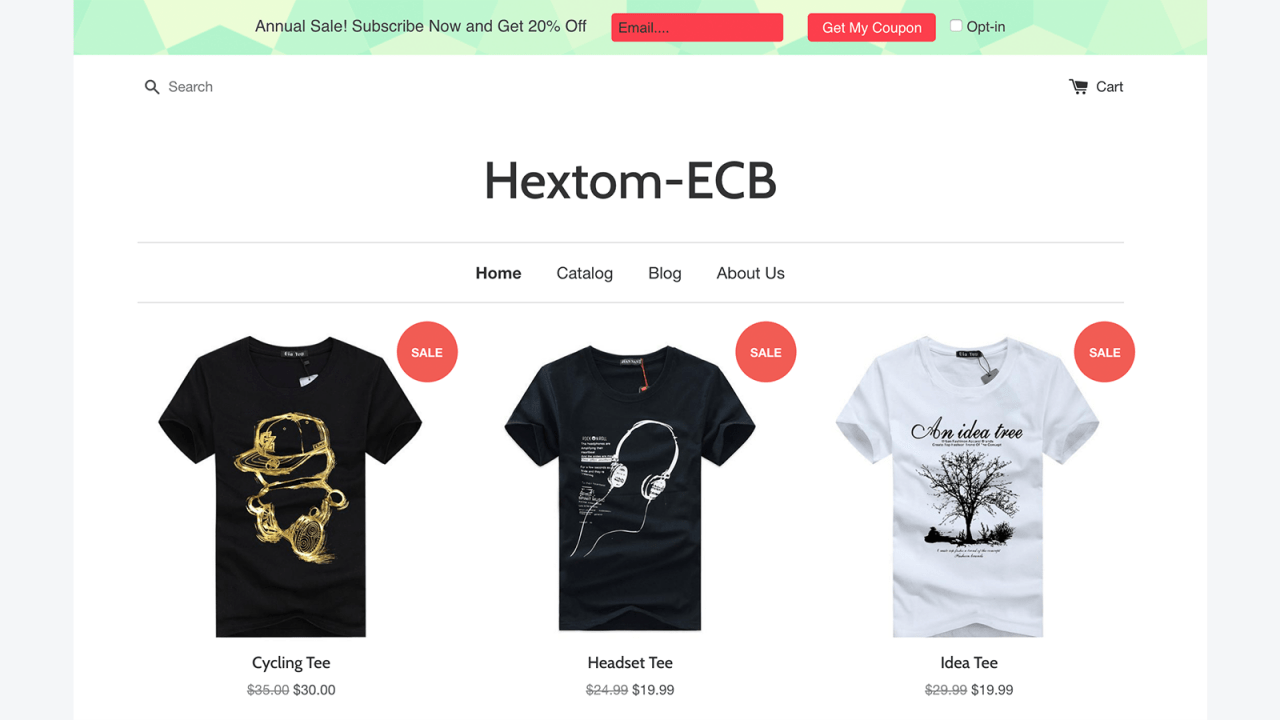 Email Collection Bar is a third-party plugin for Shopify vendors who are looking for email capture software. With Email Collection Bar, it's easy to set up an email capture bar above the fold for users who are interested in your newsletter. This is a perfect option for vendors who are wary of potentially distracting their visitors with intrusive pop-ups.
Furthermore, Email Collection Bar automatically syncs with a variety of email marketing platforms, including Omnisend. Even if you're using another email marketing provider, you can easily export emails gathered through Email Collection Bar into a .csv file.
Users can also segment their email capture bars with a wide range of criteria such as location, device, and web page as well as the source of each visit—for example, you might adjust your form depending on whether a user found your site through Facebook or Instagram.
The plugin's free option allows subscribers to collect as many as 50 email addresses per month and take advantage of location, device, and web page segmentation. At $9.99 per month, the Basic subscription increases the monthly email limit to 500 and introduces advanced features like location targeting, link source targeting, and background images.
The Premium plan ($29.99 per month) comes with 2500 monthly email captures along with analytic tools and unique discount code generation for new email subscribers. Finally, larger organizations can collect up to 10,000 monthly emails for $59.99 per month. Unfortunately, there are no custom enterprise solutions for businesses that generate more than 10,000 email leads per month.

Justuno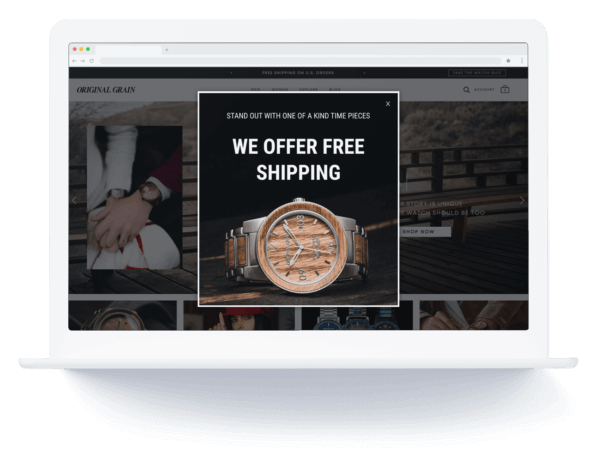 Justuno is a comprehensive digital marketing solution that includes tools for lead capture, sales, analysis, and a variety of other functions.
Justuno's list-building tool comes with customizable templates for email capture—for example, you could set up a notice at the top of the page, a small pop-up in the corner, a larger pop-up in the center, or a full-page banner. Users can also choose from a wide range of professional themes to match their brand image.
Like Omnisend, Justuno offers deep segmentation capabilities that enable subscribers to narrowly target specific audience subgroups. You might want to show your lead capture form to users who are visiting your site for the first time, while cart abandonment messages might be better suited to users who are about to leave your cart or checkout page.
Similarly, you could also configure your banner to appear on a specific page or only after a user has visited a certain number of pages. Other targeting criteria include returning visitors, users who found your site from a specific source, and users who scroll down through a certain percentage of a particular page. In short, you can configure forms for lead capture and many other functions using highly specified parameters.
It's entirely free to use for websites with up to 5,000 visitor sessions per month. From there, pricing is determined by volume—$29 per month for up to 10,000 monthly sessions, $49 per month for up to 25,000, and $99 per month for up to 50,000. Bulk subscriptions for sites with greater volume are available at $199 per month (100,000), $349 per month (200,000), $499 per month (500,000), and $699 per month (1 million).
Sites with more than 1 million monthly sessions can contact Justuno directly for a custom solution, and a special Justuno Plus subscription is available for mid-sized and larger organizations that need a dedicated account manager and other advanced options. You can start with a 14-day free trial before committing to a monthly subscription.
What's the best way to begin with an email list-building tool? Check out our list-building methods from scratch.
Poptin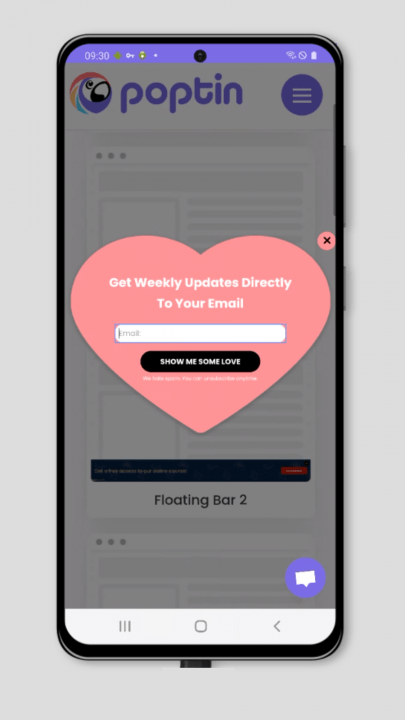 Poptin is a customer engagement tool that streamlines the process of creating popups, sign-up forms, autoresponders, and other messages.
Similar to Justuno, it's completely free for smaller organizations, although free Poptin users are limited to 1,000 visitors per month. Free members will also have Poptin branding on their popups, and they won't be able to set up autoresponders. There aren't any free trials for the premium subscriptions, but you can start with a free plan and scale up as needed.
Basic subscribers ($19 per month) can support up to 10,000 monthly visitors, remove Poptin branding, and send a maximum of 1,000 monthly autoresponders. The $49 per month Pro plan increases the visitor cap to 50,000, supports as many as four domains, and bumps the monthly autoresponder limit to 5,000.
Finally, the Agency subscription comes with user and account management plus priority support and up to 15,000 monthly autoresponders. Pricing is based on traffic—this plan starts at $99 per month for sites with under 150,000 monthly visitors and goes all the way up to $849 per month for sites with up to 2 million. Again, custom solutions are available for sites with even more traffic.
The Poptin drag and drop editor makes it easy to start with a pre-set template and tailor it to your audience and brand image. Templates cover countdowns, top and bottom banners, full-screen overlays, and more. Forms can be triggered by numerous criteria such as exit-intent, scrolling, traffic source, URL, location, time, and date.
Furthermore, Poptin integrates with countless third-party platforms including Omnisend, WordPress, Shopify, Wix, and more. This makes it easy to implement Poptin without having to make any major changes to your existing practices.
Optimonk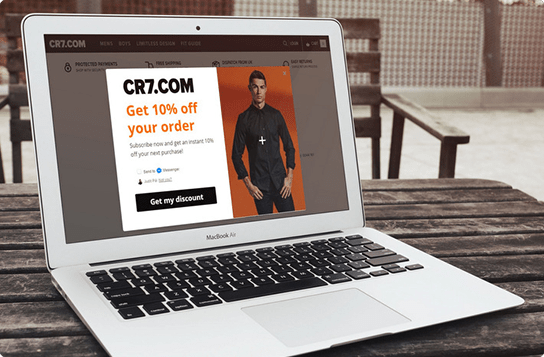 Optimonk is a digital marketing tool that's designed to help vendors create forms, pop-ups, and other forms of content. The drag and drop tool makes it simple to fine-tune your content based on very specific parameters. Users can ask for a variety of data points in sign-up forms and pop-ups—for example, you might want to ask for age, birthday, gender, location, or other pieces of information depending on your marketing tactics.
Like other email list-building tools, Optimonk offers powerful segmentation features to help subscribers target their content more narrowly. Segmentation options include common criteria like location, traffic source, webpage, and length of visit. Optimonk supports a wide range of messages such as pop-ups, scratchcards, sidebars, full screen banners, and more.
Optimonk's pricing broadly aligns with that of its competitors. Free members are limited to 3,000 pageviews per month, and they can't access certain advanced features. The Essential plan costs $29 per month and raises the monthly pageview limit to 25,000 while introducing A/B testing.
At $79 per month, Growth bumps the monthly pageview limit up to 100,000 and offers support for as many as four domains. Growth users also gain the opportunity to set up their own custom criteria for audience segmentation.
Finally, Premium supports up to 500,000 monthly pageviews and ten domains with unbranded messaging and priority support from the Optimonk customer service team. Optimonk also offers custom Master plans for organizations that need more than what's included with the Premium subscription.
Outside of list-building, Optimonk can also increase customer engagement and sales through customer feedback forms, abandoned cart reminders, lead management tools, and other helpful features. It integrates with common digital marketing platforms and services such as Omnisend, Shopify, Magento, WordPress, and Squarespace.
Make your email list work for you—check out our Five Email List Management Best Practices!
Wisepops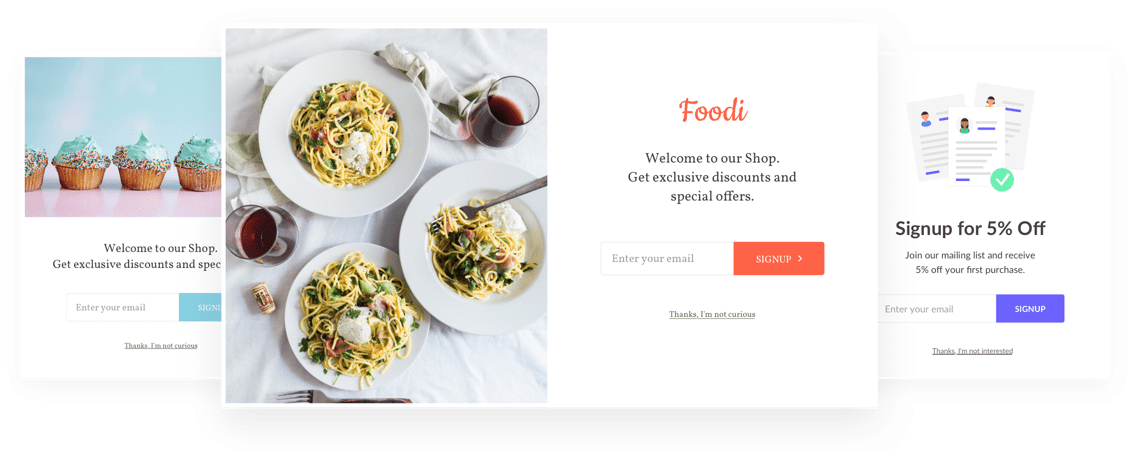 Wisepops is an email list-builder that focuses on intelligent pop-ups that meet visitors at the right point in the customer journey. Exit-intent pop-ups, for example, can be configured to display whenever a user starts to leave your site. This can help you extend the interaction and draw a visitor's attention back to your offer.
A familiar drag-and-drop editor enables Wisepops users to customize their pop-up design. It's easy to add text, sign-up fields, calls to action, images, video, Facebook widgets, and many other elements. Pop-ups can also be quickly optimized for mobile devices. The platform comes with 60 pre-set templates that act as a starting point for more specific content.
Furthermore, Wisepops provides robust analytic tools that allow marketers to monitor displays, clicks and click-through rates, and more. Users can also set up A/B tests within Wisepops or integrate the tool with Google Analytics to monitor their Wisepops campaigns.
Unlike some other list-building tools, Wisepops offers a 14-day free trial rather than an ongoing free option. Fortunately, you don't need to provide payment information in order to access the free trial.
From there, pricing depends on your site's traffic as well as your need for advanced features. The cheapest plan comes at $29 per month and supports up to 50,000 monthly pageviews along with email support and integrations with email and CRM platforms. Sites with more traffic can upgrade to 100,000 monthly pageviews for $49 per month.
The next subscription offers 250,000 pageviews in addition to support for two users and two domains. It also provides campaign scheduling, A/B testing, and access to analytic tools for $99 per month. The same plan costs $129 per month for subscribers that have up to 500,000 monthly pageviews, three users, or three domains.
The last standard plan works with 1 million monthly pageviews, 5 users, and 5 websites for $199 per month. Users at this tier also receive onboarding and training services from Wisepops. You can contact Wisepops directly if you're running a site that receives more than 1 million pageviews per month.
Takeaways
Growing your list with high-quality leads is crucial for long-term growth in ecommerce, and you need the best list-building tools to stay ahead of the competition. These platforms offer powerful lead generation features along with the tools you need to automate a variety of other functions.
Compare the different email list-building tools you find, as there are certain features that you'll need as you grow your ecommerce store.
Popups: Exit-intent, time-based, scroll-based popups are crucial for building your email list.
Targeting options: Can you create a popup that's targeted based on the content your customers are browsing?
Opt-in and privacy: Be sure your customers can opt-out of seeing a popup, and that you can add explicit opt-ins to your sign-up forms.
Customizable fields: Are you limited to asking for just an email address, or can you ask for phone numbers, first names, birthdays, etc? The more information you can capture, or rather the more relevant the information, the better you can target future email campaigns.
Landing pages: Can you create hosted landing pages for special offers? You'll want these for when you need a clean interface for sign-up success.
Gamification: Does your list-building tool offer gamified sign-up forms? It's a nice-to-have, and could be a game-changer for increasing sign-ups on your site.
Ready to get started building the email list full of high-intent customers? Get started with Omnisend for free and see how you can build your list in no time!
related features
Want more sales?
Omnisend has everything you need to succeed.
Start free now
No Credit Card needed.