Drive sales on autopilot with ecommerce-focused features
See Features
Reading Time:
9
minutes
Announcement emails can be a noteworthy addition to any marketing strategy.
Picture this. You've just released a new product collection, made big changes in your company's vision, or even landed a strategic partnership. How do you let your audience know?
Huge product launches can be extremely costly, especially for small businesses. That's where email announcements come in. They help you successfully put the word out before you roll out your new product line.
Why email? According to recent research, 95% of marketers report that their email marketing initiatives were successful in yielding the desired results.
And if you already have a list of subscribers waiting for product updates, adding announcement emails to your email marketing strategy would be both easy and effective.
These next sections get into the details of what announcement emails are and how to design them for maximum impact.
What are announcement emails?
Announcement emails help prepare your subscribers for a change or update in your products or business. This could be a new product release, a chance to pre-order, a limited edition, or a special event.
When announcing a new product or an update, you need to let your audience know why the new product or update is something of interest to them.
Also, besides announcing these changes, you'll also need to promote them.
Now that we've that cleared, let's understand the various types of announcement emails or the situations where you might need to send one.
What are the types of announcements?
Here are some of the common reasons or situations for which you might need to send an announcement email.
Introducing a new product/collection: These announcement emails are sent with the aim of announcing a new product or collection or inviting people to a product launch event
A limited-edition product: These create a sense of urgency for people to buy products before they go out of stock
Special collaboration: Here, you announce a partnership with a known brand, and tap into the brand's customer base
Opening a physical store: Here, you notify your audience that you've opened up a physical store in their location and invite them to visit your store
Possibility to preorder a product: You can offer your subscribers an exclusive opportunity to place orders before the official product launch through an announcement email
Special event: This aims at trying to get your target audience to attend an event or webinar. It could be both physical and virtual events
Improvements on your online store: This could include improvements in services such as shipping, checkout, delivery options, etc.
New features announcement: This type of announcement email is popular among SaaS companies and is sent to announce feature updates to products
New business announcement: Companies send these announcement emails with the aim of using an existing customer base to introduce a new business
Get more engagement & sales with announcement emails, popups, and more using Omnisend
Start Free Today
Announcement email examples
When coming up with content to include in announcement emails, you need to keep these three things in mind.
What's the new information that you want to convey?
Why should your audience be interested?
What do you want them to do about it? This includes a call to action like "Preorder now".
Including these three details keeps your readers engaged and encourages them to take action.
Now that you know what to include, check out these examples of announcement emails to inspire your own efforts.
1. Apple pre-order email campaign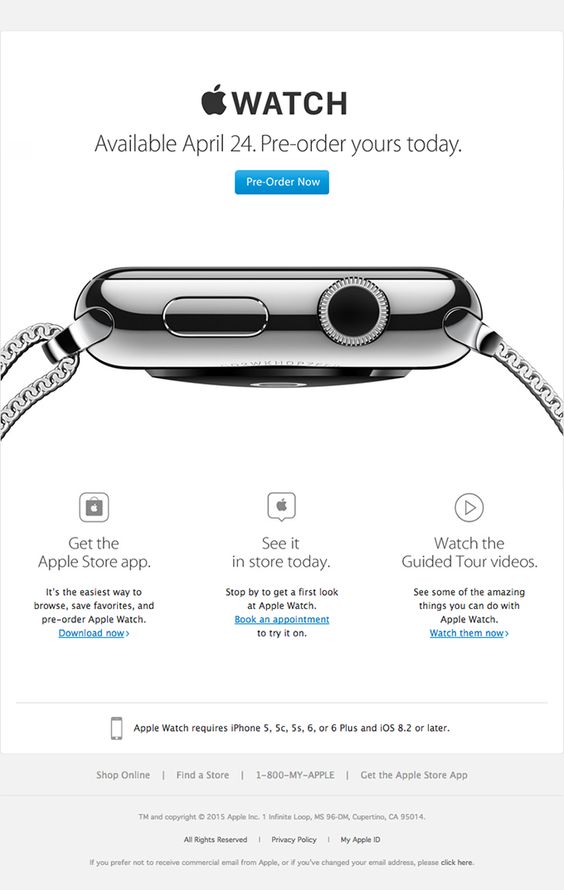 Apple product launches are some of the best and most popular in the market. The above new product announcement email, for instance, is one of their many successful email campaigns.
It announces the launch of the new Apple Watch and has multiple calls to action. The main CTA gives their email subscribers an exclusive opportunity to preorder the item.
Another crucial addition is the teaser image below the call to action. This invokes curiosity and customers will want to know more about the product.
Apple then provides a range of solutions to satiate this curiosity, which includes visiting their stores, making a preorder from their app, or watching a product description video on their site.
This drives traffic to their product pages and physical store, providing an opportunity for upsells and cross-sells.
2. Harry's new product email teaser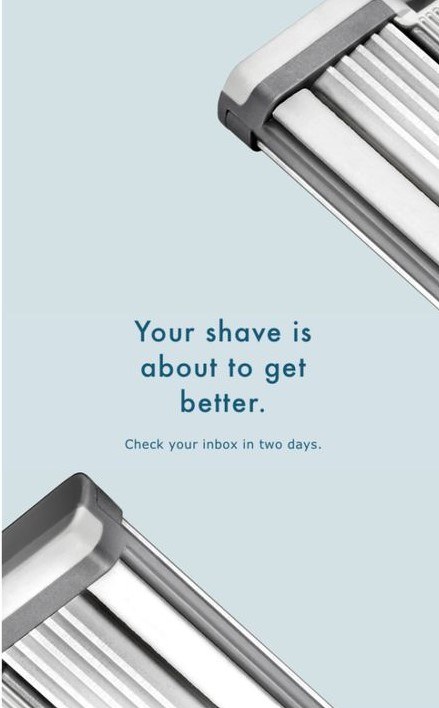 This announcement email features a teaser for an undisclosed upcoming product. This helps build anticipation in the audience, making them eager to know what's coming up in two days.
These types of announcement emails are often succinct, as you're not looking to disclose anything just yet.
Here, you use mystery to trigger a course of action, i.e "check your inbox in two days". This works to draw the audience in by making them curious and excited about what's to come.
You can use such announcement emails to create buzz around upcoming products.
With email marketing automation you can schedule a series of product launch emails. Omnisend has a pre-built email marketing automation tool you can start for free.
3. Love Cocoa email ("We are now on Amazon.co.uk")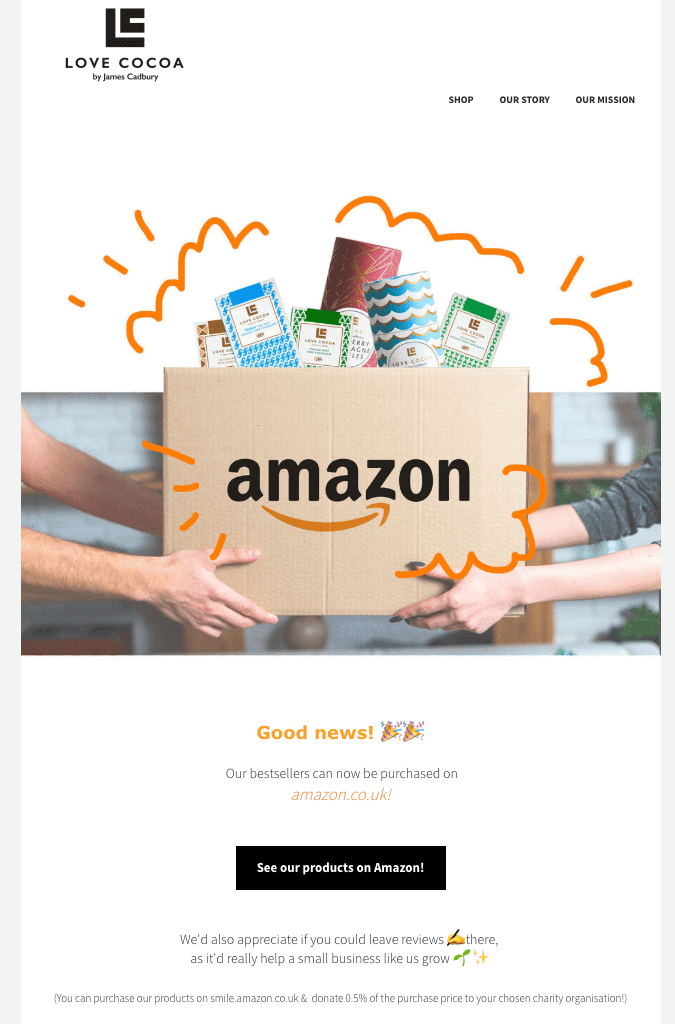 From the headline to the content of this email announcement, you can tell the excitement it evokes. The use of emojis for email brings playfulness and joy to it, which is a total fit given they're bringing their audience some good news.
The color choice is also a well-thought-out addition, as the brand uses Amazon merchant colors throughout the email.
The announcement is brief and to the point, making it easy to click on the CTA button faster as there's not much text to read. The whitespace on the email also makes the call to action button more visible.
Such targeted email marketing messages are easier to send when your email list is segmented by location.
4. VanMoof EU outlet limited sale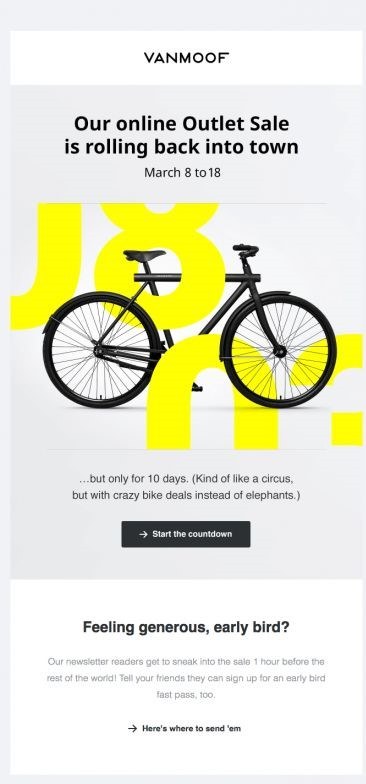 Limited-time sale announcement emails are an example of how you can push your sales by creating a sense of urgency. Here, VanMoof offers great deals that only last ten days.
What's even more captivating about this announcement template email is the friendly and humorous tone used. This whimsical play resonates with most buyers and is a good promotional tactic.
Incentives can be a good way to push your email campaigns. This announcement email offers an incentive for early birds as they get to access the deals an hour earlier.
The call to action includes a button to keep track of time, so customers can make a purchase before the sale ends. There's also one that lets them invite their friends to the exclusive early bird offer.
Besides boosting sales, this is one way to get email subscribers while running a campaign using announcement emails.
5. Moment new product launch email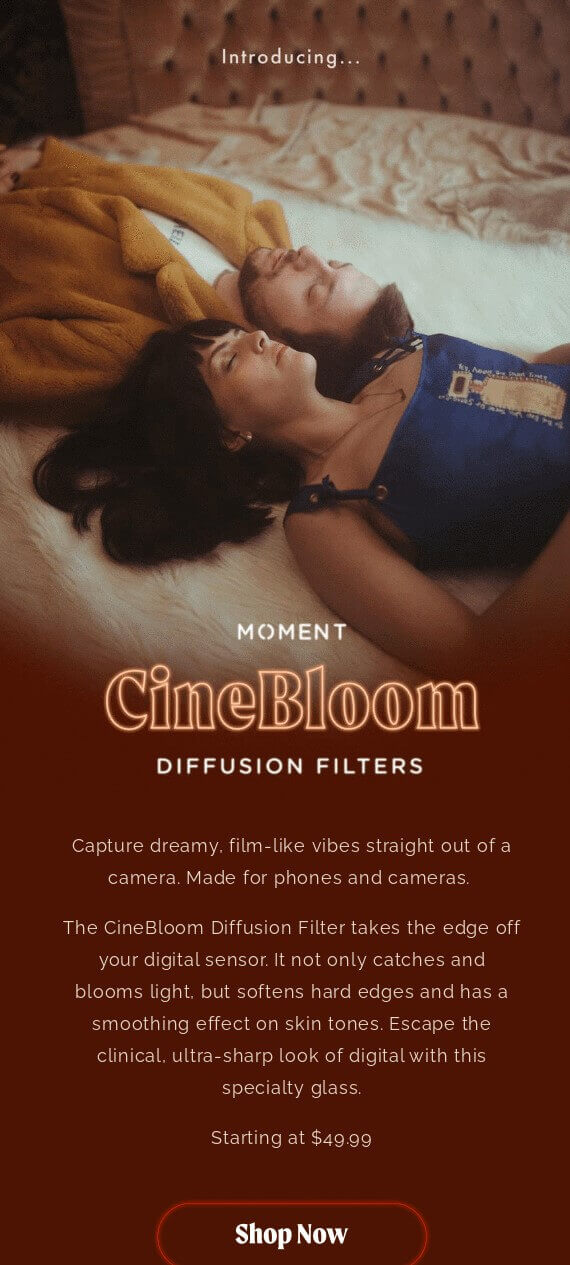 This email marketing example shows a company announcing a new product to its email subscribers, notifying them that it's available for purchase. Here, the colors are striking and the picture evokes emotion.
Since the email is about photography, the dreamy nature of the picture works perfectly. This alludes to how you can use your announcement emails to appeal to your audience's emotions and tell a story.
This email also describes the product in detail. Your audience gets to know why they should buy your product, how effective it is, and its advantages. This convinces the audience why they need the new product.
It also shows the price and a call to action urging people to make a purchase.
6. Hers and J.Lo. collaboration email

In this email, Hers announces that they have a new hair care line in collaboration with Jennifer Lopez's JLo Beauty. Partnerships such as this help brands cross-sell and share their customer bases.
This announcement email also uses social proof, a signed statement from a renowned celebrity, to highlight the benefits of the upcoming product. For the beauty industry, this is a huge marketing plus.
The visuals on the email campaign are also eye-catching and grab the audience's attention.
It walks you through the announcement, introduces each product and its use, then sums it up with a call to action, urging you to preorder the products.
This ecommerce marketing email campaign achieves both promotional and brand awareness goals.
Besides announcing a new product collaboration, subscribers get exclusive early access to products before they're officially available for purchase.
7. Apple's tax-free shopping announcement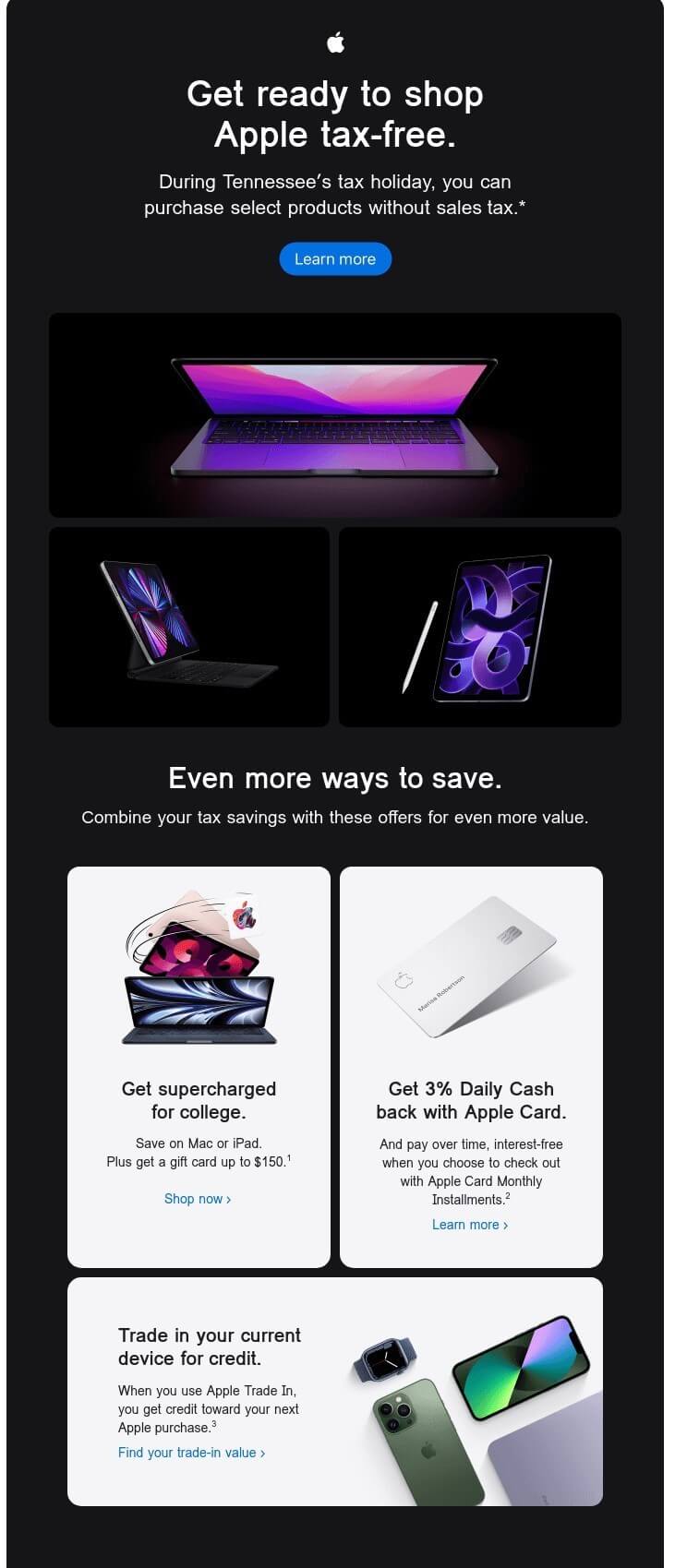 This announcement email alerts users from Tennessee about an upcoming tax holiday that lets them shop select products without sales tax.
It takes care of all the fundamental elements to include in announcement emails. The what and the why are that since a tax-free holiday is coming up, buyers will prepare to get certain products at lower rates.
This is appealing to both the email subscribers and the brand. Besides the price cut due to the tax holiday, Apple gets to add its offers and items on sale, taking advantage of an existing incentive.
So if you're looking to announce an upcoming special event, you can include a few promotional items as they did in this announcement email.
Besides the double incentives, such announcement emails should also use stunning images and visuals.
8. Magic Spoon limited edition flavors

Here, Magic Spoon uses humor and wordplay to reintroduce their seasonal, limited-edition flavors. For instance, the pun on "falling in love" with their "fall" flavors is hilarious and catchy.
Another thing this announcement email does well is the use of a brief description and compelling CTAs. Without overwhelming the readers with information, the email explains why customers love their limited edition flavors.
There are two clear CTAs making it easy for users to go directly to the products page at the beginning or end of the infographic.
These in addition to the attractive green background and colorful images of the cereal make the announcement email visually appealing. It's also notable that the vibrant coloring scheme this email uses is in line with the brand's overall outlook.
Run your seasonal product campaigns with Omnisend's free email and SMS marketing platform. Get started today.
9. Scratch's "We're a B Corp" announcement email

In this announcement, Scratch lets their email subscribers know that they've achieved the B Corp status.
Besides celebrating their achievement with their subscribers, this announcement email also builds Scratch's credibility. By urging its readers to read its report, it tries to let potential customers know that they'll be transacting with a transparent, credible, and trustworthy company.
This announcement email does not promote any product in particular, but it does promote the brand's image as a whole. By this, it aims at expanding its customer base and promoting customer loyalty.
Such email design templates are good if your company has hit a major milestone that from a marketing sense is uplifting to your brand. And Scratch does it well in the above example.
10. Nike's Ultraboost 19 announcement email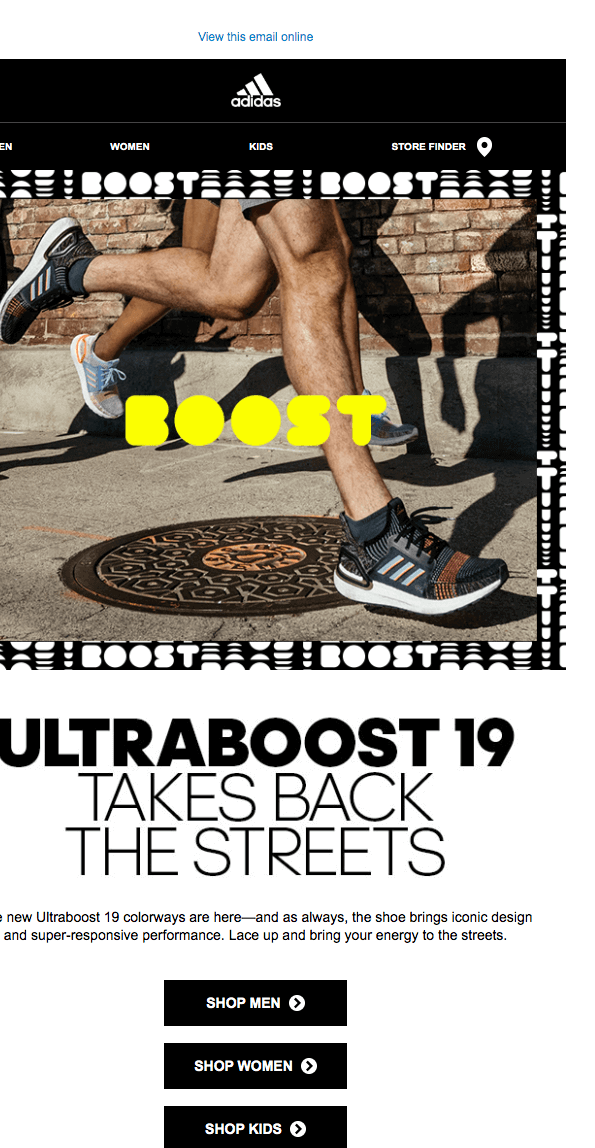 Some of the many strengths of Nike's product launches are its beautiful visuals and compelling product taglines.
For instance, in this announcement, Nike introduces the Ultraboost 19 with a clear image of an athlete running in the streets while wearing their new product. This not only emphasizes the product's durability but also makes the email captivating.
The tagline "takes back the streets" associates the product with a sense of power. This stirs energy in the reader and elevates their interest in the product.
The CTA buttons are also segmented by age and gender, making it easy for customers to go directly to their preferred category pages.
11. Peloton's new product launch announcement email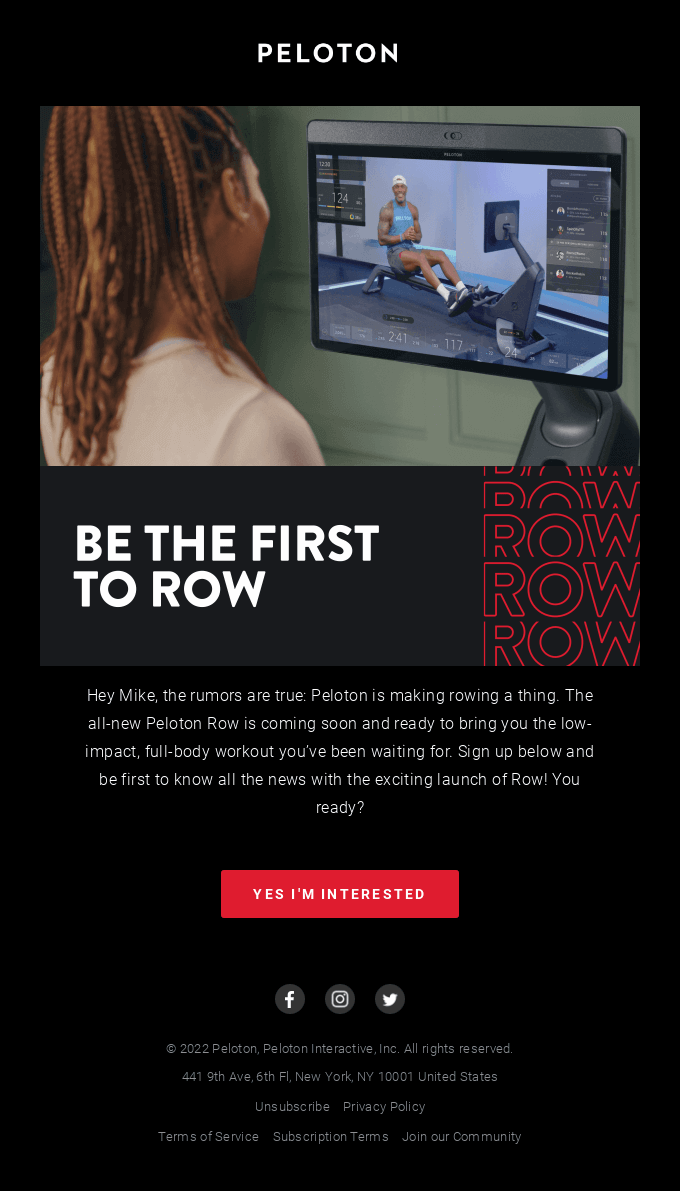 In this new product announcement email, Peloton gives their subscribers a chance to sign up so they can get exclusive information about the product launch.
The email employs a conversational tone and uses personalization to maximize its impact. For instance, here, the email addresses the reader by name.
According to recent research, 71% of consumers expect companies to use personalized communication, and 76% get frustrated when they don't.
By demonstrating that you know your email subscribers on a personal level, it makes them feel like you've invested in building a relationship with them. As a result:
Consumers will consider buying your products
They'll be more likely to recommend your brand to others
You'll get repeat purchases from customers
12. Farfetch's new season coat edit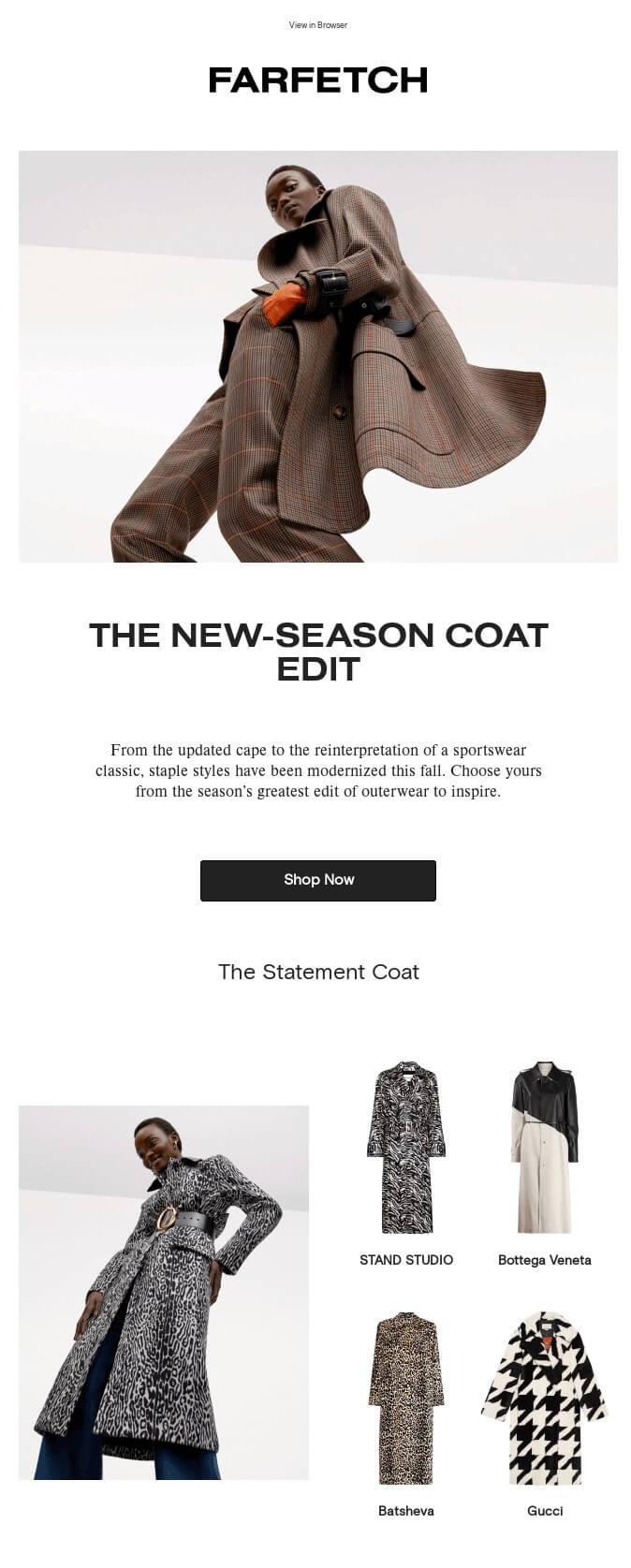 This email introduces Farfetch's new creative coat designs for fall. This is one example of announcement emails informing audiences about product updates and reinventions.
For fashion ecommerce, being able to redefine vintage designs and make them uniquely modern sets brands apart. And these images, showcasing the designs, do that well for Farfetch.
This announcement email also shares pictures of the coats in different colors, giving users a sneak peek into some options they can expect on the product page.
Ready to design impactful announcement emails?
The announcement email examples given here are just a few of the ways you can make your email announcements more impactful.
Whether you're already including these in your strategy or are just getting started, the fundamental format is the same. State what your announcement emails are about, and what your audience stands to gain, then provide a course of action.
If you're getting started with email marketing, then Omnisend is just the software for you. You can try out their free version here, and get free templates for your announcement emails and other email marketing campaigns.
Omisend's email & SMS marketing platform comes with pre-built announcement email templates (& so much more)
Start Free Today
related features
Want more sales?
Omnisend has everything you need to succeed.
Start free now
No Credit Card needed.