Omnisend has an early Christmas gift for you—an emoji picker for your subject lines! Before starting to use them massively—or on the contrary, depreciating them—read our review of benefits and considerations, as well as some tips how to use them wisely.
"The use of emojis in mobile and email marketing messages has increased 775% year-over-year. […] Triggered email messages containing emojis have jumped more than 7,000% in recent months and emoji use in marketing messages has shown a steady 20% increase month-to-month in 2016," reports Jess Nelson of Email Marketing Daily
Do more with Omnisend's powerful and easy-to-use email marketing. Connect your store today to get your 14-day free Premium trial.
Benefits of using emojis in email marketing
Initially, take a look at my inbox on Cyber Monday. Which of the subject lines grabs your attention first?

Click on the image to make it bigger
Am I wrong saying that the one with thunders ⚡? Perhaps that could be the first benefit.
Benefit #1. Emojis grab the attention of your subscribers and increase open rate.
Emojis make a subject line stand out in a subscriber's inbox. The better a reader sees your email subject line, the better the chance it will be opened. According to Experian, 56% of brands that use emojis in subject lines see increased open rates.
Though this data was announced four years ago, the positive results of using emojis have also been noticed in later, unrelated tests. Swiftpage, for example, says their newsletter has a 3.29% higher open rate when there is an emoji in the subject line.
Benefit #2. Emojis help to increase your brand awareness.
Believe it or not, being noticed in the inbox can also increase brand awareness. This is true even if the email is not opened. AlchemyWorx studied the impact of non-opened emails on sales.
According to their research, it is the Nudge Effect: "Sending an email communication featuring your brand name, and a subject line[…]can still influence a purchase decision."
I highly recommend reading the entire article: How to create emails that sell – even unopened.
Benefit #3. Emojis help you save space.
Currently more than half of all emails are being opened on mobile devices. The subject lines usually do not fit entirely on the mobile screen entirely: only the first 40 characters can be seen.
So it's a challenge to write a subject line that catches the reader's attention, plus conveys the emotion, as well as informing about the deal inside.
Emojis can help you with that.

Benefit #4. For Omnisend users it is extremely easy to add emojis to a subject line.
With recent Omnisend updates, we have added emojis. Now you do not have to look for funny icons somewhere on the internet.
They are here, in the campaign settings, on the right of the subject line field. The entire library of cute faces and symbols is ready for your use.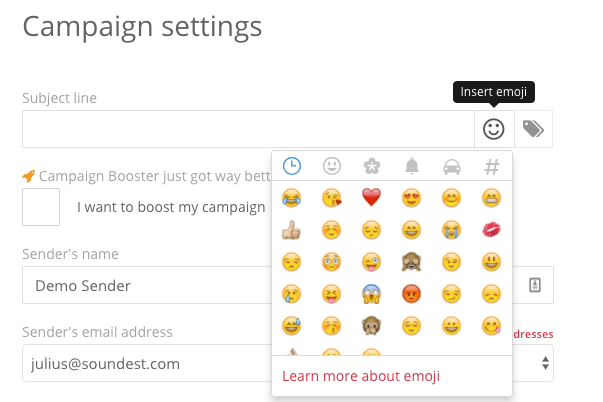 Considerations about effective use of emojis
Every stick has two ends, so don't dash headlong into the emoji world and use them everywhere. First, consider the following.
Find out how you to use Omnisend's powerful email marketing to help you sell more. Connect your store today to get your 14-day free Premium trial.
Consideration #1. Do emojis fit your brand?
Emojis do not fit every brand due to several factors: customer age and attitude, your communication tone, and the way you approach your customers.
Emojis are fun, cute, playful, youthful. If your brand is nothing like this, they are probably not for you.
For example, if you sell luxurious leather cases and your customers are middle-aged businessmen, it is contrary to your brand identity to use emojis in your emails. Using funny emojis can even damage your image in this case.
On the other hand, if you sell mostly to millennials, and you think emojis fit your tone and would be something your customers will enjoy, go for it.
A good way of validating whether the use of emojis will have a positive impact on your results is to test them. Omnisend users can always use a Campaign Booster for this purpose.
Consideration #2. How not to overdose with emojis
Placing some emojis in your subject line can have a direct benefit on open rates and overall campaign engagement. However, you can also overdose on it—fast. The goal is to stand out in the inbox, but that doesn't mean screaming symbols in email after email. Use them only when it makes sense or enhances the subject line's impact.
Consideration #3. Will all of my subscribers be able to see emojis equally?
The short answer is NO. All email clients (Gmail, iOS Mail, etc.) show emojis slightly differently. In addition to this, some emojis are not supported in Outlook, and are rendered as a blank square ▢, or just the word 'emoji' instead of your intended icon. In some older articles you may find it written that iPhone/iPad had issues with rendering emojis, but after recent iOS updates, that issue is outdated already.
Outlook 2003 does not support emojis. However, this Outlook version is really old. Additionally, according to Litmus, in Feb 2016 Outlook makes up 6.7% of the total market share. And only 15% of those users use Outlook 2003. That's a small fraction of your intended audience, so I don't think that should stop you from using emojis. But make sure that your subject line still makes sense if the email client doesn't happen to support the emoji display.
Four tips to get better experience with emojis
Tip #1. Always test emojis.
We have already discussed the issues that might happen with emojis on different email clients. So without saying more, it's crucial to test before sending your bulk campaign. Make sure that your subject line makes sense even if the email client doesn't support the emoji display.
Tip #2. Do not replace an actual word with an emoji.
Since some Outlook users cannot see the emojis the same way other email client users can, I would suggest the use of emojis as extra to subject line, without replacing key words with emojis. That way, it won't be a big deal if the emoji doesn't show up or if it doesn't render correctly. Don't take the risk that a fancy-looking subject line could sacrifice its readability.
Tip #3. Use the emoji in the beginning of the subject line.
How subscribers see your email subject line depends on their devices: desktop or mobile. Sometimes they see only first 40 characters of the subject line. So putting your emoji in the beginning helps you avoid the inbox cutting it off.
Tip #4. Use popular options.
According to Econsultancy, it matters which symbols you are using for the campaigns. Some of them perform better than others do. Check out the table below.

However, trying out different emojis is the only way to understand which of them work best for your brand.
Bottom line
Consider all the pros and cons of these small and funny icons and use them wisely. Emojis will spice up your email subject lines and help to get more attention from your subscribers.
Get a personal 1-on-1 demo (that will superpower your next campaign)!