Drive sales on autopilot with ecommerce-focused features
See Features
Reading Time:
21
minutes
As the ecommerce industry continues to grow exponentially, so does the number of ecommerce tools, plugins, and platforms. This presents ecommerce businesses with a wealth of time-saving and revenue-driving aids to choose from.
However, having so many choices can be overwhelming. While plenty of articles present the best tools for email marketing, Shopify apps, etc, very few cover vital tools for all areas of ecommerce.
In this article, we'll assess some of the most important tools to have in your ecommerce arsenal. We'll narrow your choices down to efficient, effective, and important tools.
These ecommerce tools are grouped into four broad categories:
Ecommerce store platforms
Marketing tools
Process & website optimization tools
Analytics & reporting tools
So what are some of the best tools for ecommerce stores that serious retailers need to grow their business? Let's find out.
Ecommerce store platforms
Depending on your business needs, here are six of the best ecommerce tools that can help build and host your ecommerce store.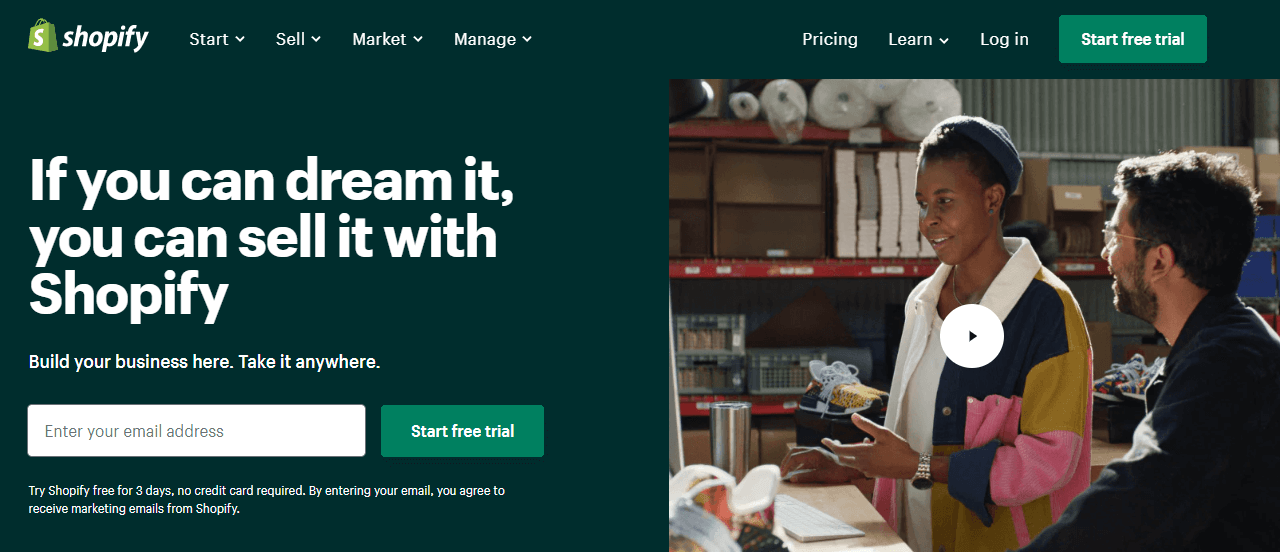 For most retailers, your online store platform is where it all begins; and for sheer out-of-the-box functionality and ease of use, it's hard to beat Shopify. This ecommerce tool lets you create your website and gain access to shopping cart software and a host of other features.
It's a complete solution for all things ecommerce, from its online store builder to its many seamless integrations with advanced ecommerce marketing tools.
Shopify doesn't require technical expertise to set up, and it offers a variety of templates to help get you started. It's also incredibly scalable – there are apps and plugins to cover just about every conceivable need.
Shopify store, with the help of a developer, can be customized with unique design solutions. A good example is the cute phones cases brand Burga.
Key features
Has a Shopify app store with over 1,200 applications
Provides multichannel integrations
Supports multiple payment gateways and multiple currencies
Offers tools to control shipping experience
Supports dropshipping
Offers product and inventory management tools
Pros
It's ideal for scaling both small and large ecommerce businesses
Numerous applications and third-party plugins boost its functionality
Has flexible themes and functional designs, both paid and free
Extensive options for payment gateways
Cons
Fewer built-in features hence over-reliant on third-party applications
Usability
Fairly straightforward
Tool level
Beginner/Intermediate
Pricing (primary plans)
Basic: $24/month
Shopify: $69/month
Advanced: $299/month
Alternative pricing plans
Starter: $5/month (lets you sell products through social and messaging apps)
ShopifyPlus: Custom, starting at $2,000/month (built for bigger businesses)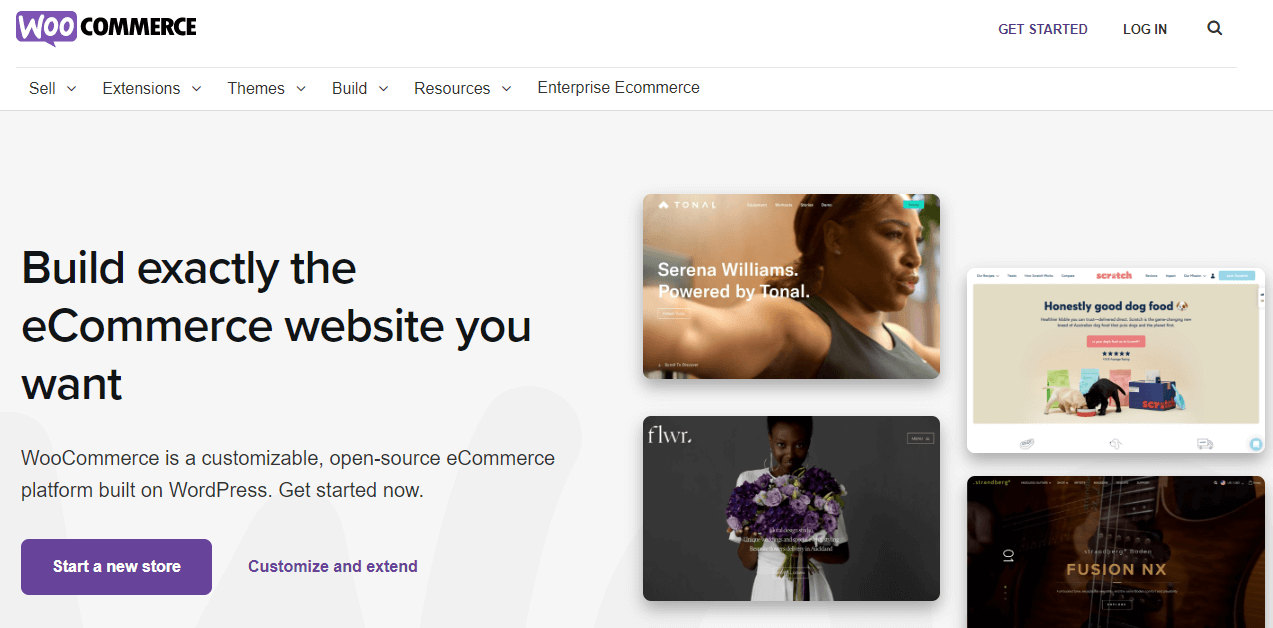 Unlike Shopify, WooCommerce isn't a standalone platform, but a WordPress ecommerce plugin. It's one of the best and most popular tools for ecommerce available in the market.
So if you already have a WordPress website and are comfortable using it, you can add ecommerce compatibility by downloading the WooCommerce pluIf you do not, we suggest building your Woocommerce website on Kinsta's Premium Managed Hosting. Kinsta guarantees blazing-fast website performance, easy scalability, bullet-proof malware protection, and more. The Kinsta platform is optimized for WooCommerce sites and is capable of supporting high-traffic, resource-intensive ecommerce sites. Give them a try today and find out how you can get an ecommerce site that is up to 39% faster.
You'll be able to sell products, offer subscriptions, and perform any other ecommerce-related tasks with WooCommerce's endless extensions and integrations, making this a perfect way to monetize your existing website.
Besides, it's an easy-to-use customizable ecommerce tool, which makes it efficient for large to medium-sized businesses. Also, since it's open-source software, you can easily tailor your online store to your users' needs.
Key features
Has multiple third-party integration capabilities
Supports help desk customer service functions
Automates tax support for easy tax reporting
Supports multiple languages and currencies
Customizable themes and display designs
Pros
It's cost-effective if you already have a WordPress site
You get numerous possible themes and layouts
Open source nature makes it more customizable
It offers unlimited scalability
Cons
It's exclusive to WordPress users
Customer service is limited to help desk options
| | |
| --- | --- |
| Usability | Easy to use |
| Tool level | Intermediate/Advanced |
| Pricing | Free |
WooCommerce is a free WordPress plugin. You'll only incur costs related to building a WordPress website if you don't have one already, for example, hosting.
We strongly recommend Kinsta for your Woocommerce store:
Kinsta WooCommerce Hosting
Kinsta is a managed WordPress hosting company that provides an ultra-fast platform for WooCommerce sites that's capable of supporting high-traffic, resource-intensive ecommerce sites.
All Kinsta clients benefit from premium features like Google's Top Tier Network for fast performance, enterprise tier DDoS and malware protection, and amazing 24/7/365 support for all WooCommerce sites.
There are certain challenges that come with running an ecommerce site, including having to rely on CPU performance. At Kinsta, C2 compute-optimized VMs really take center stage with their industry-leading CPU performance.
Kinsta has developed a custom workflow that optimizes performance for ecommerce sites. With specific caching features that are tailor-made for WooCommerce sites, blazing speeds, and rock-solid security, Kinsta's WooCommerce hosting is a can't-miss option for ecommerce sites.
Features:
Ultra-fast loading times with the best Google Cloud Platform
Data centers close to your shoppers – 35+ data centers to choose from and 300+ CDN locations
Fast server-level caching, edge caching and early hints
Free expert migration
Best 24/7 expert customer support
Easy automatic scale of resources upon traffic spikes
Uptime monitoring and free backups
Website and financial data are covered by Cloudflare Enterprise DDoS and malware protection
Pros:
Easily scalable and ready for traffic spikes when you are running a promotion.
Service praised for its performance and customer support.
Multiple website speed optimization features.
Custom dashboard with great usability
Cons
Prices are higher than average hosts, but you get more great features, top performance, and expert support.
No domain included.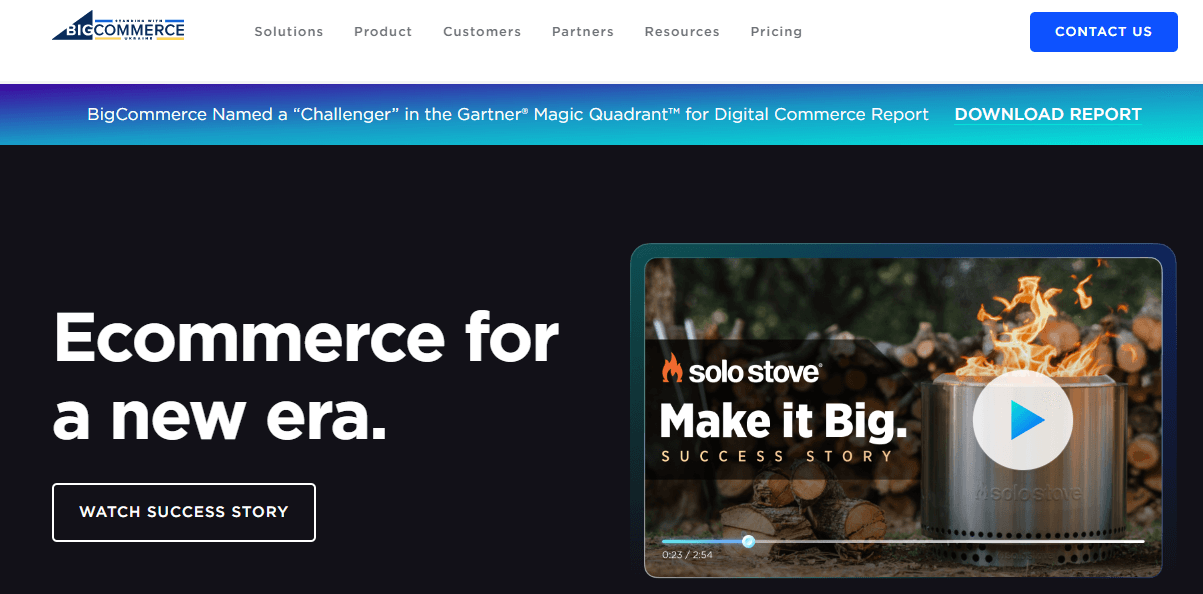 BigCommerce is, like Shopify, another full-service ecommerce platform that comes loaded with features. These include a highly customizable website, SEO & analytics optimization, payment, inventory management, and much, much more.
BigCommerce is a big player in the ecommerce industry with years of experience to draw upon. It comes with a website builder and easy-to-follow tutorials for both beginners and tech-savvy developers, that let you create your website designs.
So if you're looking for top-notch security, lightning loading speeds, and 24/7 customer service, this is definitely a good option.
This ecommerce tool offers great customer support resources on its site, including tutorials and other knowledge resources. You can also reach the team by email, phone, or live chat if you need more help.
Key features
Multichannel selling for sites like Amazon, Facebook, and eBay
Customizable layouts and designs
WordPress integration
A customizable checkout tool
Effective page builder and visual editors
Site mobile optimization for on-the-go shoppers
Pros
BigCommerce has numerous customer support options
It offers lots of visually appealing themes and customizable designs
It's a flexible and scalable ecommerce tool
Cons
Few free themes to choose from as most are paid themes
| | |
| --- | --- |
| Usability | Easy to use |
| Tool level | Beginner/Intermediate |
| Pricing | Custom |
Wix is more than just a website builder. Just like Shopify and BigCommerce, it's an all-in-one ecommerce tool that lets you build your online store, sell products, build a blog and grow your business.
Wix is cheaper than most other tools and is beginner-friendly. Its drag-and-drop website builder interface makes it easy for small business owners to design functional ecommerce stores themselves, without any coding experience.
This tool comes with over 800 customizable templates that enable you to tailor your online store to your specific needs. It also enables retailers to advance their website's functionality by integrating with other third-party tools and marketing apps.
A Wix website is secure as it comes with a free SSL certificate. It's also PCI compliant making sure that all your customers' transactions are safe and secure.
Key features
Omnichannel marketing support with multiple social media integrations
Customizable themes for unique webpages
Website design tools
Blogging tools to boost content marketing campaigns
Email marketing suite
Over 800 website design templates to choose from
Pros
Easy to use drag-and-drop website building tools
A free domain name for the first year with the annual plan
A user-friendly mobile application
Cons
You'll need third-party applications for more advanced functions
Usability
Beginner friendly
Tool level
Beginner
Pricing:
Website plans
Connect Domain: $4.50/month
Combo: $8.50/month
Unlimited: $12.50/month
VIP: $24.50/month
Pricing:
Business and ecommerce plans
Business Basic: $17/month
Business Unlimited: $25/month
Business VIP: $35/month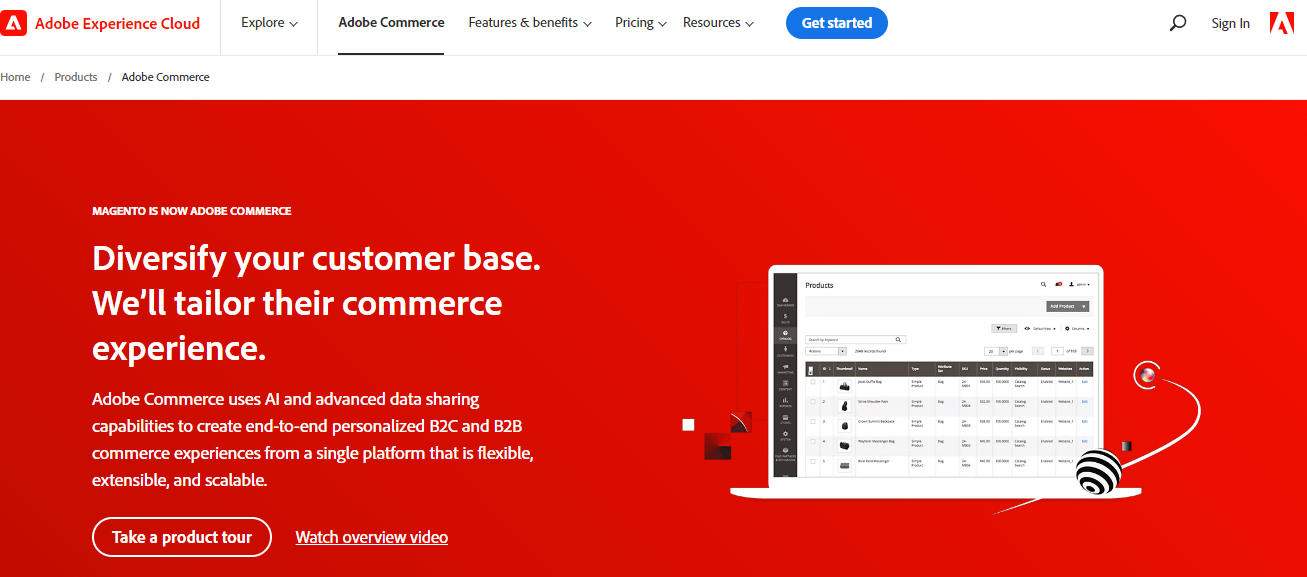 Formerly called Magento Commerce, Adobe Commerce is an open source ecommerce tool that's part of the more extensive Adobe Cloud suite.
One upside to this tool is its ability to integrate with other Adobe tools, such as Adobe Marketing, Adobe Analytics, and Adobe Advertising. This is especially advantageous if you already use Adobe products.
This platform however requires technical knowledge to build and maintain. You'll need a developer and an IT team as the setup requires a lot of work. This also means that the cost of setting up and maintaining this ecommerce tool can get expensive.
So if need heavy customization and already use Adobe products, this is the right tool for you. Otherwise, it's not very beginner-friendly and may not be the tool for you if you're a small business owner.
Key features
A customizable web page builder
Detailed management and analytics tools
Customer personalization and segmentation capabilities
B2B wholesale and B2C retail modules
Catalog and order management tools
Data reporting and insights
Numerous store integrations with Adobe Experience Cloud suite and other popular ecommerce tools
Pros
It's highly customizable being an open source software
You can run both B2B and B2C ecommerce businesses on this platform
It enables you to scale
You can seamlessly sync Adobe marketing and analytics tools to your online store
Cons
You need a developer for the setup and maintenance
| | |
| --- | --- |
| Usability | Requires technical knowledge |
| Tool level | Advanced |
| Pricing | Custom |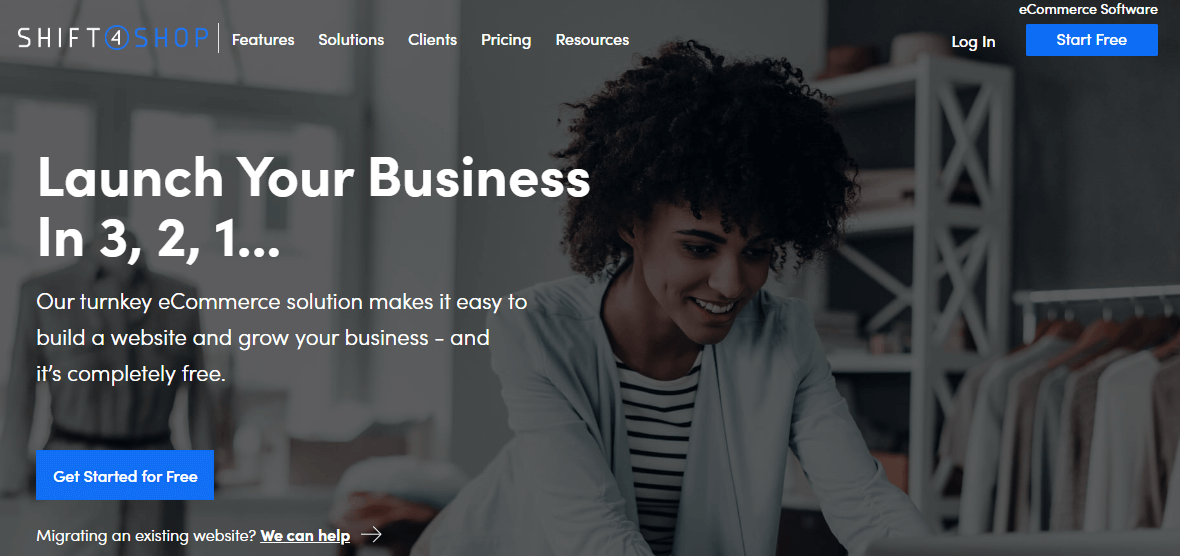 Shift4Shop, formerly 3DCart, is an all-in-one ecommerce platform with many useful features for businesses. It has a drag-and-drop interface you can easily use to build your online store.
With its social media integration capabilities, inventory management tools, email tools, and SSL certificate, your platform will be fully functional. It also comes with a GDPR toolkit for businesses that sell products to Europe.
Just like Shopify, if you use Shift4Shop's credit card processor, your transactions will be free. You can either host your entire ecommerce website on Ship4Shop or add it to an existing website.
Shift4Shop comes with a pre-built customer relationship management system, unlike most other ecommerce platforms. So, you won't need a third-party integration to track your customer interactions.
Key features
Integration with Google Accelerated Mobile Pages for mobile optimization
Responsive themes and designs
Option to edit store language
Drag-and-drop website builder
Pros
Mobile-responsive page designs
Easy to use page builder
A built-in CRM system
Cons
Minimal personalization options
Only the high-end plans have the ability to auto-ship.
Usability
Easy to use
Tool level
Intermediate/Advanced
Pricing
Free plan
Standard plan: $29-$299/month
Enterprise plan: Starting at $2,000/month
Marketing tools
Now it's time to get to marketing tools. Ideally, you want automated marketing campaign features, audience segmentation, easy content creation, omnichannel options, detailed analytics, and an affordable price.
Sounds like a lot? You deserve the best, so consider some of these options.
7. Omnisend for marketing automation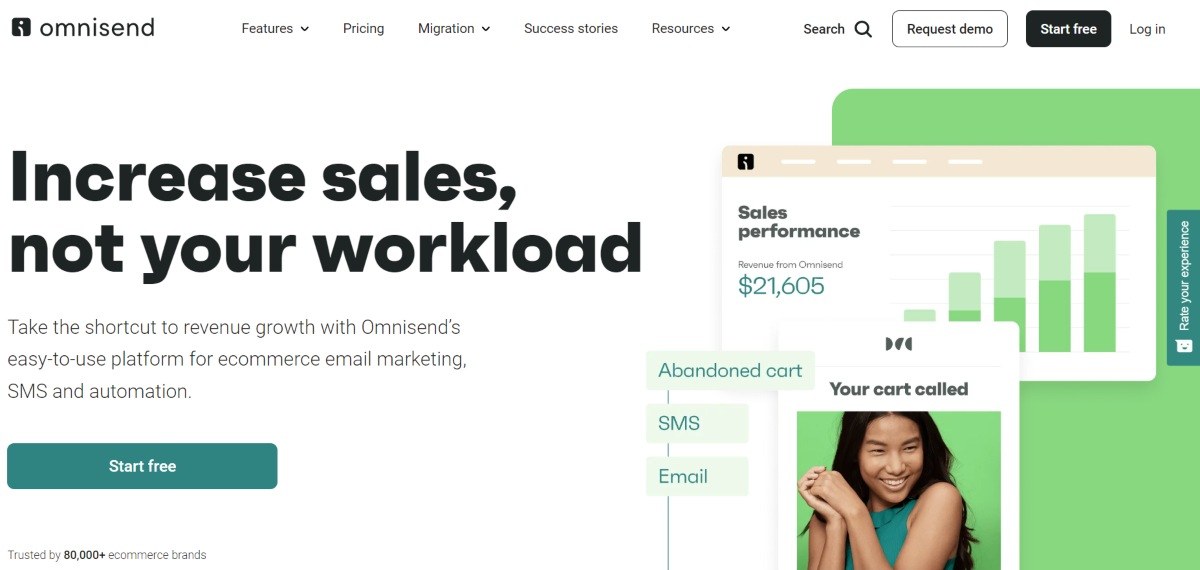 Omnisend excels in omnichannel marketing – which means that you can seamlessly connect several channels into the same automated workflow.
Rather than performing email, social, and SMS marketing separately, you can save a lot of time doing it all in one place. However, this omnichannel focus does not mean that individual channels are any less powerful. And despite the myth that customers find SMS annoying, the reality is that transactional SMS, like order confirmation, are actually expected and can lead to better sales.
Omnisend has an extremely powerful email marketing automation featuring:
An easy-to-use editor
Loads of ecommerce-specific pre-built templates
Email capture options like landing pages, pop-ups, and lead generation forms
You can use all these to build your own email list.
However, what really makes Omnisend stand out is its sophisticated, but easily applicable automation. With its welcome series, cart abandonment workflows, birthday series, and special offer emails, Omnisend makes setting up and sending campaigns a breeze.
Key features
Has both SMS and email marketing capabilities
Reporting and analytics
Lead tracking and management
Automated workflows
Customizable email templates
Push notifications
Easy integration with over 30 ecommerce applications
Pros
User-friendly
Has pre-built automation for all your marketing campaign needs
Easily integrates with ecommerce tools like Shopify, WooCommerce, BigCommerce, and Adobe Commerce
Excellent customer support
Free plan with automated email marketing capabilities
Cons
Best-suited for email and SMS marketing and not other types of marketing
Usability
Easy to use
Tool level
Beginner/Intermediate
Pricing
Free plan
Standard: from $16/month
Pro: from $59/month
Omnisend's marketing automation tools can help boost traffic and conversions for your ecommerce store.
Start Free Today
8. Ahrefs for SEO and website health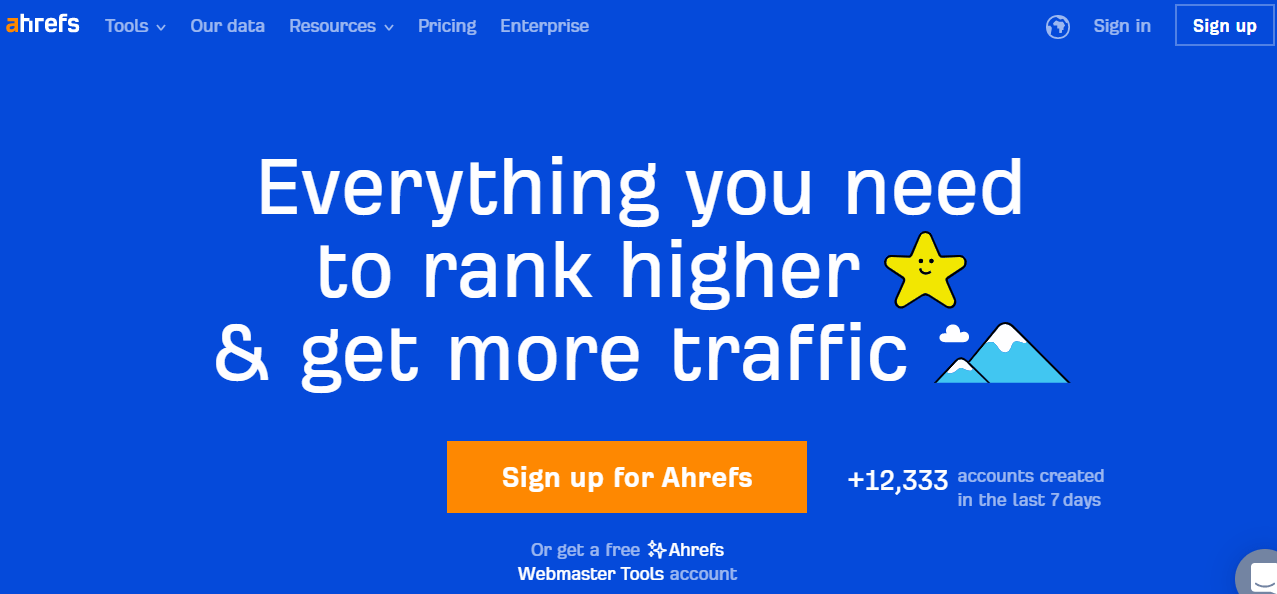 Ahrefs is a fantastic competitor research and SEO tool, boasting a bigger backlink index than any other tool. With Ahrefs, you can spy on your competitor's SEO strategies, their backlinks, keywords, and more.
This is invaluable data for understanding successful ecommerce strategies. While it may lack more in-depth content analysis and link auditing, Ahrefs is a perfect all-rounder for optimizing your website for search.
From your blog content to your product descriptions, Ahrefs has tools that will help you optimize your ecommerce store to boost organic website traffic.
This tool will help you create brand awareness, and attract, engage, and retain customers using content on your site.
Key features
Detailed keyword research tool
Link building and domain rating
Rank tracker and historical SERP checker
Site explorer with charts and graphical reports
Website audit tool
Competitor analysis
WordPress SEO plugin
Google Data Studio integration capabilities
Pros
Has content planning capabilities
You'll get weekly updates on recent ranking keywords
Access to a large backlink database
Detailed analytics and data visualization tool
Cons
No free trial
Mainly an SEO tool, not an all-in-one marketing tool
Usability
Requires some technical knowledge
Tool level
Intermediate/Advanced
Pricing
Lite: $99 per month
Standard: $199 per month
Advanced: $399 per month
Enterprise: $999 per month
9. Buffer for social media automation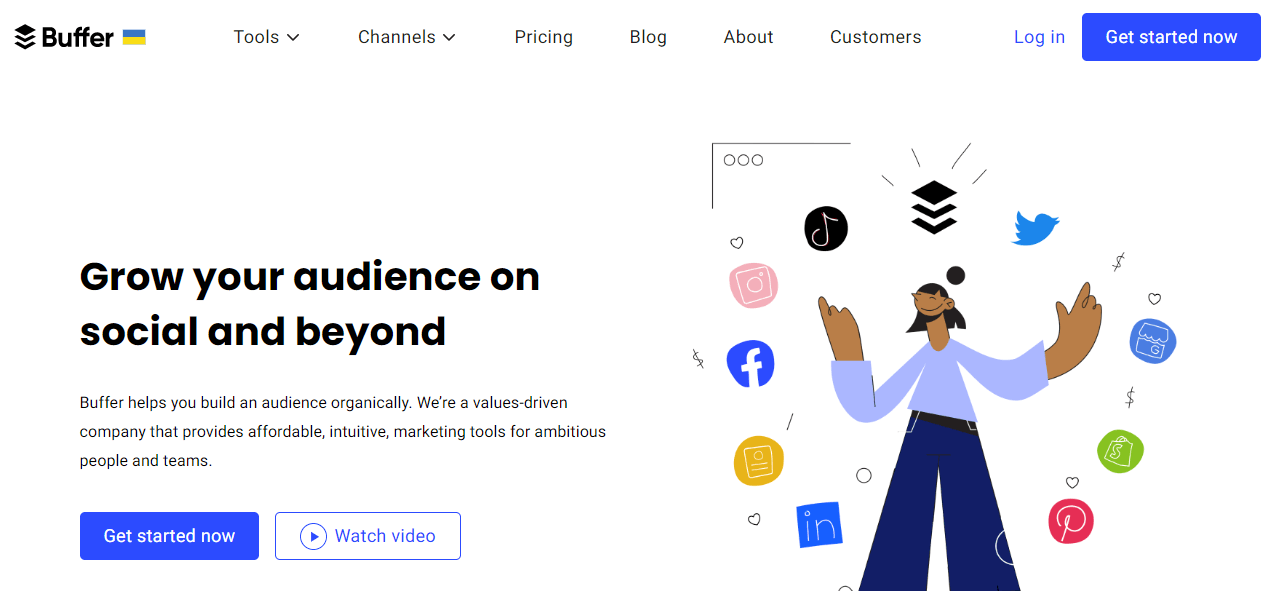 Buffer allows you to schedule posts and easily manage all social accounts from a single dashboard. You can also create attractive visuals with your posts, easily assign tasks to team members, and integrate with other social apps including Zapier, Feedly, Pocket, and more.
Buffer has a clean and intuitive interface that makes content creation and sharing a breeze, with real-time analytics to keep a close eye on the performance of your posts.
It's best suited for businesses with smaller social media teams. Its starting packages are cost-effective. The free plan offers ten scheduled posts per week for up to three social channels.
Key features
Social media analytics
Campaign planning and optimization
Content creation
Social listening
Social media publishing
Content calendar
Content library
Pros
Extremely easy to use
Free plan and 14-day free trial on paid plans
Both social media scheduling and publishing capabilities
Mobile application available
Cons
Limited customer support channels
Price can be high if you want to connect multiple channels
Usability
Usability
Easy to use
Tool level
Beginner
Pricing
Free: $0/ three channels
Essentials: $5 per month per channel
Team: $10 per month per channel
Agency: $100 per month for 10 channels
10. ReferralCandy for referral and affiliate marketing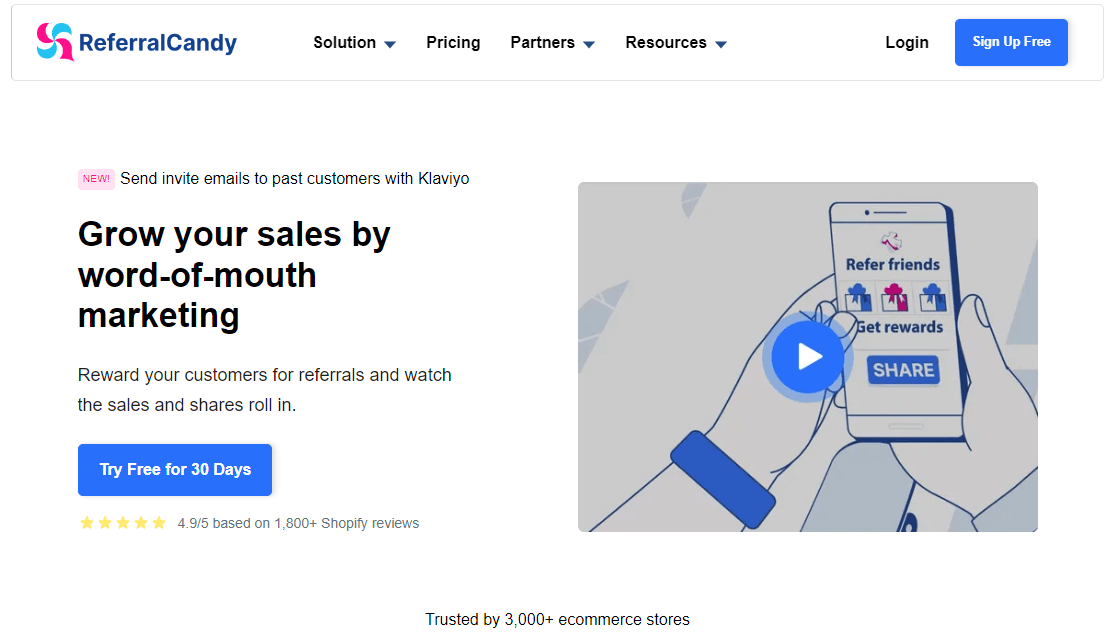 ReferralCandy offers a complete referral program for your business. You'll be able to increase your revenue and conversion rates by rewarding your customers for referrals.
With ReferralCandy, you can choose from a range of rewards and incentives. For example, coupons, unique gifts, and cash rewards, which are paid out automatically when a referral is made.
ReferralCandy is easy to use and doesn't require any special technical knowledge. It's an automated tool that lets you quickly gain new customers and keep the existing ones via the power of word-of-mouth and customer loyalty.
As this reward system is likely to attract fraudulent activities as well, ReferralCandy comes with an anti-fraud tool to help you retain your ROI. This tool easily syncs with multiple ecommerce tools like Shopify.
Key features
Automated referral invitation links
Customizable reward systems
Fraud detection tool
Customer support
Pay per performance
Pros
30-day free trial available
Cost-effective tool with great features
Multiple smooth integrations
Cons
Website customer support limited to live chat
Usability
Some functions need technical knowledge
Tool level
Intermediate/Advanced
Pricing
Premium: $47/month billed annually
Plus: $239/month billed annually
Enterprise: Custom
11. DataFeedWatch for product feed management – PPC campaigns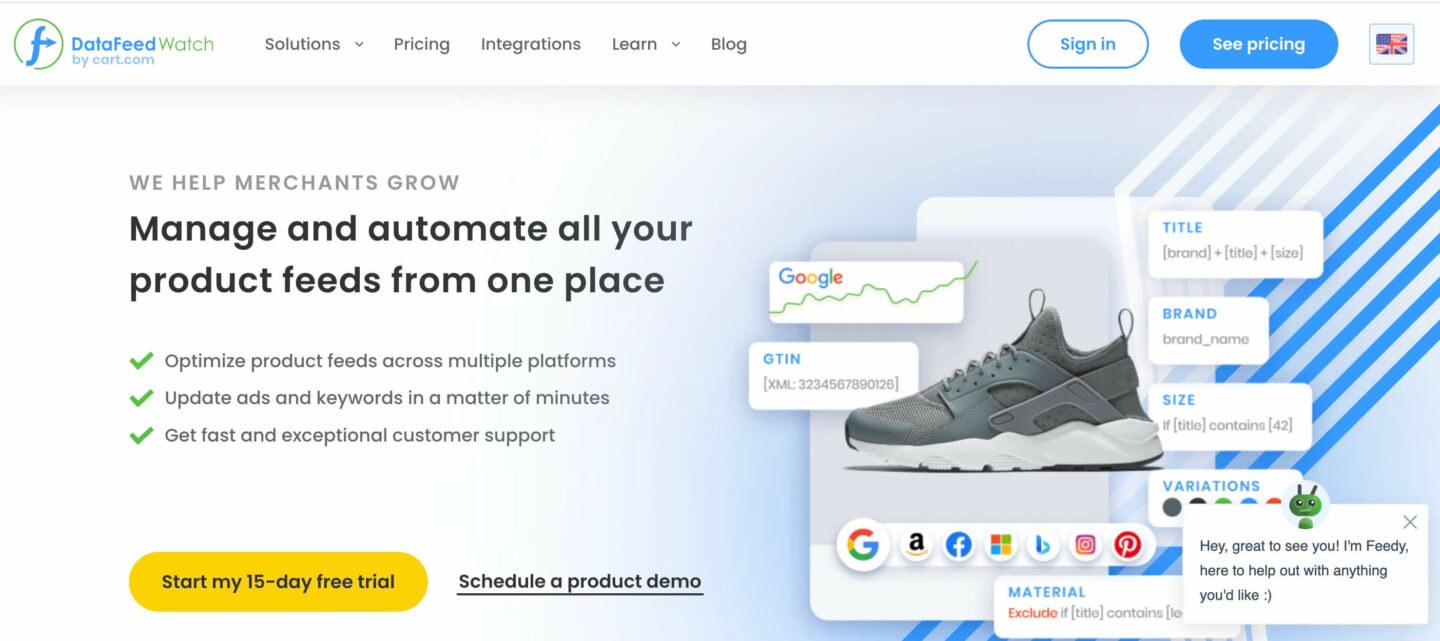 DataFeedWatch by Cart.com is a single tool that allows advertising your products in one, a few, a hundred, or even two thousand+ shopping channels and platforms at the same time. The product feed required for PPC campaigns is adjusted and optimized to every channel automatically. What's interesting you can use the tool on different levels – as a novice and as an expert. The tool is most popular in the USA, UK, and Scandinavia although operates in over 60 countries at the moment.
Since 2023 the tool has had very helpful functionality – you can check who else is selling your product and for what price. Based on that some smart algorithms will suggest an optimal price for your product.
The tool is used by online stores, merchants, brands, marketing agencies as well as enterprises to stimulate growth in new channels and territories.
DataFeedWatch pros:
Using the tool on a novice level is easy and possible for practically everyone. Expert level is also available and used by professionals.
Helps you improve your PPC results – grow conversions, ROAS, ad relevancy, etc.
Saves you/your team a lot of time thanks to the automation and centralization of all your shops, channels, and feeds in one place
Customer support is fast and helpful. User reviews show that DataFeedWatch wins with its competitors in that respect as well
DataFeedWatch cons:
You need some time to learn all features of the tool to effectively use them
The competition price monitoring tool is paid extra
There is no free plan only a free trial
Usability
Easy to use
Tool level
Beginner/Intermediate
Pricing
Shop: $59/month
Merchant: $79/month
Agency: $199/month
Enterprise: Custom
Bonus: Growave

Growave is an ecosystem of marketing tools. It allows your business to create and manage loyalty programs and rewards, collect reviews, create a referral program, and enable wishlists and social login. The integration of the tools creates a seamless experience for the customers encouraging them to return to the store. Increase repeat purchases and engagement with one app.

Key features:
Create loyalty and rewards programs with a variety of options
Easily request and collect reviews within the app
Automated follow-up emails about wishlist items
Create loyalty and rewards programs with multiple options
Best used for:
Creating loyalty and engagement
Generating more sales from existing customers
Increasing social proof
Process & website optimization
So you've chosen your platform and your website is up and running, now it's time to optimize it to suit your precise business needs.
There are several aspects to consider here. Here are some tools for ecommerce website optimization.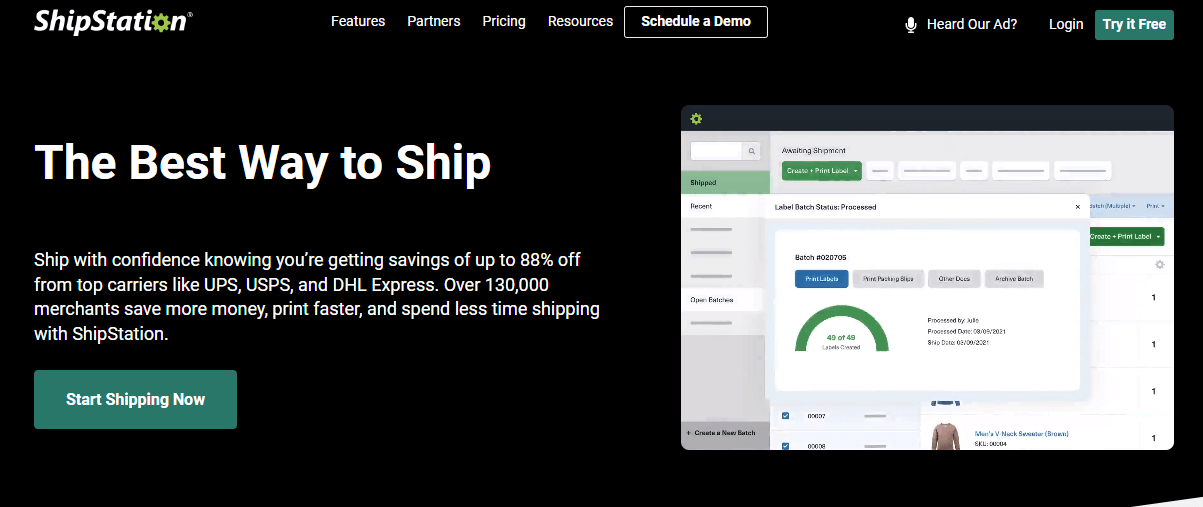 ShipStation makes order fulfillment a seamless and accurate process, integrating with all the major ecommerce platforms and marketplaces to become the ideal shipping solution for businesses of all sizes.
ShipStation's major benefit is its time-saving automation features. It imports all the orders from your ecommerce website and sorts them by priority. You can set different rules for specific orders, with all the necessary information pre-filled.
So all you need to do is print the shipping label instead of dealing with each one manually. As far as shipping goes, it doesn't get much easier than that!
Key features
Integration with key ecommerce platforms
Inventory management tool
Post-purchase branded shipping
Simplified shipping workflows
Order management
Pros
Wide range of plans for all business sizes
Provides a shipping calculator tool
Offers discounted shipping rates through partners such as FedEx and DHL
Cons
Interface can be more user-friendly
Usability
Interface can be easier to use
Tool level
Beginner/ Intermediate/Advanced
Pricing
Starter: $9.99/month – 1 user, 50 shipments
Bronze: $29.99/month – 1 user, 500 shipments
Silver: $59.99/month – 2 users, 1,000 shipments
Gold: $99.99/month – 3 users, 2,000 shipments
Platinum: $149.99/month – 5 users, 5,000 shipments
Enterprise: $229.99/month – 10 users, 7,500 shipments
13. CartHook for checkout

CartHook is a great tool for addressing one of the great problems that all retailers face—the dreaded shopping cart abandonment. With an average cart abandonment rate of around 70%, recapturing at least some of them with an effective abandoned cart strategy can really boost your revenue.
CartHook automatically captures an email address and the contents of the abandoned cart when website users have gone through the first checkout stage. If the purchase wasn't finalized within an hour, an automatic abandoned cart email series is triggered, with up to 3 emails included.
With average recovery rates hovering around 20%, you're looking at an average of 9% increase in revenue with CartHook—excellent numbers for a single tool.
Key features
Full integration with Shopify checkout funnel
Data analytics and insights
Customizable designs for your specific brand
Live chat support
A/B testing for upsell optimization
Post-purchase revenue analysis
Pros
14-day free trial
No developer needed to set up tool
It's an easy-to-use tool
Presents good upsell opportunities
Cons
Niche solution for a specific use-case
Usability
Easy to use
Tool level
Beginner/ Intermediate
Pricing
Growth Plan: $50/month
Scale Plan: $250/month
Enterprise Plan: Custom price
14. Gorgias for customer service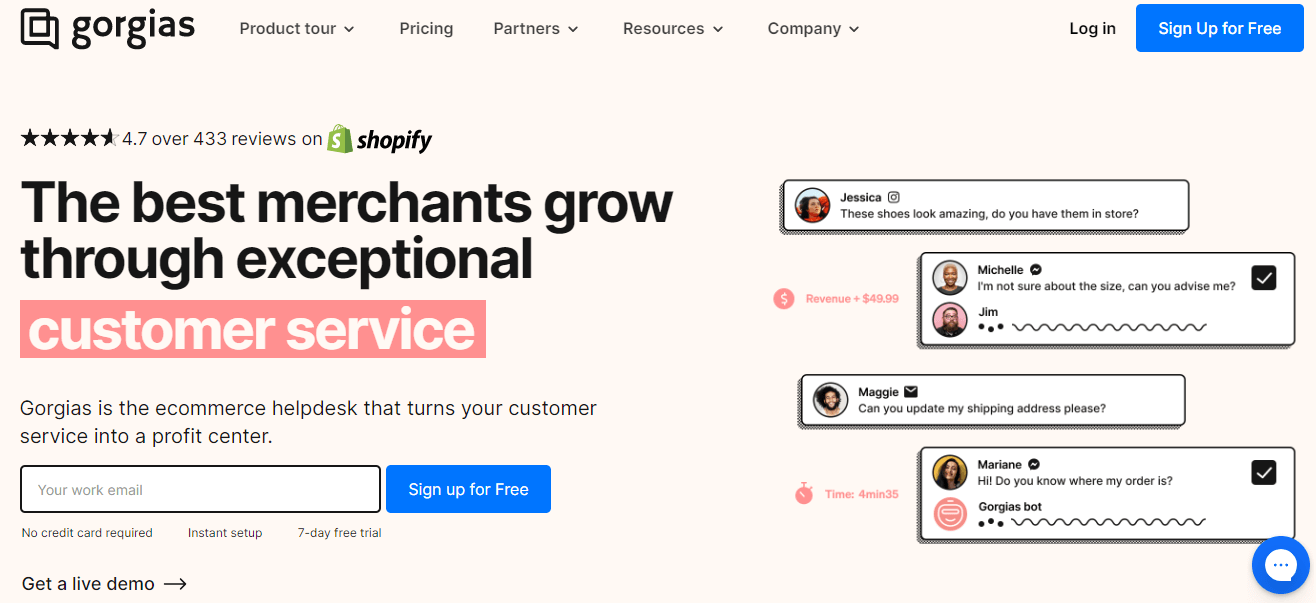 Gorgias is an incredibly useful app for delivering outstanding customer service, a vital aspect of ecommerce that all retailers should aspire to.
Unfortunately, as we all know, there are only so many hours in a day so customer service is often (mistakenly) shunted down the priority list.
Gorgias aims to save you valuable time by automatically answering basic customer questions—no more repetitive manual responses! It allows you to manage all your communications from a single dashboard, giving you the option to automate the customer interactions of your choice.
Gorgias also measures the impact your customer service has on your revenue and productivity, so you know exactly how well you're doing.
Key features
Social media listening
Ticket management
Statistics and analysis
Shopify/BigCommerce/Adobe Commerce integration
Centralized social media interactions
Pros
It's best suited for businesses of all sizes
Offers many integration options
Excellent customer support
Cons
Only advanced plans have access to revenue statistics
Usability
Easy to use
Tool level
Intermediate
Pricing
Starter: $10/month
Basic: $60/month
Pro: $360/month
Advanced: $900/month
Enterprise: Custom
Extra automation add-on

: $300/month
15. Nosto for personalization and product recommendation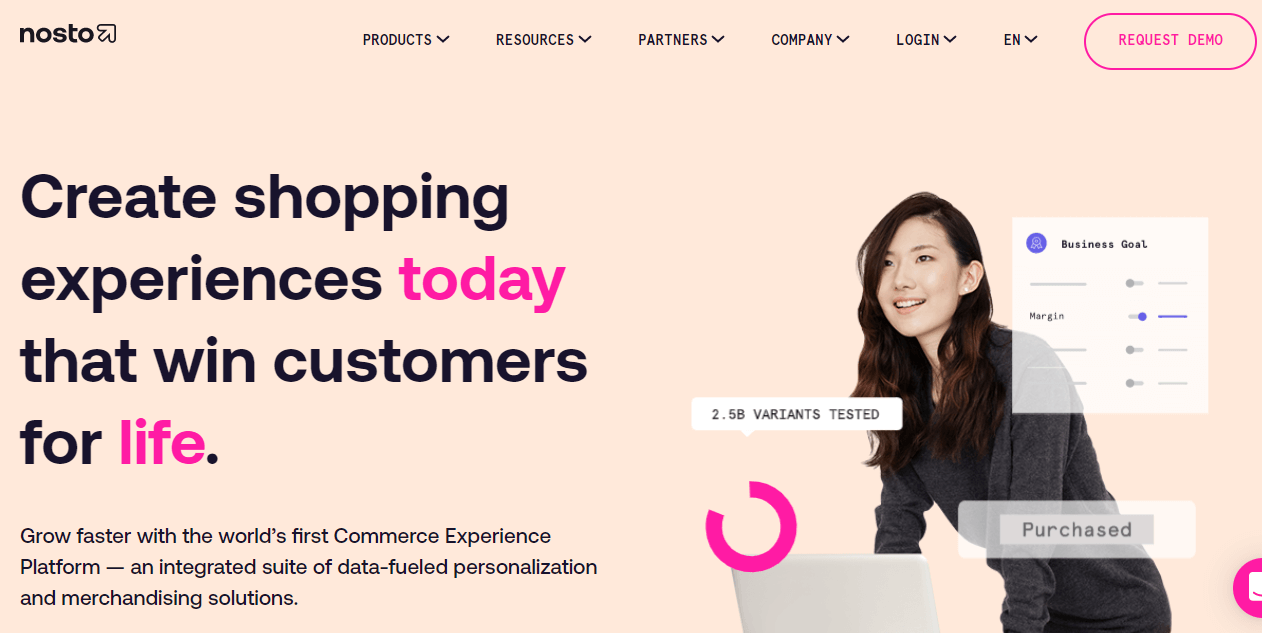 Nosto is best known for personalized product recommendations, but it has expanded to include content personalization, email product recommendations, pop-ups, and customer insights.
Nosto automatically predicts and delivers highly relevant shopping experiences in real-time to every individual customer, increasing customer engagement and therefore maximizing revenue.
Personalization is a big trend in ecommerce right now, with customers coming to expect tailor-made online shopping experiences. Therefore, this is definitely something to look at for your business.
Nosto claims to boost conversions for its clients, so that's an added benefit.
Key features
Audience segmentation and insights
Category merchandizing
Interactive dashboard with reports and analytics
A/B testing
Email personalization
Pop-ups and reminders
Product recommendations
Content personalization
Pros
Helps deliver personalized shopping experience to customers
It offers A/B testing capabilities
Has an easy-to-use interface
Has great reporting and analytics tool
Cons
Better reporting tools from competitors
| | |
| --- | --- |
| Usability | Easy to use |
| Tool level | Intermediate |
| Pricing | Starting at €99 per month |
16. Optimizely for optimization and A/B testing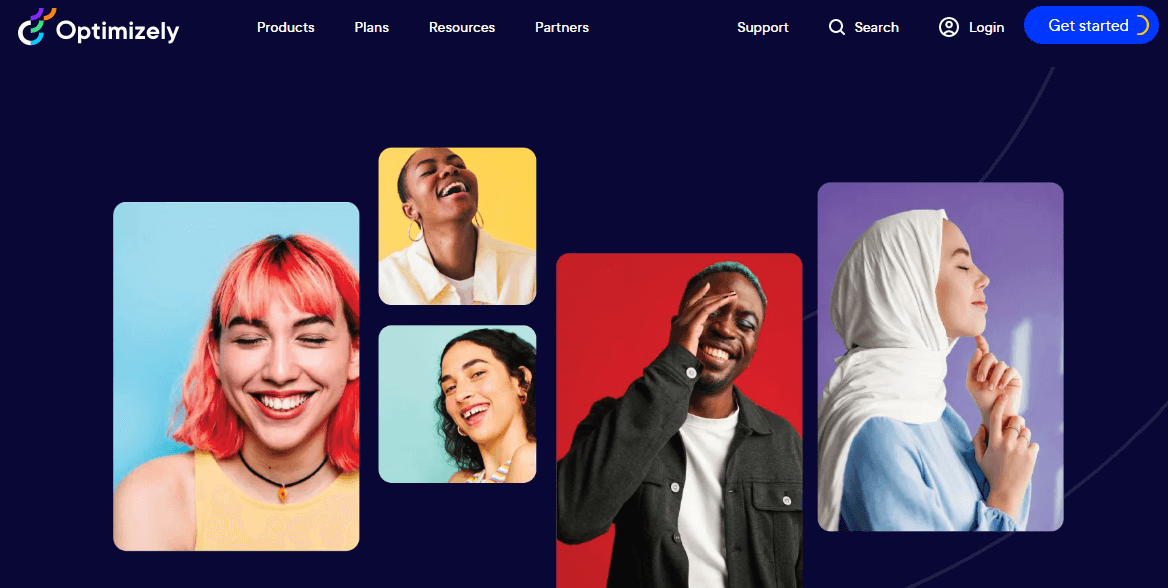 Optimizely is the best experimentation platform on the market for testing the impact of changes on your ecommerce website. For example, you might want to know how people would react to a logo change or a different font on your landing page.
Its features are mainly centered around A/B testing. It claims to be the world's most powerful solution for A/B and multi-page front-end experimentation.
However, you can also enjoy visual editing, multivariate testing, behavioral targeting, and much more, along with full integration into major analytics tools like Google Analytics. In short: if you need testing, Optimizely will have you covered.
Key features
Content management
Easy collaboration and commenting
Streamlined workflows
Inventory management
Order management
Integrated calendar for time tracking
Multivariate A/B testing
Personalization of content
Multilingual sites
Pros
Provides a large community and resources to help you make the most of the tool
Pricing is tailored to your business needs
The tool has strong editing capabilities
Cons
Using the test features requires heavy IT skills
| | |
| --- | --- |
| Usability | Requires technical skills |
| Tool level | Advanced |
| Pricing | Custom |
17. Yotpo for generating reviews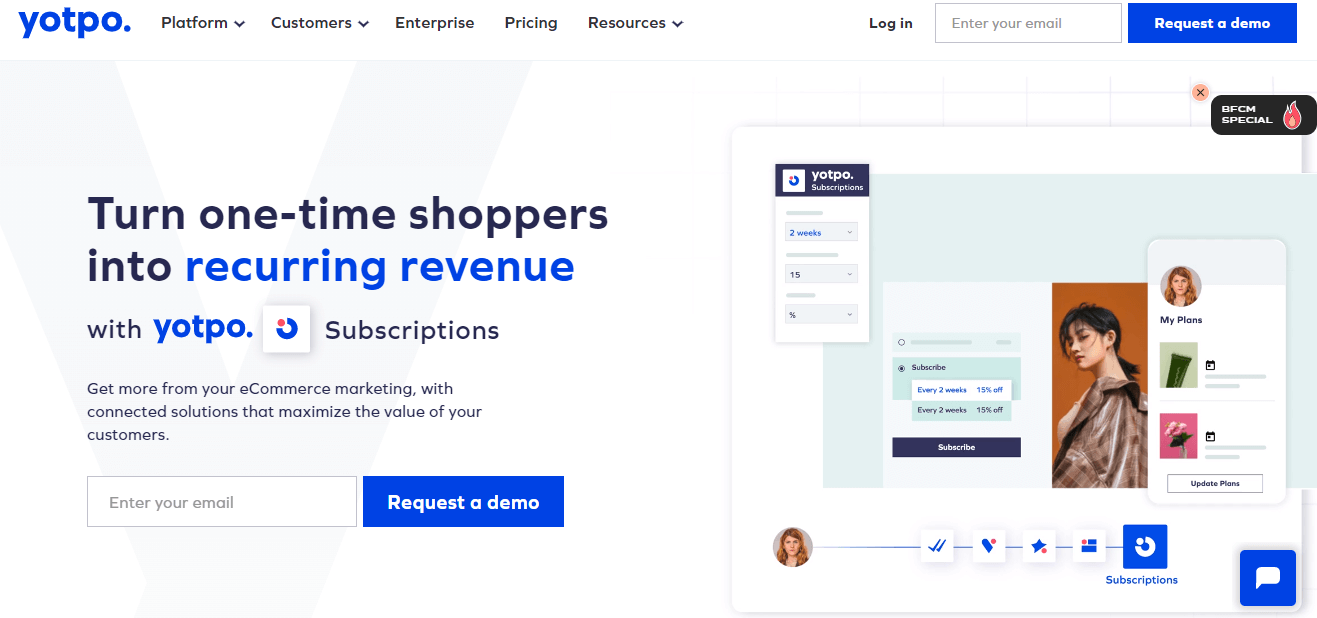 Yotpo reviews help you build social proof and trust in your site and products by making it easy for customers to leave reviews.
With 77% of consumers reading online reviews before making a purchase, outsourcing your marketing campaigns to your satisfied customers makes a lot of sense!
Yotpo is a platform that specifically addresses the need for user-generated content, helping marketers to find, curate, manage, and respond to all kinds of customer-created content related to your brand.
With easy integrations to popular platforms like Facebook, Google, and Shopify, you'll be collecting positive reviews in no time. Yotpo's intuitive algorithm precisely identifies which products to request reviews for, at exactly the right time.
Key features
Effective moderation tools
Support for multiple languages
Powerful reporting and analytics tool
Coupon and loyalty programs
Product recommendations
Cloud-based platform
Supports popular ecommerce platforms
Pros
Integrates with most ecommerce websites
Has a powerful analytics tool
Its user interface is easy to navigate
Has a free plan
Cons
There is no way to control how reviews appear on social media
Usability
Slight learning curve
Tool level
Beginner/Intermediate/Advanced
Pricing
Free plan
Growth: from $19/month
Prime: from $59/month
Powerhouse: from $199/month
Enterprise: Custom
18. Veeqo for inventory management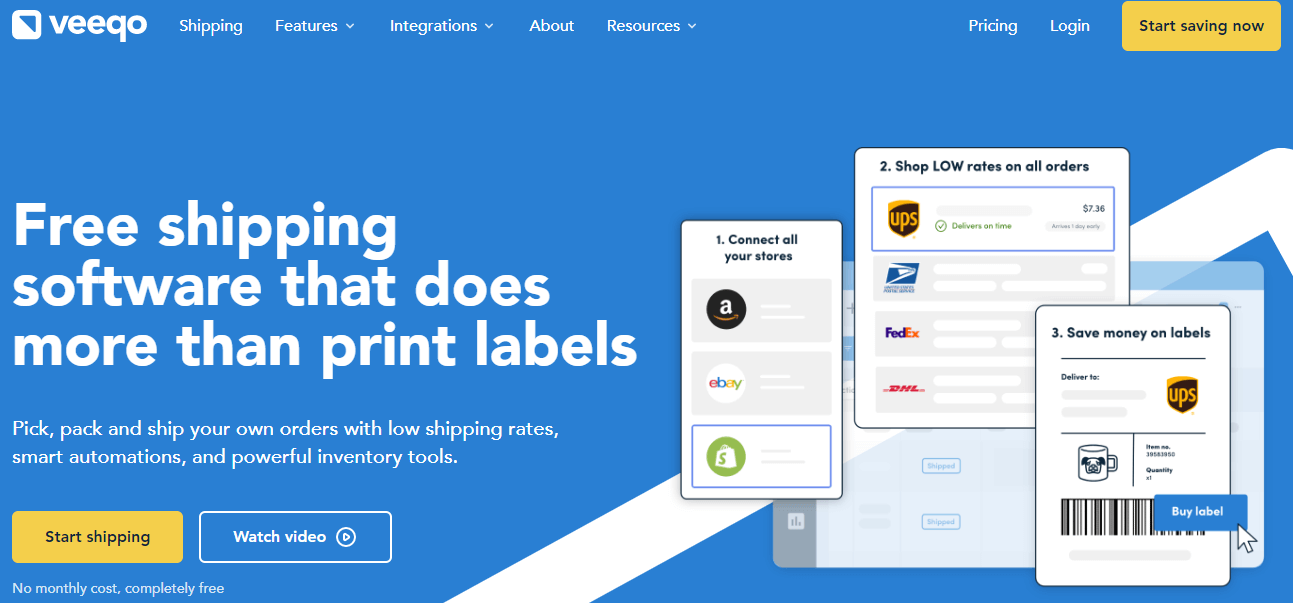 Veeqo centralizes the management of your inventory, orders, and shipping across all channels, bringing everything together in one convenient dashboard.
Everything inventory-related is at your fingertips, including purchasing from suppliers, shipping & tracking orders from any channel, managing warehouse operations, and reporting on the entire process with detailed analytics and reporting features.
You can easily buy from your suppliers, generate shipping labels for orders, and integrate with major accounting platforms like Xero and QuickBooks so you can keep a close eye on your numbers.
Key features
Inventory automation for repetitive tasks
Inventory reports and insights
Warehouse management tools
Inventory movement management
Product management tools
Barcode scanning capabilities
Purchasing tools
Pros
Supports shipping
Has a friendly user interface
Offers multiple functions under a single platform
Multiple customer support options
Integrates with popular shipping platforms
Cons
Lacks a sales processing function
| | |
| --- | --- |
| Usability | Easy to use |
| Tool level | Beginner |
| Pricing | Free |
Analytics & reporting tools
Congratulations! Everything is in place and running smoothly, your ecommerce store is fully optimized and your marketing efforts are paying off. Or are they?
In order to fully maximize the potential of your store, you need to know exactly what works well and what could use a little improvement. This is where analytics & reporting comes in.
You'll be able to dive deep down into the data and make your adjustments accordingly. Let's check out some of the best all-around tools on the market.
Google Analytics is a free tool that allows you to track sessions, page views, users, time on page, bounce rates, conversions, and other visitor behavior on your site.
This powerful tool is a must-have for ecommerce retailers, and don't worry if you feel overwhelmed by all the information you can access. Google will give you free training so you can quickly master the basics.
You'll be able to set up reports that run in real-time to help you identify problems or opportunities as they arise, and have access to a whole range of free features to help you understand your customers better.
Key features
Data reporting and visualization
Multichannel funnel analysis
Shopping and checkout funnel analysis
Tag management system
Predictive data analysis
Multiple integration solutions
Pros
Uses statistics and machine learning to help you make marketing decisions
Provides you with detailed marketing reports
Helps you monitor and report your performance
Cons
| | |
| --- | --- |
| Usability | Easy to use |
| Tool level | Beginner |
| Pricing | Free |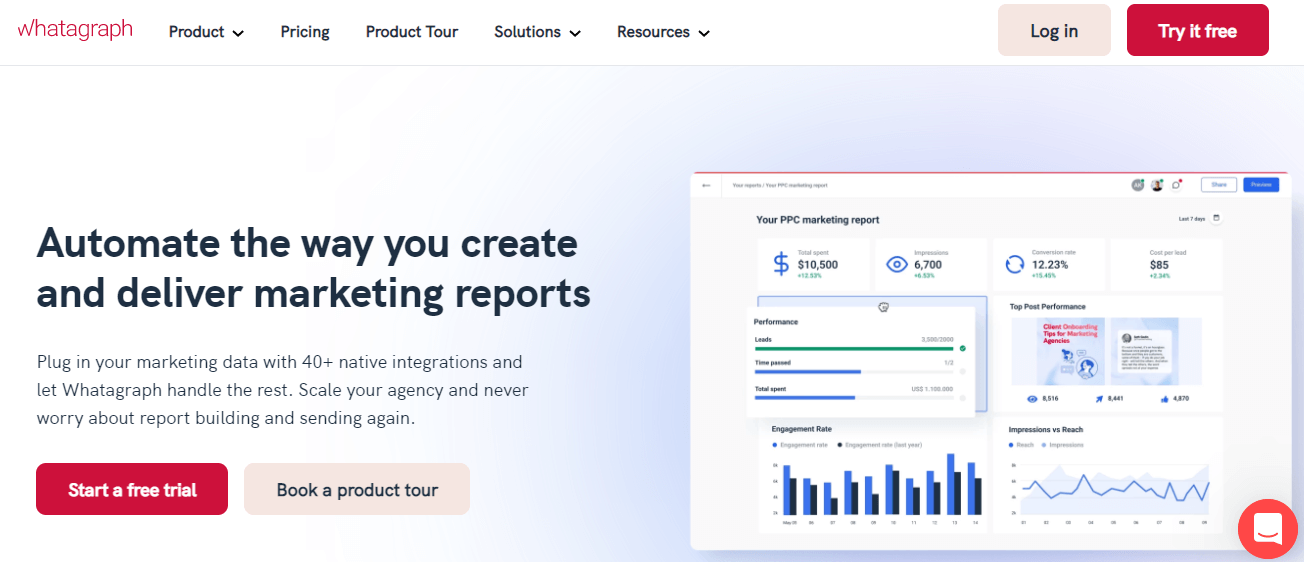 Whatagraph automatically creates visually attractive reports that make your data easy to understand and perfectly formatted for making presentations.
Scheduled automatic reports save you time with prompt delivery to your inbox at a time of your choosing, putting your marketing performance in a clear light and allowing you to act upon it when and where it counts.
Whatagraph integrates seamlessly with Google Ads and Analytics, all the major social media platforms, and a range of other ecommerce-specific software. So all your performance data will be accessible in one place.
Their customer service is second-to-none. Consider Whatagraph as a high-end addition to Google Analytics, it is ideal for agencies and marketing teams.
Key features
Has pre-built customizable widgets
Drag-and-drop customizable templates
Automated report delivery
Custom branding and logos
Cross-channel reporting and data blending
Pre-made templates, and a smart builder
Pros
It's an easy-to-use tool even for beginners
It's easy to personalize reports on their dashboard
It integrates with over 40 ecommerce related platforms
Cons
Customer support could be better
It's an expensive tool
Usability
Onboarding training required
Tool level
Advanced
Pricing
Professional: $199 per month billed annually
Premium: $299 per month billed annually
Custom: Custom pricing
21. Kissmetrics for customer journey
Kissmetrics is another tool that provides comprehensive data that you can leverage to identify weaknesses and opportunities and maximize the performance of all aspects of your business.
Kissmetrics has a detailed, customized dashboard, giving you instant access to your most vital metrics while allowing you to visualize your checkout funnel with sales funnel reports.
But rather than offering impersonal metrics like bounce rate or time-on-site – the kind offered by Google Analytics – you'll be able to tie data to a real person and see their full customer journey across devices.
This helps you to make informed business decisions based on actual user behavior, not just numbers. Kissmetrics is all about tracking the defining characteristics of each customer because customers are real people, not website sessions.
Key features
Automated personalized email campaigns
Automated reports and data analytics
Behavior-based customer segmentation
A/B testing for performance optimization
Data monitoring in real-time
Pros
Improves your customer engagement through personalized email marketing campaigns
Provides you with instant data reports
Compares your core metrics and gives automated updates
Free trial available
Cons
Usability
Slight learning curve
Tool level
Intermediate/Advanced
Pricing
Silver: $299/month billed annually
Gold: $499/month billed annually
Custom: Custom price billed annually
22. Hotjar for visual insights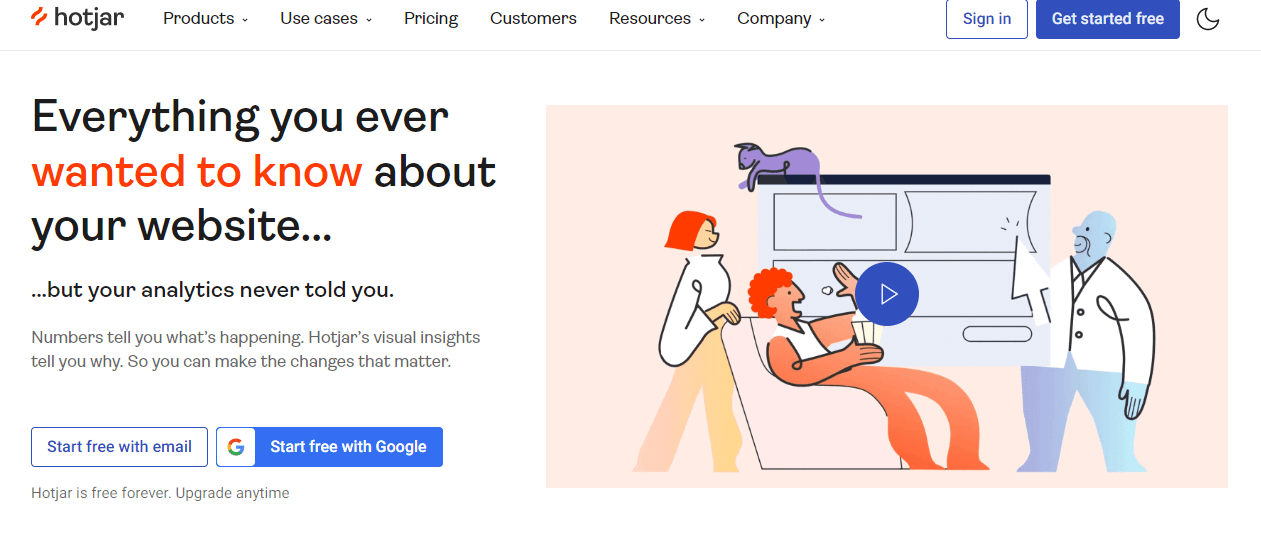 Unlike most other reporting tools, Hotjar lets you visualize your website interactions using interactive heatmaps. These heatmaps track your visitor's clicks, scrolls, and other actions, and records these sessions to give you a data-driven understanding of your audience.
With Hotjar, you can monitor your website performance, make changes, compare site visits and generate reports. With this data, you'll know which changes in your online store increase site visits and conversions and which do not.
You can also use their pop-over survey tool to create compelling questions for site visitors so they can give you feedback on your website. It's a comprehensive feedback and visualization tool suitable for all business types.
Key features
Click tracking for all website visits
Website heatmaps with easy-to-follow visualizations
Data insights and analytics
Survey user response tool for feedback collection
Data segmentation capabilities
Lead generation and conversion opportunities
Session replays
Mouse movement tracking
Side-by-side analysis and testing
Pros
Ability to record and replay user sessions
Visualization of reports and analytics using heatmaps
Great reporting and analytics
Cons
Can be difficult to set up
Usability
Requires technical knowledge
Tool level
Beginner/Intermediate
Pricing
Basic: $0 forever
Plus: $32 per month
Business: $80 per month
Scale: Custom
23. Supermetrics for moving marketing data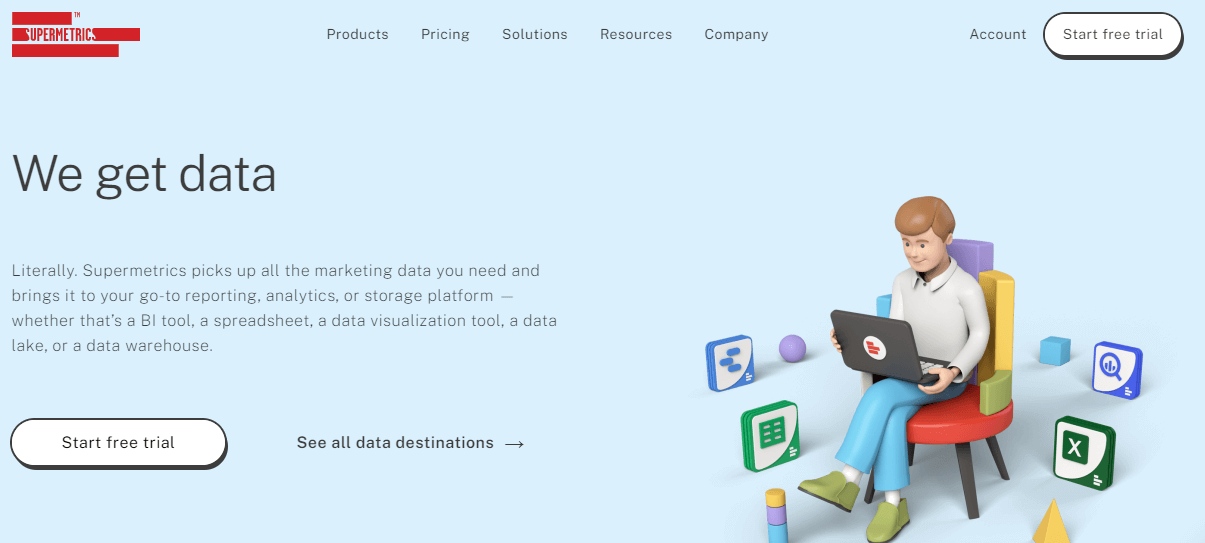 This ecommerce tool collects all your marketing data from various sources and brings it to your preferred reporting and analytics tool, connecting these two platforms seamlessly.
The software was initially developed to facilitate businesses' access to Google Analytics data, but it has since developed into a reporting solution that integrates with a variety of analytics tools and engines.
Supermetrics lets you bring your metrics from your marketing platform quickly into your data visualization or business intelligence platform for analysis. It supports the planning and execution of online marketing, online analytics, and social media campaigns.
The end result is improved marketing performance based on data-supported decisions, deeper insights into your marketing data, and significant time and cost savings by doing away with manual copying and pasting.
Key features
Data visualization and presentation
Search engine marketing
Multiple integrations with analytics tools
Data mining
Automating the scheduling of reports
Social media reporting
Pros
Does not require CVS file importing and manual copy/pasting
Integrates with a number of marketing platforms including Facebook Ad and LinkedIn Ads
Helps you reduce your PPC reporting time
Has automated dashboards to help you monitor your performance
Cons
Not beginner friendly
No scalability
| | |
| --- | --- |
| Usability | Slight learning curve involved |
| Tool level | Intermediate |
| Pricing | Varies by platform |
24. Zoho Analytics for in-depth data analysis

Zoho Analytics is one among many business intelligence tools in the Zoho suite that you can integrate into your ecommerce platform.
With the help of this self-service data analytics tool, you can analyze your data, produce spectacular data visualizations, and unearth untapped knowledge and insight in a matter of minutes.
For in-depth reporting and analysis, Zoho Analytics enables you to import data from a variety of sources. These include local files, web links, Google Drive, cloud databases, well-known business applications, etc.
This tool also offers a range of reporting options including charts and tables, to help you visualize your marketing information and track your performance. You can create reports with so much ease, thanks to Zoho Analytics' drag-and-drop interface.
Key features
Intuitive data visualization tools
Scheduling option for publishing reports for publishing
Drag and drop user interface making report generation quick and easy
Built-in smart analytical assistant, Zia
iOS mobile application for viewing reports on the go
Pros
Easily embeds into other platforms, e.g you can integrate Zoho Analytics to more than one Shopify ecommerce store
Allows for scalability as the business grows
You can share reports with team and foster collaboration
Perform in-depth analysis using powerful pre-built formulas
Cons
Slight learning curve for beginners
Numerous feature which can make the UI confusing
Usability
Onboarding training needed
Tool level
Intermediate/Advanced
Pricing
Basic: $22/month billed annually
Standard: $45/month billed annually
Premium: $112/month billed annually
Enterprise: $445/month billed annually
Final thoughts
This list, while seemingly pretty comprehensive, barely scratches the surface of the number of tools that you can choose from.
However, we believe that those presented here are effective, efficient, easy to use, and great value for money. You can consider them an essential addition to your ecommerce toolbox, no matter what kind of business you have.
Did we miss any? Feel free to drop us a line and tell us all about your best ecommerce tools!
Get started with Omnisend today & drive sales on autopilot with pre-built automation workflows
Start Free Today
related features
Want more sales?
Omnisend has everything you need to succeed.
Start free now
No Credit Card needed.