Drive sales on autopilot with ecommerce-focused features
See Features
The Fundamentals of Retail Marketing
Popular
·
8
min read · Jan 09, 2020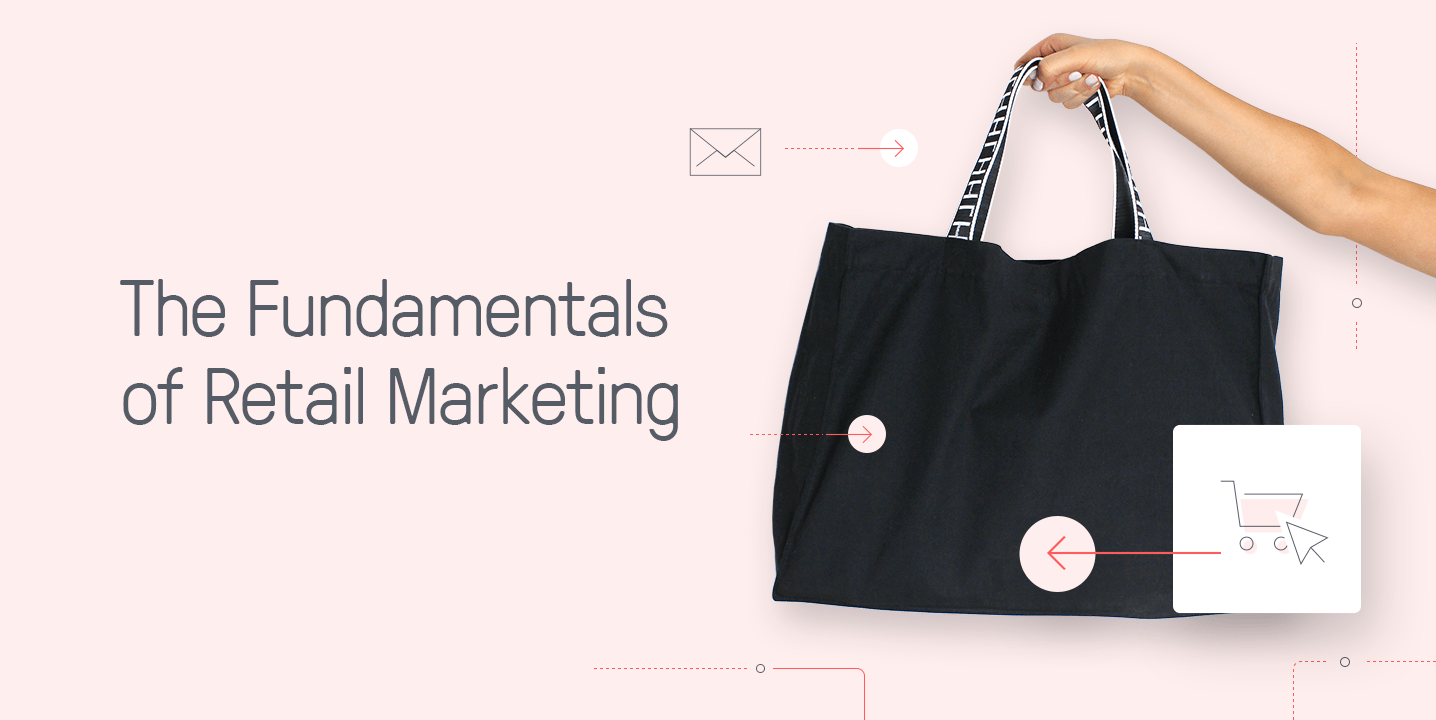 Reading Time:
8
minutes
We're all familiar with big-name retail brands like Walmart and Target. They sell a variety of products—some of which are stamped with their own private labels, but many more which are produced by other brands.
This scenario is possible through a retail marketing business model (which can also be effective for ecommerce marketing) that operates according to three basic steps:
The merchant purchases and sells products from businesses
The merchant advertises the products to customers with promotions
Customers visit the store and buy the products
Many brands follow this model to supply products to consumers and make money.
We all consider physical stores to be merchants. But it's easy to forget that online websites are retail stores as well. Amazon, one of the most popular ecommerce marketers, racks up millions of sales through its website.
With so many companies falling under this definition, what counts as retail marketing? And what retail marketing ideas contribute to successful ventures?
Want to get more out of your digital retail marketing? Try Omnisend Free Today.
What Is Retail Marketing?
Before getting into the complex details, it's important to first understand the fundamentals of retailing and the basics of retail marketing.
The retail model creates relationships that benefit each group. Brands—both the larger ecommerce marketer and smaller merchandiser—make money. Consumers have access to valuable products, at competitive pricing, without much hassle.
What may seem as a straightforward process actually requires a considerable amount of effort and coordination. A large portion of the work falls to the retail store, which serves as the intermediary between the consumer and the business.
The ecommerce marketer:
Makes it easy for the consumer to find and order a product or products.
Sells merchandise, which boosts sales and generates revenue, so that manufacturers don't have to worry about setting up a store.
This is what establishes a retail market. The merchant works with both sides to keep them connected, negotiating a pricing strategy and building relationships with brands throughout the sales process.
Retail marketing includes a variety of processes that helps this model, from promotion and ad campaigns to determining a price for final sales. Retailers need to think about the marketing mix, or the retail mix, when planning retail marketing.
How Retail Marketing Works
You're itching for the details on how to drive sales in retail. But before we shift to retail marketing ideas, step one is getting a grip on the foundational components that enable marketing strategy. Our guide is the marketing mix, aka the four principles of retail strategy.
Let's dive into the "four Ps"—product, price, place, and promotion—and learn how, when optimized and combined, they establish a strong base for setting yourself apart.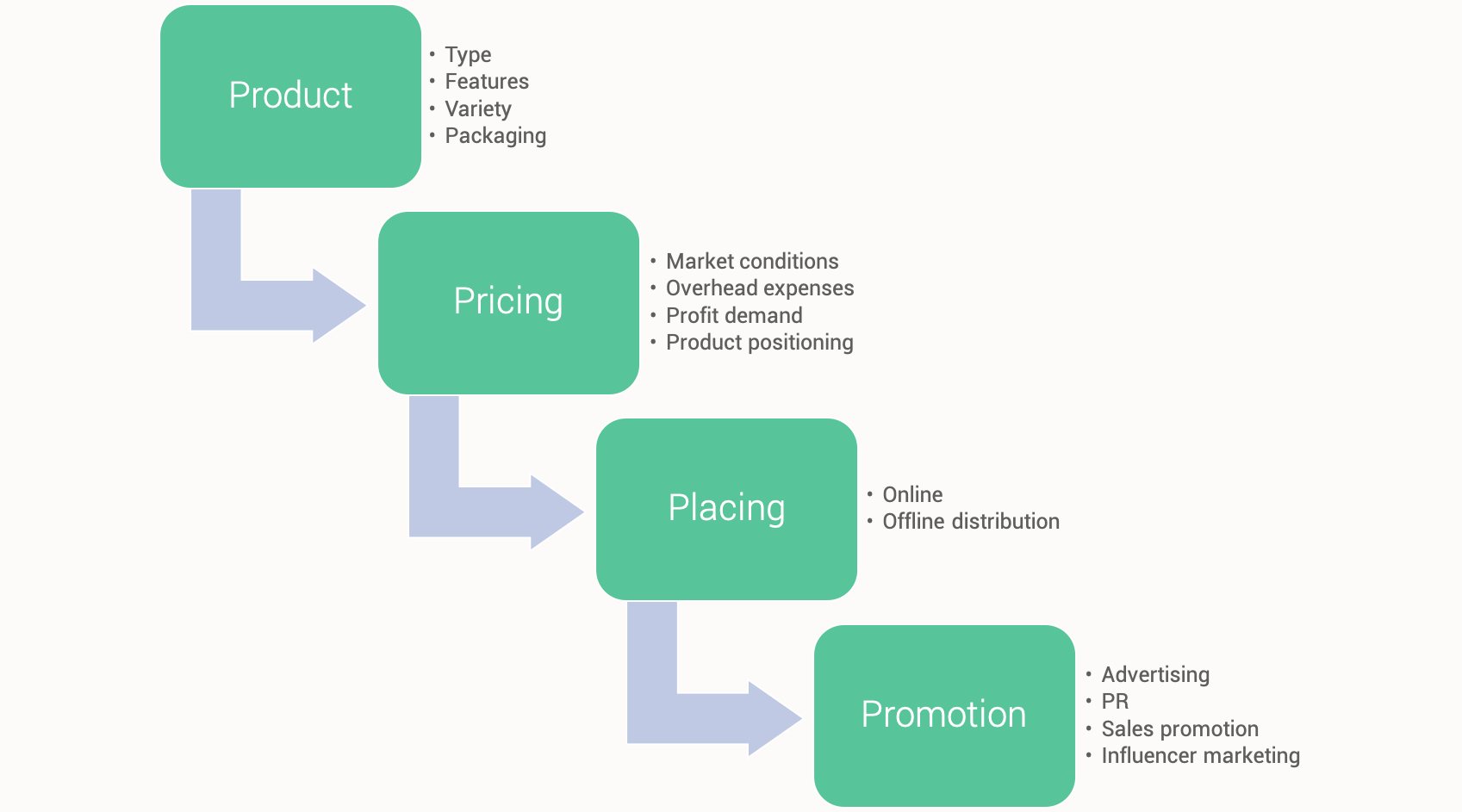 Product
The term "product" encompasses all aspects of a good. And all aspects deserve careful consideration.
Does your retail store sell a particular product in different colors? Different sizes and amounts?
Naturally, characteristics depend on the product you're selling. Always consider the options you offer in comparison with what consumers may want. Provide different versions, if available, to give customers variety. It will make for a better shopping experience that can separate you from the competition.
Price
Establishing an appropriate price for a product comes next. The process requires marking it high enough to make a profit, but low enough to compete with other ecommerce marketers and appeal to consumers. Striking the right balance nets greater profits.
Price might factor as the prime focus when a consumer searches for a product. Many shop around from brand to brand, considering cost to be a differentiating value. Remember, customers are always looking for the best value. Carefully considered pricing can make the difference between healthy sales and consumers who choose to take their money and shop elsewhere.
Keep in mind that seasonal changes and changes in market can have a considerable impact on products; especially clothing, festive merchandise, and certain electronics. For this reason, it's critical that retailers frequently tweak their pricing to expand their customer base and increase sales.
Place
Place refers to the locale or vehicle for selling the product. This can be a brick-and-mortar building or online/digital store. Each has its pros and cons, dependent on various aspects like cost of operation and store discoverability.
It is worth considering the benefits and drawbacks of each outlet. Also, some merchants find the solution for providing the best shopping experience is through both a physical storefront and digital one.
Promotion
Now that you have determined the product, its price point and the mechanism through which it will be sold, it's time to announce yourself to potential consumers. Word of mouth only goes so far in building the relationship between a consumer and brand.
Campaigns and ads are useful in informing your target audience about anything you want them to know. This can range from publicizing a physical store opening to broadcasting new (and perhaps lower) pricing structures. Alert them to upcoming deals and product debuts with digital ads and physical advertisements.
What Is a Retail Marketing Strategy?
Every ecommerce marketer needs a retail marketing strategy, meaning a plan to keep the business running while helping it grow. Your strategy will change depending on your business' size, the number of employees, and customer preferences.
Communicate with your employees to establish an effective strategy that details their roles. If you give them a goal and explain the strategy, they will understand what you want and work towards it.
As you apply and tweak your retail strategy, collect data about and from your customers. They will react to changes in different ways. Ask yourself these questions:
Did my customers have a positive or a negative reaction?
What caused their reaction?
Was my strategy more effective before or after the change?
Stick with changes that are met with positivity. For anything that consistently elicits the opposite, experiment with a different angle.
Your customers have expectations. This can include anything from expectations of pricing to availability of your products. Discover them, so you can meet, if not exceed, them.
Collecting and reacting to customer data is a constant part of improving your retail strategy. You don't use a retail marketing strategy once and then leave it.
You need to continually plan, execute, adapt and review to build a retail marketing strategy attractive to your customers. Continue to apply different strategies and retailer tips so that you can meet the expectations of your customers.
Want to nail the digital side of retail marketing? Start using all Omnisend's features with a Free plan!
Start Free Today
Leverage Social Media to Boost Retail Sales
Present-day, almost all brands boast some form of an online presence. However, few retailers know how to leverage social media tools fully.
A good idea is investing in social media advertising that makes it easy for you to display products your audience is likely to purchase. You can send prospective customers in your sales funnel by allowing them to access your store via social media posts.
With more and more people using mobile phones to purchase their favorite clothing, footwear, and accessories, retailers must leverage various marketing channels to boost sales. In fact, research reveals that 79% of online shoppers bought an item using their mobile phones.
Plus, social media advertising/marketing allows retailers to target customers who are already interested in their products or brand.
Keep Remarketing in Your Mind
A significant boost to retail sales and retention rates is by leveraging remarketing. The fact is that shoppers easily forget their positive shopping experience regardless of whether it's at a brick-and-mortar or online store.
Retailers need to remind customers of their past positive shopping experiences by engaging them with discounts and promotions. This way, you can boost sales and increase traffic to your website.
The Benefits of Retail Marketing
Retail advertising and marketing produces many benefits beyond profits—benefits that improve your store and foster strong relationships.
Let's look at how retailers can boost traffic in their store by employing the right marketing strategies:
Building a business network: Retail marketing involves establishing connections and forming relationships with businesses that manufacture products you want to sell. These linkages often lead to networking, which can result in discussions with more businesses and additional partnerships.
Gaining customer loyalty and brand awareness: Customers won't associate you with a product. For example, if a customer becomes mad at a business because of a product, they won't project it onto your store, even if you sold it to them. Customers disassociate your business from the products, which works as an advantage for you.
Collecting consumer data: Marketing in retail has the potential to generate a wealth of information about your customers and products. Extract the details from data about popular products and web traffic so you can make adjustments accordingly.
Physical vs. Digital Retail Marketing
As previously explained, you can go the physical or digital retail marketing route. The choice depends on factors such as product pricing, the cost of running a physical business, and how you prefer to conduct sales transactions.
The digital market continues to grow and pick up steam, especially after the onslaught of COVID-19.
Ecommerce marketers are surviving and thriving online. In fact, statistics are beginning to show that avoiding online retail may cost sales.
Online retail marketing, after all, has multiple benefits:
Customers can make a purchase from their home
It can be easier to handle and process products
Integrating omnichannel marketing into your business is simpler
There are a wealth of options for online marketing campaigns
The shopping process is quicker for customers
However, physical retail stores have their own advantages, too:
Customers can look at and feel products in person
You can talk face-to-face with customers about problems and questions
Customers will buy more at once to avoid multiple trips
As we suggested earlier, give thought to a retail marketing mix—both physical and digital retail marketing. If you settle on both, remember that most shoppers use their mobile devices in-store to compare pricing or research deals and coupons. So it's essential to optimize the mobile experience to deliver seamless omnichannel engagement.
Naturally, both physical and digital retail marketing approaches provide ample opportunities for initializing retail promotion ideas and unique retail promotion strategies.
Create a digital retail experience that's unforgettable: Start using all Omnisend's features with a Free plan!
Start Free Today
Online Advertising for Retail Marketing
Retail marketing requires advertising to succeed. If customers don't know about your business, products, or how to order from you, then they have no reason to make a purchase. Provide the reason with information supplied through different channels.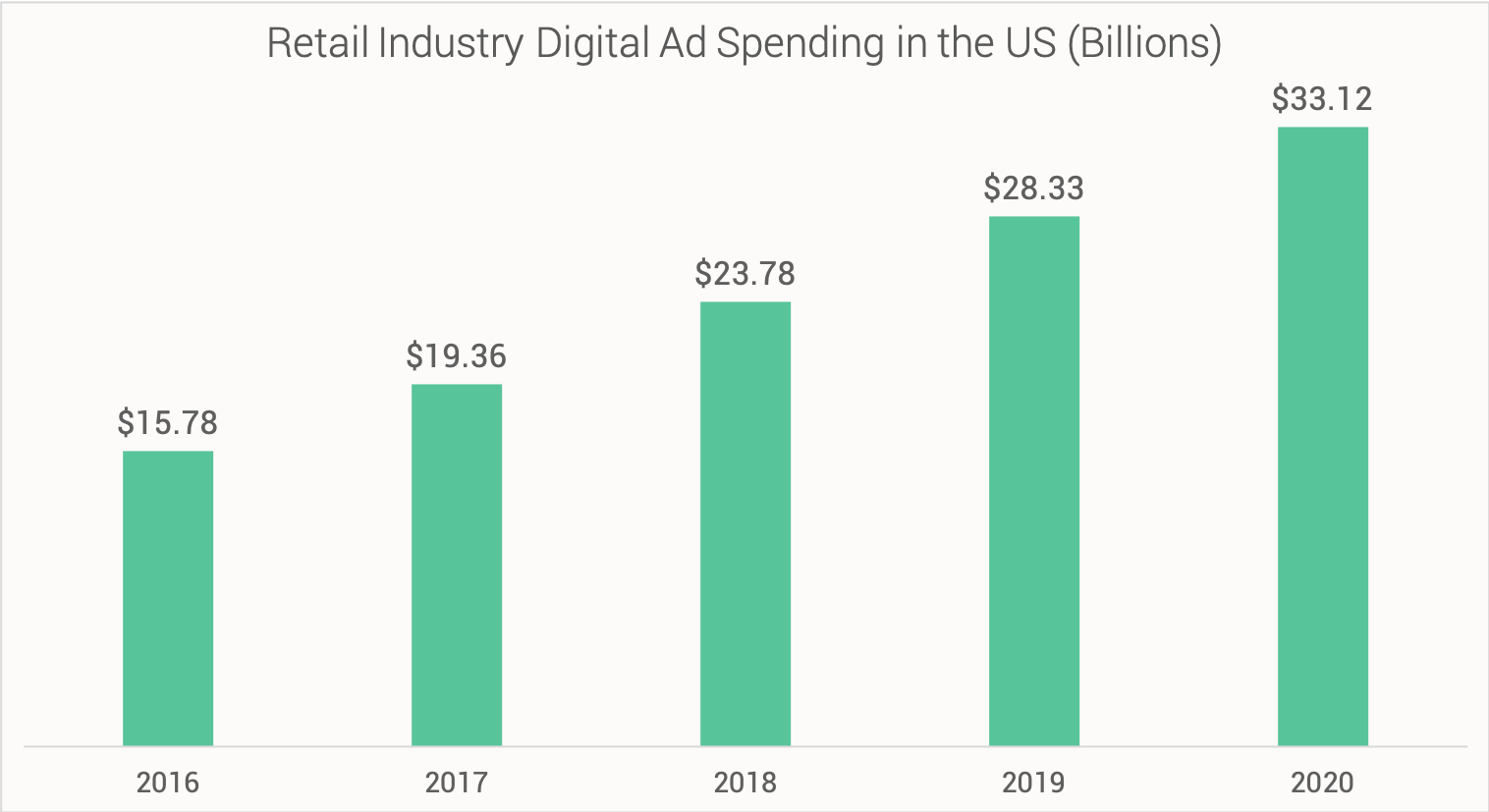 Source: eMarketer.com, 2019
Companies spend more money on digital advertisements than print ads, and the difference grows each year. In 2019, U.S. merchants spent $28.33 billion on digital ads, varying from pure promotions to brand awareness campaigns. This is an 19.1% increase in spend from 2018.
Businesses are taking this track because they recognize most people are online daily. Digital ads lead more people to discover your company, with the potential for more visitors to your store.
There are numerous approaches to advertising to boost brand awareness in your industry:
Start with an email newsletter. You can directly inform customers about deals, guide them to your website, and include other relevant information. You can even set up automated emails to make things easier.
Employ SMS marketing for ecommerce. Promoting your product with SMS campaigns is easy and doesn't require a lot of preparation, and some retail tips and tricks can help you go a long way.
Tap the power of social media. Create accounts on various channels to store information for customers. Post updates and advertise.
Test different methods to determine what resonates and leads potential customers to your store.
Your Next Step
Customers establish a special relationship with retailers. They are loyal to those that meet their expectations, whether it's great value, fair pricing, or how you handle marketing.
There are certainly challenges along the way—calculating pricing, running campaigns, and crafting an engaging shopping experience, to name a few.
Continue adapting to diminish and overcome problems. Focus on making your retail marketing strategy better. As you do, you will increase your customer retention and sales.
A great retail marketing partner can help retailers drive sales and achieve some of these goals by:
Automating certain tasks that allow you to focus on your core business.
Helping you build a closer relationship with your customers.
Target your messages so you never send an irrelevant message.
Create an omnichannel retail experience for your customers.
Want to know more? Try Omnisend for yourself absolutely free.