Drive sales on autopilot with ecommerce-focused features
See Features
The 9 Best Small Business Email Marketing Software for 2022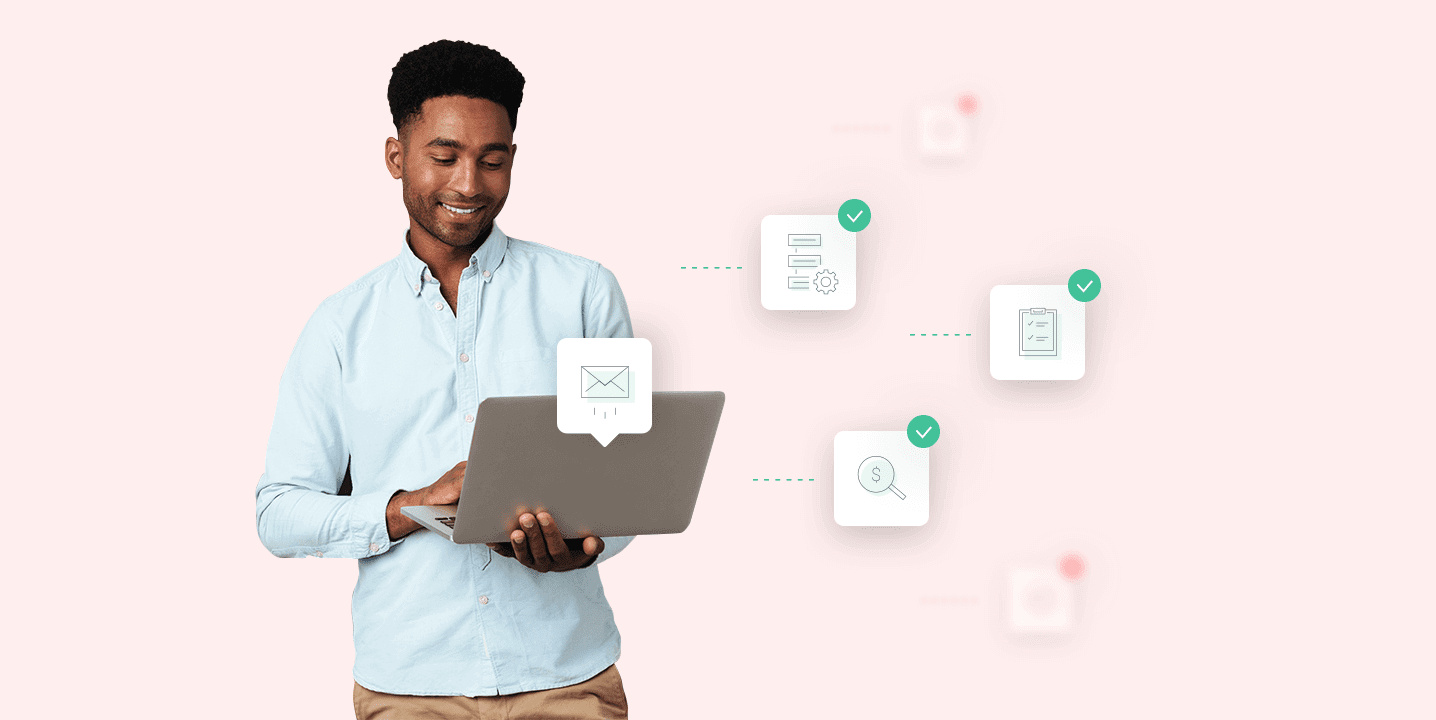 Reading Time:
8
minutes
At one point or another, every small business needs one of the best ecommerce tools to help with their email marketing. With a market that's so saturated, it can be quite difficult to weed through all of the tools to find the best one.
But you're a small business owner, you don't have time for all that.
So I've provided a great list of the top 9 small business email marketing software for you to choose from:
#1. Omnisend
Omnisend is an all-in-one omnichannel marketing automation platform built for ecommerce.
While that synopsis might sound too advanced for a small business email marketing software, the truth is that Omnisend is built to scale, and it does so beautifully.
Omnisend allows you to create beautiful emails with a visual drag and drop campaign builder, that, unlike other email marketing software, is 100% HTML customizable.
This means that if you don't have HTML knowledge, you can use their builder and if you do, you can create something a lot more sophisticated. However, where Omnisend really stands out is in their omnichannel marketing automation.
Previously considered only a real option for companies with the budget and resources to accommodate omnichannel marketing, Omnisend makes it truly accessible for everyone with pre-built automated workflows and deep integration with several channels.
On top of email marketing, Omnisend allows you to connect with your customers over SMS (free for all pricing plans), Facebook and Google Retargeting ads, and web push notifications. Their smart segmentation means that you can precisely target your customers based on their own shopping and campaign behavior.
If you just need basic email marketing software for your small business, Omnisend's free plan might just be for you.
What's more, you'll be able to scale into the more complex features as you grow your store. Omnisend also offers a free plan with all features unlocked, and their paid plans start at $16/month (for Standard) or $99/month (for Pro).
#2. Constant Contact
Constant Contact follows up as a rather good small business email marketing tool. With one of the longest free trials on the market, you'll be able to really test if Constant Contact is right for your small business.
However, instead of calling their free trial as such, they simply offer the first month of your subscription free, with the burden on you to cancel it before you're charged.
While Constant Contact might seem like a good choice for small businesses, it might feel a bit dated when you're using it. For example, if you sell anything online, integration with Shopify isn't standard and it only comes with a paid plan.
However Constant Contact does offer the ability to create polls for your customers, which might be interesting if you're looking for customer feedback.
Constant Contact offers two main plans, an Email Plan starting at $20 per month and an Email Plus Plan, which starts at $45 per month.
Both plans scale quickly in price with the number of subscribers, so this tool is really best to use if you're only just getting started.
After a certain number of subscribers, the price doesn't reflect the features you should be enjoying.
#3. Drip
Drip is a decent email marketing software for small business owners who understand things best with an ultra visual interface.
This visual dashboard makes Drip stand out from the list, as it does a great job with walking you through onboarding.
However, compared to other tools in this list, Drip's email builder leaves the user wanting more.
While other tools tend to use a block-based email builder, Drip's builder simply separates the email into Header, Body, and Footer, without much customization.
I will say that Drip's visual automation workflow dashboard makes it very easy to understand how the different basic automations they have work.
For small businesses, Drip would be worth it on a free and limited plan, however for those getting started with email marketing and automation, $49 per month may not be worth the features you're getting.
#4. Klaviyo
Klaviyo is a well-rounded email marketing tool. However, it may not be well-adapted for small business owners who need a bit more attention and onboarding.
Klaviyo's features are sophisticated: they have a good dashboard that lets you see your latest automation campaign results and running automations.
Their interface is intuitive, and it feels logical when you're looking for a particular feature.
While their email builder is, like most others on this list, a drag-and-drop block builder, it's perhaps less developed than a few other tools on this list.
Automated email flows are done really well in Klaviyo, with several pre-created automation templates to help you get started.
However, where Klaviyo turns most small business owners away is in their pricing. While the quality Klaviyo offers is on the higher end of most tools on this list, the price you pay for Klaviyo is definitely not worth it for a small, budget-conscious entrepreneur.
Klaviyo offers a free plan, however it's only up to 250 contacts and 500 emails per month- meaning you can't really use automation unless you have just a few subscribers.
After? It jumps up quicker than any other tool on the list.
#5. Mailchimp
Many consider Mailchimp a standard in email marketing, especially for smaller businesses.
Their drag and drop email builder is just as simple as Omnisend's, and the marketing automation features are definitely comparable.
One thing Mailchimp is the only tool to offer is creating Facebook and Instagram ads directly from their platform.
They also offer email marketing automation, however the automation flows seem a bit less clear than they could be.
Navigating the tool can be bizarre sometimes too: the interface is not as clear as some other tools featured on this list, but they do offer plenty of tutorials to help you figure things out.
Mailchimp offers a free plan with basic email marketing functions for small businesses. However you can only have 2000 subscribers, and you automatically move to the Grow Plan at 2001 subscribers.
After that, pricing gets confusing as you scale, so it's important to read the fine print.
#6. Aweber
Aweber is a classic email marketing tool for small online businesses. One of the older tools on the market, Aweber tends to have a traditional approach to email marketing.
Like most tools on this list, Aweber offers a drag and drop email builder, but Aweber shines in the amount of templates that it offers for your email marketing needs.
If you're looking to get started with just email marketing automation, Aweber might be a decent choice, unless you plan on scaling at any point.
As with many email marketing tools, Aweber allows you to perform A/B testing and basic email automation, however integration of other channels isn't possible.
While Aweber starts off at just $19 per month, that price is only good for up to 500 subscribers. After that, the price increases rapidly.
Though Aweber is good for those who are just starting out with email marketing and automation, it may not be right for those who are looking for a tool that will scale with their businesses.
#7. SendinBlue
SendinBlue is a well created simple email marketing tool for those who are starting out with email marketing. It offers a really nice visual email builder, which, while it's a limited builder, it does what it's supposed to do.
Like most others on this list, SendinBlue offers email automation, and like only a few others on this list, allows you to integrate SMS campaigns into your email automation workflows.
SendinBlue also offers some automation templates to help get your creative juices flowing.
The automation flow is quite visual, which is helpful in seeing exactly how your customers move through your automation funnel.
Unlike the other tools in this list, SendinBlue's pricing is not based on subscriber count, but in the number of emails you send per month.
While this might seem like an advantage if you have a high subscriber count, it's a gross disadvantage to those who have a high subscriber count and many automation workflows, as you'll hit that threshold quickly.
SendinBlue's free plan starts at 300 emails per day and the Lite plan starts at € 19 per month for 40,000 emails.
#8. SmartrMail
SmartrMail is a good small business email marketing software, however, much like with SendinBlue, this tool will only work for small businesses while they're very small.
Once they begin to grow, it may not be well adapted.
SmartrMail is definitely oriented towards those who just need basic email marketing automation without anything too complex or fancy.
You can use to to create really basic email automations but adding in other channels- SmartrMail is purely for email marketing.
However, they do offer interesting segments that auto-update as a customer engages with your campaign and site.
For example, it will automatically propose which of your customers are the most loyal and the most at-risk of churning.
This is almost too bad as a feature like that would be handy for omnichannel marketing. In any case, SmartrMail will certainly get the job done for those who just need something basic and simple.
SmartrMail doesn't offer a free plan, but you can try out any of their plans for 15 days. While it doesn't seem that they have subscriber limits on different campaigns, they have "recommended" subscriber counts for their plans, based on features. Their Basic plan starts from $29 per month.
#9. ActiveCampaign
If there's any one thing that makes ActiveCampaign stand out on this list, it's that it's much more CRM angled than email marketing angled.
When signing up, as opposed to many of the other tools on this list, ActiveCampaign focuses your onboarding on importing and segmenting your subscriber list.
Another stand-out feature from ActiveCampaign is that it's possible to run marketing automation for different domains, which is quite useful for small businesses who might launch sister sites later.
While ActiveCampaign is a very powerful tool, it's also a bit advanced unless you're a seasoned marketer.
Normally, I wouldn't include such a complex tool on this list, however, as it scales quickly for small businesses, it's definitely worth a mention.
If you just need the email aspect without the CRM part, their Lite plan starts off at just $9 per month. From there, for the CRM and various other features, the Plus plan starts at $49 per month.
As with the rest of the tools on this list, pricing scales with the number of subscribers you have.
If you're just starting off, looking for a good tool to handle such a huge and critical part of your marketing growth can be difficult.
No one has time to pour through feature page after feature page and calculate how much you'd pay each month based on subscribers.
With any luck, this list will help you filter out a lot of the noise and focus on what matters most.
As long as you choose a small business email marketing tool that will not only be well suited to your business today, but will grow with you in the future, you'll be able to take advantage of this valuable channel.