Communication via email plays a significant part in a brand's overall image. It reflects your professionalism, supports credibility and builds close relationships with your customers.
Taking into account the huge competitive struggle in the customer's inbox, an email newsletter design needs to capture the customer's attention at first glance to avoid being deleted and never seen again. Moreover, how you design your email campaigns will influence your click rate as well as sales.
Follow these rules while building your newsletters and enjoy beautiful yet effective email marketing campaigns!
1.   Follow Your Solid Brand Style
A solid brand style means that your social media channels, website, emails and other means of communication contain the same fonts, design elements, colors, etc. Design agencies call it "the brand book". Omnisend Experts can help you to create one.
However, if you think that investing in a professional brand book is too early for your business, I suggest that you create a simple brand style guide and follow it while creating emails, posts for social media, flyers and other kinds of material. Make a list of fonts that already have been used on your website, right down to the color code of your brand, and include any logo variations that can be used in your company's material. Trust me, it will help you keep the consistency of your brand's digital appearance.
Why do I need this?
If you are consistent with your brand style, it will be easier for your customers to identify you and to build credibility. Especially in personal email communication, customers want to know exactly who is approaching them and only trust emails that look familiar.
Look how the Adam Levine Collection keeps its brand style consistent:
Home page

Facebook page

Email Newsletter
2. Keep The Layout Simple: Less Is Better
The type of content you want to include in your newsletter will dictate the overall layout. A single column layout is best for more focused messages; for example, a final reminder for a Black Friday sale. On the other hand, a multi-column layout is better to show a variety of content; for example, items from a new collection. One way or another, your email layout must be mobile friendly.
When building your email campaign, imagine that it is a table with columns and rows and think about how they will move while responding to different screen sizes. Remember that:
Only simple emails of up to three columns will look good on mobile devices.
Do not use a lot of content because in the mobile version all the images and other kinds of content will lay down into one narrow column and your newsletter will be endless. No one will be happy to have to scroll forever to get to the end.
Do not overreach yourself with "super fancy" asymmetric email newsletter designs. In most cases they are not mobile friendly, so only desktop users will be able to enjoy your emails and others will delete them because they will be impossible to read.
If your newsletter highlights different types of content, clearly define sections by using spacing and lines.
3. Use High-End Visuals
The quality of your company logo as well as the images you use in your communication is crucial. These have a massive effect on the visual attractiveness of your email newsletter design and have a direct impact on conversion rates. Just think about it: while shopping online, it's only the image and the description that convinces a customer to click the "BUY" button.
So make sure that:
Your logo is of good quality with a transparent background. If you want to look professional, you should have a good quality company logo.
If you use product listing, use the same size and the same style images. They cannot be blurred, too dark, or of different sizes.
Very soon you will be able to edit images right in the Omnisend Email Editor. For now, you can use third party image editors, like BeFunky, LunaPic, Gimp, etc.
Also, consider acquiring a portable mini studio for taking professional looking photos with your phone.
TIP #1: After analyzing hundreds of promotional emails, I can say that emails that have a "hero" image with the key message always look the most attractive.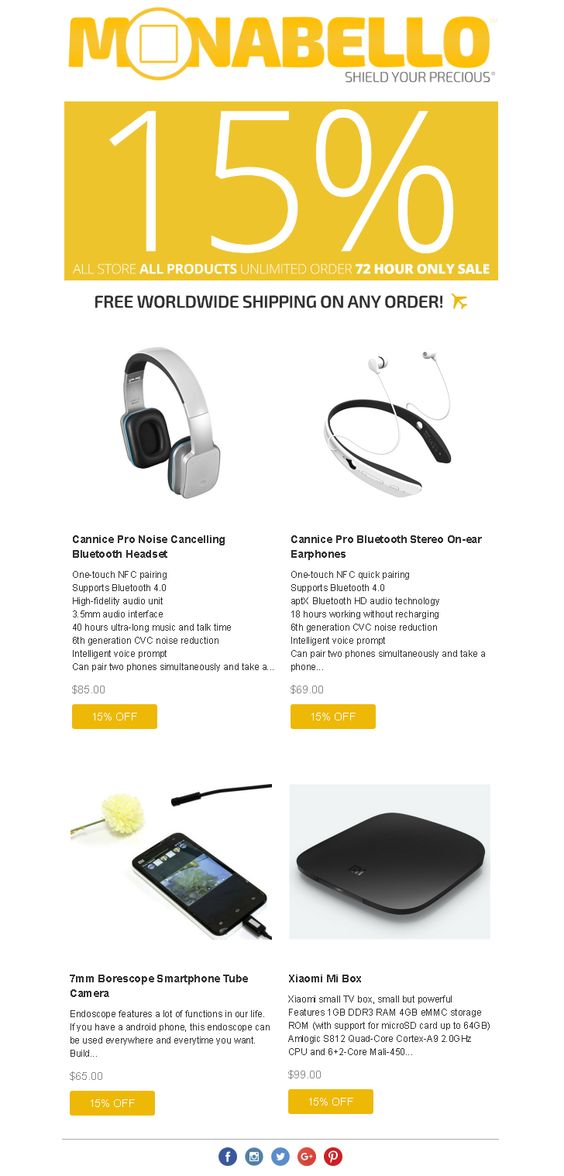 TIP #2: Consider doing some photo-shoots with people wearing/using your products. According to semiotic surveys, for marketing purposes, images containing people work better than images with objects, landscapes, etc.
TIP #3: When you use photos, try paring down the color in the surrounding design to make the images the central focus.
TIP #4: Leave empty spaces in the email. Do not put your elements too close to each other.
TIP #5. If you do not have any great photos, consider creating images using nice typography. These can replace the "hero" image very well.
TIP #6. Always look at different galleries of emails for inspiration. There is nothing bad in that. You will find wonderful ideas and color schemes that you will be able to implement and get great results.
4. Highlight a Call-to-Action Button
If you send a promotional email to your customers you want them to do something. This is call to action (CTA). Show it clearly. Ask them to do something: visit your store, read more, follow you on social media, etc. For this, you can link images, buttons or text lines. Use whatever fits your purpose. But be aware of the following:
They should be short and clear. Use active language, e.g. BUY NOW, VISIT OUR STORE, CHOOSE YOUR FAVOURITE, etc.
There shouldn't be too many CTA buttons because readers will get lost and will not understand exactly what you want them to do. There is a very interesting article about CTA buttons, I am recommending to you to read.
The more important the CTA, the bigger it should be, so that readers can understand clearly what to do. Make your buttons obvious by using a different color or style, and place them well. Do not forget to leave empty space around your button so it would definitely stand out.
Be consistent. If your subscribers are loyal readers of your newsletters, they will recognize your CTAs and what you want them to do.
If your email is longer, repeat your CTA at the end of the email. Don't force your reader to scroll all the way back to the top of the newsletter.
5. Make an Easy to Scan Email
Many studies have shown that people do not read every word of an email from the beginning to the end. They scan the content starting from the top left corner and stop at the subject lines and images. Only then, if bold text or images capture their attention, will they read the rest. This is the so-called "F" reading pattern described by Jakob Nielsen.
Nielsen's study found that web users skip over the small-letter content, resulting in an F-shaped reading pattern. Relevant words and images on the left side of the screen tend to get more attention than things on the right, so consider putting the keywords to the left side of the email. Also, if using text with images, put the images to the left to get more attention.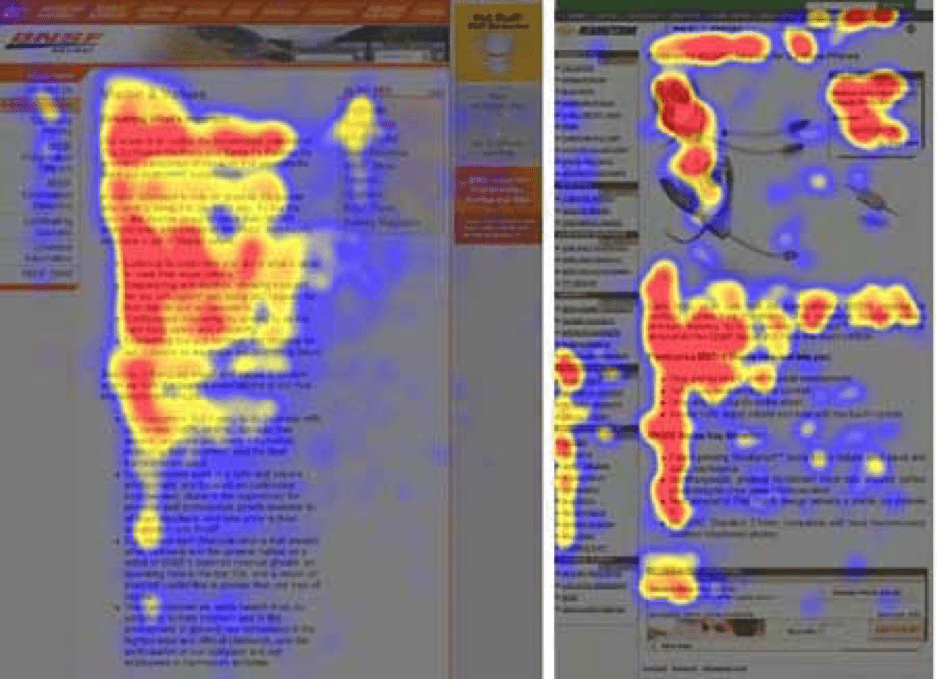 Get your free copy of 120+ Email Marketing Resources
TIP: Do not forget to put your company logo at the top of your email to grab the customer's initial attention.
6. Keep a Balanced Image-to-Text Ratio
There is always a temptation to design a nice picture with a key message included, put it into the newsletter and send it to subscribers without worrying about fonts, email elements, etc. Unfortunately, an image-heavy newsletter will increase the chances of your email client flagging it as spam, resulting in damage to your sender reputation and email deliverability.
There always should be a balance between the amount of images and text in the emails you send. Following this rule you will avoid ending up in the Spam folder.
Moreover, there are email clients that block images by default. This is one more reason why you should repeat the key message and have the call-to-action in written text. They should be viewable when opening the email, even if the images are not visible.
7. Optimize Your Newsletter for Image Blocking
Outlook 2016 and AOL's Alto Mail app block images by default. So you should use design techniques like ALT text that can be seen instead of blocked images, bulletproof buttons (Omnisend takes care of that), and a proper balance of images and text to address image blocking.
8. Use the Proper Fonts
By proper, I mean the size and the email safe font type.
An optimal text size for the email body is within 14-16 px. 14px text is better for longer paragraphs and 16px for a sentence or two. My personal favorite is 15 px. It looks great for both long and short paragraphs. The headings should be bigger – within 22-42 px.
An email has a list of fonts that are considered to be safe to use. This means that by using them all your subscribers from different email clients will see your text the same way. The most popular email-safe fonts are Arial, Verdana, Helvetica, Georgia, Tahoma, Lucida, Trebuchet and Times. You can learn more about fonts in my previous article Email Safe Fonts vs. Custom Fonts: What You Need To Know About Them.
9. Use Background Images Carefully
Looking for email design inspiration, you will find a lot of beautiful emails with themed backgrounds. Indeed, they look fancy and posh. But bear in mind that not all users will be able to see the background as you want them to.
Since the 2007 version, Outlook does not support background images. Neither do some other major email clients. To avoid awkward design metamorphoses, always use a solid background color as a fallback and make sure no crucial information or imagery exists solely in a background image.
10. Test before Sending
Don't forget to send a test email to your inbox. Open it on a desktop and a mobile phone. More than 50% of all customers open emails in their mobile devices, so it's crucial for emails to look good on the small screen. Omnisend users can use email preview on desktop and mobile devices in the Campaign Editor. Don't forget to check!
Following the rules and tips above you will improve your company's overall style as well as newsletter design and will make it convert better.
Start a free Omnisend 14-day trial and discover ready-made Omnisend templates and color schemes for your email campaigns.
Get a personal 1-on-1 demo (that will superpower your next campaign)!