Drive sales on autopilot with ecommerce-focused features
See Features
Traffic but no sales? 7 reasons why your ecommerce store isn't selling
Reading Time:
6
minutes
Why isn't my ecommerce site selling?
This is a question that often leaves entrepreneurs doubting their abilities. Although doing business can be exciting, it can be both frustrating and terrifying when your ecommerce store is getting traffic but no sales. Thankfully, this problem can often be addressed with a few simple tweaks to your website.
Read on to learn how to systematically evaluate your ecommerce store, determine the cause of low sales, and optimize your site to generate maximum revenue.
Reasons why an ecommerce site isn't selling
Unfortunately, there's no single answer to the question "Why am I not getting sales on my website?" But here are seven of the most important things to check for when you're getting traffic but no sales:
1. Low-quality images
Blurry, pixelated images are a bad way to make a first impression. They make an online store look very amateurish, almost to the point of fake and scammy. Many customers will notice that and leave immediately.
The subject of every photo is also essential in a high-converting website. Keep in mind that your photos need to replace the experience of physically inspecting products in the store. Each one should contribute to the goal of convincing your audience to purchase the item.
To address these issues, always use high-quality, original images, both for your general website design and for your product pages. Don't worry about slowing your store down. You can always use an optimization tool like TinyIMG to compress your images without compromising the quality.
You should also provide images that give your visitors a good idea of the quality and usefulness of your products. Provide images of the product in use and publish close-up shots of features you want to highlight.
Here's a good example from DryRobe:
It features the item on its own as well as being worn by different people. The page also offers front and back views and even shows people using the product in real-life situations.
2. Poor website design
No matter what you're selling on your ecommerce website, no sales can be a result of bad graphic and user experience design.
Does your online store look attractive and professional? Is it easy to use? If you randomly came across this website, would you buy from it?
These are important questions you need to ask yourself as you objectively evaluate your ecommerce store.
To tackle the problem of bad web design, use a highly-rated online store theme from your ecommerce platform. This will enable you to have a sales-optimized ecommerce store without having to figure out how to design one from scratch. You can always customize the theme with your own images and minor tweaks to the layout.
3. Zero trust factors
About 17% of shoppers leave products in their carts because they don't think the store is trustworthy. That's why successful websites often have trust badges, which help address concerns about legitimacy and security.

Here's a list of essential trust badges your online store should have:
Secure checkout badge: Guarantees that you have measures in place to protect shoppers' identity and financial information.
Money-back guarantee badge: Eliminates the perceived risks of shopping online, such as not being able to try a product before paying for it.
Accepted payment methods: The logos of major financial companies like Visa and Mastercard are so recognizable that they instantly boost the perceived trustworthiness of your store.
Free returns & shipping: Cost-free shipping and returns are always an advantage for shoppers, so use a badge to quickly let them know if this is something you offer.
4. Hard-to-reach customer service
A business that's getting traffic but no sales might mean that shoppers need more assistance before they decide to buy. But most small businesses only offer email support where average response times can be over 24 hours.
Phone support can provide immediate answers. However, call queues can take long and many customers prefer other methods to contact customer service.
Addressing shoppers' concerns right away can dramatically increase their likelihood of buying. To achieve this, consider adding a live chat function to your website. This simple addition can decrease your shoppers' waiting time to just 10 seconds on average.
Here's an example of how live chat can be used on an ecommerce store:
Check out these resources for more tips on providing excellent customer support:
5. Generic product descriptions
Poorly written product descriptions often lead to low sales. Take a look at the content on your store and check for these common product description mistakes:
Grammar, spelling, and syntax errors
Lack of clear benefits for customers
Unemotional and unrelatable
Absence of appealing, sensory words
To address these issues, write product descriptions that actually describe the products you're selling. Highlight benefits and special features, and use storytelling techniques to evoke emotions. Most importantly, make sure you use sensory words to convey how the products feel, look, smell, or sound.
Here's a good example from dog apparel retailer SparkPaws:
This product description is short but ticks all the boxes. It contains no errors and it describes the benefits to buyers (be comfy and stylish, turn heads, twin with your dog).
The use of language also appeals to pet-lovers' emotions (make memories with your dog) and contains sensory words (buttery-soft fabric). It then proceeds to provide further detail to assist shoppers in their decision-making process.
Get more tips on writing product descriptions that convert: How to write engaging product descriptions
6. Poorly optimized checkout
Any actual or perceived difficulty can keep a shopper from buying. It's possible that your ecommerce site is not selling because your checkout process isn't optimized for sales. Here's a list of potential problems you need to address:
Lack of trust factors: A professional-looking design, well-written content, and the presence of payment security badges help shoppers trust your ecommerce store.
Inconsistent design: If your checkout pages look different from the rest of your website, shoppers feel insecure about providing personal and financial information.
No guest checkout: Having to create an account before buying anything is one of the top reasons for cart abandonment. Avoid it by letting shoppers complete their purchases without having to register.
One of the best ways to ensure an optimal checkout process is to have several people test and evaluate it for you. Give them the means to check out as a normal first-time customer would. Then, ask them to describe their experience.
Is it easy to buy? Does the website look trustworthy? Did you experience any errors or crashes? Did you have any concerns while going through the process?
Consider their comments and determine how you can improve your checkout process to maximize sales.
7. Unclear or unfair return policies
Return policies are essential to getting shoppers to buy. Recent research shows that:
92% of shoppers will buy again if returns are easy
79% want free shipping for returns
67% study return policies before checking out
For ecommerce stores, returns are inevitable. Make sure your policies give your shoppers confidence that they're buying from you risk-free. Most importantly, check your competitors' return policies and make sure yours is better.
Here's an excellent return policy from shoe retailer VIVAIA: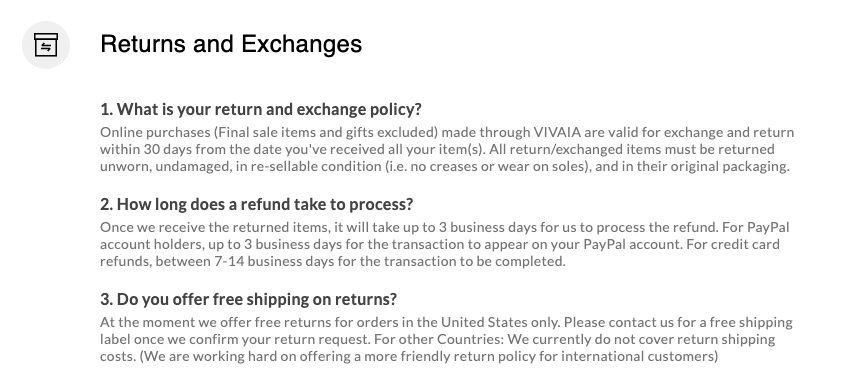 The policies are fair and beneficial to the user. Important concerns about returns and exchanges are addressed. Additionally, the policies are presented clearly and in simple language.
Start converting your traffic right away
Once you've optimized your website, your business will be primed for conversions. The next step is to generate as much targeted traffic as possible and nurture your customers to ensure long-term profitability and sustainable growth.
Because 73% of consumers prefer email for marketing communications, running an email marketing campaign is essential to reversing low sales. To get a good start with email marketing, check out these resources:
Don't have an email marketing tool yet?
Get a free Omnisend account to start collecting emails from your store visitors.
Summary: Why is my ecommerce site not selling?
If your website is getting traffic but no sales, it isn't optimized for conversions. Check on these seven critical factors and follow the practical steps to fix them. Soon enough, your concern will shift from "Why is my online store not selling?" to "How do I keep up with all these sales?"—definitely a much better problem to have.
Get a personal 1-on-1 Omnisend demo that will supercharge your next campaign!
Get My Demo
related features
Want more sales?
Omnisend has everything you need to succeed.
Start free now
No Credit Card needed.