Drive sales on autopilot with ecommerce-focused features
See Features
Low Sales? You're Probably Making These 23 Common Ecommerce Mistakes (Part 1: Your Website)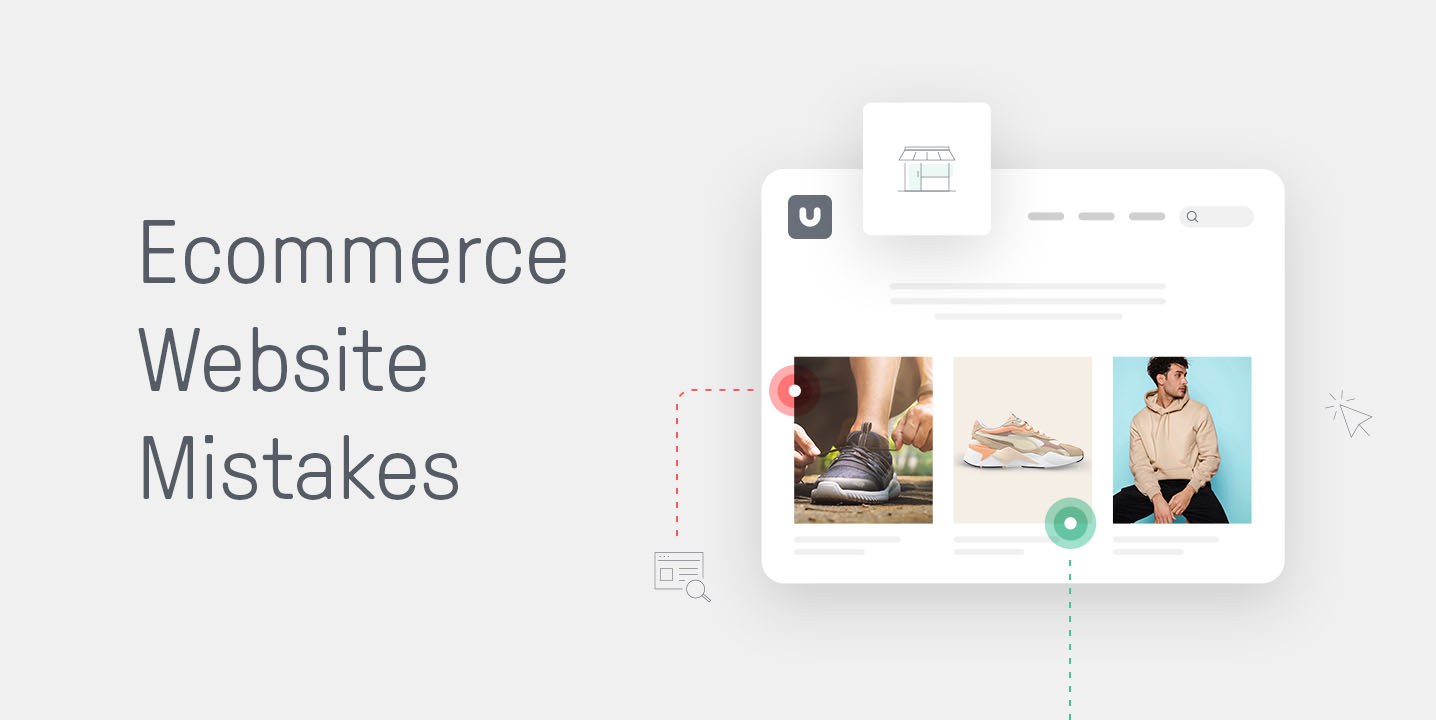 Reading Time:
11
minutes
Opening up your first ecommerce store can be a very exciting moment. However, keeping it open can be a real problem as you soon find yourself spending money on ads but not really seeing any results.
You have good traffic, but no sales, or only low sales. This can be really frustrating, especially when you don't know exactly what's causing your low sales.
That's why we spent countless hours going through hundreds, if not a thousand, new ecommerce shops to find the 23 most common mistakes in the store website, its products and marketing.
Today, we'll look at the most common ecommerce mistakes you're probably making on your website. This way, if you're wondering why, 'my ecommerce site is not selling,' you'll learn how to increase ecommerce sales.
1. Introduction
Before you looked up how to build a website for your store, you probably read all the statistics about the trends in ecommerce and case studies of how people are making money.
It's also probably worth taking the time to research the best ecommerce platform to host your online store.
And that's true. According to eMarketer, worldwide retail ecommerce sales was set to hit more than $1.9 trillion in 2016 alone. And the numbers were expected to go up to $4 trillion by 2020.
However, these things should be taken with a grain of salt. For the most part, ecommerce stats usually include the big players like Amazon, Walmart, Target and more.
When it comes to small business ecommerce, it's a different story. In fact, it's quite sobering.
According to some reports, roughly 80 – 97% of all small business online stores shut their virtual doors within 2 years, many within the first 6 months.

Even within a few weeks, new ecommerce store owners are seeing one of the first signs of trouble:
High traffic, but low sales
But what does that mean? How can you have a good amount of traffic but people are just not buying your products?
The answer, most obviously, is that you're not converting your traffic. In fact, if you have good traffic but low or no sales, then your conversion rate is probably close to 0.
For any new store (ecommerce or brick & mortar) this can be difficult. But it's even worse for ecommerce because you've probably been spending money on PPC ads, most likely through Facebook.
Your expenses are adding up and it seems you won't be making enough sales today, tomorrow, or ever. But what's the problem? What aspect about your ecommerce business is not converting?
The answer could be a wide range of things, depending on your store. However, we've tracked down the most likely culprits of why your online store is not converting related to your website, your product, and your marketing.
We've counted the 23 most likely reasons why you're seeing low sales on your ecommerce business.
In Part 1 today, we'll look at the 6 most important reasons your website could be causing these low sales, and how you can fix them.
Part 2 covers your product.
1. Low-quality images
One of the first things that your visitors will be seeing when they come to your store is your images. After all, images are crucial in giving your visitors a sense of what they may potentially be buying.
According to BigCommerce, the #1 thing shoppers want from an online store is a product image.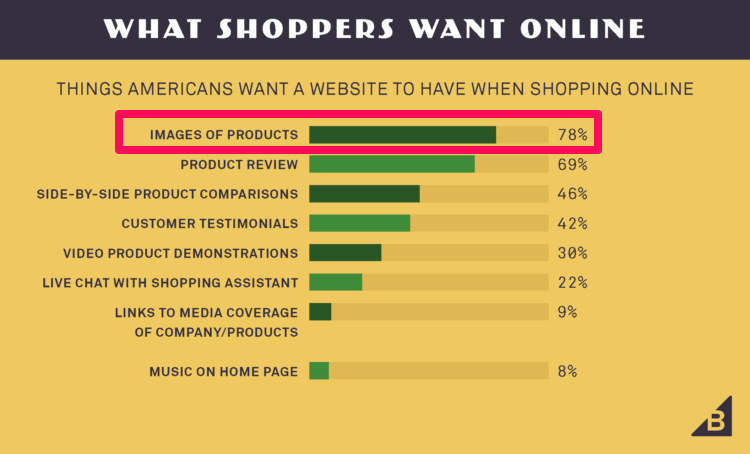 If your images are beautiful, clear, crisp and attractive, then your visitors will be more willing to buy from you.
However, if your picture (especially your main, hero image) looks like this, then that's not good:

You see that? That picture has a low resolution and is unappealing. Even more than that, it's an image of a product, whereas your main image should reflect what your store is about.
Sometimes a lot of ecommerce stores even have stretched out images—which doesn't give your visitors a lot of confidence in your business.
2. An unattractive design
Overall, your store should look pleasing to the eye.
This doesn't mean you need to have advanced graphics or the best, most cutting-edge web design features.
No. It simply needs to have a good appearance – meaning your colors, fonts, and images need to work well together.
Unlike Penny Juice here:
One important thing to note about your design is that it helps to create, in the visitor's mind, an idea of who you are as a brand.
It's understandable that you are a shop selling goods. But what is your perspective? Your attitude?
Remember, Apple doesn't sell electronics, and Starbucks doesn't sell coffee. They sell an image, even a lifestyle.
You don't have to go that grand, but you can start building up an image of your brand by showing off your brand's personality, like Emrick does in the example below.
The images are unified, the colors have been chosen well. It is a relaxed, retro brand with pale/black and white colors interspersed with strong accents.
To get started on designing the ultimate, beautiful ecommerce website can take a lot of time, including yours, your designer, and the coder/developer.
The cost of building such a website could be well in the thousands of dollars.
Alternatively, you can use one of the many amazing website template designs (for instance, one of these Shopify templates) for your online store. Website builder apps like PageCloud can also be integrated with Shopify.
That way, if you combine beautiful design with all issues mentioned above you will get much better most customer exposure.
But now, looking at your shop: what is your brand? Besides your products, what are you selling?
Answer this and you could help tremendously increase your conversions. You may opt to hire a professional ecommerce website development company in order to make the process even more smooth.
3. Not mobile-responsive
You may not know it, but mobile is a huge factor in the success or failure of your store. In 2015, one-third of all online holiday purchases were made with a smartphone.
US shoppers spend 59% of their time on mobile and only 41% on desktop, and 30% of mobile shoppers will abandon stores that aren't mobile-optimized.
Even if they are purchasing via desktop, many shoppers do the initial research with their smartphones.
This means that if your shop is not mobile responsive, then you could be losing a lot of sales right off the bat. And seeing as you have only about 5 seconds to impress an ecommerce visitor, you should make mobile responsiveness a top priority or you may have to deal with no sales on your online store.
So, what do we mean by a site that is mobile optimized vs. one that is not?
As you can see above on the right, a site that is mobile optimized will make it easier for a reader to read and navigate the site.
One that isn't mobile responsive will simply shrink the site to fit the reader's screen, making for a terrible user experience.
For an example of that, go to gatesnfences.com on your mobile phone.
4. Bad user experience (UX)
This will be a larger point to make, but user experience (UX) in general is important for either frustrating your visitors or helping them navigate your site.
UX is not focused on the look of the site, but more on creating a good experience for visitors.
There are many aspects to UX design, but the most important is: does the site make it easy for the visitor to find what he or she needs?
Specifically for ecommerce stores, you need to look at the following:
How complex or easy are the menus?
If you have a lot of uncategorized or unrelated items on your menu, it can be difficult for your visitors to easily navigate your site.
In addition, defined categories can motivate your prospective customers to look at various items. Ultimately, adding categories and easy-to-navigate menus is a great way to boost ecommerce sales.
What is the structure of the site?
Does the site logically go from general to specific? For example:
Home > Category (Men's) > Subcategory (Men's Watches) > Product (Seiko XXL).
Unfortunately, many sites simply go from general to specific in one step, such as: Home > Product, which makes it more difficult for user to navigate.
How complicated or easy is the checkout process?
If you're seeing lots of abandoned carts and therefore low sales for the amount of traffic, there could be a problem with your checkout process.
Essentially, you want to remove the friction points that make it difficult for a visitor to purchase. There are many ways to make your checkout process better and faster, including getting location information from the zip code, getting the credit card type from the number, etc.
In order to check your user experience, you need to think like a user. Go through your site as if you were one of your visitors and see how easy or difficult it is to search for or buy something.
Alternatively, you can ask your friends and family to give honest feedback on the ease-of-use of your site. Ultimately, a better user experience will help you increase online sales.
5. Spelling and grammar mistakes
As a former teacher and proofreader/editor, there's nothing that puts me off more than bad spelling and grammar on a professional site.
And, if you're setting up an ecommerce shop, your site should be professional. If you're a native English speaker, there's no reason to have glaring spelling and grammar mistakes.
What I would term bad spelling and grammar is this:
"Shop Name buy watches jewelry ring phone cases everything you need today !!"
Hopefully, yours is not as bad as that, but (foregoing a grammar lesson) it should be:
"Shop Name – buy watches, jewelry, rings, phone cases, and everything else you need today!"
That is only marginally better. At least the spelling and grammar have been fixed. But optimally, it would be better to change it to:
"Shop Name – your number one source for fine watches, bracelets, rings and everything else you need to be your most elegant everyday."
This is now a copy issue, but deeply connected to your language, spelling and grammar. Essentially, what do phone cases have to do with jewelry?
Why are you using an exclamation mark for fine goods?
We'll look at these issues more in Part 2 – Your Products in the next blog post.
The second thing to look at is your consistency in branding. Is it shop name? Shop name? Shop Name or SHOP NAME? Choose one style and use it consistently.
It's a small detail when you think about it, but because your visitors are giving you only about 3 seconds to convince them, it can become a big, subconscious detail.
Do you want to buy from a store that can't even spell right or know how to write its own name? If they can't do that right, what else will they mess up?
These are honestly the questions your visitors are asking themselves, and if you're not covering your details, these could be the reasons they're not buying from you.
6. Lack of understanding about your product or audience
One ecommerce mistake businesses often make is failing to understand their product and audience. If you don't spend time figuring out your product/audience, you'll only be guessing who wants your product.
If your audience doesn't need your product or if you're trying to sell it to the wrong audience, you'll notice high traffic and low sales. Ultimately, if your customers won't purchase your and your time and money will be wasted.
Instead, boost your eCommerce sales by learning your audience's needs and pain points. This way, successfully marketing to the right audience can help you increase online sales.
The first step to this is gathering information about your target audience, including:
Their purchasing behaviors
Demographic information
Interests
Hobbies
Preferred purchasing platforms
7. Poor customer service
Customer services encompasses how you respond to a users message, how you answer their questions, and comments on social media.
In addition, customer service refers to how you address and respond to your customers' complaints over the phone and email. All in all, customer service is any interaction you have a customer that requires your support, help, and attention.
Poor customer support includes showing impatience, failure to meet your customers' demands, slow response time, not offering refunds, and so on. They are also a sure way of losing customers and hindering new relationships.
Avoid this by being accessible and helpful to your customers and users at every step of your sales funnel. This way, you can ensure they don't have any issues and if they do, you can help resolve them.
8. No story or unifying theme
Lastly, you have to ask yourself a big question: what is your story, what is your idea?
What are you selling? If you want to stand out from the crowd, this question is important.
Yes, I know—you're selling products. But that's not really what you're selling. Apple doesn't sell iPhones and Starbucks doesn't sell coffee.
They sell an idea, a lifestyle.
Remember this: people don't buy products, they buy ideas.
If I were selling dog accessories, I wouldn't focus on the dog products. I would focus on the dog.
More specifically, I would focus on the relationship between the dog and the owner, the bonds that bind them. The lengths the dog would go through to be loyal to his or her owner. The lifelong friendship and trust.
The actual products I'm selling would be secondary.
So how do you create this story? How do you do all that within the short amount of time the visitor will give you?
You can do it with a focus on videos, on stories, in your blog posts. Through YouTube (your marketing doesn't have to be contained to Facebook ads and your homepage). You can prime the customer before they even land on your store.
At the very least, if you're selling dog accessories, show me the dog. If you're selling beach items, show me the beach. If you're selling home accessories, show me the home.
This is the background—the setting—in your online store that needs to be there in order for you to tell (or continue) your story.
If you don't have this story, you'll just have an ecommerce shop with items.
Just random, loosely connected products that you hope your visitors will buy from you.
Ask your visitors what products your store is selling, they'll know. Ask them what your store is about, and they'll have no idea.
One great example of storytelling I've seen (without knowing any of the sales numbers) comes from Arcane Supply.
Their entire shop is connected by a theme: the outdoors. The hero image is a man physically connecting with nature (the fact that he's wearing Arcane Supply products is secondary). Everything else flows from that one image.
The products have one color group: dark brown, dark green, blues, browns—natural colors. The story is continued in the products and product images, and the store looks united.
Everything else flows from that story, including the solution to their customers' pain points.
Arcane Supply helps you to get in touch with nature—that much we can see. That is the problem they're solving. Unfortunately they skipped over that idea in their copy, but visually the themes are united by that story.
Before anything else, get your story. Before you've figured out your USP (unique selling point), before you've solved your customers' problems.
Before you've even identified those problems.
Ask yourself: what is your idea? What is the story you're telling to your visitors?
Show me an ecommerce store with a good story, and I'll show you a success.
Because you'll have shown me a brand and an ecommerce shop customers can trust and come back to.
Can we say the same about your store?