If it is possible to collect your shop visitors' emails, you should definitely take advantage of this opportunity.
Grabbing your visitors' emails allows you more opportunities to communicate with them and build up a relationship. With a better relationship, you'll be able to turn your subscribers into buyers.
This can be done in many ways, and we'll look at the best, proven methods to turn your visitors into newsletter subscribers. 
5 Ways to Get Your Visitors' Emails
These are the 5 best methods you can use on your ecommerce shop to increase your subscriber list.
#1 Host a draw
Many of your customers will feel tempted to try their luck in participating in a draw.
The more valuable the prize is, the higher the chance will be shoppers will leave their e-mail to get notified if they have won something.
#2 Use discount coupons
Another way to collect emails is to announce that you are sending out discount coupons. In order to get customers interested, you can give examples of the discount range you are offering and what can be purchased using that.
You can also set a fixed discount, e.g. "Leave your email and get a $10 off coupon."
#3 Use a popup
If it is a brand new visitor to your store, you can show a welcome popup offering users to sign up for your newsletter, or also receive a discount link in the email.
#4 Send quotes by email
If you are offering services, you can suggest a potential customer to send a quote for any service via email with a detailed step-by-step explanation of how you are approaching the tasks.
You can create a form where a user needs to fill out request details and leave an email. Or it can just be single field "leave your email or phone and we'll contact you within 12 hours."
#5 Give something for free
Customers will also be happy to receive a free sample—if you're selling goods—or receive a free trial service.
The tools you'll need
Depending on how you are going to manage the email list you collect, you can use different available marketing tools such as Omnisend (previously Soundest). It integrates with Shopify, which is great for Shopify store owners.
In order for users to leave you their contact information, it's important that the offer is not just interesting, but the subscription form is also attractive and user friendly.
Shopify users can use a convenient popup app which can help to effectively collect emails from your store visitors. Also, each email that a customer leaves gets sent to your Omnisend account, to the list that you choose.
After you collect emails, you can send sales announcements, store specials, new featured products or some other information. Special offers for email subscribers can be managed using the Shopify Upsell app.
This app will allow you to add free or discounted gifts to existing products. This way you will be able to encourage your customers with unique sales or gifts, created especially for them.
Of course it would be a good idea to include the "unsubscribe" link at the bottom of your emails.
What to do if customers don't believe your offers, or think it could be scam
Many customers might be skeptical of the offer validity, if they have encountered some misinformation on other websites popups. Therefore they will be happier if they see some kind of proof that you are being serious about offering them the deals.
If you are encouraging customers to participate in a draw, be sure to include images or links to the previous draws, with happy winners and their names. Of course, to ensure privacy, you can change the names.
The winners on the images can be holding the gifts and smiling, demonstrating the draws are not fake.
For example, it would also be a good idea to explain in detail how the draw is organized: what steps you are taking to select the random numbers, to which you have previously assigned the customers' names.
If you don't have such software, you can make an "old style" YouTube video of how you are selecting the cut-out digits from a hat.
Of course, you can also always order custom programming at outsourcing companies.
#1 What to offer in a Draw
There are quite a few different options for deciding on what you should offer in your draw.
For example, you can offer $80 or some other amount as a store credit, or free gifts with a free shipment.
#2 Explain your procedure
For inquisitive shoppers it would also be helpful to explain in detail how the draw will be organized. You can place this information into a separate page, or as a hide/show text block.
This can be something like "more details:…" or a question mark icon followed by, for example, a random number generator program, which will choose the number of the winner.
If you are offering coupons, explain how it can be applied and if there are any restrictions. Attach screenshots of how to apply them.
If you're curious to see an example that also integrates with Omnisend, you can check out this Shopify webstore application description. The app does the described above: it collects emails while offering participation in a draw just when the customer is about to leave the store.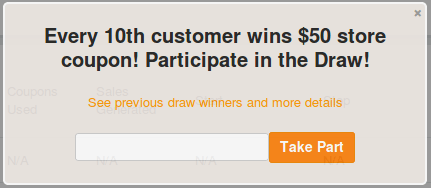 All addresses that customers leave go directly to your Omnisend email list.
The text is customizable, of course, and you can place any message there, including other marketing messages discussed below. For example, you can also put a coupon code in the message which gives $5 off, and say that the customer can get another such coupon if they leave an email.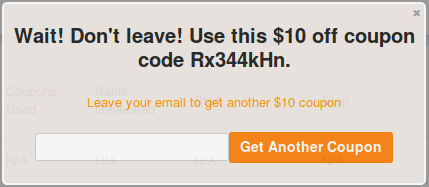 In the above example you're already giving the customer the coupon, but you can also offer it to them only in exchange for an email. i.e. you can say, "Please leave your email and we'll send you a $10 coupon."
You can also include various links in that popup.
About the author:
Oksana Denissova specializes in Marketing, Communications and Business Analysis for Ecommerce and Financial domains. She helps her company, SpurIT, by producing and implementing winning ideas and strategies in marketing, UX and written communications.