9 Best Email Automation Flows to Increase Ecommerce Revenue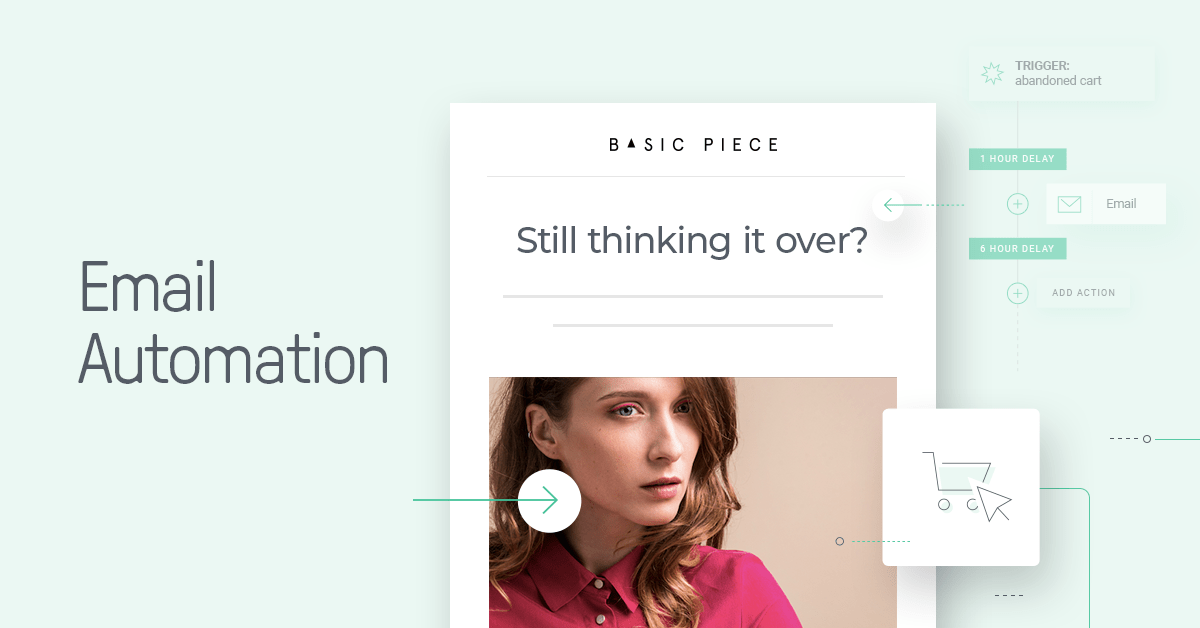 Reading Time:
9
minutes
Sending emails manually takes a lot of effort- and as your ecommerce business grows, it's not sustainable long term. Email automation creates opportunities where manual email marketing and newsletter blasts fall short by creating an omnipresent marketing force.
Today, I'm going to go over what email automation is, and discuss how it can be used to create an effortless email marketing flow that is sure to provide a boost to your ecommerce marketing.
What is Email Automation?
Email automation is when you set up email campaigns to be sent either based on a trigger or an elapsed period of time.
For example, when a customer first signs up for your newsletter or creates an account on your store, you know you have to send a welcome email. But doing this manually each and every time you got a new subscriber would be exhausting (especially if you're good at email capture).
Instead, you would set up a welcome email that would automatically go out to your newest subscribers/customers.
Email automation can go so much further than simple welcome emails though. You can personalize them based on data you have about your customers, their campaign behavior, and their shopping behavior.
This ensures that you're sending the right message at the right time every time, without lifting a finger. And that's perhaps the biggest benefit of email automation. But there are even more benefits to using automated email workflows.
Benefits of Email Automation
There are at least five good reasons to start sending automated emails:
1. Automated emails help you significantly increase revenue. Their conversion rate is 359% greater than promotional campaigns. In fact, this same report shows that 29% of all email orders in 2020 were from automated messages, even though they made up less than 2% of all email sends.
Considering that seven out of every ten carts are abandoned, gaining over 2% of those lost sales is astronomically good.
2. Automated emails are always relevant to your customers. This means you won't be blasting messages to your customers without a reason—they will be contextual at the right time.
3. Automated emails don't change usual newsletters—they complement them. These automated email flows help you create consistent brand communications.
Not all of your emails should be promotional. You may send a "thank you" email after a purchase, or a "birthday" email on their big day. All of them can be automated and sent while you sleep.
4. Marketing automation does not require much of your time. You set up emails once, and they continue to do the job afterward.
5. You stay ahead of your competitors. According to LeadSpace, nearly 82% of companies rely on some form of email automation. So if you still don't have any email automation flows enabled, you're missing out.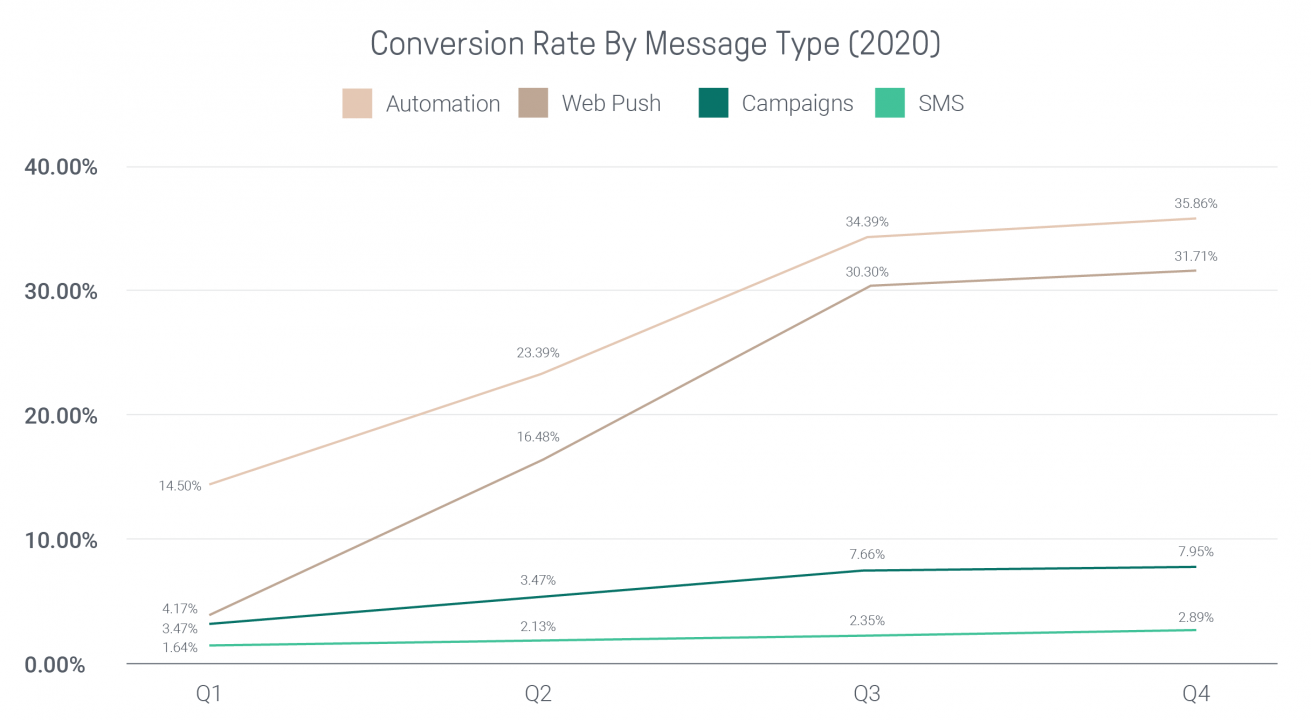 But in order to automate your emails properly, you have to have the right marketing automation email provider.
How to Choose the Best Email Automation Software for Your Online Store
Not all email automation software is created equally- so there are definitely certain aspects you should look for when choosing the perfect software.
What your email automation software should be able to do:
Send automatic welcome emails when someone subscribes to your newsletter or creates an account on your site
Allow for a behavioral trigger, like abandoning a cart or browsing a certain product category
Engage your customer post-purchase with order confirmation and shipping notifications
Send automatic timed responses based on birthdays to nurture your customer relationship
Create timed-based triggers to re-engage customers who are inactive
Finally, the best email automation software that you can choose won't focus entirely on email marketing.
We know that when we bring other channels into the mix, our email campaigns become even more powerful. Being able to automate messages sent via other channels, like SMS, to the same customers will be a game changer.
If you are new to email marketing, there are a few tools that you may consider: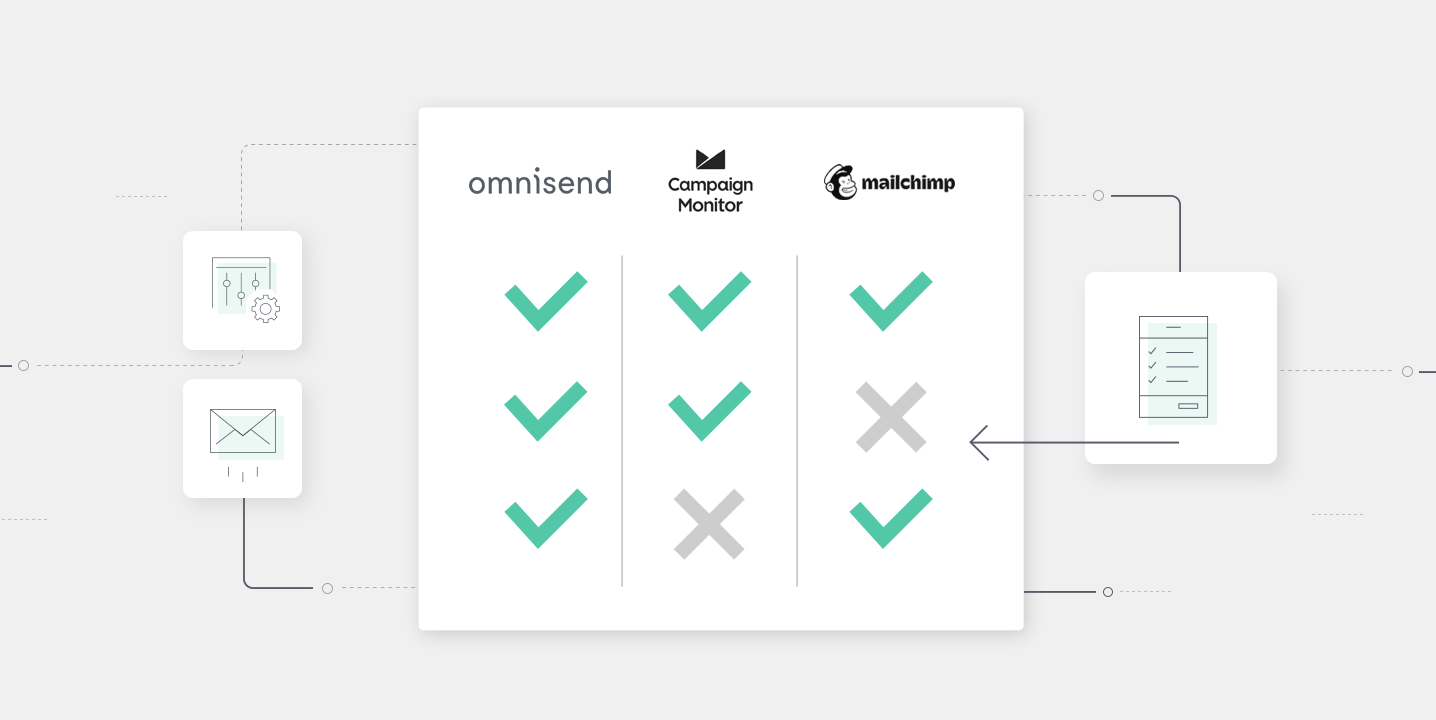 1. Omnisend
Although this tool has a lot of advanced features, it's also easy to use and has lots of pre-built email automation templates relevant for beginners. Plus, with Omnisend, you will get free text messages to your campaigns that will boost your revenue even more.
2. HubSpot Email Marketing
HubSpot is probably best known for its powerful inbound marketing and CRM features, but their free email marketing tool can accomplish all of your basic email automation needs. Whether you need to send kickback emails from lead offers, thank you emails after purchase, or just recurring email marketing campaigns, HubSpot's free version can do that. It gets even more powerful when you upgrade to the paid tiers, but the basics? You can get started with no money, right now, today.
3. Mailchimp
Mailchimp doesn't offer text messages. But their email automation features are also good and will address your needs for some time.
4. Campaign Monitor
Campaign Monitor is another great tool for marketers. It provides a modern-looking, visual email designer to create automated emails that keep your audience engaged, and drive revenue. However, according to G2 reviews, Campaign Monitor's usability doesn't stand up to Omnisend's.
Follow the link to find an in-depth comparison of these tools.
9 Automated Email Flows to Use for Ecommerce
While they might sound complicated, automated email flows are actually very easy to set up. When you've chosen the best email marketing platform for your business, you can select from various automated email flow templates and simply customize the rules, channels, and behavior-based triggers that are best suited for your needs.
That said, there are a few ecommerce email flows that every online store absolutely needs.
Let's check out the best email flows that you can use to boost your revenue and increase customer loyalty.
#1. Welcome Emails for New Subscribers & Customers
The welcome email has become standard across internet industries. We always expect a friendly little email whenever we sign up for anything online, and depending on the email, we may or may not open it.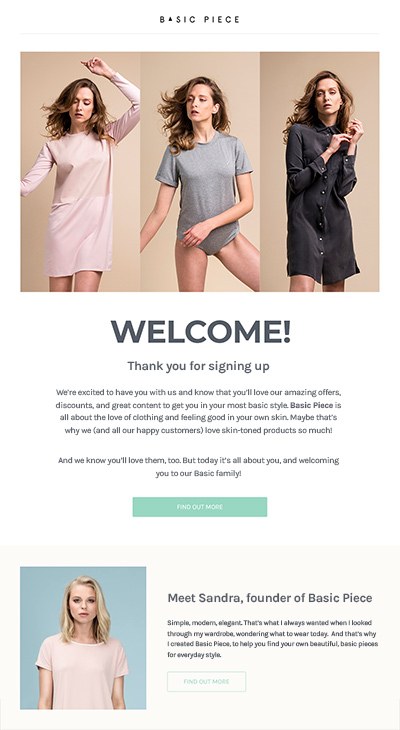 Any good ecommerce or digital marketer knows that building a great email list is often done with some kind of incentive to sign up, like a discount or free shipping. When you offer that incentive, either in a timed or an exit-intent pop-up, the welcome email will likely be opened immediately.
What's more, welcome emails give your customers an idea of what they can expect from you, and they can instruct the customer on what they need to do next.
Omnisend Pro Tip: Every email should have a CTA (call-to-action). Never send an email without a purpose, and that purpose should be included in your CTA.
Automating this is critical because customers are expecting that discount in order to continue shopping. Setting up a trigger when an address joins the list is one of the simplest email automation workflows to create.
#2. Product Recommendations to Gauge Customer Interest
One of the best things you can do is to personalize product recommendations with email automation. For example, setting up this behavioral trigger means you can recommend products based on what your customer has already browsed or purchased.
For example, if a customer has been browsing your recent shoe clearance, you can send the newest arrivals in your clearance section to relaunch interest.
Alternatively, if you notice that your customer is spending a lot of time in one particular category or with one product, you can send complimentary products or more products from that category.
The idea is to use email automation to instantly send customers emails and products that will be interesting and relevant to them.
#3. Discounts Triggered by Behavior
Everyone loves a discount. The cool part about using email automation is that you can target customers when they're most likely to purchase based on behavioral triggers.
For example, say a customer hasn't purchased in a while and they visit a particular product three times. You could trigger a discount to pop up on the third visit within one week. It might just be the catalyst that pushes your customer to make a purchase.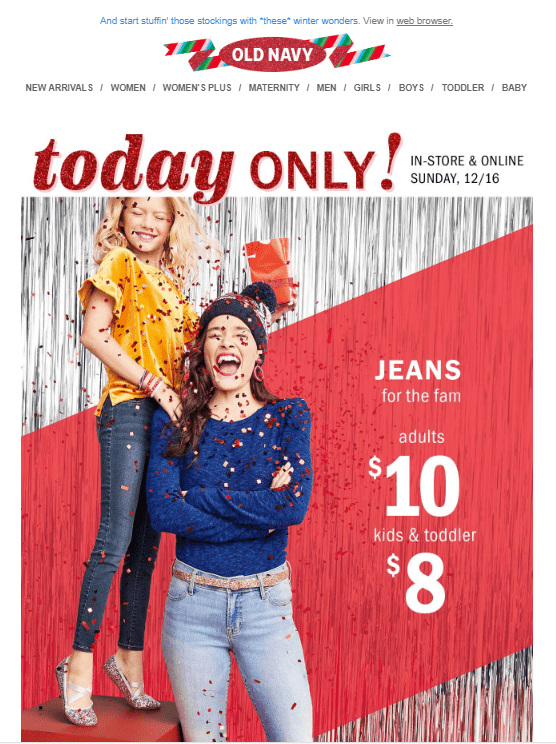 These kinds of email marketing flows are especially effective in certain cases:
Abandoned carts and browse abandonment
Welcome email incentives
Others are better adapted to time-sensitive emails. We'll touch on that a bit more later.
#4. Abandoned Cart Email Automation Flow to Win Back Lost Sales
Most abandoned carts are a result of an unexpected cost, be it in taxes, shipping, etc. If cost is the only thing standing in the way of you clenching that sale, a well-timed automated email can be do just the trick.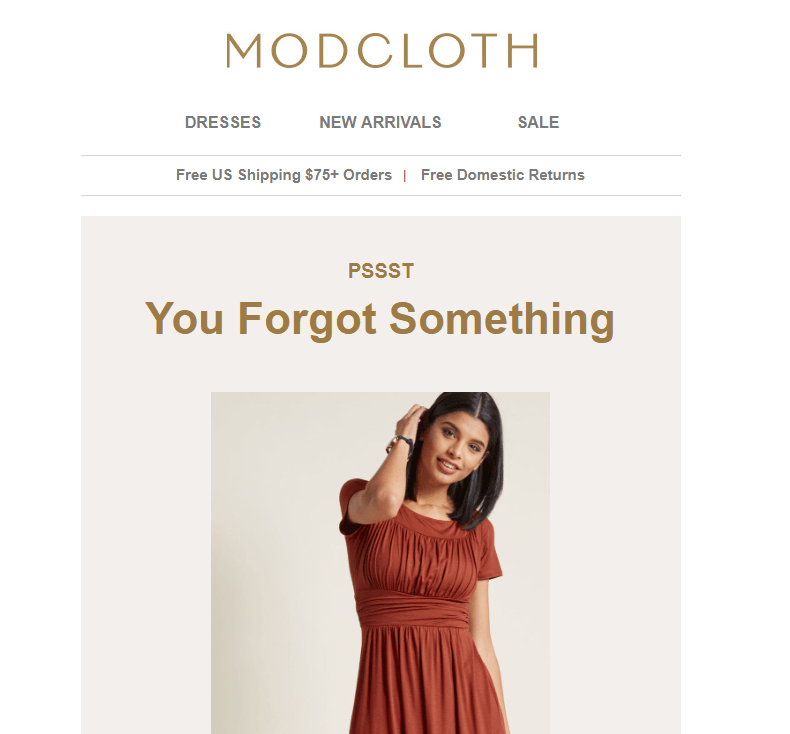 By setting up abandoned cart email automation flow, you can create an email sequence that will remind the customer of the product they left behind using a supportive tone. Always include the photo of the product in question and use a three email sequence at one hour after the abandoned cart, 12 hours after, and then 24 hours after for best results.

See how Kerrits generates 23% of their email revenue with cart recovery and email
#5. Order Confirmation & Shipping Notification Emails to Reassure Your Customer
Successful ecommerce is all about fostering trust with your customers.
Have you ever ordered something and not received a confirmation email?
Think about that level of anxiety. Your customer should never feel that way when shopping with you.
Confirmation emails and shipping notifications are another form of email automation that have become standard in the ecommerce industry.
Reassure your customers that all is well with friendly notifications when you confirm their order and when their products have been shipped.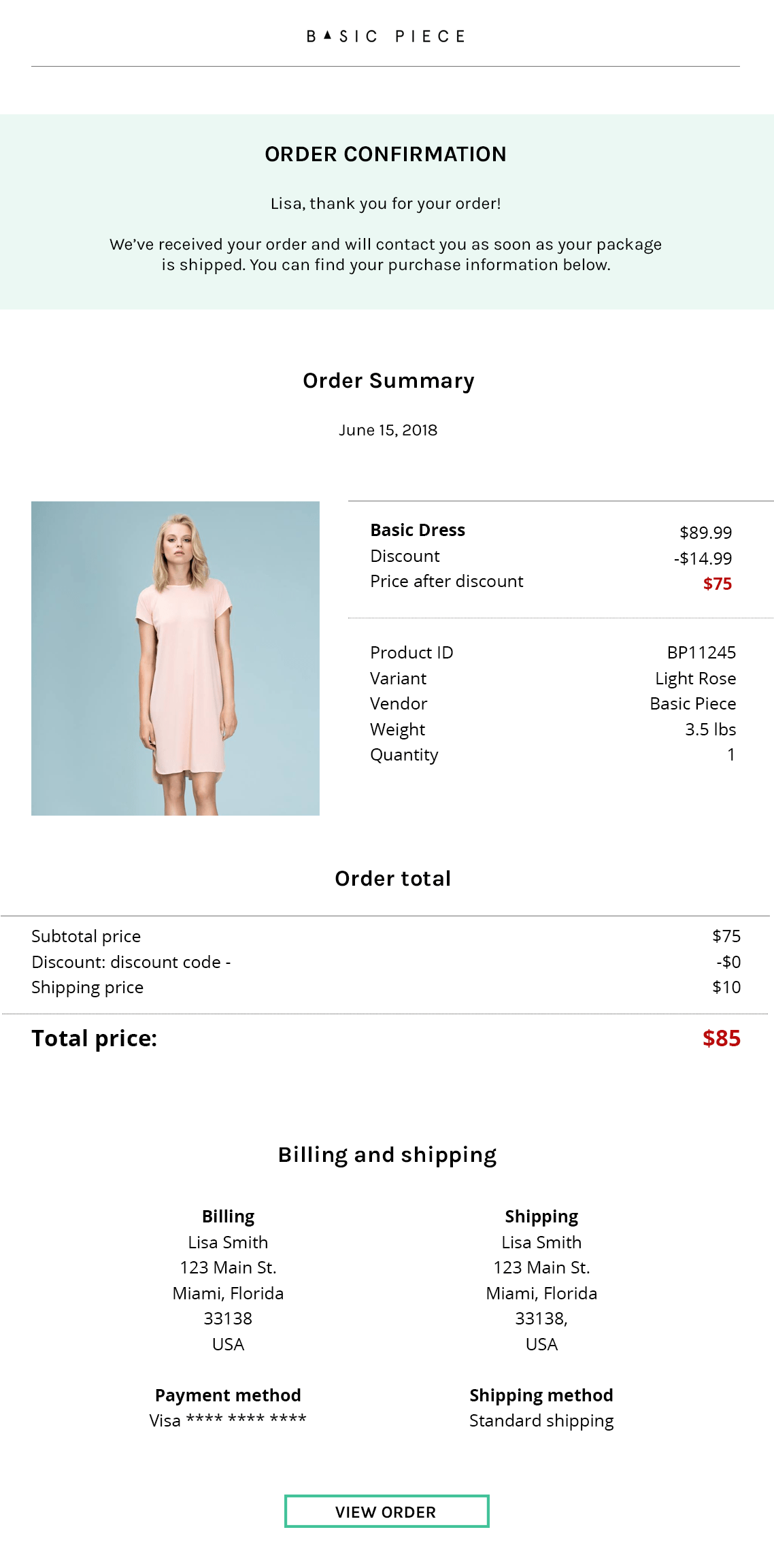 #6. Browse Abandonment Email Flow to Move Customers Further Down the Pipeline
Browse abandonment is trickier than cart abandonment. With cart abandonment, there's usually a pretty good reason and you have a clear picture of what your customer wants.
However, with browse abandonment, you only might have an idea of what your customer is interested in based on a category or a set number of products they've browsed.
A good idea, in this case, is to set up a behavioral trigger based on the amount of time a customer spent on one category or another and send an email with those previously mentioned product recommendations.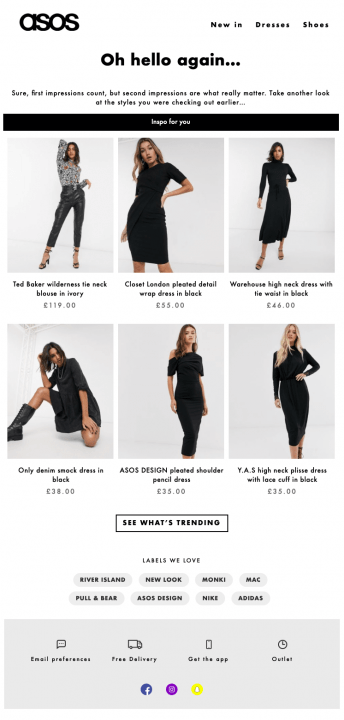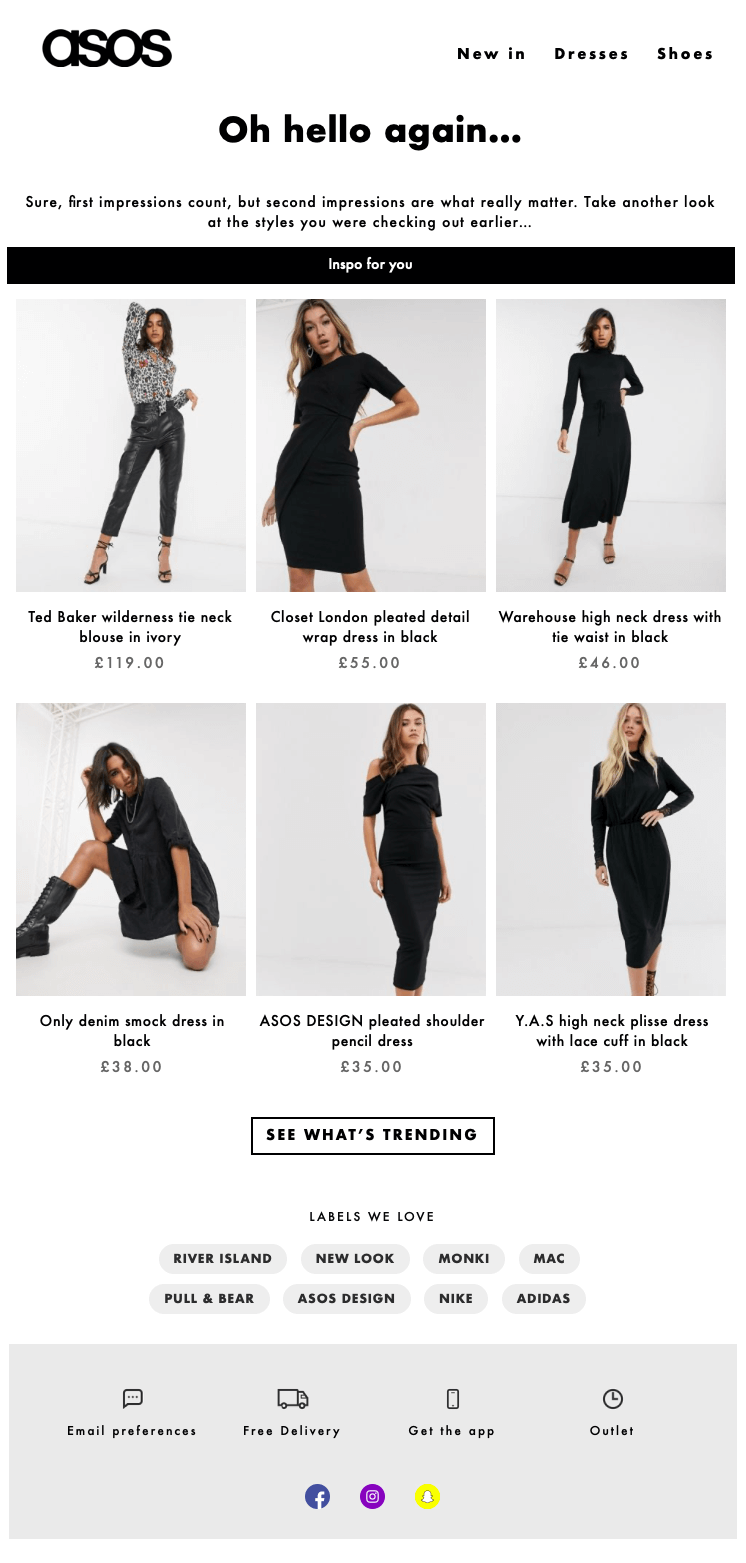 Send the products that they were interested in, but also include a product or two that complements those products too. Maybe the product they saw interested them, but ultimately didn't make them fall in love. Perhaps a similar product might move them a bit further down the customer journey.
See how Silver Street Jewellers' browse abandonment messages earn a RPE lift of nearly 900%
#7. Customer Feedback & Review Emails
Customer feedback is critical for online stores. A great review can make or break a product's success, and this form of user-generated content is magnificent for SEO.
Because what search engine doesn't love fresh content that updates regularly?
Setting up a simple timed email automation workflow to go out after a certain number of days has passed is a great way to get that review.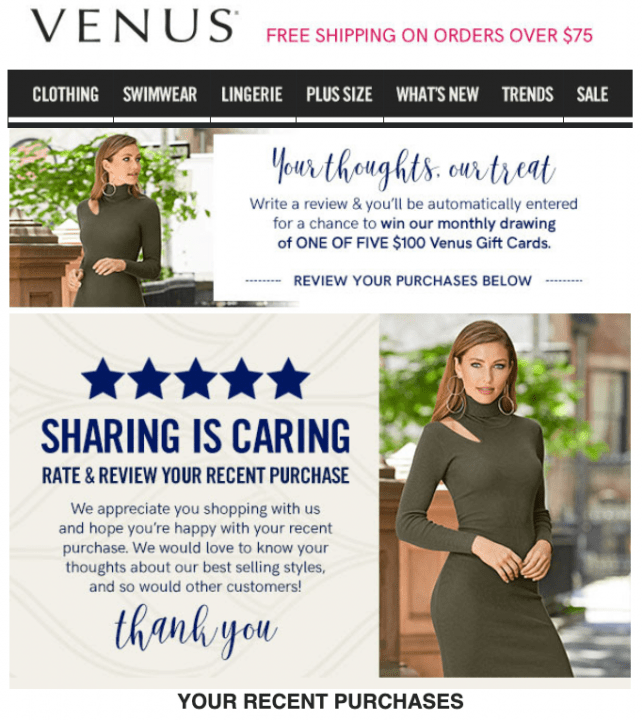 It's important that it's sent after you're sure the customer has received the product. Otherwise, it might be awkward to get an email about whether or not the product was great when you haven't yet received the product.
#8. Birthday and Just-Because Emails
Remembering things like your customer's birthday makes you seem like a star, and using email automation, it's easier than a birthday reminder for a Facebook friend.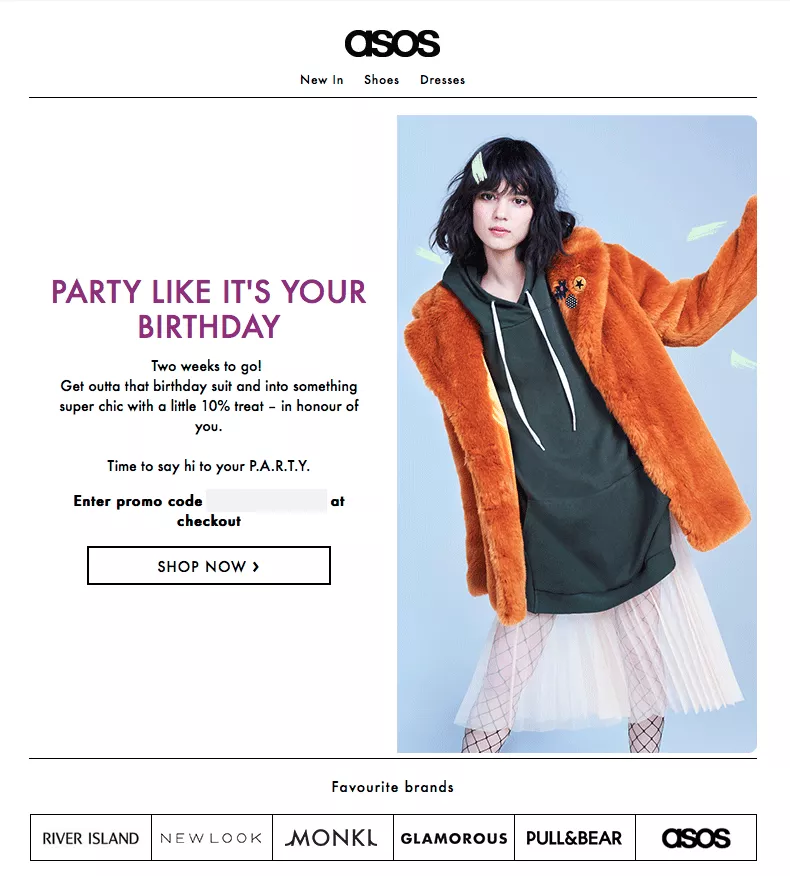 A little something special on a certain day, be it a birthday or a random "just-because" discount fosters customer loyalty. Also, a few well-timed "just-because" discounts can ensure that your customer will never leave an email from you unopened.
#9. Re-Engagement Email Campaigns
Has your once-loyal customer fallen off the face of the planet? Good news, email automation has got you covered.
Using a well-composed re-engagement sequence based on time triggers can help win back customers that are on the verge of churning. New products, smart recommendations, and updates to shipping and returns policies can be enough to win your customers back.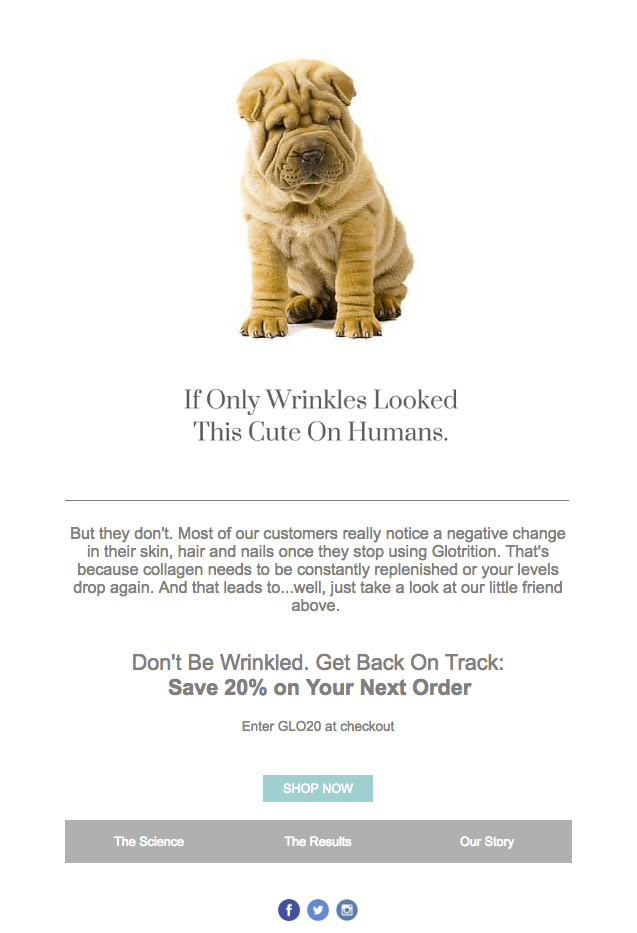 And if they're not, a handy discount or freebie might work too. You can always hit a one-two punch by sending a sale notification and then following up a few days later with a discount on top of that. If your margins can handle it, it's worth it to get the customer back to your store.
—
Key Takeaways:
With email automation, the only real limits are your own. If you're willing to create the segments, automate email flows, and do the testing, you can automate just about anything and have it feel as personalized as an email from a close friend.
With automated emails, you will always be timely and relevant and that's why they more revenue. In 2020, automated marketing emails were responsible for 29% of all email orders even though they accounted for only 4% of email sends.
While it might take a little bit of time to set up, automated emails run on autopilot, earning you sales in the long term without you having to do anything at all. Obviously, tweaking your workflows here and there will help you maintain only the best messages, but ultimately, you'll save yourself a ton of time to focus on your core business.
Start a free 14-day trial & drive sales on autopilot with pre-built automation workflows at Omnisend!
Start My Free Trial