Drive sales on autopilot with ecommerce-focused features
See Features
did you know
Omnisend customers automate 32% of their email conversions. Are you maximizing sales?
automate my sales
Reading Time:
9
minutes
What's better than reaching customers where they are?
Reaching them where they are, at the right time. Add personalization to this mix and you'll find nothing more effective for building great relationships with customers.
That's the great benefit of email automation.
Automated emails are a superb way to provide tailored experiences for potential customers because they're based on data about their behavior or actions. There's no need to manually send out individual emails, so you'll save a bunch of time on other tasks.
In this guide, I'll introduce you to email automation, explain how this process is done, and get you started with the right tool.
Content sections:
Try email automation that works while you sleep
Start free
What is email automation?
Email automation is an effective way to communicate with potential customers because it allows you to send emails at specific times. Most email apps have pre-made automated campaign workflows—sequences of emails strung together.
The biggest value of email automation is the ability to send relevant emails to the right people at the right time. If you link your CRM to an email marketing app, you can nurture subscribers effectively thanks to the data about their purchases and behaviors.
Automated emails include:
Order confirmations
Shipping confirmations
Birthday greetings
Abandoned cart notifications
Welcome messages for new subscribers
Product abandonment messages
Cross-sell and upsell messages
Example: this welcome email from Pipcorn gives a new subscriber a discount. That's a nice way to encourage making a purchase.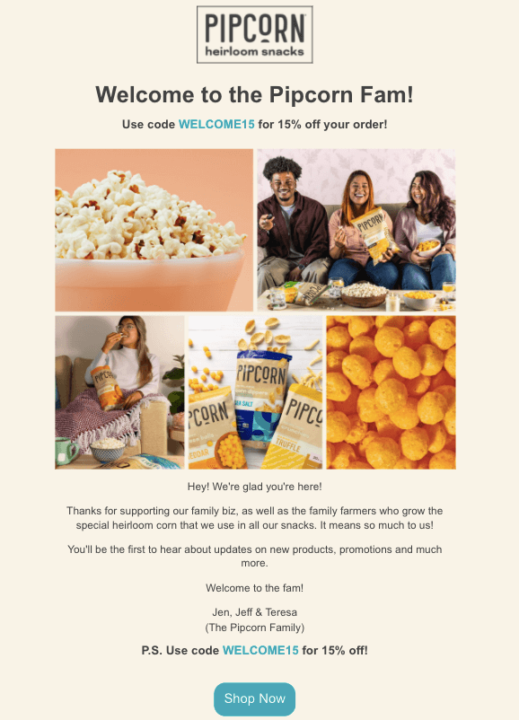 Benefits of email automation
Automated emailing is a godsend to time-strapped marketers and business owners. Here are several great reasons to automate your emails.
Save time
That's a no-brainer—you can save time by sending automated emails to many subscribers at once. So, there's no need to do the same tasks for every individual subscriber. And the best thing is that you can still personalize your campaign content.
Make the most of email marketing
You can create automated email workflows to communicate with as many subscribers as you want, at any time you prefer. This way, you can get sales from the top to the bottom of your funnel even with a one-person marketing team.
Increase customer retention
Email automation is a great way to rejuvenate the bond with subscribers who haven't opened your emails or bought from you in a while. This is done with automated win-back emails—campaigns designed to entice passive recipients to re-engage.
Build great relationships with customers
"Hey, we remember you—here's a discount for an upcoming sale!"
Businesses have data about their subscribers in CRMs, so they can make automated emails super relevant. Many businesses do that well: automated emails get 300% more clicks than promotional messages.
Now, to summarize the benefits—
If email marketing is your best bet for growth, then sending automated emails accelerates this process.
How does automated email sending work?
Automating email sending is easy thanks to email marketing apps. The idea is simple: create a campaign and set up a trigger (a predefined event) that'll activate automated sending when the event happens.
Let's consider a welcome email automation. It's a campaign where the trigger is an act such as signing up for a newsletter—a must-have email automation for ecommerce stores.
Setting up the welcome email automation flow includes these steps:
Install an email marketing tool. To start, you'll need easy-to-use email automation software (like Omnisend).
Build and segment an email list. Have a list of subscribers to send automated emails to—it can be built organically with signup forms. Break up your list into smaller segments based on information like interests or behaviors.
Set up an automation trigger. A trigger is an event or condition that will activate the automated campaign (this includes a newsletter signup, an abandoned cart, a subscriber's birthday, a lack of engagement for X days, etc.)
Create email campaigns. Design the automated email by creating images, texts, call-to-action-buttons, discounts, brand logos, etc.
Activate the automation. Choose the time to send the automated campaign and turn it on. Later, monitor how well it performs to find opportunities to improve.
Setting up email automations might sound complicated, but using the right tool makes it simple even for beginners.
Here's a quick overview of a welcome email automation setup if you prefer to learn with videos. Click to see how to create an email with a discount for first-time customers.
As the video shows, the most time-consuming task is to create the content for the automation email. Still, you can do that fairly easily thanks to the drag-and-drop email builder. Most email automation apps have this feature.
With that in mind—
Let's look at the most popular email automation tools.
Email automation tools
In this section, you'll find five tools for automated emailing that could be used to sell, nurture, and inform your subscribers.
1. Omnisend — for ecommerce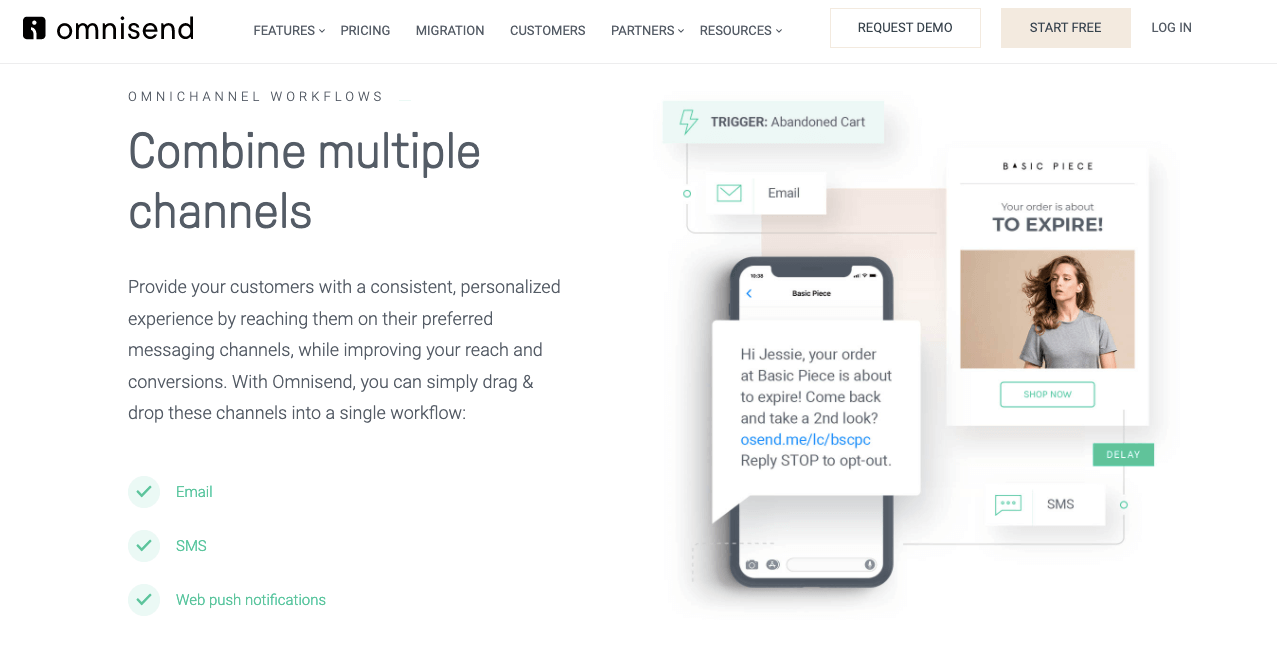 Omnisend is an easy-to-use email automation app for ecommerce stores. It allows you to take care of the five automation steps—from building an email list to creating email automation workflows—thanks to a simple interface and a drag-and-drop flow editor.
With Omnisend, you can automate all ecommerce email flows that online stores send to customers:
Shopping cart recovery emails
Shipping confirmation emails
Many ecommerce stores have achieved major results with Omnisend's ecommerce email automation. Here are a few examples:
Pricing:
You get 500 monthly emails with Omnisend for free, with unlimited features.
Paid subscriptions range from $16/mo for the Standard plan to $59/mo for the Pro plan. Automation is available in all plans, so Omnisend is the most affordable and powerful tool for automating emails considering all the features.
Curious to get email flow ideas for your business? Then how about a free consultation from an email automation expert? Learn how to use automated emails to power your business:

Sign up for a free Omnisend demo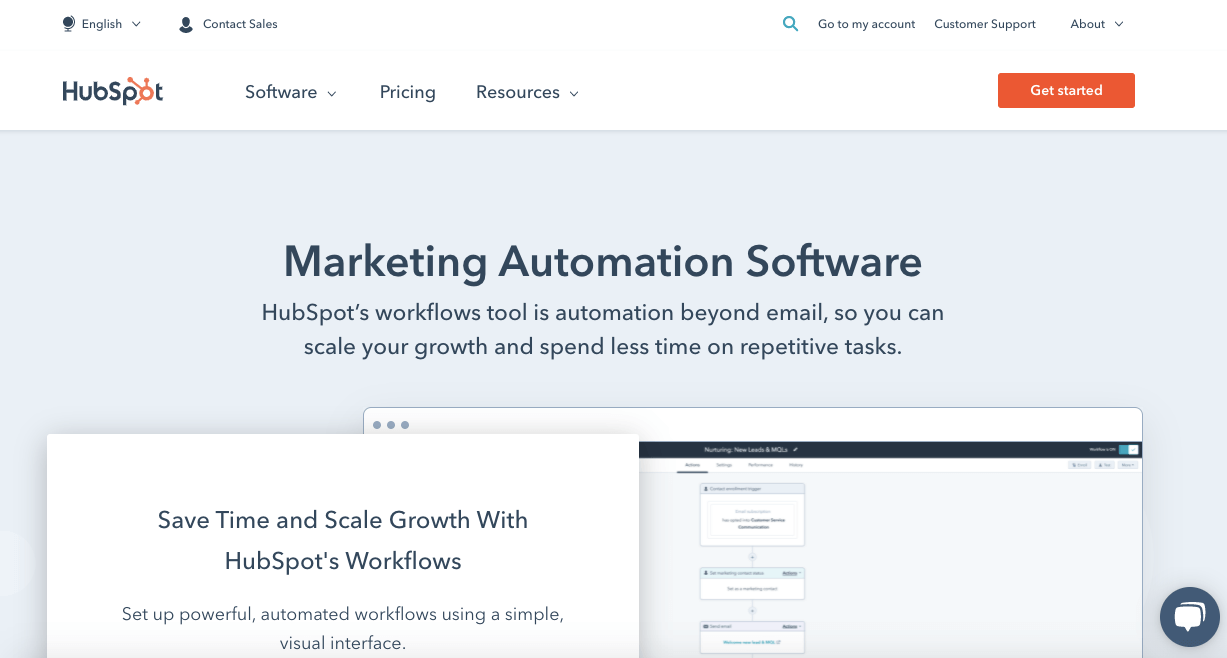 HubSpot is a top marketing automation platform that focuses on customer journey management and conversions, so it's a good option to automate repetitive marketing tasks. The platform includes a built-in email marketing automation app that collects subscribers' info from the CRM.
Pricing: HubSpot is a package deal, so you get the CRM + lots of additional marketing features. That's why the plan with automation starts at $850/mo.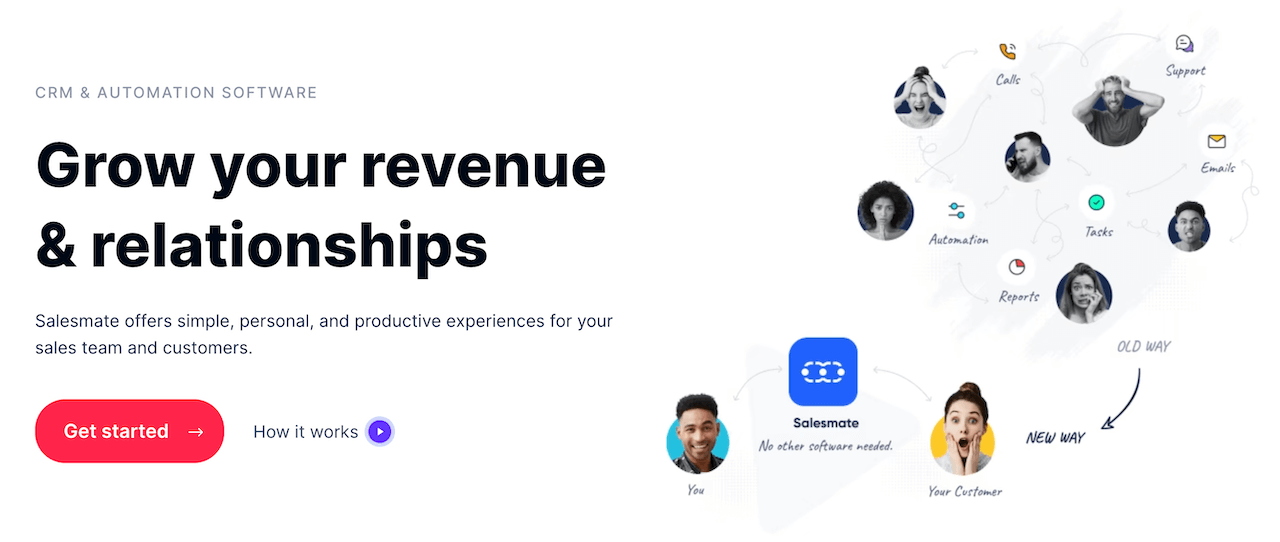 Salesmate is a powerful yet easy-to-use CRM with email marketing software. It lets you set up automated emails based on certain triggers, such as, when contacts enter a specific stage in the sales pipeline or when deals reach a certain milestone. You can also use Salesmate to segment contacts into groups and send out personalized messages based on their interests. With its drag-and-drop email builder, you can easily create stunning emails and campaigns tailored to your target audience.
Pricing: Salesmate pricing starts at $12/month per user for the Basic Package.
4. Constant Contact — for nonprofits and small businesses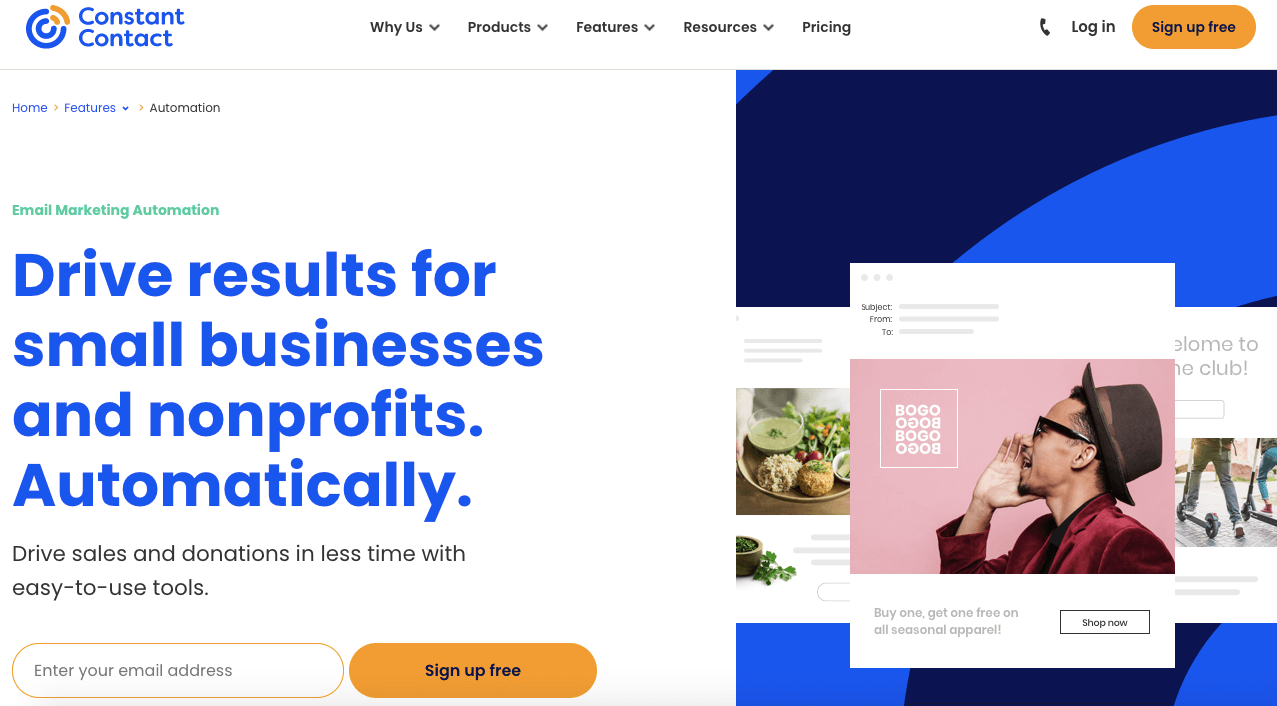 Constant Contact is a beginner-friendly, complete emailing automation platform. You can build your email list from scratch thanks to website signup forms, manage subscribers easily, and create email flows with drag-and-drop tools. An integration with Facebook and Instagram ads is available in case you need to find clients on social media.
Pricing: email automation is available in the Plus plan costs $45/mo for 500 subscribers. The final price is based on the number of contacts.
5. ConvertKit — for content creators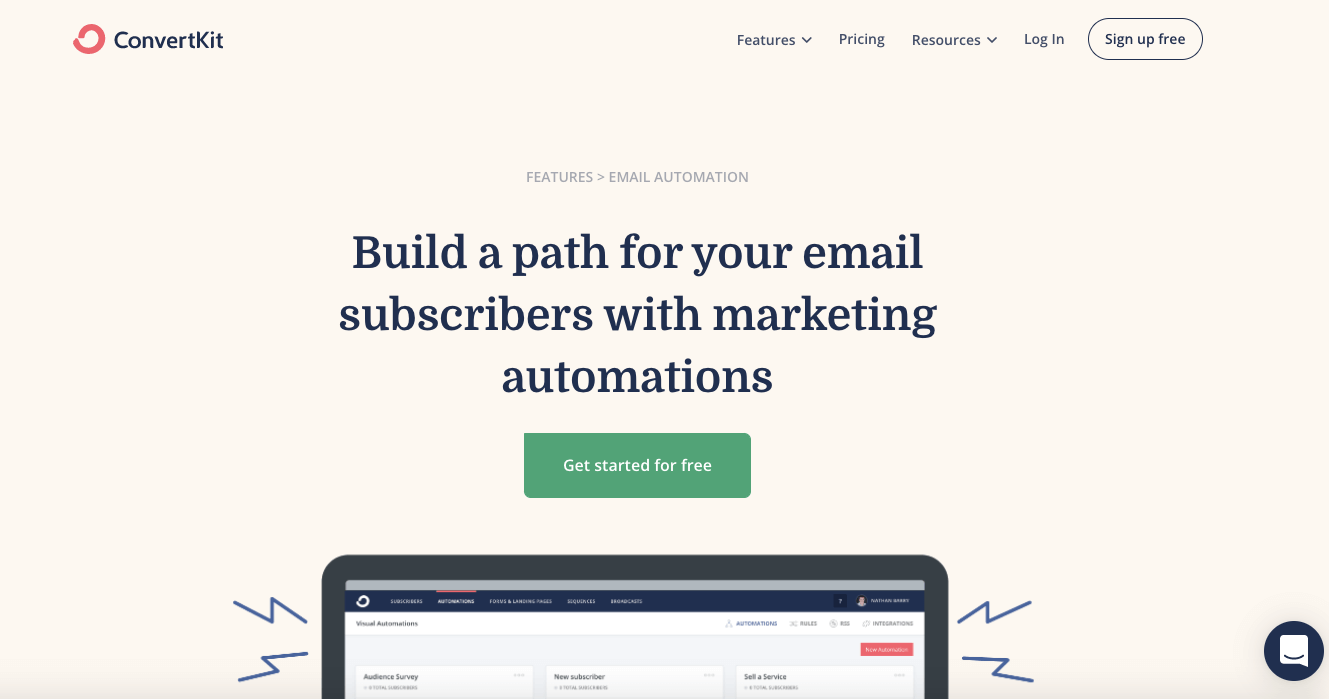 ConvertKit is a powerful email automation tool that focuses on solutions for content publishers like bloggers and course creators. Thanks to advanced targeting features, you'll be able to send the right content that feels personalized to every subscriber. Premade automation email marketing flows for creators like online course subscriptions are also a great feature.
Pricing: email automation is available in the Creator and Creator Pro plans that cost $29/mo and $59/mo, respectively. The pricing is for 1,000 subscribers and goes up as your email list grows.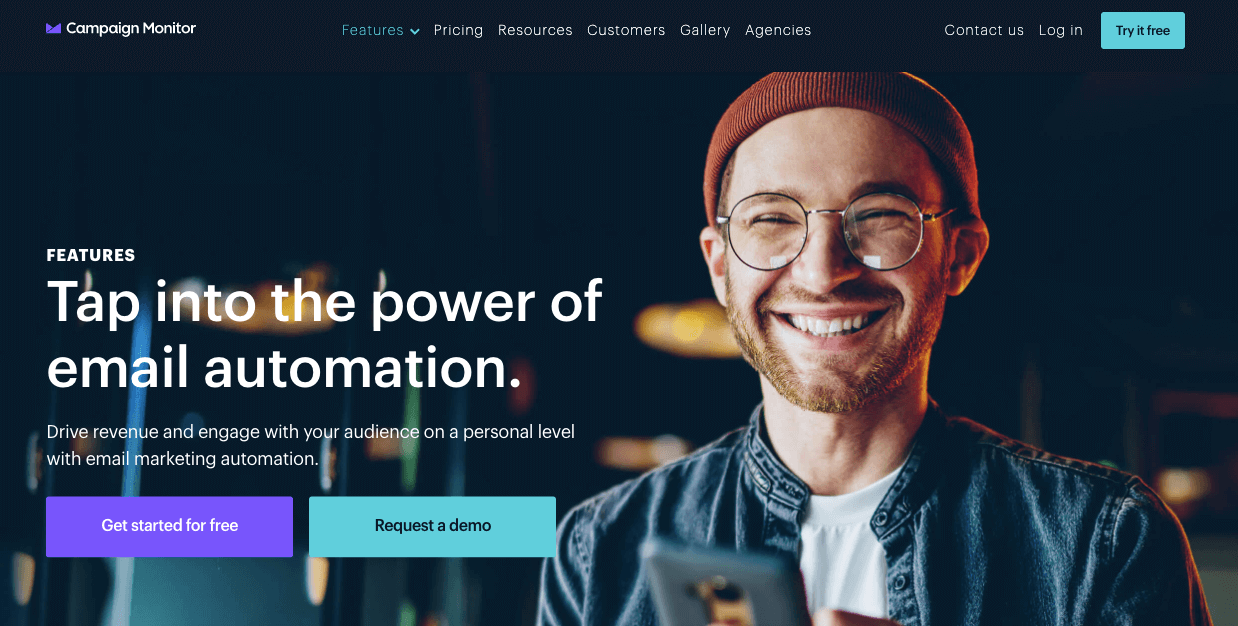 Campaign Monitor is a great tool to create automated email flows for marketing agencies. The platform has multiple users, role permissions, branded email templates, and great signup forms. All the essentials like a drag-and-drop builder and reporting are great as well.
Pricing: For $29/mo, you can send email marketing automations to 12,500 subscribers. The plan with unlimited email automation flows costs $59/mo.
Email automation examples
Here are six popular examples of automated emails that online businesses send to their subscribers.
1. Welcome email
Automation trigger: subscription to a newsletter
Also called a welcome series, a welcome email is a message sent to greet new subscribers or customers. It's a great chance to introduce your company and score sales, as 48% of welcome emails get conversions.
"All of our automated emails have proven to be beneficial. Once you set them up and let them run, we're generating income from them with minimal effort."

Jason Slattery, Director of Marketing at B-Wear
Here's an example of this email marketing flow in action from B-Wear, a clothing store. The email gets new subscribers started with 15% off and product recommendations (a good idea to encourage buying).

Email automation success story

B-Wear's welcome email offering a 15% discount helped increase revenue per email by 390%. In total, all of their email automations garnered a 43% conversion rate.

Get the details: B-Wear Email Automation Strategy
2. Abandoned cart recovery email
Automation trigger: shopping cart abandoned
This email automation workflow is activated when a registered customer adds a product to their shopping cart but leaves without buying. The goal is simple: remind them about the abandoned product and motivate them to complete their order.
WPStandard, a successful Shopify store, uses this automated email to recover sales. It's short, sweet, and focuses the attention on the product well.
Get help with your abandoned cart recovery strategy:
3. Visitor re-engagement email
Automation trigger: Being an unengaged subscriber for X days
Automated re-engagement emails (also called win-back emails) are sent to subscribers who haven't interacted with their messages within a predetermined period of time. Some subscribers become unengaged at some point, so engaging them is a way to retain them.
H&M has a good example of a re-engagement email. The brand makes the value proposition clear with a large headline—a nice way to attract attention to the main value proposition.
4. Product abandonment email
Automation trigger: Visiting a product page without buying
The product abandonment workflow is one of the email flows for ecommerce sent to registered visitors who viewed products and left without buying. Simply put, this email automation is one of the best email flows to offer a second look at products that customers might be interested in.
This example from Asos was sent to a visitor who checked out six products.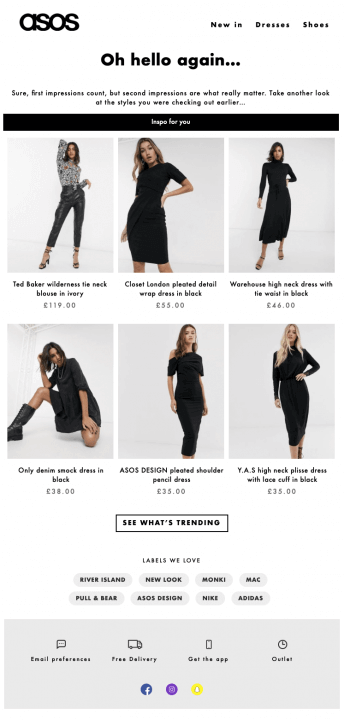 5. Order confirmation email
Automation trigger: placing an order
This email automation workflow is basically a receipt because it summarizes order details for customers. A typical confirmation includes product info, shipping and billing details, and a link to tracking pages if available.
Trade Coffee gives us a good example. Not only does this email summarize the order but also gives the recipient links to customer support. This way, the brand shows that a customer can easily get in touch, which builds their confidence.

Create great order confirmation emails:
6. Product review emails
Automation trigger: X days passed after a customer placed an order
The final email in your automation series could be a product review email. This message should be sent when customers already had some time to try your product—a few days to a week after the purchase, for example.
Target offers a solid example of a product review email. It's got a quick intro, a link to the review page, and a product image. Note that the email offers help with fixing any issues before reviewing—that's a way to minimize negative reviews.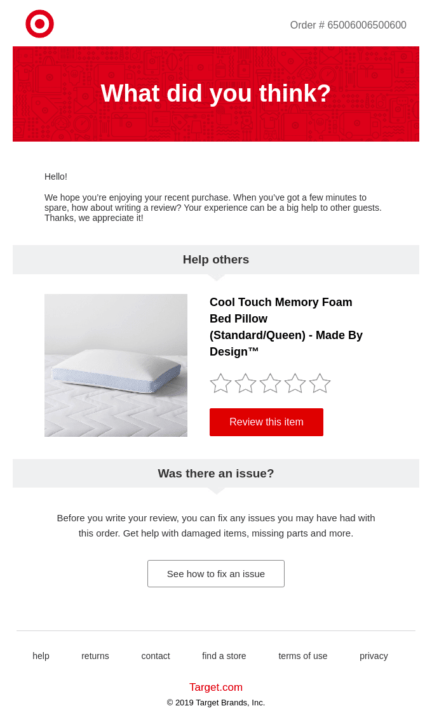 Email automation: summary
Email automation is a good way to keep your list of subscribers updated and engaged. Thanks to email marketing apps, you can create automations easily and send them out at specific times, helping you save time while building customer relationships.
I hope this article helped you to learn about automated emailing and find some tools to get started. If you need more help with email marketing in general, check out our email marketing blog—we've got in-depth guides, pro tips, and great examples for every topic.
Get started with Omnisend today & drive sales on autopilot with pre-built automation workflows
Start Free Today
related features
Want more sales?
Omnisend has everything you need to succeed.
Start free now
No Credit Card needed.