Drive sales on autopilot with ecommerce-focused features
See Features
Reading Time:
6
minutes
When it comes to investing in their image, 71% of Americans spend their money on hair products.
Yup, your luscious locks play a massive role in how you look and feel. Healthy hair is long said to be a sign of youth, liveliness, and vitality (and no one wants limp locks or split ends!).
But, the global hair care industry is massive. It's expected to value $54.09 billion in 2027, with a 4.03% CAGR, making it incredibly challenging for hair care brands to stand out amongst noisy competitors.
That's why it's so important for hair product brands to create email marketing campaigns that snag the attention of their customers and keep them coming back for more.
Here are ten hair care email examples and strategies to help any hair care brand build a loyal, engaged fanbase:
#1 Gussi: Enter the new year with a fresh look
In a survey conducted by VeryWellMind, 44% of adults planned to set a New Year's resolution in 2023.
Haircare brand Gussi capitalized on this trend by sending an email encouraging customers to start a fresh look for the new year with their products.
The email featured actionable tips, such as using a heat protectant before styling with heated tools and taking care of your vitamins, that customers could use to maintain and improve the health of their hair.
Gussi ends the email with a promotion that encourages customers to purchase products and get a free hair comb with their order. This email combines useful content with a promotion that keeps recipients engaged and motivates them to complete the desired action.
#2 Hims: Feature the product with its benefits

Few things are as powerful as conveying the value of a product in an email. HIMS does just that by featuring its Minoxidil Foam with relevant information and benefits.
HIMS' email newsletter lists the product's benefits and backs them up with scientific explanations of how it works. This approach ensures customers understand the product and its effects, making it easier for them to make a purchase decision.
The complementary visuals of the hair root and its transformation after using the product further drive home this point, making a powerful impression on customers.
#3 Prose: Promote custom solutions

Every hair is unique, so it's impossible to know what products will work best for customers without a little testing.
Prose capitalizes on this concept by promoting its custom solutions in an email campaign.
The email discusses the importance of a custom hair care routine and highlights how Prose's personalized approach can help customers find their ideal products.
A customer review further illustrates the value of this approach and encourages customers to give it a try. Social proof like this helps to build trust and gives customers the confidence to make a purchase.
#4 Life Elements: Go all out with the product launch

New products need all the attention they can get, and Life Elements achieved that with their product launch email campaign.
The email highlights how Life Elements made the product with "non-toxic, sustainable, and safe ingredients" to promote its naturalness and quality. It also mentions how 100% of beta testers reported positive results, adding credibility to the product and encouraging customers to try it.
Life Elements also sprinkles two customer testimonials to drive home the value of their new product. Complementing the copy with an image of the product, along with exciting visuals and a call-to-action, this email is the perfect example of how to launch a product in style.
#5 Hally: Remind customers when discounts are expiring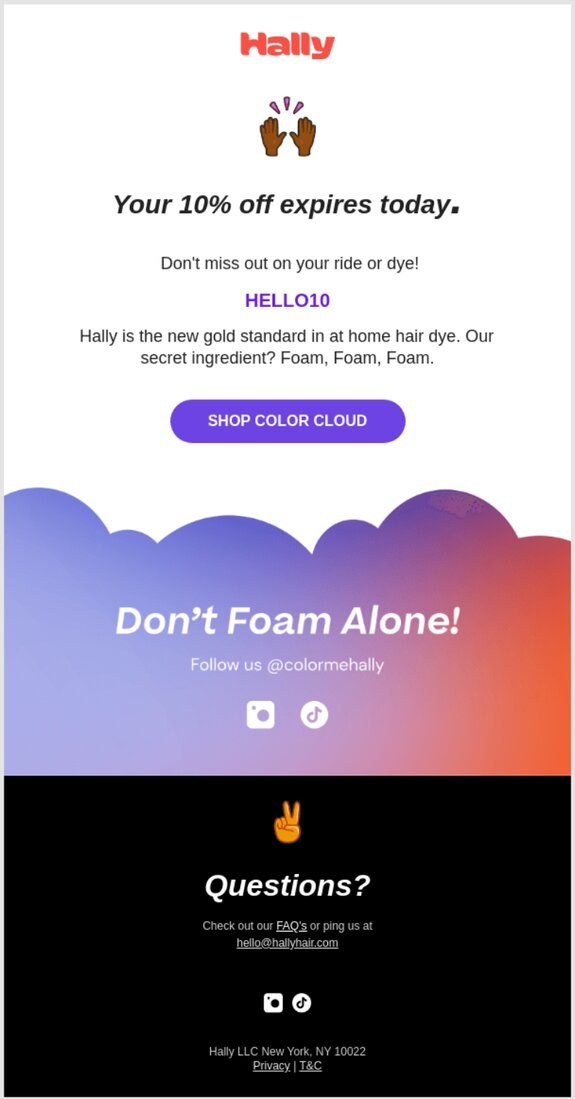 Who doesn't love a good deal?
A study by RetailMeNot shows that two-thirds of consumers make a purchase they weren't originally planning to make solely based on finding a coupon or discount.
Hally nudged customers in the right direction by sending a reminder email about their discount.
"Your 10% offer" expires today" creates a sense of urgency and encourages customers to complete their purchase before they miss out on the deal.
The email also includes an option for customers to check out FAQs or ping the customer service team to clarify doubts. This support helps customers purchase with confidence and ensures they have an enjoyable shopping experience.
#6 Luxy Hair: Speak with visuals
Luxy Hair goes all in with the visuals as it displays its hair extension products in an almost-realistic setting.
The images of models with different hair colors and before and after images of extensions being installed give customers a better idea of how the product looks and what it can do for them.
Clear CTAs accompany each product, and the email ends with previews of other products from their range. The cherry on top is the 40% off offer, which makes resisting the temptation to buy almost impossible.
This email strategically combines visuals, product descriptions, and an exciting offer — the perfect recipe for inspiring customers to take action.
#7 Briogeo: Present your products in an organized manner

Briogeo's email showcases its new collection in a visually pleasing and organized way.
The product images are displayed in a grid format, which makes it easy to see each item clearly, while descriptions next to them provide more information about the products.
The descriptions, especially, are clean and straight to the point. With tips on how to use the products and a link to a routine guide at the end, the email makes it easy for customers to find information and take action immediately.
#8 Arctic Fox: Let your customers do the talking

Arctic Fox goes all out with customer reviews to promote its products.
The email features the bestsellers from its range and glowing reviews from customers who have used them. This helps to build trust and gives potential buyers the confidence to make a purchase.
The email includes copy such as "xoxo AF Team" and "let's be friends" to give it a personal touch and make customers feel like they are part of the Arctic Fox community.
#9 Ceremonia: introduce new products with an offer

Ceremonia promotes its new product, Aceito de Moska" with a promo code that allows customers to get a gift with their purchase.
The email also highlights the product's benefits and an image of the product, making it easy for customers to understand what they are getting. Lastly, the feature image with customers with different hair types subtly shows how the product works for anyone.
#10 Drybar: Summarize all your best deals in one email

Drybar leaves no stone unturned when it comes to promoting its products. The email features "Free Shipping," visual previews of its curling irons and their results, customer testimonials, promotion of a free beauty sample the entire month, and suggestions of other products at discounted products.
In this email, customers are bound to find something that piques their interest and makes them want to hit the "Shop Now" button.
Showcase your best deals in style
An email has the power to convince customers to take the plunge and make a purchase. The key is presenting your hair care, body care or skincare products and deals in an organized and visually appealing manner that captures their attention, convinces them of the product's value, and encourages them to purchase.
Try these hair care email examples for inspiration for yourself today and see how they work for you. And check out Omnisend's range of templates for hair care emails to get started. Just register, customize, and hit send. That's all you need to do to ensure your hair care customers are in good hands.
related features
Want more sales?
Omnisend has everything you need to succeed.
Start free now
No Credit Card needed.