Drive sales on autopilot with ecommerce-focused features
See Features
Reading Time:
14
minutes
Thinking about switching off ActiveCampaign? Finding it too complex for your business? Or simply not feeling what they're offering?
Sifting through dozens of ActiveCampaign alternatives can be quite a feat.
But don't worry: We've done the hard work for you! After reading this guide, you'll have a much better idea of which ActiveCampaign alternative is the best fit for your business.
But before we dive into the best ActiveCampaign alternatives, let's take a quick look at why people are looking for them in the first place.
In this post:
Why look for an ActiveCampaign alternative?
The best alternatives to ActiveCampaign list
Supercharge your sales with the best ActiveCampaign alternative for ecommerce
Start Free Today
Why look for an ActiveCampaign alternative?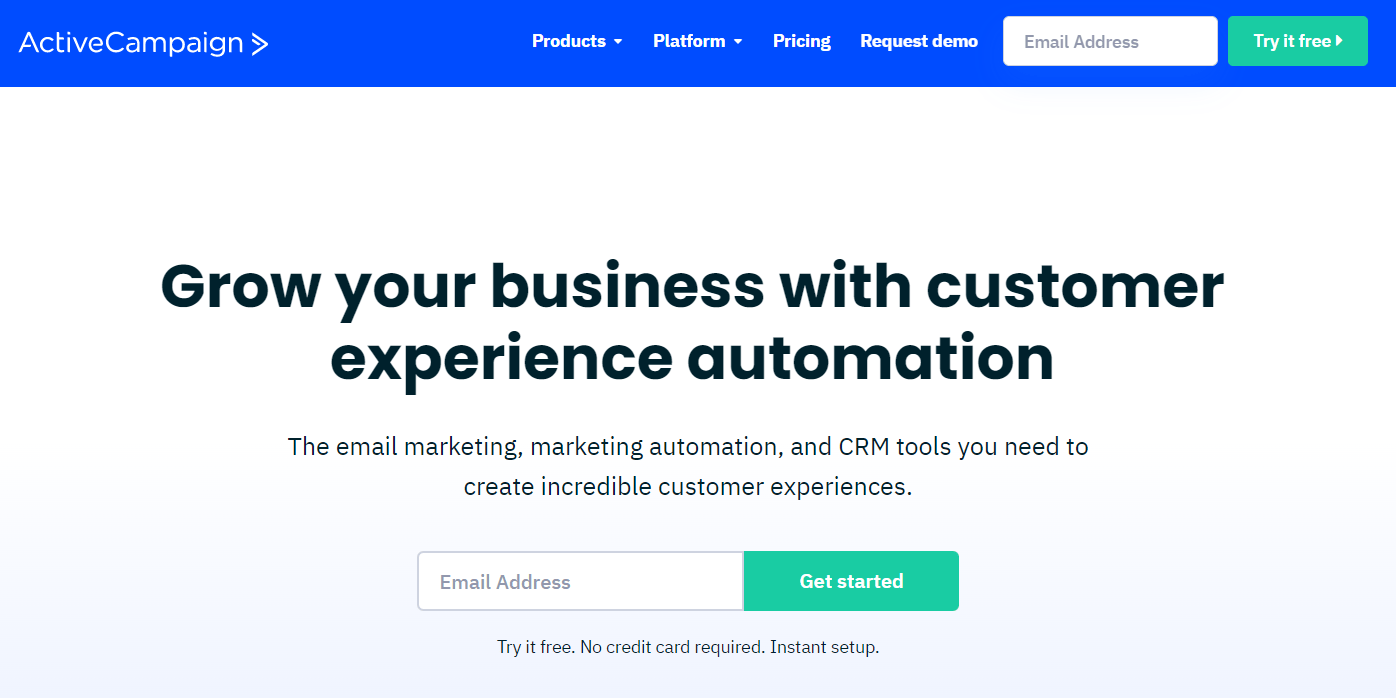 ActiveCampaign is one of the most popular email marketing solutions, ranking at 4.6 stars on G2, a popular user review platform. The app gets such a high ranking thanks to a combination of email marketing, automation, and CRM.
Despite all that, there are quite a few reasons you might decide to look for ActiveCampaign alternatives. Check these out and see if any of them ring a bell to you.
No free plan
Unlike many of its competitors, ActiveCampaign does not offer a free plan. This can be a drawback for those who need more time to test the tool before committing to a subscription.
While they do offer a 14-day free trial, this may not be long enough for you to fully test out the tool and decide if it's the right fit for your needs.
Not beginner-friendly
ActiveCampaign's complex automations and the somewhat cluttered interface can make it a daunting tool for beginners.
While it does offer a drag-and-drop email builder, it can still be confusing for those new to email marketing. Additionally, some of ActiveCampaign's advanced features, like Modules and Module editor, require technical expertise, making it a challenging tool for non-technical users.
If you're just starting out, there are many alternatives out there that are much more beginner-friendly and easier to navigate.
Too complex for small businesses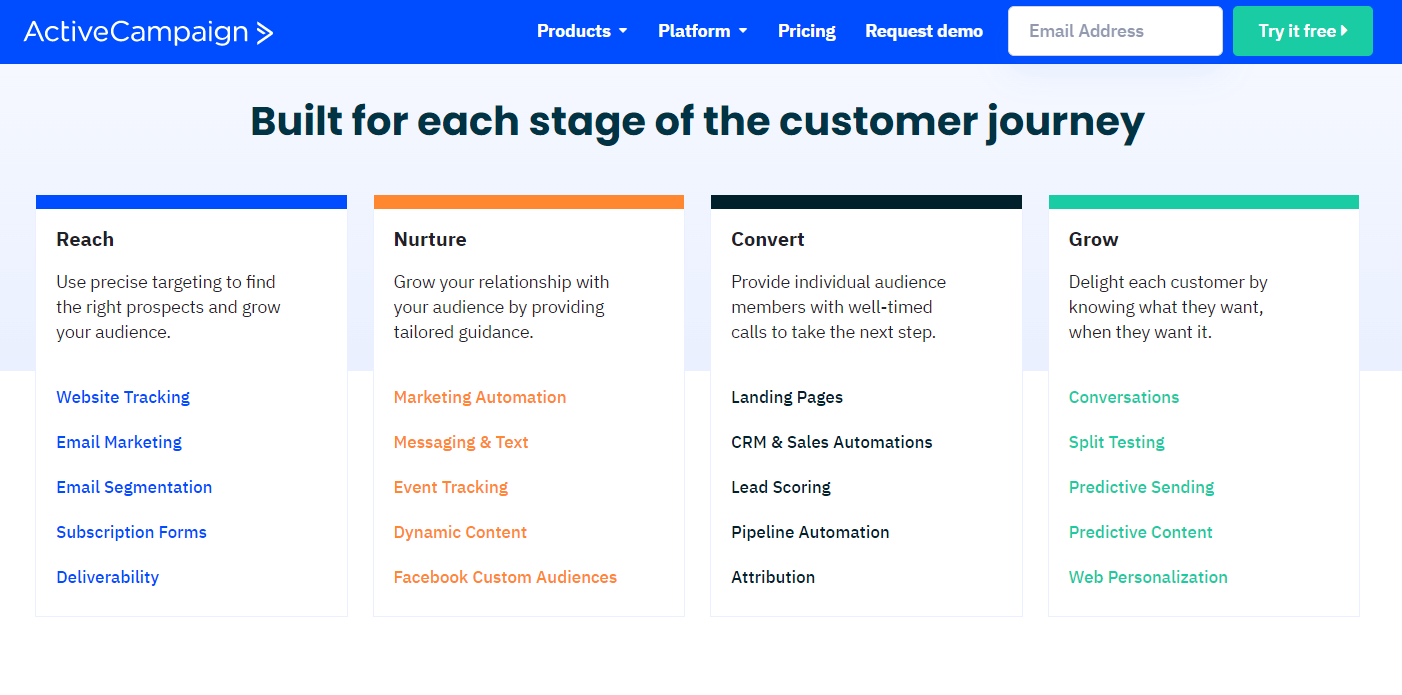 ActiveCampaign is a powerful platform with lots of advanced features that go beyond just email marketing. These include CRM and sales automations, social media integration, and even a tool for running time-limited deals.
However, for smaller businesses, all these options may be overwhelming and unnecessary. If you're looking for a simpler email marketing platform, there are plenty of other top-rated tools to choose from that may be a better fit for your business.
Not focused on ecommerce
While ActiveCampaign has introduced transactional emails in recent years, it still isn't primarily focused on ecommerce.
In fact, if you look at who's using Activecampaign, data shows that ActiveCampaign is primarily used by advertisers and IT software companies. Retailers placed only 7th in the top ten of industries that use the platform: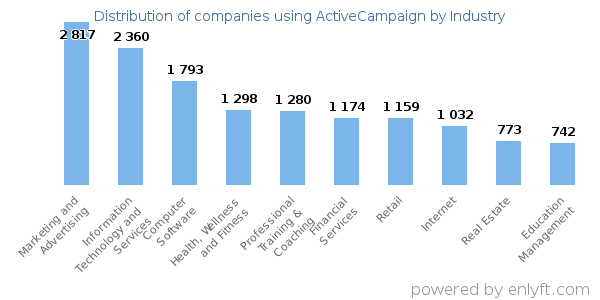 Best ActiveCampaign alternatives
| Tool | Best for | Highlights | Free plan? | Starting Price |
| --- | --- | --- | --- | --- |
| Omnisend | Scaling ecommerce businesses, agencies | Easy drag-and-drop email editor, powerful omnichannel automation, behavioral targeting | ✅ | $16/month |
| HubSpot Email Marketing | SaaS, SMBs, scaling businesses | Native integration with HubSpot CRM | ✅ | $20/month |
| Constant Contact | Solo marketers and ecommerce businesses | 300+ integrations | Trial only | $9.99/month |
| Sendinblue | Ecommerce and agencies | SMS marketing | ✅ | $19/month |
| AWeber | Digital media and solo marketers | Email testing across devices | ✅ | $20/month |
| MailChimp | Small businesses | Landing pages | ✅ | $13/month |
| EngageBay | SMBs, startups, solopreneurs | Powerful, visual, multistep automation builder | ✅ | $11.04/month |
| GetResponse | Mid and large businesses | Webinar software | Trial only | $16/month |
| Mailerlite | Small businesses and content creators | Custom domains | ✅ | $9/month |
| Moosend | SMEs, bloggers and publishers | Landing page builder | Trial only | $9/month |
| Klaviyo | Data-driven marketers | Robust analytics | ✅ | $45/month |
1. Omnisend
Rating from users (G2): 4.5 out of 5
Best ActiveCampaign alternative for: Ecommerce marketing automation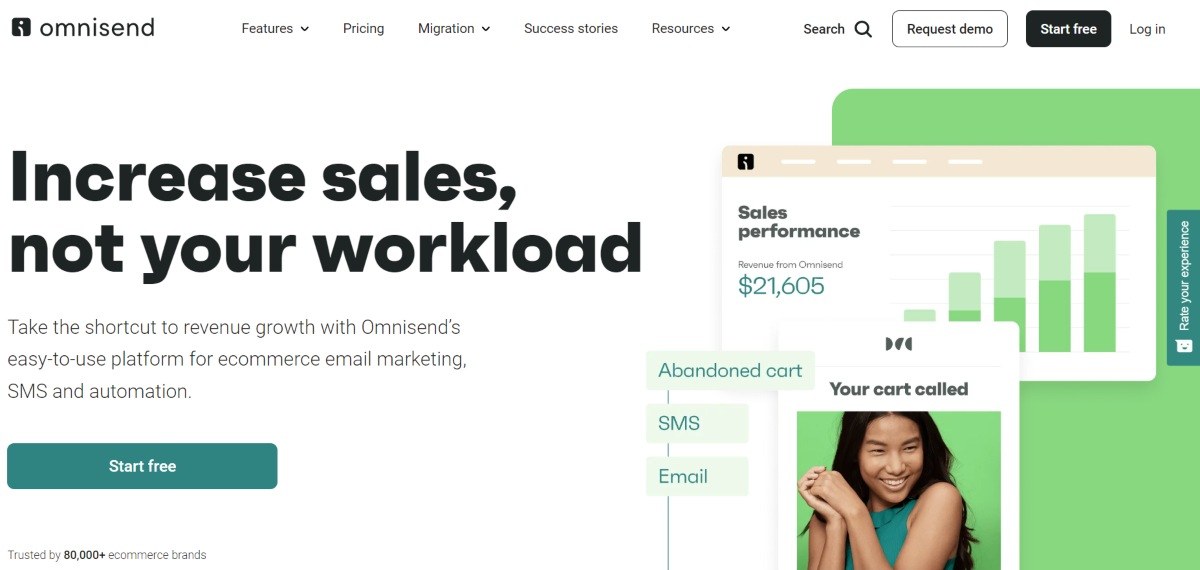 If you're here to find an ActiveCampaign alternative for your online shop, Omnisend is hands-down the best app to choose from.
Here's what Omnisend offers:
Free plan. And it's not the "get-started-with-our-app" kind of plan, too—you'll be able to use every premium feature and really start growing your business with all the advanced tools Omnisend has to offer.
Better customer support. Over 4,000 users rated Omnisend five stars on Shopify. Plus, they get 24/7 email & live chat customer support, even on the free plan. To compare, ActiveCampaign has 306 5-star reviews on Shopify.
Ecommerce-focused features. Omnisend is built with ecommerce email marketing automation and sales in mind. For example, Omnisend can generate unique discount codes for you, whereas ActiveCampaign cannot. At the same time, ActiveCampaign's user base suggests that the tool might be better suited for non-ecommerce industries.
Thanks to these advantages, Omnisend gets stellar customer reviews, such as this one:

Moreover, as you'll see from the features list below, Omnisend is also great for mid-sized and large ecommerce businesses.
Features
Email signup forms & popups. Right out of the box, Omnisend's signup forms come with high-converting text, beautiful images, and great styles.
Intuitive email builder. Omnisend's drag-and-drop email builder is easy to use and offers many pre-made email templates. Plus, you can effortlessly add interactive elements like the Product Picker to boost your click-through rates.
Segmentation and retargeting. Create segments based on your visitors' behavior as well as their purchase data, then target specific shoppers based on what they bought, their average order value, and more.
Campaign automation workflows. Use pre-built or custom automation workflows like cart, product, and browse abandonment, or a welcome series to personalize your customers' journey.
Advanced ecommerce features. Create unique discount codes, customer lifecycle stages, landing pages, and gamified 'spin-to-win' forms to grow your online store faster.
Advanced analytics. Get to know your customers on a whole new level and discover the marketing strategies that really work with Omnisend's ecommerce reporting and analytics tools.
SMS, Facebook, and Google retargeting ads, or push notifications. You can easily integrate all of these communication channels with your store using automation workflows or by sending one-off campaigns.
Pricing
Omnisend really stands out in the email marketing space. They offer their services at roughly 17% less (up to 1 million contacts) than you'd typically see with the top ESP. Plus, their clients are getting an impressive 72x ROI (compared to email's 36x average). This goes to show that you don't need to shell out tons of cash for the best email marketing platforms.
Omnisend offers a free plan with all the advanced features available on all its premium plans, including email automation and SMS marketing. When it comes to premium plans, Omnisend's Standard plan starts at $16/month, while the Pro plan starts at $59/month.
Check this video to see how easy it is to send an email campaign with Omnisend:
2. HubSpot Email Marketing
Rating from users (G2): 4.4 out of 5
Best ActiveCampaign alternative for: Those looking for a robust full-feature marketing solution.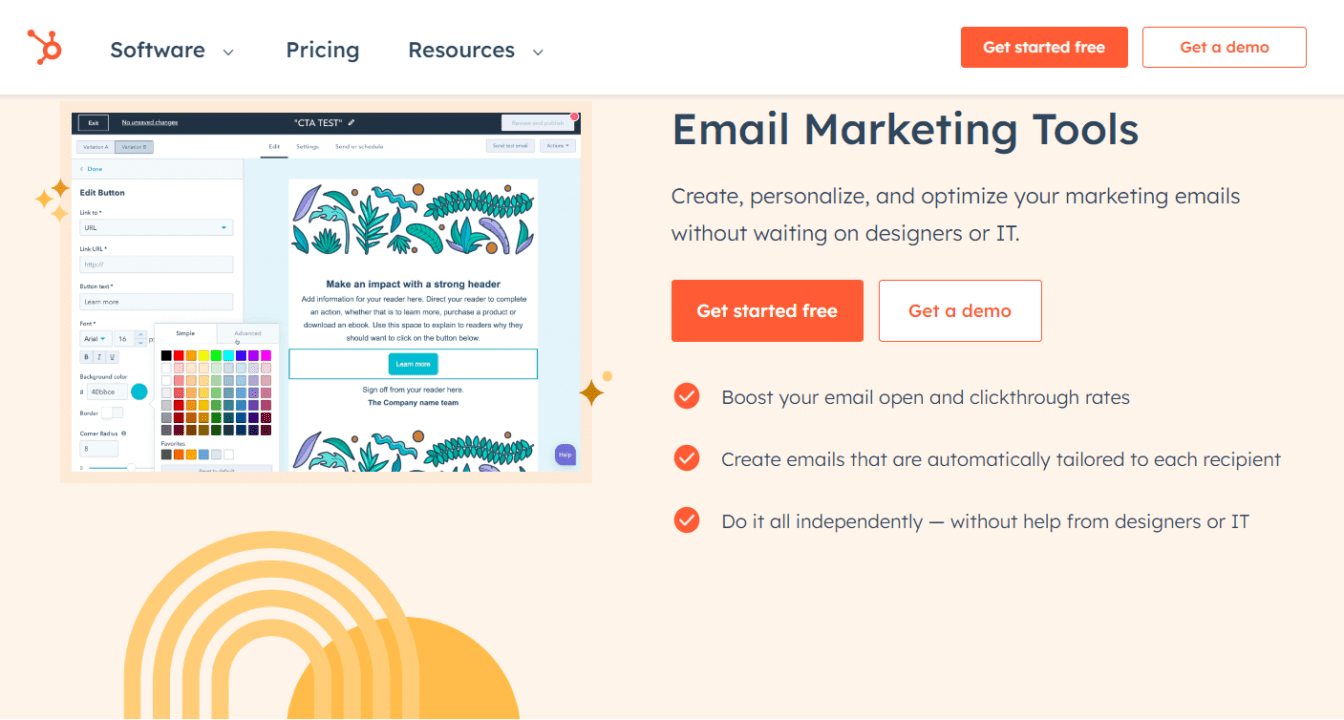 HubSpot's email marketing tool is part of HubSpot's integrated CRM platform. Compared to ActiveCampaign, HubSpot has a much more robust offering.
You'll find that the platform comes with all the tools you need to support your email drip campaigns, from landing pages to capture new email subscribers, to email templates to help you create beautiful designs, or contact management tools to stay organized.
Features
Powerful free CRM. HubSpot's free CRM keeps a detailed log of all your subscribers' interactions with your business and is automatically updated. With this information, you can personalize your emails and website content to boost your conversions.
Custom reports. ActiveCampaign shows you the data you need to report on your emails' performance, but HubSpot lets you go one step further. It allows you to create custom reports where you can track the metrics that matter most to you. This makes reporting a lot more relevant.
Landing pages. Landing page design plays a big role in driving conversions. HubSpot has everything you need to create optimal landing pages, including personalization tokens to customize your visitors' experiences.
Free plan. Get started for free with a CRM with unlimited contacts, email marketing, live chat, forms, landing pages, an ad management tool, a meeting scheduler, a WordPress plugin, and more. It has all the tools you need to run a successful email marketing campaign.
Pricing
HubSpot's free plan includes 2,000 emails per month and free tools to run your marketing campaigns. Paid plans start at $20+ per month.
3. Constant Contact
Rating from users (G2): 4.0 out of 5
Best ActiveCampaign alternative for: Solopreneurs and SMBs new to email marketing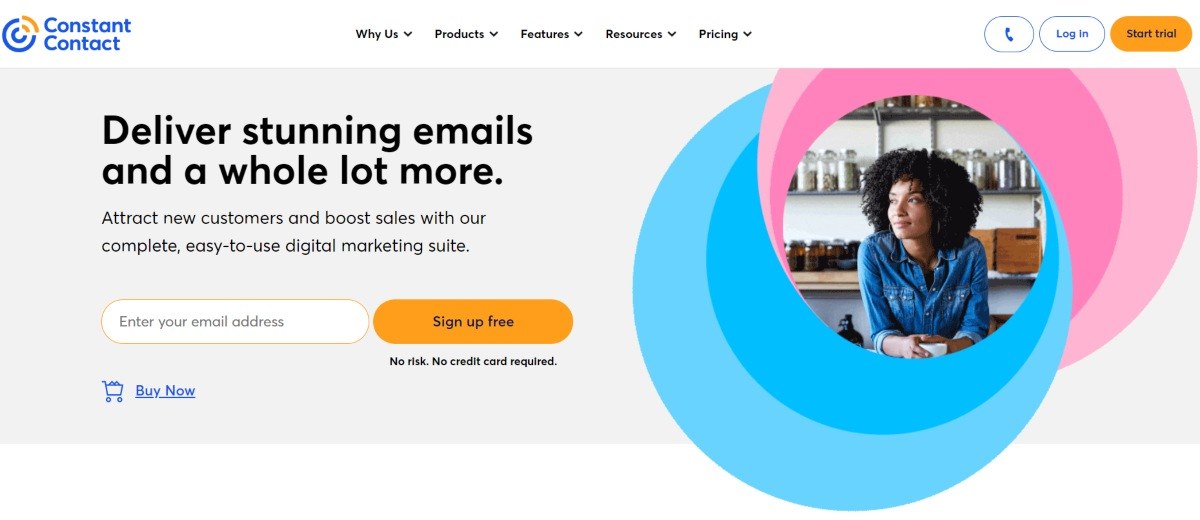 Constant Contact is a user-friendly email marketing tool that offers affordable pricing, making it a great option for small businesses new to email marketing.
Its simple interface allows for the easy creation of professional-looking emails, enabling businesses to connect with their customers in an effective way. It's worth considering if you are looking for a more straightforward email marketing platform.
Looking for an alternative for Constant Contact? See this curated list of 7 tools you need to check in 2023.
Features
Beginner-friendly. Constant Contact's email builder is fairly intuitive and simple to navigate. You can easily customize the look of your emails using the drag-and-drop editor and create email templates that are both mobile-friendly and professional.
Email marketing automation. You can greet new subscribers with automated welcome series, nurture leads with targeted drip campaigns based on their interactions with your emails, and increase engagement by automatically resending emails to non-openers.
Niche integrations. Constant Contact has more integrations than ActiveCampaign, featuring 300+ integrations spanning across a wider range of industries.
Website builder. Though part of a separate plan, starting at just $10 per month, you can quickly set up a website with Constant Contact's website builder.
Pricing
Constant Contact has two main plans starting at $9.99 and $45 per month, respectively. Both plans can quickly get pricey as you get more subscribers, so this tool is really best if you're just starting to build your email list.
Learn the story of a business that moved from Constant Contact to Omnisend and achieved a 66% conversion rate for their welcome emails.
4. Sendinblue
Rating from users (G2): 4.5 out of 5
Best ActiveCampaign alternative for: Ecommerce marketers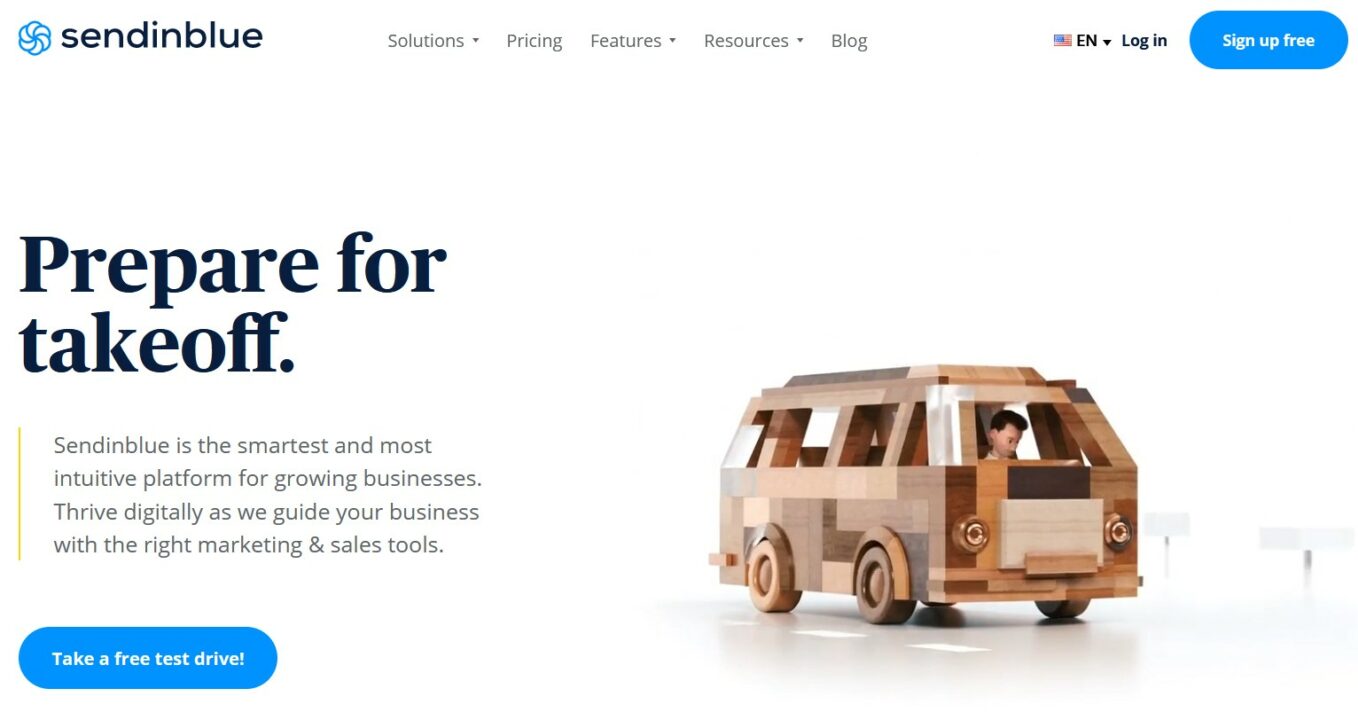 Both Sendinblue and ActiveCampaign are easy-to-use digital marketing platforms with sophisticated features that appeal to both beginners and advanced marketers.
However, if you're looking for a more budget-friendly option that still delivers above-average value, Sendinblue is the way to go. With its advanced capabilities and easy-to-use interface, Sendinblue is a good fit for marketers that focus on ecommerce.
Features
SMS marketing. Incorporate SMS campaigns into your email workflows, allowing you to stay in closer contact with your subscribers.
Pre-made email templates. Quickly create emails from the template library or build a new design from scratch. You can then edit the design further by adding the blocks and style that you want using the drag-and-drop builder to match your brand.
Automation workflows. The automation workflow builder allows you to automate tasks like sending emails and SMS messages, categorizing contacts, and updating their information in your database.
Landing pages. Create landing pages using a drag-and-drop page builder. The builder lets you choose a layout from pre-built templates or build your own from scratch.
Free plan. Sendinblue's free plan offers the essential tools you need to begin ramping up a simple, functioning email marketing campaign. You get access to the core email functionalities as well as SMS marketing and contact management tools.
Pricing
Sendinblue's free plan includes 300 emails per day with unlimited contacts. Paid plans start at $19/month for up to 100,000 emails with no daily sending limit.
5. AWeber
Rating from users (G2): 4.2 out of 5
Best ActiveCampaign alternative for: Digital media and solo marketers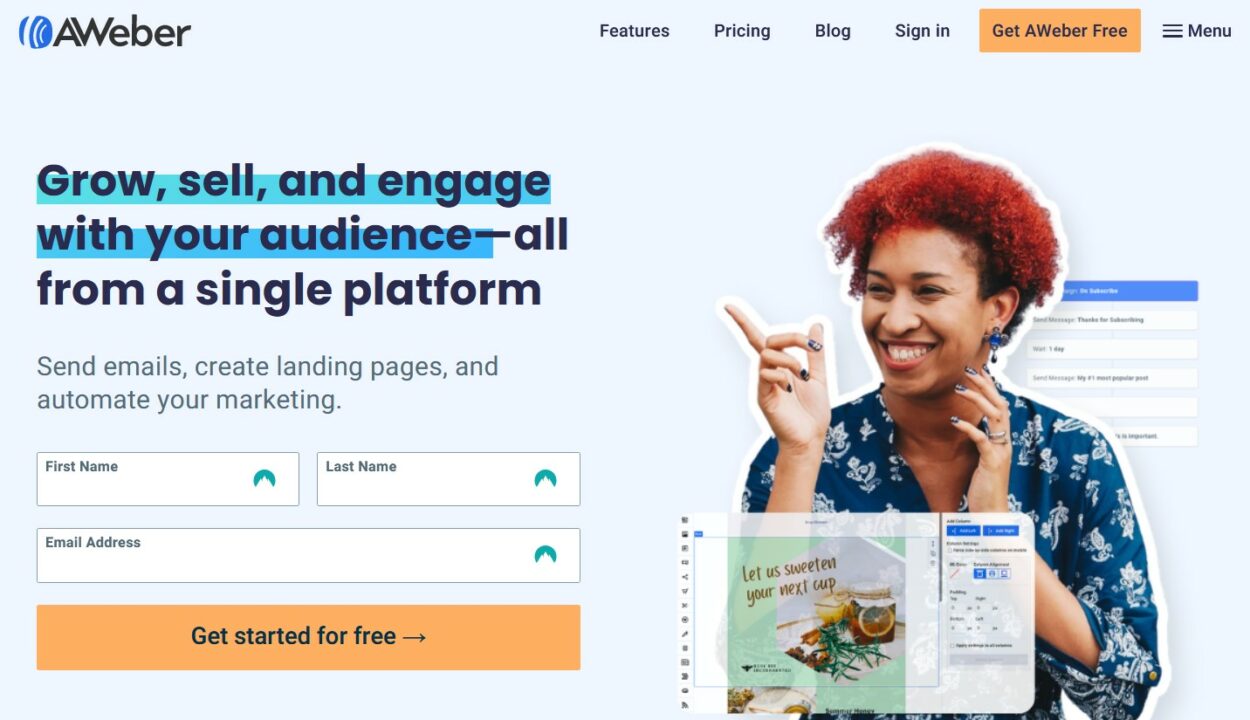 AWeber is a tried and true email marketing tool that's been around since the late 90s. If you're just starting out with email marketing and have a very small list, it can be a great alternative to ActiveCampaign.
Its user-friendly interface and affordable pricing make it easy to create and send professional-looking emails, helping you connect with your audience and grow your business.
Features
Template library. Out of all the email marketing tools on the market, AWeber has one of the largest email template libraries with 700+ designs and 600+ stock photos available to choose from.
Marketing automation. AWeber has some decent automation options, letting you assign triggers and flows to your emails and automatically tag the contacts in your lists.
Mobile app. AWeber also has a mobile app with all the key features right at your fingertips. This comes in handy when you're often on the go.
Email testing. Through various integrations, you can easily test out your emails across multiple email clients and devices to make sure everything looks good before hitting that send button.
Free plan. AWeber has a free plan for lists under 500 subscribers that lets you start building your list with no financial risk. Plus, you can set up your own landing pages to capture new email subscribers.
Pricing
AWeber's free plan is capped at 500 subscribers and 3,000 emails per month with most of the basic email features. For more functionality like advanced analytics and additional automations, paid plans start at $12.50 per month.
6. MailChimp
Rating from users (G2): 4.4 out o 5
Best ActiveCampaign alternative for: Scaling businesses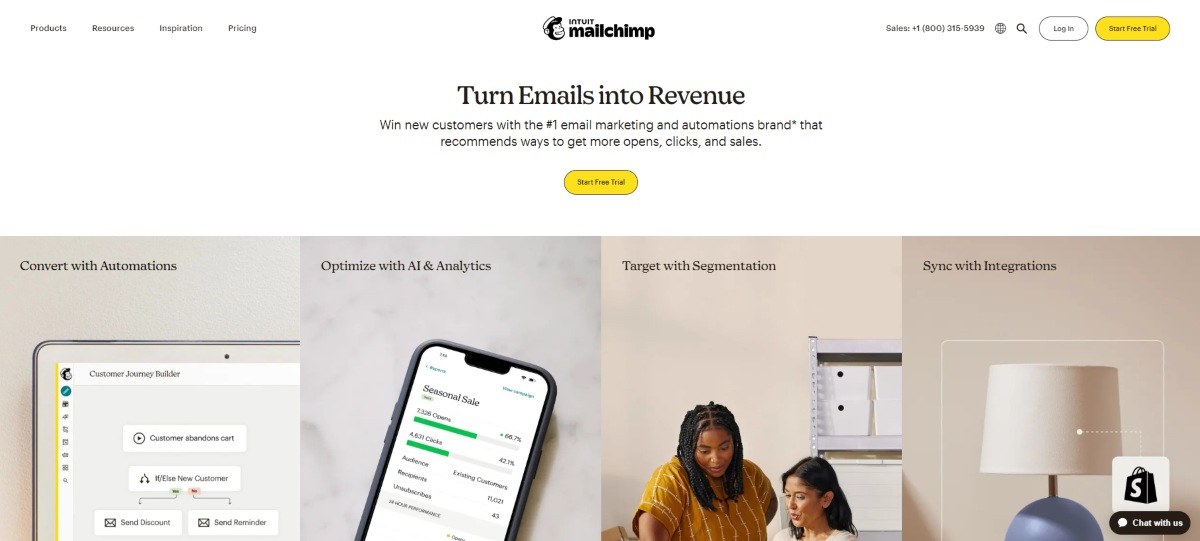 MailChimp is a popular email marketing software used by businesses of all types, from publications to mom-and-pop businesses, and offers all the tools you need to run an effective and compelling email marketing campaign.
Whereas ActiveCampaign is better suited if you're already serious about email automation, MailChimp is a better option if you're still finding your footing and expect to grow in the future.
Features
Behavioral targeting. The behavioral tagging options allow you to better target your marketing campaigns with events like a welcome email for new subscribers. You can also keep track of your website engagement with remarketing ads after visitors leave your site.
Automation. Mailchimp has what they call "pre-built journeys," which is a selection of pre-built automation flows that allow you to send out personalized product recommendations and order notifications.
Learning resources. Because beginners are a huge portion of MailChimp's target audience, they have many learning resources available to help you get started and learn the basics for becoming a well-rounded email marketer.
Pricing
Mailchimp's free plan offers basic email marketing functionality for up to 1,000 monthly email sends. Paid plans start at $13 per month.
7. EngageBay
Rating from users (G2): 4.6 out of 5
Best ActiveCampaign alternative for: Solopreneurs, SMBs, and startups looking for an affordable alternative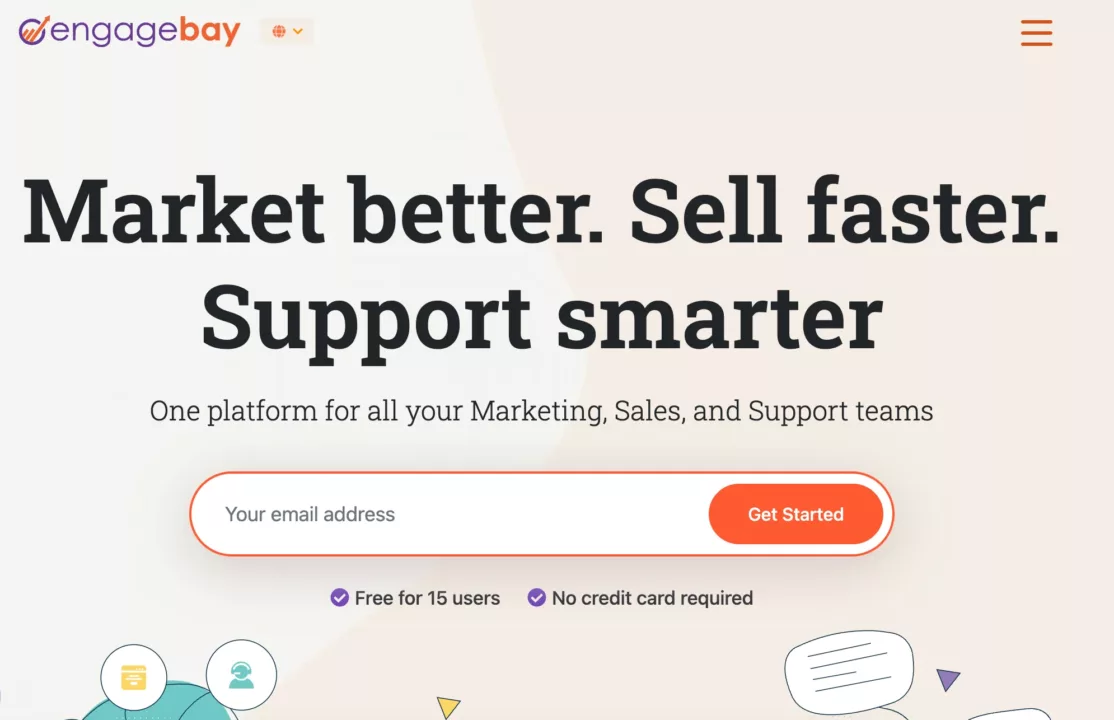 EngageBay is an affordable all-in-one marketing, sales, and customer support software designed specifically for small businesses, startups, marketing agencies, and solopreneurs.
With a simple yet powerful interface, EngageBay combines data from multiple sources and touchpoints to give you a 360-degree view of your customers.
Features
Omnichannel marketing: Market, sell, and support across multiple platforms, including email, social media, SMS, phone, landing pages, and push notifications.
Multi-step visual automation workflow: Create both simple and complex workflows without the need for code. Use prebuilt templates, conditions, actions, and triggers.
Landing pages: EngageBay lets you choose from multiple templates or start from scratch. The WYSIWYG editor helps create visually appealing landing pages within minutes.
Email marketing: Email marketing features include drip campaigns, email broadcasts and newsletters, advanced customer segmentation, predictive lead scoring, email templates, and more.
Free forever plan: EngageBay offers a free forever plan with a suite of useful features, including a landing page, email marketing, lead grabbers, CRM, helpdesk, and live chat.
Pricing
EngageBay offers a free forever plan and three paid plans. The paid plans start at $11.04/month, with the Pro plan priced at $84.99/month for unlimited contacts and 50,000 emails.
8. GetResponse
Rating from users (G2): 4.2 out of 5
Best ActiveCampaign alternative for: Medium- to large-sized companies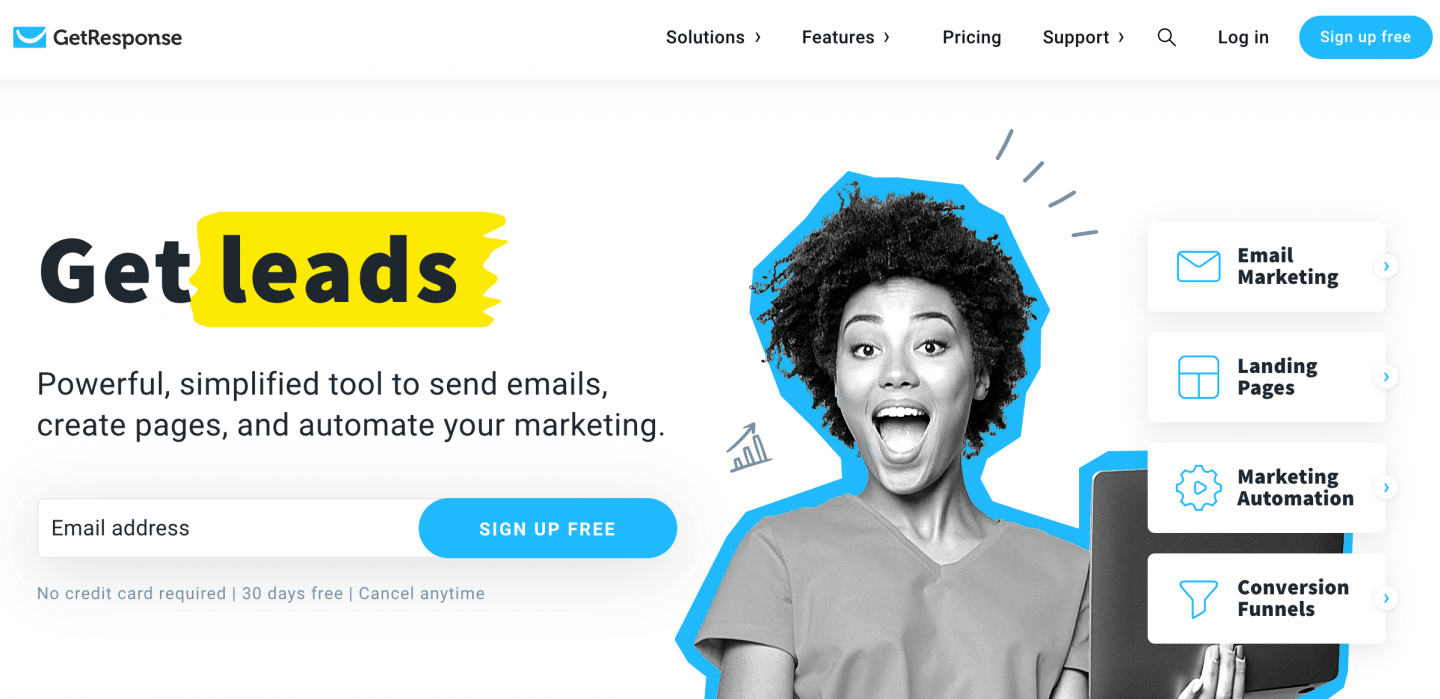 If you're part of a larger marketing team, GetResponse can be a great alternative to ActiveCampaign.
This all-in-one platform offers robust email marketing and automation features, making it easy to manage campaigns and track performance. Plus, its user-friendly interface and customization options make it a breeze to use.
So, if you're looking for a powerful marketing solution that can keep up with your growing team, GetResponse is definitely worth checking out.
Features
High deliverability. GetResponse boasts a 99% deliverability rate, which means your emails likely won't get caught in your contacts' spam filters.
Automation. Easily scale your email marketing campaigns with time-based and action-based messages. Use time-based automated emails to wish happy birthday to your subscribers, or action-based emails to send a message any time someone looks at a product page.
Email templates. GetResponse gives you access to 150+ pre-made email templates that you can edit as much or as little as you want.
Social ads. Build your own online ads with a selection of templates available for various social media platforms like Facebook and Instagram.
Webinar software. Host unlimited webinars with up to 1,000 live attendees and two presenters. GetResponse's webinar software can store up to 20 hours of recorded footage.
Pricing
GetResponse offers three paid plans based on your contact list size, starting at $16 per month for up to 1,000 subscribers.
9. MailerLite
Rating from users (G2): 4.7 out of 5
Best ActiveCampaign alternative for: Small businesses and content creators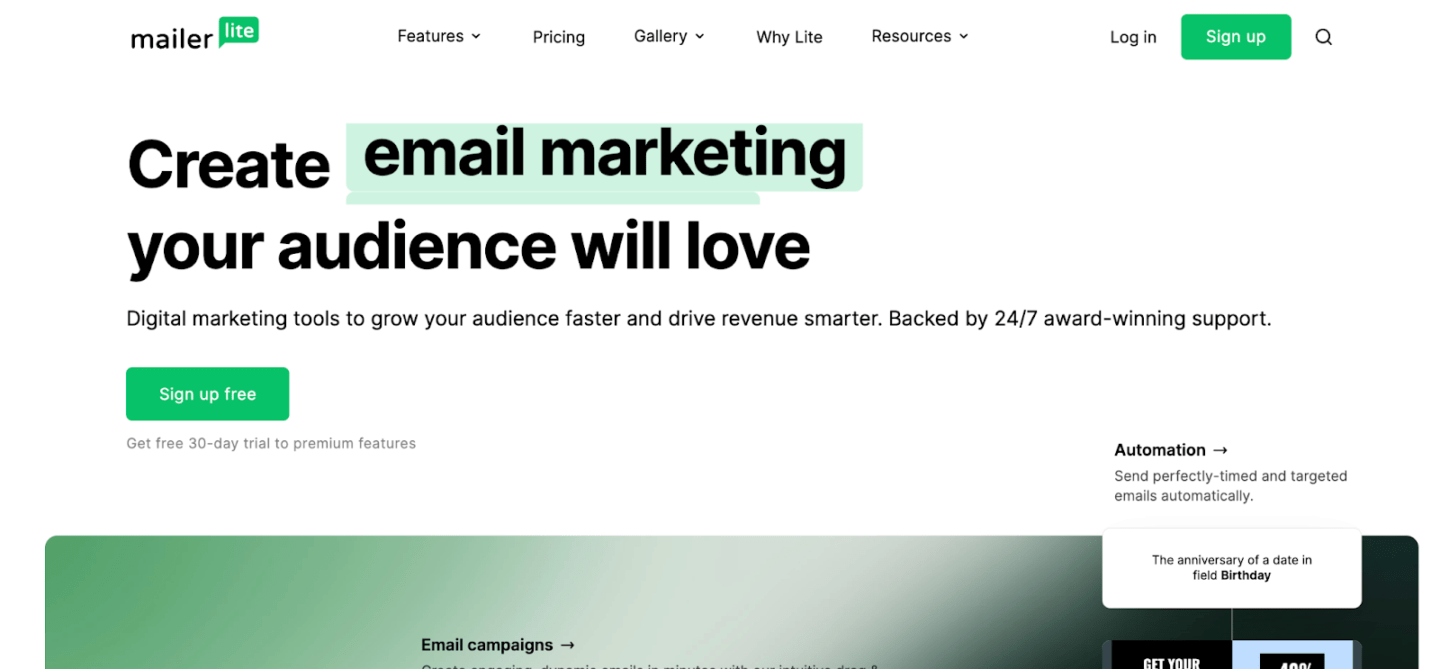 If you're an individual creator or a small business looking for a lightweight and affordable email marketing tool, MailerLite is definitely worth considering.
Starting at just $10 per month and featuring a very generous free plan, not only is it one of the most budget-friendly options on the market, but it also offers a great combination of email marketing tools and CMS capabilities.
Features
Ecommerce features. Connect your online store, track ecommerce sales performance, and set up automated behavior-triggered campaigns with any paid plan.
Landing pages & CMS capabilities. If you use a content management system, you can build landing pages on custom domains and see their click maps.
Stripe integration. Easily monetize your content with Stripe.
Free plan. MailerLite's free plan allows for 12,000 monthly email sends to 1,000 subscribers, up to 10 landing pages, and unlimited signup forms and popups.
Pricing
MailerLite offers a free plan and three premium pricing plans. The paid plans start at $9 and $19/month, while the Enterprise plan has custom pricing.
10. Moosend
Rating from users (G2): 4.7 out of 5
Best ActiveCampaign alternative for: SMEs, bloggers and publishers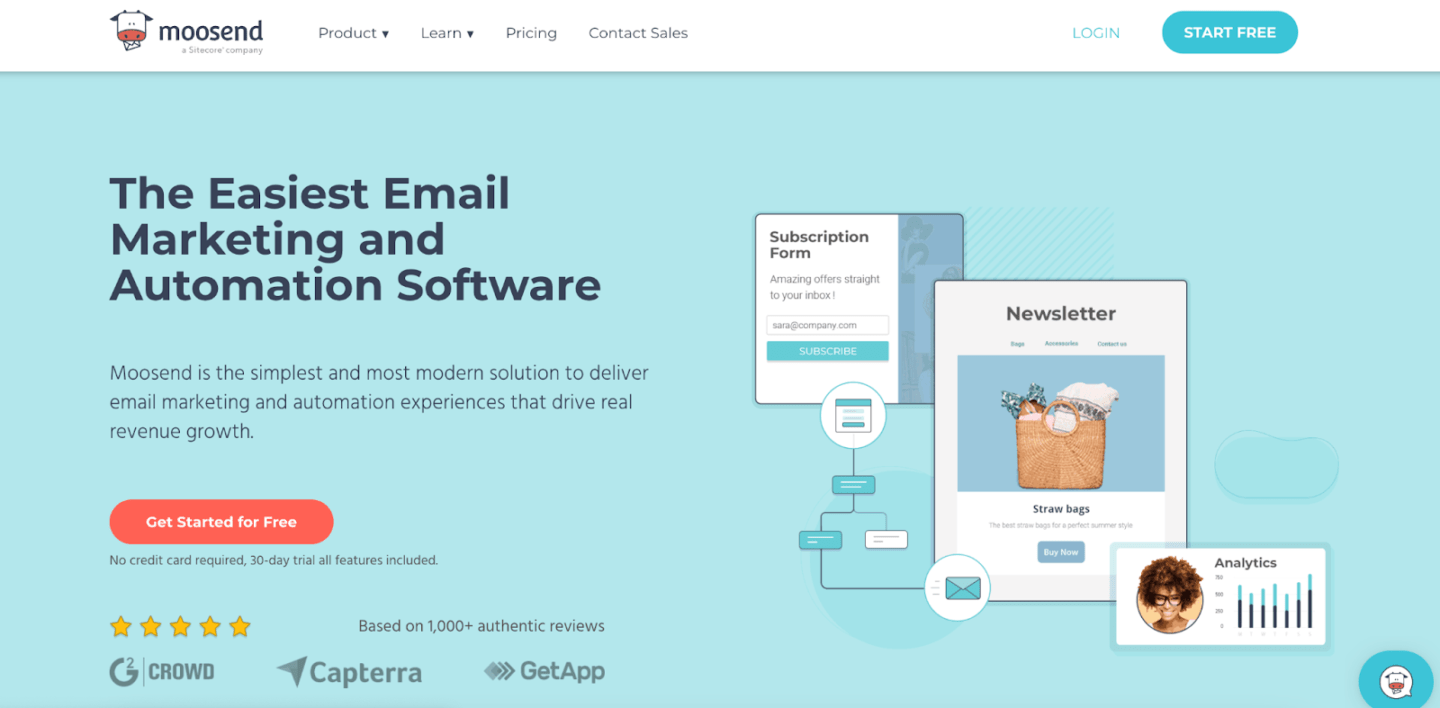 If you're looking for an email marketing platform that's made with bloggers and publishers in mind, Moosend Moosend is a great option.
They offer a drag-and-drop builder and responsive email templates, as well as automated pre-built workflows that save time. You can segment your audience for personalized emails to increase conversions, and there are tools available for lead generation and landing page creation.
Real-time reporting and analytics are also included, as well as integrations to make your email marketing efforts smoother.
Features
Landing page builder. Easily create professional-looking landing pages to attract leads and increase your conversion rates.
Personalization. Tailor your content to your subscribers' preferences and expectations, creating a more personalized and engaging experience for your audience.
Segmentation. Divide your subscriber list into specific groups based on their interests, demographics, and behavior, enabling you to deliver targeted content that resonates with each group.
Marketing automation. Set up triggers and actions to target your subscribers with the right content at the right time.
Pricing
Moosend offers a 30-day free trial. Paid plans start at $9/month and include all available features, such as the landing page builder, transactional emails, online forms, and more.
11. Klaviyo
Rating from users (G2): 4.6 out of 5
Best ActiveCampaign alternative for: Data-driven marketers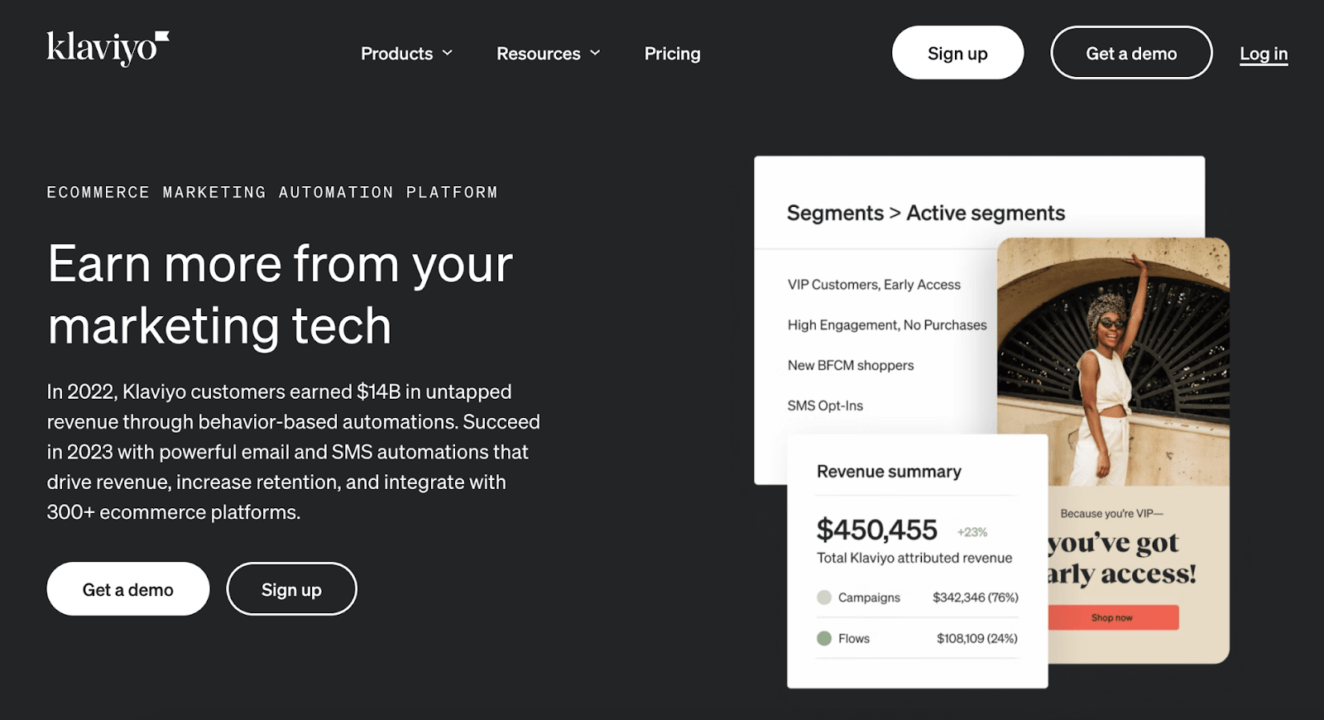 On the hunt for an email marketing platform that offers advanced analytics? You might want to give Klaviyo a try. This platform is designed with data science and machine learning capabilities, making it an excellent ActiveCampaign alternative for data-driven marketers.
If you're a retailer or have a large audience to target, Klaviyo's advanced analytics can be incredibly useful. You'll be able to gather valuable insights on your campaigns, understand your customers better, and make data-driven decisions to improve your email marketing strategy.
Features
One-click Shopify integration. Klaviyo makes it very easy to connect your Shopify store with their platform.
Robust segmentation. Create highly targeted lists based on all the data that Klaviyo lets you collect, such as your customers' behavior, demographics, and order history.
Customer profiles. Create profiles to understand your customers better and tailor your email campaigns to their specific needs and interests.
Integration with social media and in-app. Create targeted ads and retargeting campaigns based on your email lists, or send targeted messages to your customers directly.
SMS marketing. Send SMS messages to your subscribers and reach them on their mobile devices to increase your engagement and conversions.
Pricing
Klaviyo offers a free plan for up to 500 subscribers with access to all features (except customer support). Its paid plans start at $45/month and include email & chat support.
Wrap-up: ActiveCampaign alternatives
As we've seen throughout this article, there are a number of reasons why email marketers might be looking for an ActiveCampaign alternative. Whether it's the lack of a free plan, the tool's complexity, or the fact that it's not tailored to small businesses or ecommerce, it's clear that there are some limitations to ActiveCampaign.
So, once again, here are the top 10 ActiveCampaign you should check out:
Omnisend
HubSpot Email Marketing
Constant Contact
Sendinblue
AWeber
MailChimp
GetResponse
MailerLite
Moosend
Klaviyo
Get started with Omnisend today and supercharge your next email campaign!
Start Free Today
related features
Want more sales?
Omnisend has everything you need to succeed.
Start free now
No Credit Card needed.