Drive sales on autopilot with ecommerce-focused features
See Features
Reading Time:
5
minutes
To sustainably grow your business and stay ahead of your competition, you need to have a strong ecommerce analytics game.
It's no longer enough to check your ROI at the end of each month and hope for the best. Nowadays, every aspect of your marketing performance can be measured with ecommerce analytics tools, compared to ecommerce benchmarks, and acted upon with marketing strategies that give you the very best chance of success.
But where to start? With so much information now available at your fingertips, it can be difficult to know how best to use it all. That's why learning how to leverage ecommerce data, and simplify it into useful information to drive decisions, is one of the most important skill sets of any marketer.
In this article, we're going to look at the areas in ecommerce analytics—retention, lifecycle stages, and segmentation—which provide the most actionable, data-driven insights for your business. Armed with an in-depth understanding of your customers, their needs, and what makes them want to stay or leave, you'll be able to make better decisions in your marketing activities and drive even more revenue.
Ecommerce Analytics 101
You can't improve what you don't measure. Effective ecommerce analytics bring a host of insights about your business, including things like:
Your Performance: Ecommerce analytics allow you to find out your customers' average value, how you perform against similar businesses in your industry, and much more.
Your Customers: Dig into how many customers you have, how many return to make another purchase and who regularly interacts with your messages, among other aspects.
What Customers Respond To: Getting sales is one thing, but understanding what it is that's driving those sales is the key to sustainable success. Analytics help you learn about your customers' needs, habits, and preferences. They're also great for understanding what products resonate, and which are met with a lackluster response.
Which Ecommerce Analytics Should You Review?
So now that we have an overview of analytics, where should you focus your ecommerce tracking? We recommend regularly examining the following areas:
1. Customer Profiles
Customer profile tracking helps you to better understand your audience engagement. You can track what kind of content and products your customers are most interested in, which pages they view on your website, what they purchase or show intent to purchase, and more.
Customer profiles are created by tracking their activity during sessions on your website. Customer actions might include things like the orders they placed, specific products they viewed, the product categories that they browsed, or any other page they checked out.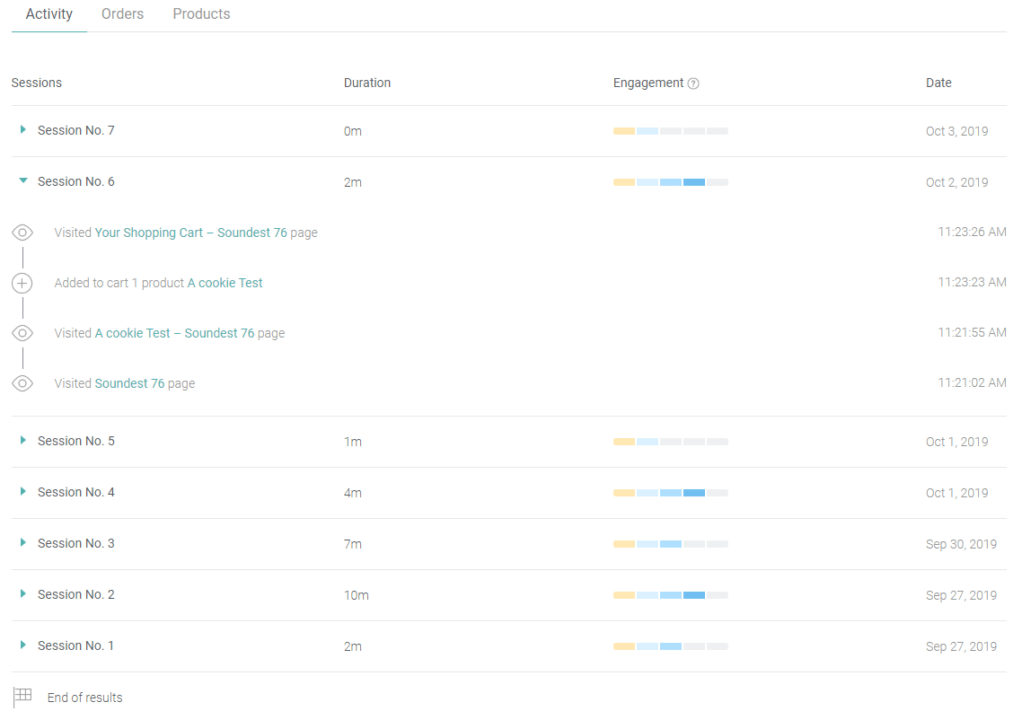 If you wish to drill down even deeper into the details, you can learn which products were added to or removed from the shopping cart, or whether the checkout process was initiated without an order placed.
This kind of information gives valuable insights into product interest and purchase intent—follow up with tempting deals on those products to increase your chances of sealing the deal.
2. Lifecycle Stages
As subscribers interact with your brand, they experience differing needs based on their place within the customer lifecycle. So segmenting contacts into customer lifecycle stages helps you to prioritize your marketing, whether it's connecting with your most engaged and highest value customers, or reaching those who need a little extra love and attention to bring them back into the fold.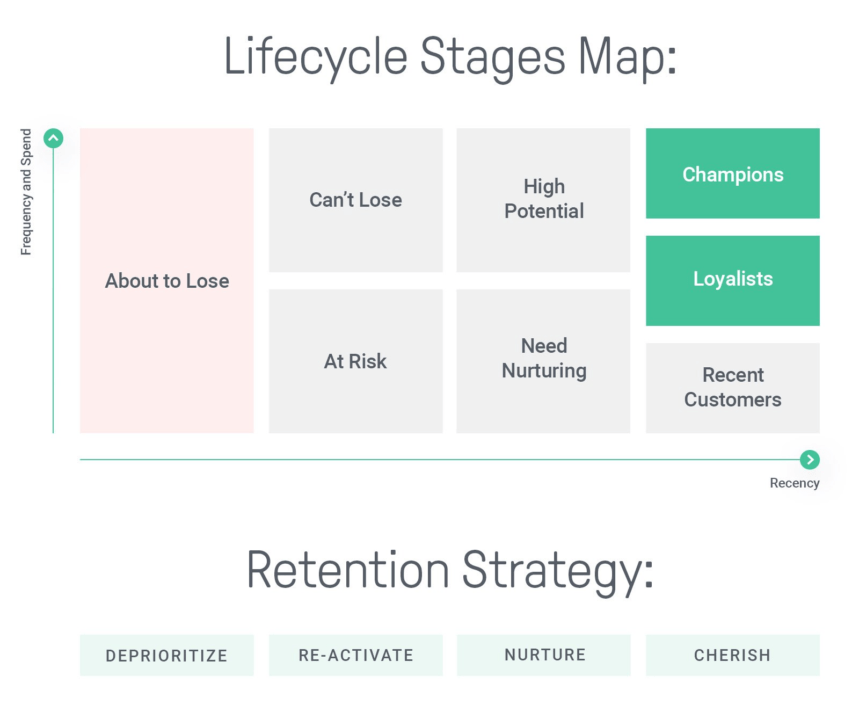 Omnisend automatically assigns subscribers and presents the data through a lifecycle stage map, as shown above. This way, you can easily visualize which customers you need to engage with and why, as well as select the best retention strategy for each category.
For example:
Your "cherish" customers are your most high-value champions. Target them with special rewards to thank them for their loyalty.
Recent shoppers who show potential are placed into the "nurture" category—here you can offer loyalty programs and valuable content to encourage another purchase.
"At-risk" customers are those who haven't purchased for a specific period of time (30 days, for example) and require a little attention via reactivation campaigns.
Those who show no inclination to return, despite your best efforts, are placed into the "deprioritize" category, so you can focus your marketing efforts elsewhere.
Lifecycle Stages takes the guesswork out of customer retention marketing, making it easier to target your customers with relevant messaging. Make use of it to prioritize your marketing toward those who give the greatest impact—improving your efficiency, sales, and customer retention.
3. Retention Reporting
Comprehensive retention analytics provide a holistic view of your new and repeat customer behavior. In Omnisend, easily check these key retention reports to stay well-informed about your customer base and what makes them tick:
Returning Customer Rate: This tells you how many customers are coming back after their first purchase. If it is high, then you are doing a great job with your retention marketing efforts!
Revenue From Returning Customers: This shows the total amount of revenue that you earned from your repeat customers. You'll get a good idea of the true value of your most loyal customers from this metric.
Returning Customers AOV: This is the value of the average order per returning customer.
Revenue from First-time vs Returning Customers: Here you can understand who is driving the most revenue—one-off or returning customers.
Ecommerce Benchmarks: To put your marketing performance into perspective, you need to know where you stand against your direct competition. Get ecommerce benchmarks that are relevant specifically to your ecommerce store and find out how you're stacking up against others in your niche.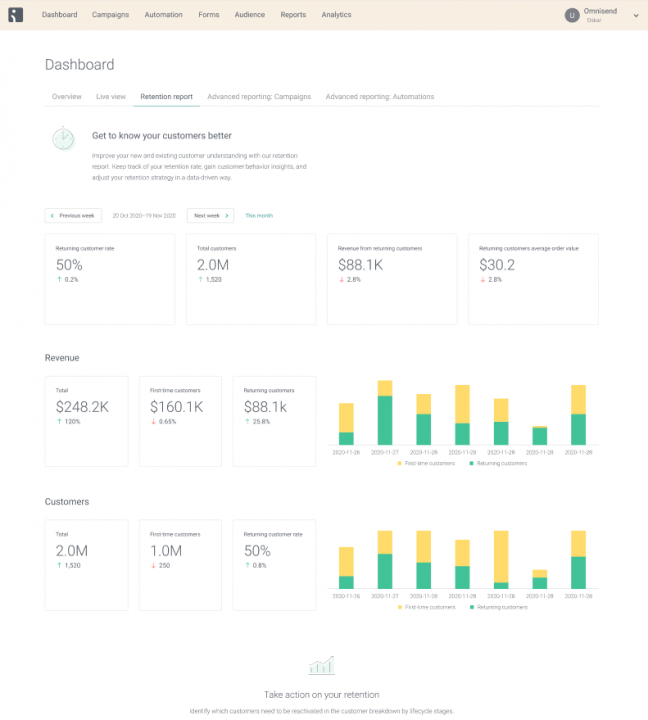 Use all of these reports as the foundation for building the optimum retention strategy. Combined, they guide you in identifying exactly who you need to re-engage.
Segmentation: What to Do with the Ecommerce Data Gathered
Now that you've gathered data on your customers, what do you do with it? Segment, so you can address the unique needs of different subscribers with personalized messaging.
Segmentation involves splitting your subscribers into ever smaller lists based on a variety of specific criteria. Segment based on demographics (age, gender, etc.), location, shopping behavior, lifecycle stages and any other audience identified through your data analysis.
The more criteria you add to split up your audience, the more unique and personalized your messaging will be.
For example, send offers to those tagged as showing an interest in a certain product, or follow-up specials to customers who have purchased in the last 30 days.
Effective segmentation typically leads to higher engagement (customers are naturally inclined to engage with content that's relevant to them), and improved customer retention (customers are much more likely to stay with a brand that consistently meets their specific needs).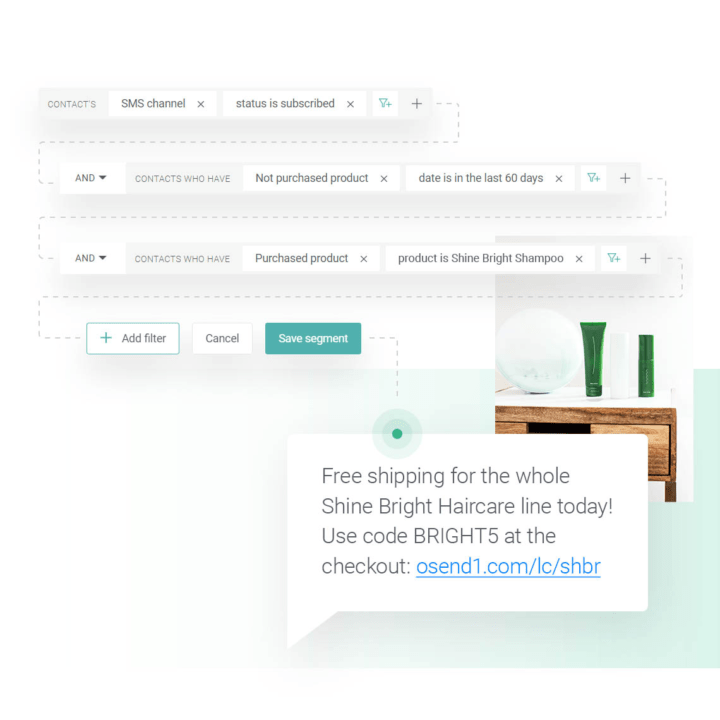 Your email marketing platform should make advanced segmentation easy—it collects data from your subscribers' shopping behavior and allows you to create segmentation rules based on criteria of your choosing.
Make the best use of segmentation by splitting your audience into the smallest possible segments, while closely analyzing the results for the best combinations.
Wrap up
A powerful analytics combination of profile tracking, segmentation, lifecycle stages, and reporting insights allows you to precisely target the right customers with the right messages, based on their buying preferences and engagement history.
You'll also be able to put your marketing performance into perspective by measuring yourself against industry-specific ecommerce benchmarks, and make full, productive use of the valuable ecommerce data right at your fingertips.
With just one click, you can now generate relevant segment lists for personalized messaging and easily employ your data into creating the most relevant and sales-driving emails, automations, and SMS.
Get your Omnisend free trial today and take your ecommerce analytics to the next level.
related features
Want more sales?
Omnisend has everything you need to succeed.
Start free now
No Credit Card needed.