Drive sales on autopilot with ecommerce-focused features
See Features
Reading Time:
8
minutes
Every ecommerce merchant is familiar with the concept of the sales funnel, or the journey potential customers go through on the way to a purchase.
At the top of the funnel, you grab the prospect's attention and draw them in. In the middle, you get to know their needs and introduce your product as a potential solution. At the bottom of the funnel, you convert them to a paying customer.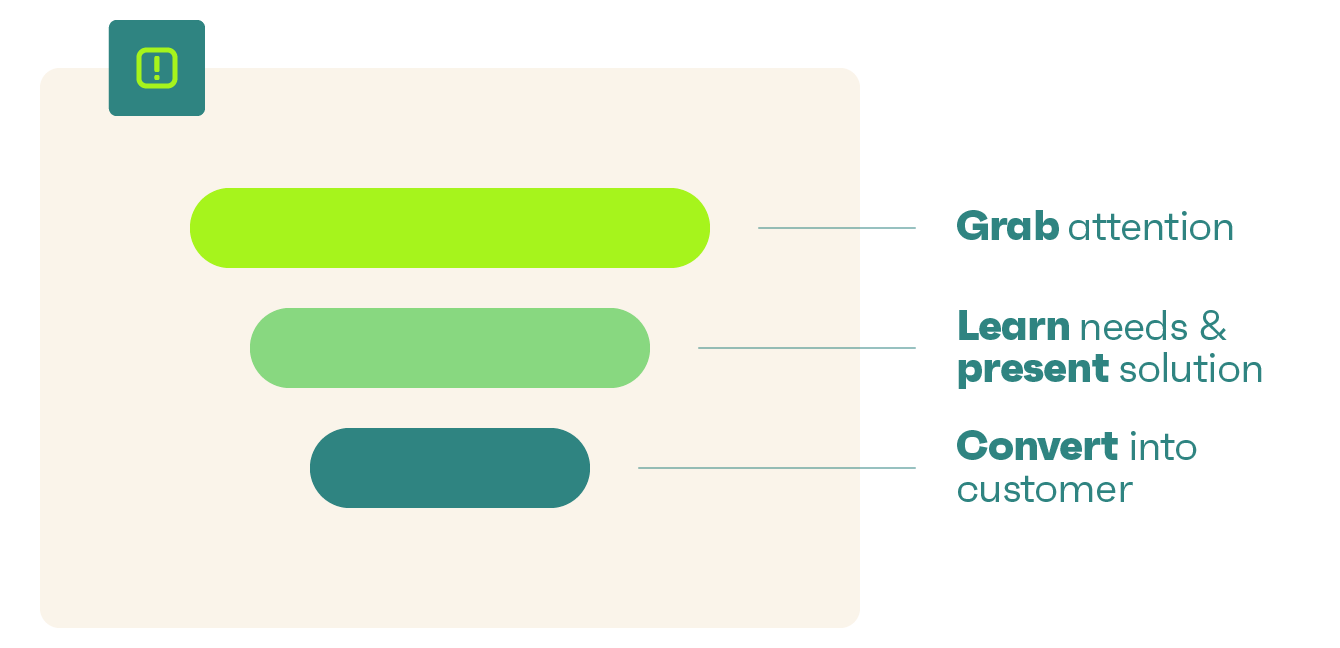 It sounds simple enough, but online retailers know that shorter attention spans and the oversaturation of the ecommerce market has made it increasingly difficult to capture and carry leads through the entire funnel to the conversion point.
Today, the best way to get prospects in and down your sales funnel is to meet them where they're already spending time, and to offer an interactive, personalized experience. That's why Instagram is one of the most effective platforms out there right now for building a high-converting sales funnel.
Why build a sales funnel on Instagram?
Instagram has become one of the most effective platforms available for selling ecommerce products. As long as your brand actively engages with consumers via comments and direct messages, you're likely to be able to find success there too.
Here are four other key reasons you should invest in building sales funnels on Instagram:
Your target audience already spends a lot of time on Instagram. The platform has over one billion users, and 63% of them check the app daily. And although 90% of Instagram users follow at least one brand, the platform was created to be a social network. Your prospective customers are already spending lots of time there every day, socializing with friends. If you can offer this same kind of casual, friendly approach as the top of your funnel—like being individually responsive via comments and DMs—you have the potential to attract a lot of engagement. Be sure to choose one of the best VPN providers, so you can ensure that all of your online activities are secure and private. This not only protects your brand and customers from potential cyber threats but also allows you to freely engage with consumers via comments and direct messages without worrying about compromising sensitive information.
People want to interact with brands on Instagram, too. 75% of consumers say they'll spend more money with brands they can message. Not only will Instagram responsiveness help you build customer loyalty and trust, but it can help you attract more paying customers, too.
Instagram makes it easy to provide a personalized, one-on-one experience. Instagram isn't a billboard; it's meant to be a place where two-way interactions occur, where relationships are built. When you create a sales funnel on this platform, people expect it to be conversational and customized to their needs. Provide that, and you're likely to be successful.
Meta (formerly Facebook) opened up the Instagram Messenger API last year. That means businesses like yours can now take advantage of Instagram automation tools. As a result, you'll be able to generate more leads and win more conversions in less time and with far less manual work. (More on this below!)
4 examples of highly effective Instagram funnels
Instagram sales funnels can take many different forms. That means there's room for you to get creative and experiment with different formats to see which performs best for your particular brand.
Just remember that the key to a great Instagram sales funnel is conversation. Initiate it or encourage users to do so, and you'll have an easier time getting prospects moving.
Here are four ideas you can try:
#1. The feed ad that invites a DM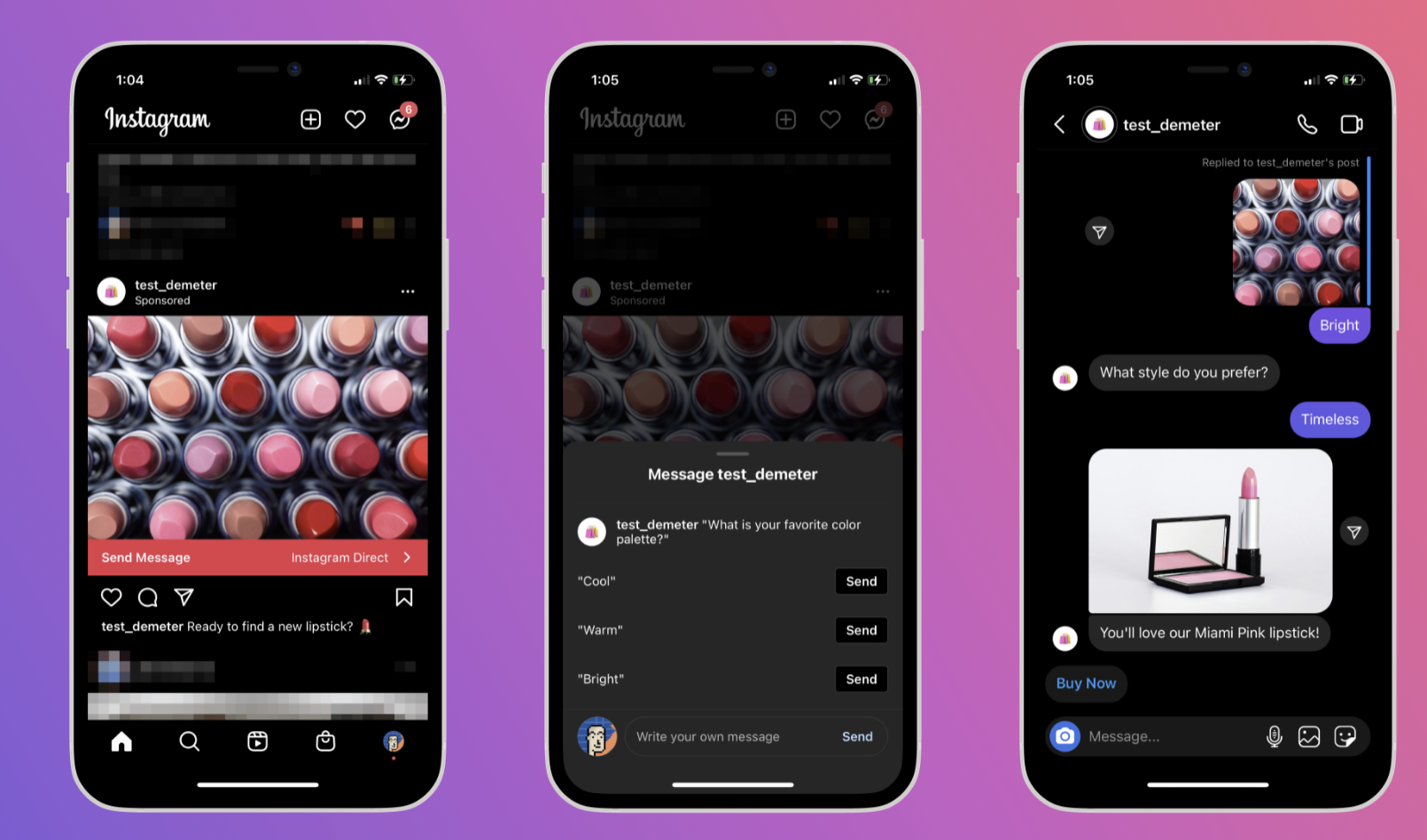 A standard Instagram ad that leads prospects to your website to shop on their own isn't the most engaging way to start a sales funnel. Instead, consider designing an ad that invites users to start a conversation with you.
Look at the example above, which is a regular feed ad with the Instagram Direct option, which then offers users three different pre-set messages to choose from.
They can select the one that fits their needs or preferences and simply tap it to initiate a conversation with your brand. From there, you can recommend the product from your catalogue that would best fit what they're looking for. Making it easy and enticing for users to engage with you first is a great way to get more users moving down your sales funnel.
#2. The story that invites a response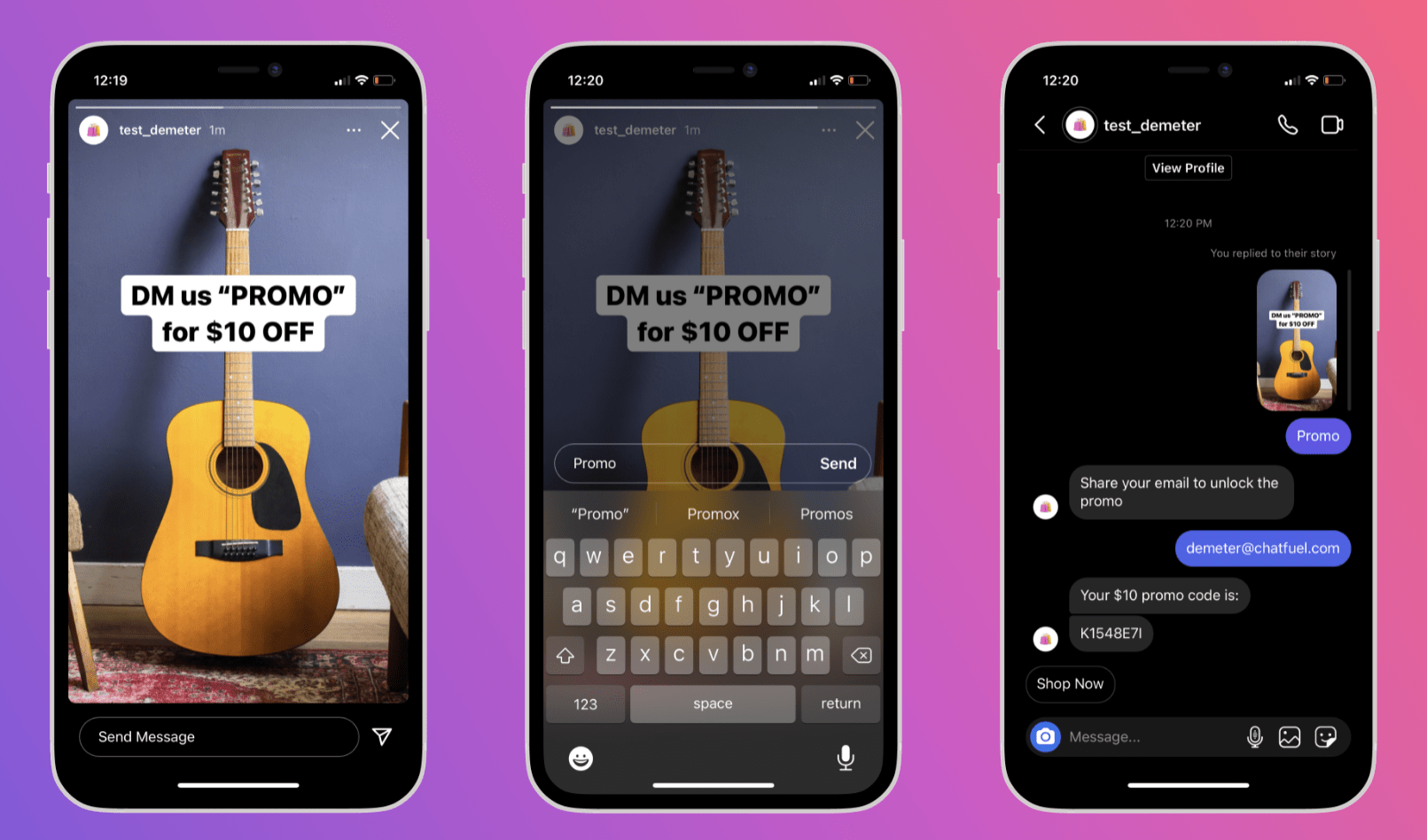 This version of the sales funnel hinges on Instagram stories. If you have a large Instagram following, you can try it as a free, regular story.
If not, run a story ad to reach a larger audience. All you have to do is design a story slide or two that advertises a promotion you're currently running. Make it clear what your product is and what kind of discount shoppers can currently get on it. O
f course, you'll also need to instruct them on how to claim the promo you're offering. Tell them to respond to the story with a keyword, and send them the coupon code via DM in response. It's another great way to get prospects to message you first and start a conversation.
From there, you can gather more information about the lead, recommend products based on their preferences, gather their email address for additional offers, etc.
#3. The post that invites comments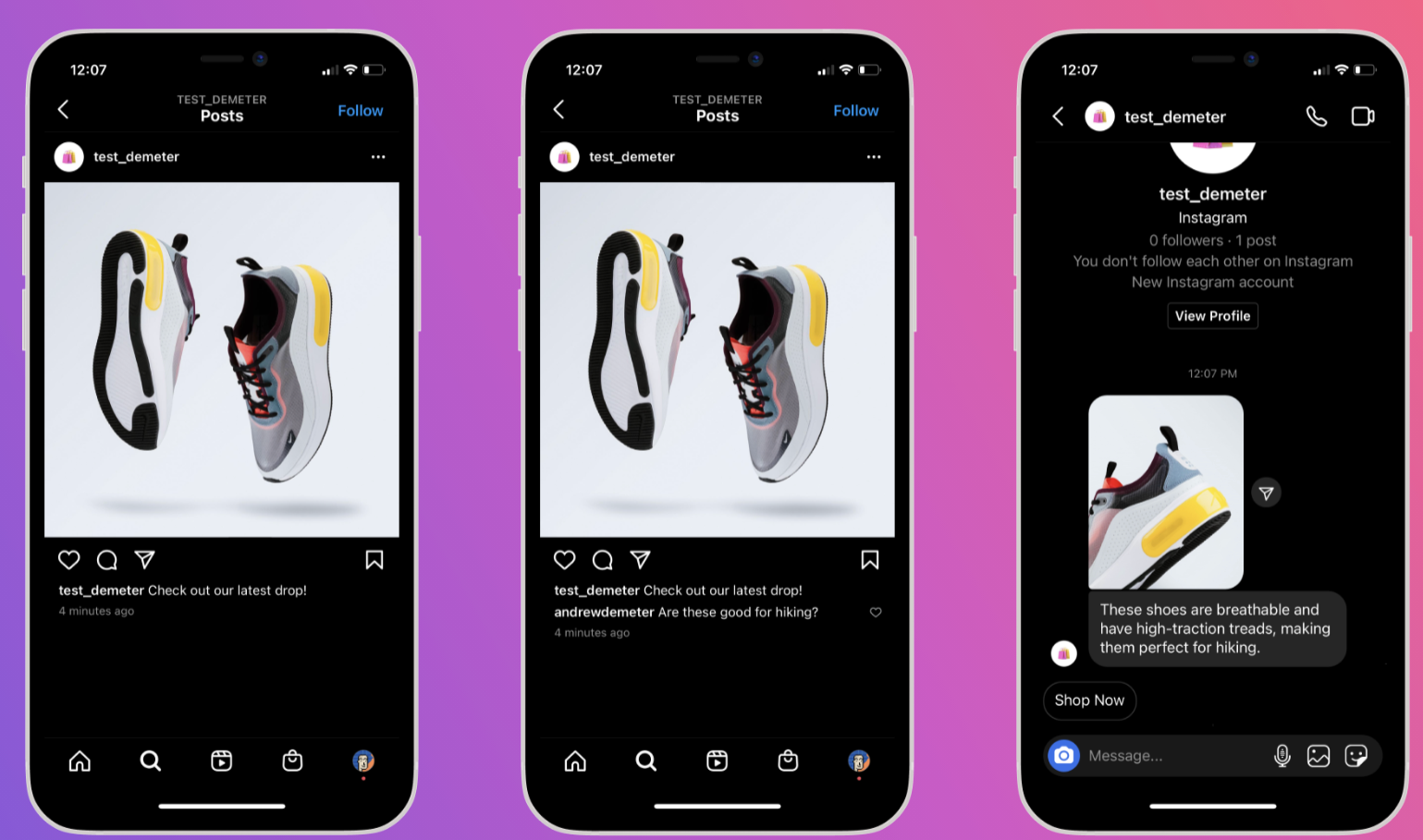 This particular funnel works best for brands that already have a large following. It's especially useful for those who sell products that the average customer will need to buy again regularly (like beauty products), or those who offer multiple versions of a product that customers might want more than one of (like clothing and shoes).
Simply post compelling images of your products, as you likely already do. When users comment to ask a question about that product, respond via direct message to answer their query.
Just as with the other funnels, you can then gather additional information, recommend other products, send them to your website etc. from there.
#4. The post that invites story tags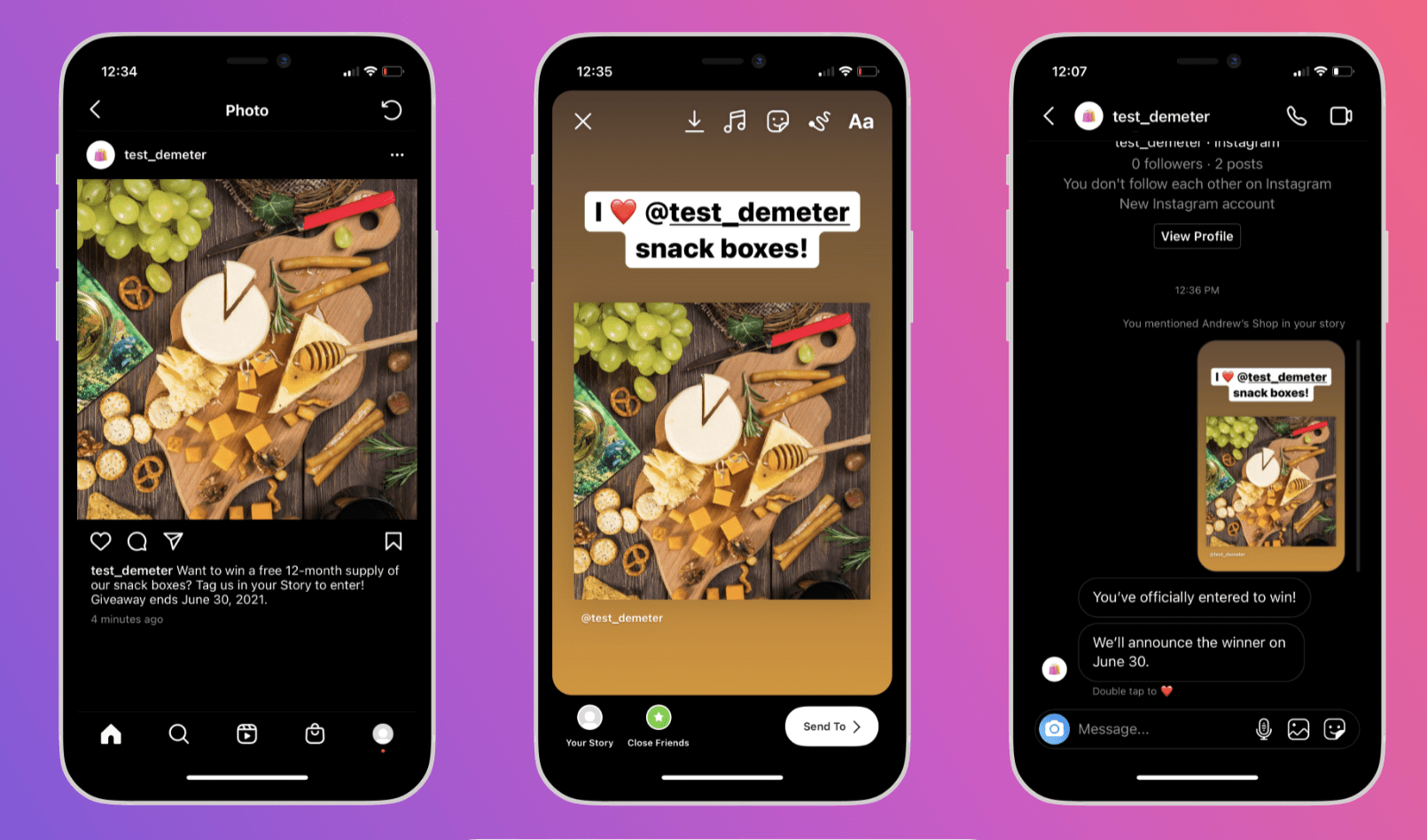 This sales funnel is giveaway- or promo-based. In the caption of a regular Instagram post, tell users that they can enter to win a certain prize, discount, or other incentive simply by tagging your brand in their story. (Make sure to include any relevant contest rules in the caption as required by law.)
From there, users will start tagging you in their stories—an action that automatically begins a DM conversation between you and them. Pick one winner, and move the rest of the entrants down the sales funnel via DMs from there. (Getting all of these users to spread the word about your brand to their friends for free is an added bonus!)
The easiest way to build and simplify your Instagram sales funnel
If your brand is small or your team of social media managers is large, managing the interactions and follow-ups of any of the four funnels above is easy.
But for most brands, doing all of this manually would take too much time and effort. That's where Instagram automation comes in. As mentioned above, Instagram's API is now open for automation tools. That means you can put all kinds of Instagram sales funnels—including the four highlighted above—on autopilot.
An Instagram automation tool can automatically recommend products to users who respond to your ad in funnel number one. It can automatically send the promo code to users in funnel number two.
It can auto-respond to questions in post comments in funnel number three, and it can continue the conversation with users who end up in your DMs through any of the four funnels covered here. You'll only have to set these automation pathways up once, and then watch the conversions start rolling in.
Plus, once you've begun a conversation with a user via DMs, you can contact them again later with promotional information—provided you're following the platform's clear rules about this. That means Instagram can become your ecommerce business's new hub for lead generation and sales.
All kinds of tools for Instagram automation have begun to pop up since the Messenger API was officially opened earlier this year. Here are a few things to look for when choosing an automation tool:
A free trial. You want to choose the Instagram automation tool that fits your brand's specific needs. That's why picking ones that offer a free trial or free version is important, so you have the chance to test out the tool before signing up for a paid plan.
Ready-to-use templates. Building these sales funnels from scratch takes time, and usually some trial-and-error too. Automation tools that offer ready-made templates for your Instagram funnels will get you on track for skyrocketing your conversions much more quickly.
Approval from Meta (formerly Facebook). Above all, make sure the tool you use is an official, verified Meta partner! If you choose to use an unapproved tool, there could be negative repercussions for your brand's Instagram account.
Examples of successful automated Instagram funnels
Take a look at some real-world brands who are using automated Instagram sales funnels right now to significantly increase their conversions.
ILTHY
ILTHY is an Ohio-based ecommerce fashion brand. They added a keyword to their bio and invited users to send it to them via DM to get a discount. Once a prospect did so, their automation tool automatically responded with the promo code and a link to their Shopify store.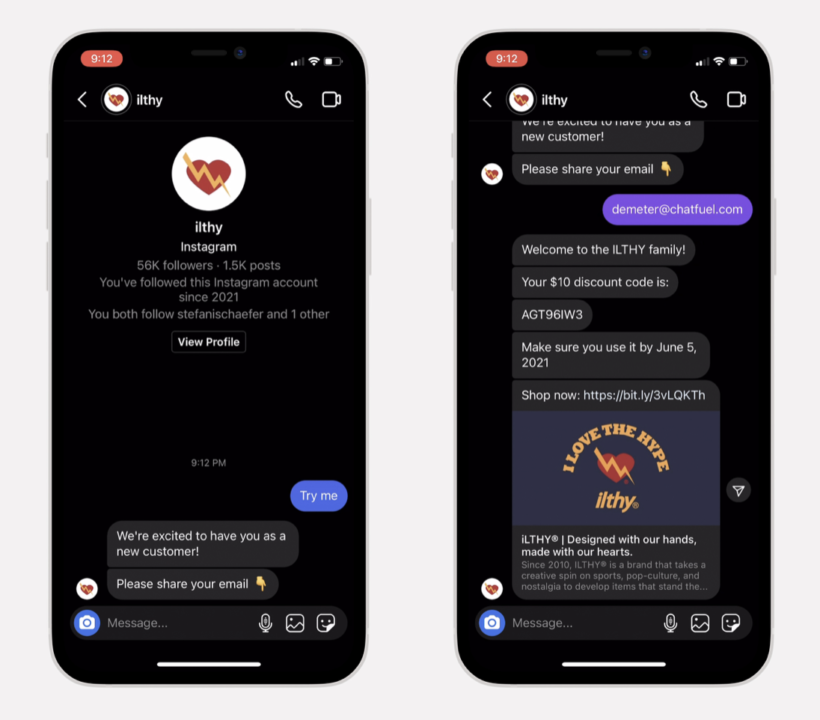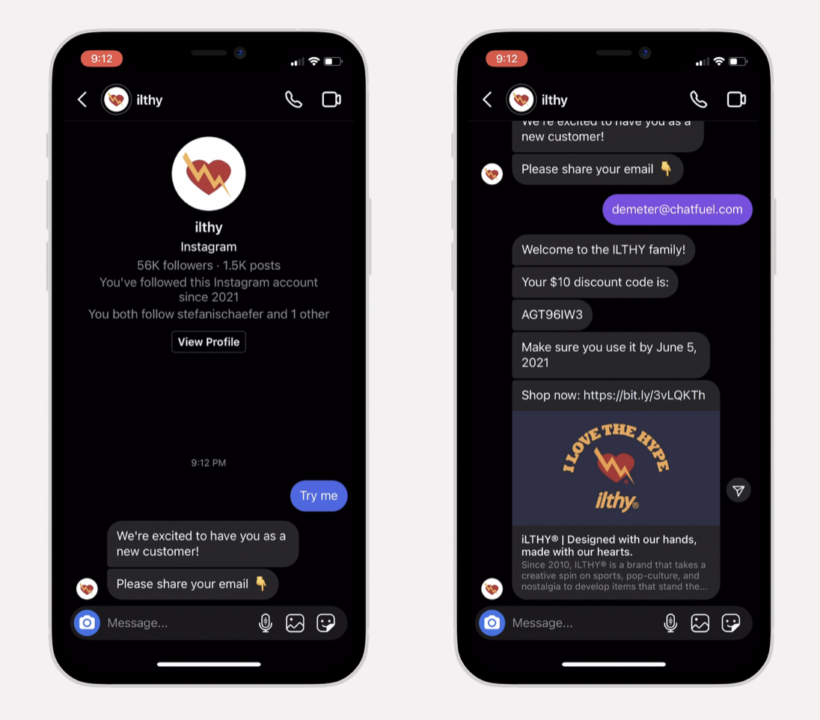 The results: This campaign helped ILTHY increase their sales by 22%. Get the full story about ILTHY's automated Instagram sales funnel.
Art & Fact
Art & Fact is an online beauty brand that was trying to offer free consultations with a cosmetologist as the hook to get consumers in their funnel, but without success. Once they decided to try this idea as an automated Instagram sales funnel, however, their results improved dramatically.
Here's how it works: The automated tool asks users a few questions about their beauty needs and preferences, and then integrates with Calendly to automatically schedule a consultation.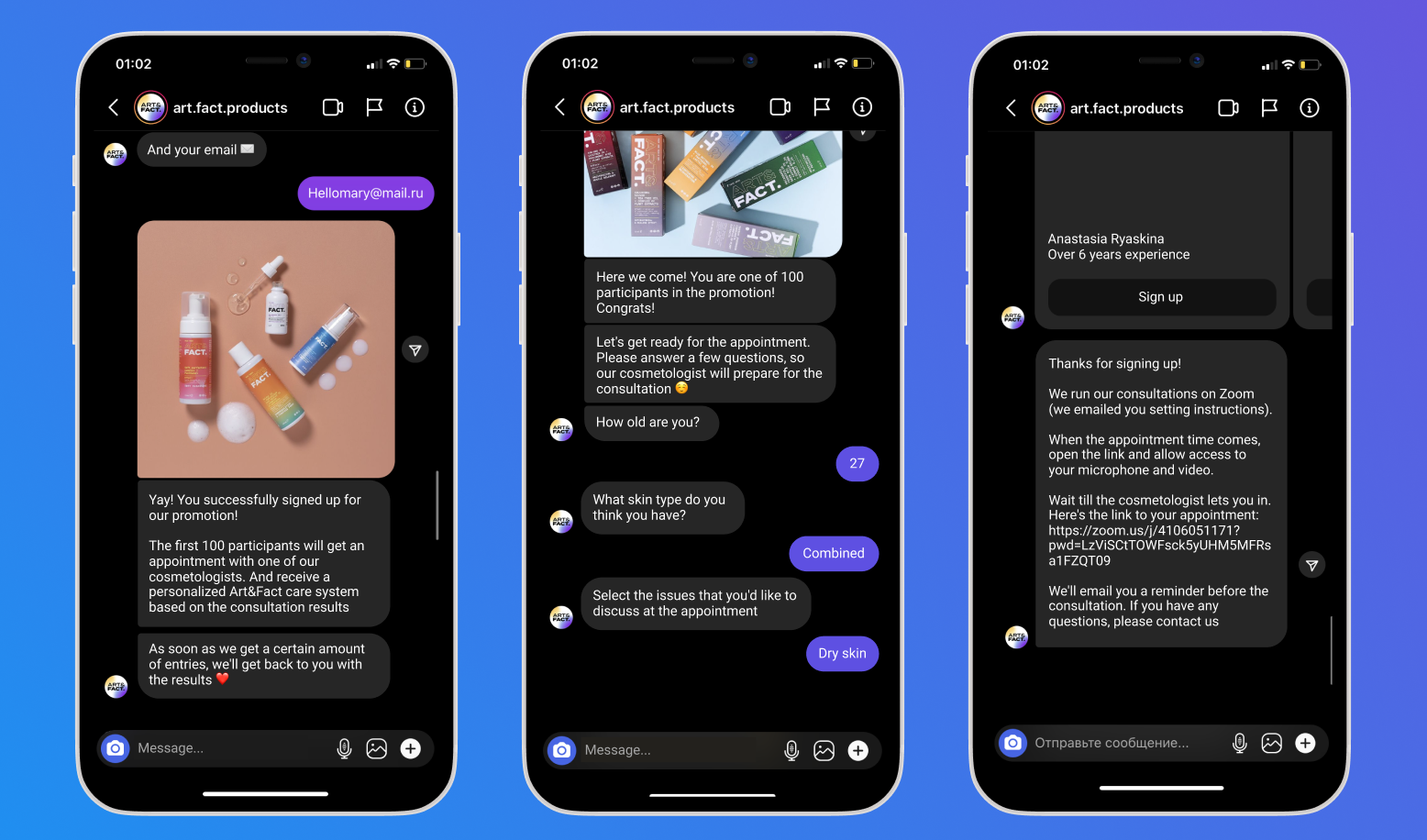 The results: Art & Fact's automated sales funnel performed exceedingly well, with 86% of users who went through it converting to schedule an appointment. 100 prospects booked appointments within the first twelve hours of the campaign!
Put your Instagram sales on autopilot
Instagram provides businesses with the opportunity to engage prospects in unique and interactive ways, which can lead to more sales from Instagram, increased loyalty, and overall brand growth.
When you add an approved Instagram automation tool to the mix, your ecommerce brand can find this kind of success at scale.
About the author
Mary Rybakova is a marketing manager with a finger on the pulse of the world of Messenger chatbots. She oversees a content creation strategy that helps business owners take their brand to the next level.
Website: chatfuel.com
related features
Want more sales?
Omnisend has everything you need to succeed.
Start free now
No Credit Card needed.