Drive sales on autopilot with ecommerce-focused features
See Features
Reading Time:
9
minutes
Sales, conversions and increased brand awareness are all critical when it comes to ecommerce marketing. One of the great things about setting up an ecommerce business is how accessible it now is—almost anyone can set up an online platform to sell their products and services.
If you're new to ecommerce, then there are some easy ecommerce hacks that you might be missing.
Do you have lots of traffic but struggle to actually get those visitors to buy? You might need some ecommerce conversion hacks.
If traffic is the problem, then these ecommerce growth hacks could be the thing that's going to hit the spot for your ecommerce store.
In fact, with the right improvements, your ecommerce store could stand to increase revenues by 460% (like To'ak did) or make $100,000 in just three months (like Silver Street Jewellers).
If you want to have similar results, we'll show you exactly how to do it. So let's get straight into the ecommerce hacks that you can put into place to help supercharge your conversion and sales.
Create FOMO
The Fear of Missing Out (aka FOMO) is a social phenomenon that can be used in ecommerce as a way to drive sales. Essentially, FOMO impacts a shopper's decision-making so that they can be guided to buy something they initially may have put off until later.
Within ecommerce, this is normally done with urgency signals on a website: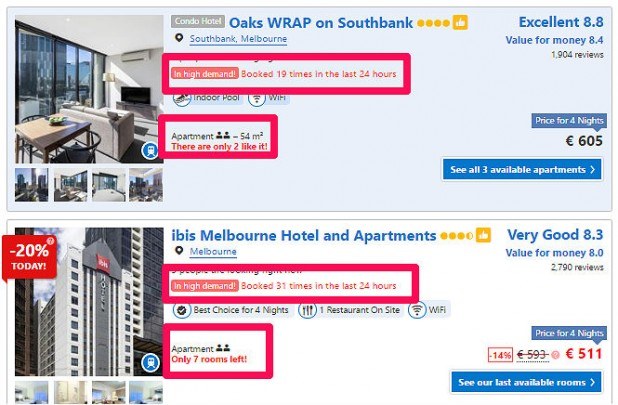 There are a number of plugins and apps that can be integrated into an ecommerce site to create FOMO, and you've probably seen them in action when you've been shopping.
Pop-ups that show a limited-time offer and a code with a firm expiration are examples of creating FOMO.
Used carefully, you can also show items that have recently been purchased by other customers, the number of people who have saved or viewed a product and the number of items left in stock.
All of these are quick ecommerce hacks designed to move you from someone who's just browsing to someone who thinks "these are popular and getting scarce, maybe I should buy one after all?"
Black Friday is one occasion to create FOMO with teaser emails on offers, pop-ups and a limited time window to make purchases and use codes. It's the epitome of a scarcity-drive "once it's gone, it's gone" approach.
Take a look at our Black Friday Tips—remember, it's never too early to plan for Black Friday, the biggest ecommerce sales event of the year.
Use Omnichannel Marketing
If you haven't heard of omnichannel marketing, then this can be a great way to increase ecommerce store sales. It's the practice of using all of your channels to create one, unified experience across all channels. And as the name suggests, it includes everything including in-store, point-of-sale and online.
Not to be confused with multichannel marketing, it creates a seamless message for your customers to drive conversions and sales, create a unified brand voice and increase brand recognition ahead of competitors.
It could be using push notifications or SMS with offers to turn an in-store shopper into someone who's ready to sign up to your email notifications to receive a special offer to use in-store.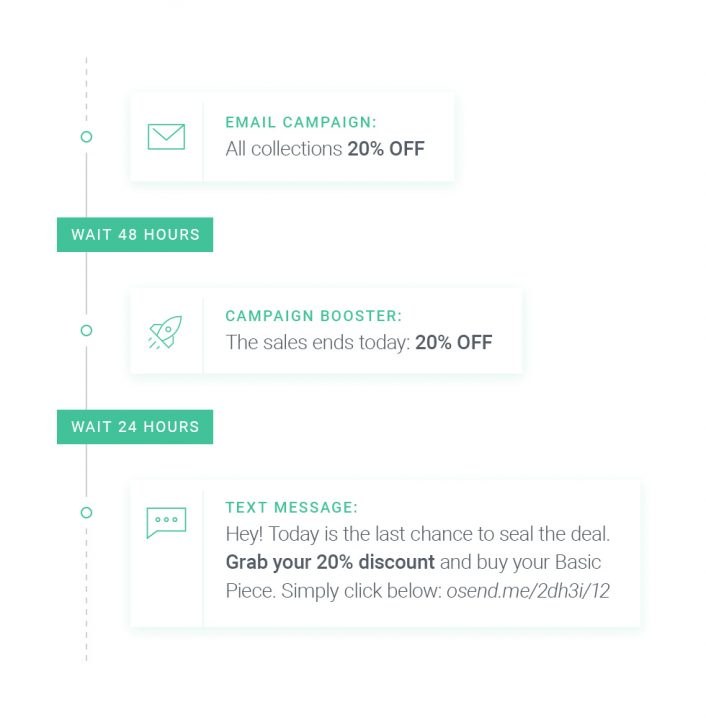 Retargeting ads (more on this later in this article) are another good example that you can build into an ecommerce store.
Convert Engaged Visitors into Customers with Incentives
One of the great ecommerce conversion hacks to turn a visitor into a customer is the use of incentives. You have the data and customer journey information to be able to do this—for example, if a customer is looking to navigate away from your site or hasn't headed to the checkout yet.
You can offer an exclusive discount code to returning visitors or people who have visited a certain number of pages in your store. You can even target customers who visited a particular type of page, such as your sale items with a tailored message.
It's even better if you incorporate an email sign-up into the process. This allows you the opportunity to engage a potential customer at a later time with incentives and offers. Here, you can see Black Halo offering 20% discount if visitors sign up: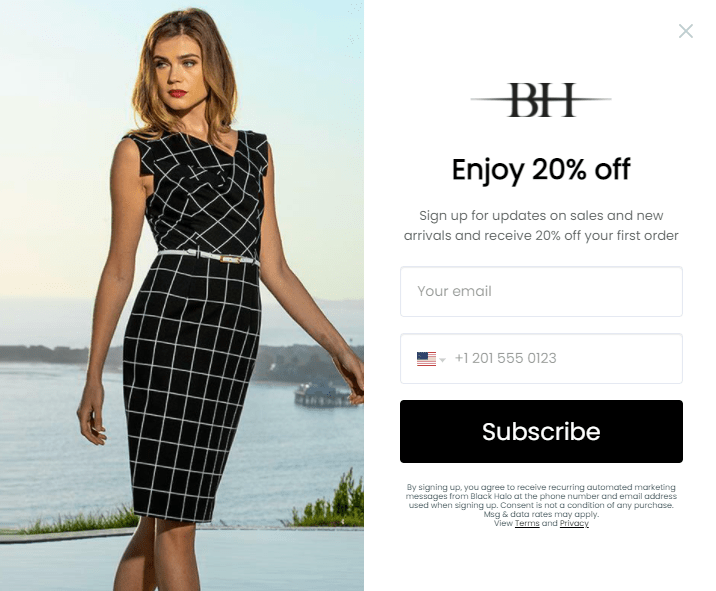 If they've taken action based on this initial incentive, then you know that this is something that could be used to motivate them to purchase in future.
These visitors have already shown an interest in your brand (and your traffic driving activity – whether online or offline has had an impact), enough of an interest to visit your store at that, so converting them to make a purchase is the next step that you need to take.
Reduce Cart Abandonment
This is a big one when it comes to quick ecommerce hacks as it takes minutes to set up on most ecommerce platforms. Shoppers can easily get distracted when making a purchase, leaving their items to languish in their cart until they are reminded about it. In fact, up to 85% of purchases on a cell phone are abandoned at cart.
Give them a handy reminder of what's in their cart with a follow up push notification (or email if they've created an account) to remind them of the items they added, reinforce why they want to purchase them and convert to checkout.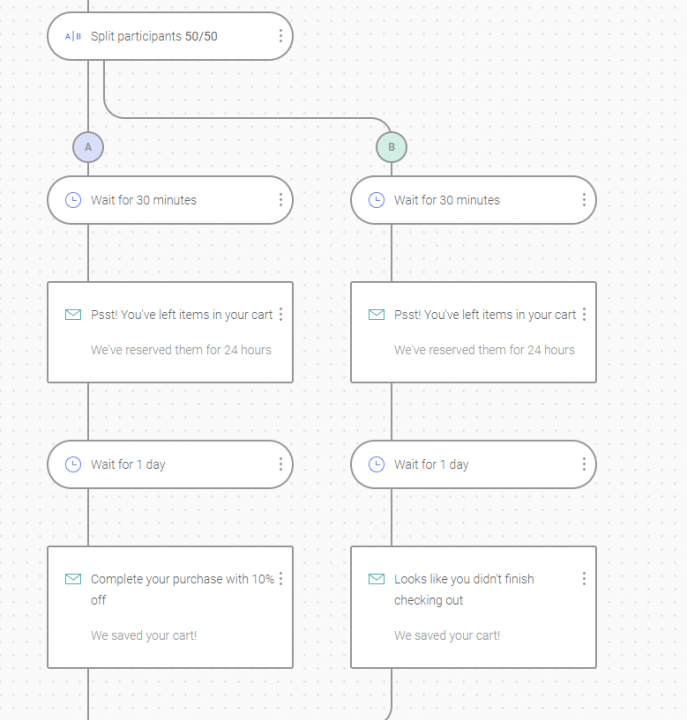 Even better, with marketing automation tools like Omnisend, you can build high-converting cart abandonment workflows to find the perfect combination:
Some ecommerce stores offer a discount to code to drive that next step to purchase, such as the example on the left in the above image. Other stores reinforce messages about scarcity and hope to push the shopper that way to buy the items they've added to their cart. Around 48% of cart abandonment emails are opened, 21% are clicked on and 10% lead to purchase, so it certainly has an impact.
Check out some cart abandonment best practices for great tips on how to turn that distracted visitor into a sale.
Cross-Sell and Upsell
A buyer may come to your site planning to buy just one thing. That doesn't mean they have to leave with just one thing. One of the top ecommerce conversion hacks is to cross-sell and upsell. This ecommerce growth hacks can be done at the point of browsing, adding items to their cart or at checkout.

Cross-selling is encouraging customers to purchase additional complementary items. If you're selling sneakers, for example, you might upsell spare laces or a leather cleaner. In fact, cross-sell emails sent through Omnisend garnered an average open rate of 31.8% in 2020, with an 11.9% CTOR and a remarkable 20.9% conversion rate.
Upselling is where you encourage customers to upgrade their purchase. They may have chosen a basic subscription package and you might take that as an opportunity to upsell a premium version that comes with more services or additional benefits. For example, a customer might be making a purchase that it's likely they'll buy again in future—is there a subscription service you can offer them that makes it better value for them, but a longer term, retained customer for you?

If you have similar products, tiers of service or a subscription on offer, comparison charts can be a great way to upsell, particularly if the price difference demonstrates a significantly superior product or experience at a relatively small increase.
The cross-sell or upsell is really a no-brainer for ecommerce businesses. If you have a customer that's already on-site, you can try to take that conversion further to increase that customer's lifetime value to your business.
You can read more about how to create relevant product recommendations that increase sales. By taking the time to put the initial planning in place, you can significantly increase sales and average order value without customers feeling like they've been given the hard-sell or sold things they don't actually want or need.
Set up Retargeting Ads or Emails
Sometimes, there are opportunities for growth hacking ecommerce customers away from your own site, by using things like retargeting ads or email retargeting. Like pop-ups on your own site, retargeting ads can be used to target visitors on other sites who didn't make a purchase before leaving your site.
This is one of the biggest ecommerce growth hacks as it allows you to target customers who have already expressed an interest in your brand. You can target them elsewhere in their browsing habits and remind them of that great product or service that they were thinking about buying.
Bonus points if you also manage to incorporate an incentive, offer or sign up into the retargeting process too as this can significantly increase conversion and customer value in the longer term.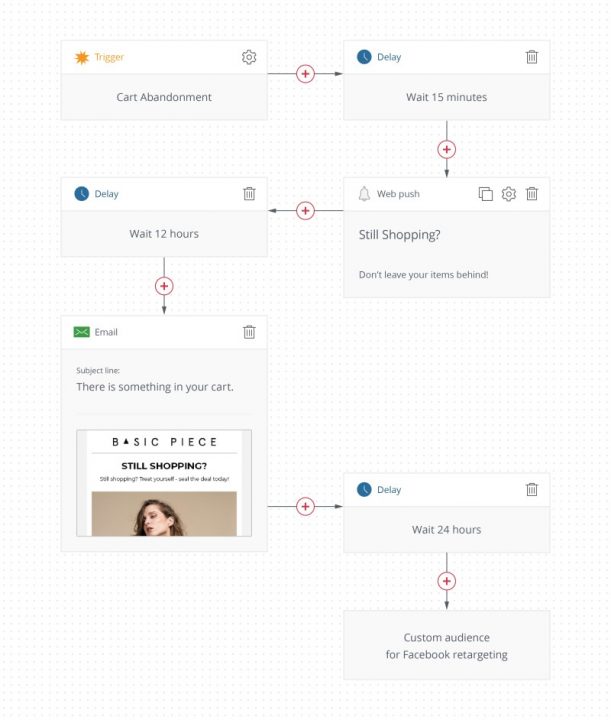 You can use retargeting ads through platforms like social media (Facebook, Instagram, YouTube etc), Google, and other apps.
Take a look at these best practices for acquiring new customers via PPC advertising (aka retargeting ads) to familiarize yourself with the process and how you can set up your retargeting to convert.
Optimize Your Website
This is a biggie when it comes to really growth hacking your website. When we say optimizing your website, here are some of the things we're talking about (with stats):
Search Engine Optimization (SEO)
Search Engine Optimization is a huge part of ecommerce and if you're not using it on your site, you need to rethink this as soon as possible. SEO is basically the process of improving the content and structure of your website to increase how often it comes up in search results. SEO is a combination of quality and quantity and uses powerful algorithms to match people's search intent and your site.
As part of your SEO strategy, you need to be aware of keywords and search terms that customers are using to look for products, services and sites like yours and create relevant content accordingly. It's not just about stuffing as many keywords as you can on your site and hoping for the best—search algorithms are way more sophisticated than that now.
Even when you write content like your FAQ pages, you should try and align them with SEO best practices to drive traffic to your site and deal with common customer queries. Search results that focus on solving problems, and structured in a way that people actually speak, can be a great way to act as a solution for your customer and get ahead of the trend towards voice searches online.
Here are some SEO stats for 2021 that you need to know:
68% of online experiences begin with a search engine.
53% of all website traffic comes from organic search.
SEO drives 1000%+ more traffic than organic social media.
60% of marketers say that inbound (SEO, blog content etc) is their highest quality source of leads.
Page speed
Page speed is important for all ecommerce sites. Google has indicated that site speed (and therefore page speed) is one of the things that their algorithm looks at when it ranks pages. There are indications that Google actually measures the time to first byte when looking at page speed. A slow page speed means that search engines crawl fewer pages, which could affect how they index your page.
Aside from Google, page speed is really important to user experience too. The longer the pages take to load, the higher the bounce rate on those pages tend to be. It can also lead to a lower than average time on page and can negatively affect conversions.
With fast internet speeds and slick websites out there, people expect pages to load instantly and have the information they need at their fingertips. In order to keep both Google and your site visitors happy, make sure your web host is optimized for peak performance.
Here are some page speed stats for 2021 that you need to know:
1 in 4 visitors would abandon a website that takes more than 4 seconds to load.
64% of shoppers dissatisfied with their site visit will shop elsewhere next time.
46% of visitors don't revisit poorly performing websites.
A 1 second delay in loading times reduces customer satisfaction by 16%.
Mobile
We all have cell phones in our pocket, hand or at least within 5 feet of us pretty much all of the time. So it makes sense that mobile ecommerce is forecast to account for 73% of all online sales in 2021.
Many websites still aren't optimized for mobile users. For starters, mobile has different screen sizes and load times depending on the device. Page speed is even more important for mobile so you need to optimize images, minimise code, take advantage of browser caching and reduce redirects. If this all sounds alien to you, speak to the team who handles your web development (or if you don't have a team, it might be worth engaging with a pro who can help).
You should strongly consider user experience when you design your mobile site. Don't make clickable links and boxes too small to tap. You should also optimize titles and meta descriptions for mobile and optimize for local search as people are more likely to be searching for services near them on mobile, which is great if you have a physical presence too.
Let's get those stats about mobile ecommerce in 2021:
Mobile purchases are predicted to be worth $3.56 trillion in 2021.
Voice controlled devices are becoming a huge sales driver – 40% of voice assistant users have used voice technology to make online purchases.
Millennials are particularly unwilling to put up with slow loading mobile sites – only 26% would wait 4 seconds or more for a page to load.
Smaller screens = more cart abandonment (up to 86% in some cases)
Using Ecommerce Hacks
Putting these ecommerce hacks in place shouldn't be complicated or too long-winded. They may need some initial planning and mapping out but we promise it's well worth it in the end.
Most of the growth hacking for ecommerce can easily be implemented, even if you're not a web developer.
Getting visitors to your site is the first step, then converting those visitors into customers using these ecommerce conversion hacks is the next stage for a successful ecommerce store.
If you're looking for more marketing hacks to help scale, growth and maximise your ecommerce store, we offer to use our omnichannel marketing automation tool for free to help your business grow and thrive.
Get started with Omnisend today & drive sales on autopilot with pre-built automation workflows
Start Free Today
related features
Want more sales?
Omnisend has everything you need to succeed.
Start free now
No Credit Card needed.