Drive sales on autopilot with ecommerce-focused features
See Features
Reading Time:
5
minutes
Because of the low overhead in ecommerce, almost anyone can get started creating their own store with little to no initial upfront cost.
Because of this, you're likely going to be faced with a number of competitors. This means you need to keep track of what they're charging for similar products to yours.
After all, if your sales suddenly drop, it could be because a competitor has found a way to sell your same product for a fraction of the price while still making a profit.
Loyalty is no longer a given thing, and a customer could, at any point, stop coming to you and instead move to one of your competitors, especially if it seems as though they're getting a good deal.
Ecommerce businesses of all sizes need to consider how they track their competitor's prices. There are two core ways this can be done, manually or automated.
In this post, we're going to look at the benefits of automating competitor price tracking and provide you with a framework to do it successfully.
Let's dive in!
Why you should automate your competitor price tracking
For many online shoppers, price is everything. They have the freedom and choice to switch between vendors as they please.
Because of this, you should make it a priority to understand the dynamics of both your pricing and your competitor's pricing to ensure you're competitively positioned in the market.
Doing so will allow you to analyze the reasons visitors are coming to your website and why they do or do not convert.
But this won't happen unless you effectively instill competitive intelligence capabilities into your business and company ethos.
Anyone, from large ecommerce vendors to new up-and-coming stores should be tracking their competitor's pricing and with the technology available now, this isn't difficult at all.

We just mentioned the technology available to track your competitor's pricing. This is crucial as the alternative to using technology is to manually track your competitors.
The thing about running a successful ecommerce company when you're competing against a range of competitors is you need to ensure you have accurate access to data.
Data will allow you to understand what your competitors are doing. As we mentioned, there are two ways to do this, manually or automatically.
In this article, we're going to discuss why you should opt for automated competitor tracking.
The benefits of automated price tracking mean that competitive analysis is available to everyone, and not just those with a huge budget who could afford to outsource the manual labor to an external team.
When it comes to online shopping did you know that a majority of shoppers spend their pre-purchase time comparing prices across a multitude of different ecommerce vendors? Meaning, if your customers are tracking prices of products, surely you should be too?
Manually tracking prices would involve daily researching the price of your products. If you have hundreds of products, how do you hope to scale this?
More than that, most prices don't change daily so the effort your team will go to manually track could be wasted. This is the time you could be spending building your business.
So automated competitor price tracking will save your team time and money.
How to handle competitive pricing safely (profitably) and strategically
When it comes to tracking products, there are a number of key steps that need to be taken you should track this data initially as a spreadsheet.
You need to decide how you plan to use competitive analysis, but it requires you to ask the right questions before you begin if you want to achieve meaningful results.
Who are your competitors? Here you need to be looking at who is worth actively monitoring.
What is your competitive collection? Here you need to be looking at the products you have that are worth comparing.
Choosing the competitors will come naturally to those closest to the products in the company. Product managers are the ones who are most exposed to their competition.
Therefore, before you jump in and assume who the best competitors are, think about talking to them first.
This is only the first approach, and shouldn't happen in silos. Not every competitor is equal.
Putting too much emphasis or focus on one competitor could hinder your efforts and so it's important you identify how significant each of your competitors are.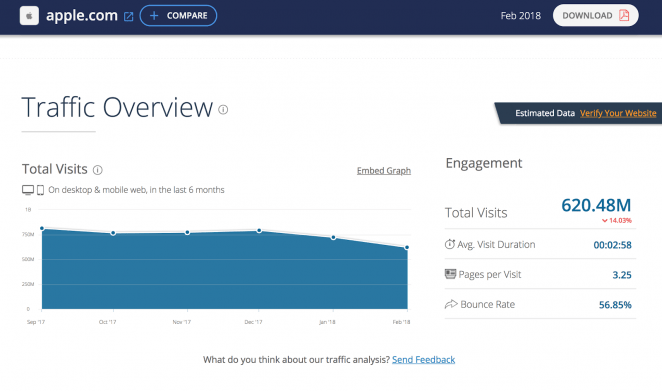 Track competitors by monthly traffic, growth rates of their presence of various marketing channels. If you want an easy way to do this, use a tool like SimilarWeb.
If you sold iPhones on your eCommerce store, checking the traffic stats of Apple.com would be useful. It would also be helpful to identify other iphone retailers to give yourself a holistic view of the entire space.
When you have a list of all the competitors you want to track dynamically, it's time to focus on your products.
Use your own data
Just like competitors, not all products are created equal. Meaning, some products will perform better than others and provide more profit.
Therefore, it's important to understand which products are worth tracking.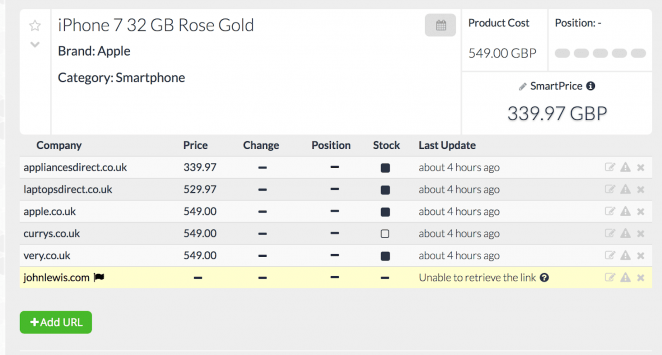 Use Google to help you identify which products your target customers are searching for. In most cases, products with higher search volumes are in higher demand.



For example, iPhone 7 32GB rose gold has around 1,600,000 search results for that key phrase, indicating it's a useful product to track if this is something you sell on your site.
When it comes to choosing products to analyze, one of the best approaches is to look at your own data, using the Pareto approach. This being where 20% of your products will bring you 80& of your total revenue.
Once you've completed these two stages, and uploaded your batch findings into your competitive price tracker, you'll be able to reap the benefits of sales and profit margin increases of 20% on average.
Not only that but, you will start to gain crucial insights vs. your competitors in a fully automated way and can get started with acting on these insights.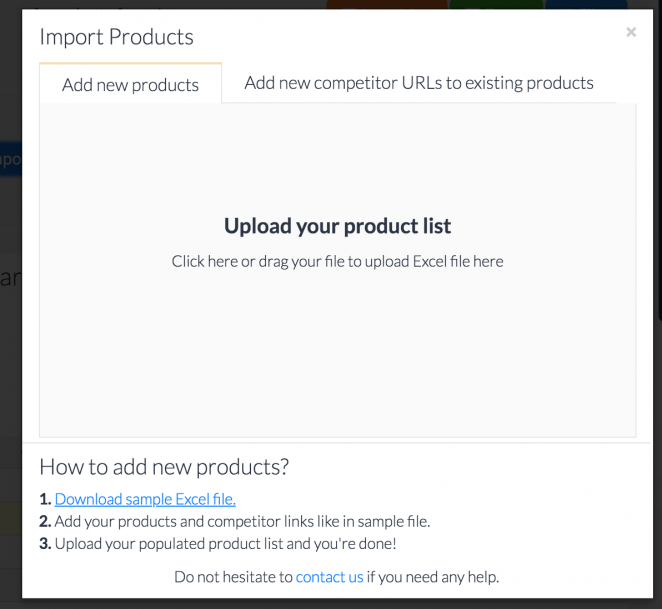 Competitor price tracking takeaways
In this article, we've had a look at why you should automate your competitor's prices and how you should effectively implement that into your strategy.
By now you should have a solid understanding of how much consumers use price as a key indicator for where they want to shop and you should understand the methods you can use to effectively automate your competitor's pricing.
When it comes to storefront competitiveness, you need to get a clear idea of what your potential shoppers are actually buying and at what price.
If you want to get a head start and test out a competitor price tracking software, why not start a free 14-day trial with Prisync.
What method have you used to monitor your competitors pricing? Let us know by leaving a comment below!
About the author:
The article was brought to you by Burc Tanir, the CEO of Prisync.com, the competitor price tracking software for ecommerce companies of all sizes from all around the world.

Get started with Omnisend today & drive sales on autopilot with pre-built automation workflows
Start Free Today
related features
Want more sales?
Omnisend has everything you need to succeed.
Start free now
No Credit Card needed.