Drive sales on autopilot with ecommerce-focused features
See Features
Reading Time:
8
minutes
Headless commerce—no, it's not a Sleepy Hollow-themed shop. It's a strange and confusing name for something actually quite simple.
With traditional commerce platforms, you can control how the website looks and how it works (e.g. payment processing, servers, etc.) from a central location. This makes it easier for new businesses to get up and running, but it can be limiting in the longer term.
Headless commerce solves the problem by separating the front-end and back-end, allowing you to offer a stronger customer experience.
In this post, you'll learn:
Let's get started.
What is headless commerce?
Headless commerce separates your website front-end from its back-end. The back-end refers to how your website works: customer data, servers, payment handling and so on. The front-end is what your customers see: the design, user interface, images, fonts, etc.
With headless commerce, you can pick different tools to handle the various tasks instead of letting one platform do everything. It's a website equivalent to buying a television by one manufacturer and a soundbar by a different manufacturer.
One of the key benefits is improved site performance—OneBlade noticed an 83% decrease in the average page-to-page load time after moving to headless commerce. It's little wonder that 61% of retailers either plan to implement headless commerce or already have.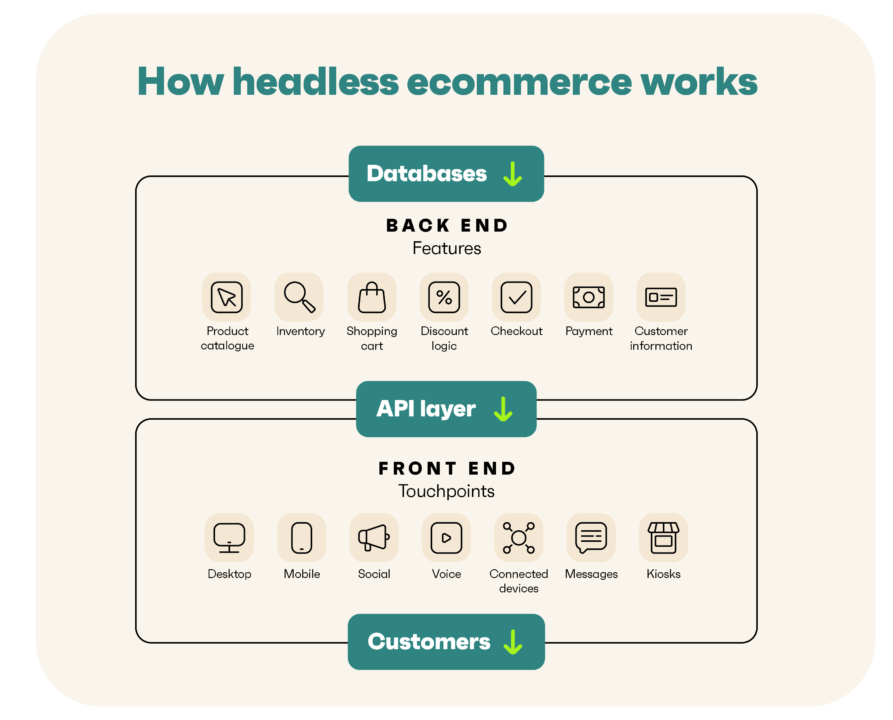 Key benefits of headless commerce
Ultimately, the purpose of moving to headless commerce is to become more competitive and grow your business. It does this by allowing you to make the changes that lead to a more pleasant customer experience. Specifically:
1. Move fast
Traditional commerce architecture is a double-edged sword: on the one hand, it's extremely convenient having everything under one roof. On the other hand, it's not usually possible to directly make changes to the commerce platform because changing one area can cause unwanted changes elsewhere.
Instead, third-party plugins are used— although they're convenient and effective, the system can gradually become very complicated and start to slow down.
Headless commerce avoids this problem, so you can have much simpler architecture and customers can enjoy a faster, smoother experience as a result. And as a bonus, faster websites can benefit your SEO, resulting in better organic search presence.
2. Go omnichannel
Consumers no longer use only one device—90% of people who own more than one device will switch between them, and use an average of three to complete a task. In Omnisend research from 2022, we found that marketing campaigns using three or more channels had a 494% higher order rate than single-channel campaigns.
All of which means it's essential that your store works perfectly on any device. This isn't just about having a responsive website, but that the user experience is just as fast, seamless, and pleasant on a phone as a computer. And this is precisely what headless commerce allows you to do, which in turn means you can maximize customer touchpoints because your store is consistently strong.
3. Happier customers
A faster, slicker, easier-to-use store is going to please customers. A slow, clunky site won't—in fact, customers are more likely to leave entirely if it takes too long to load.
By enabling you to separate the front-end and back-end, and giving you the freedom to select the most appropriate tools for each task, headless commerce is a major boost for the customer experience.
4. Conversion optimization
The ability to choose your preferred solutions also means you're able to test different technologies. As you're not restricted by the availability of third-party plugins—or how nicely they play with your site—you can test various options.
A/B testing is a staple of marketing and for good reason: your audience will tell you what they want. Headless commerce allows you to test the options and get feedback from your visitors, which can help to improve your conversions.
5. Scalability
Headless commerce offers unlimited scaling possibilities. There's one core back-end, which can connect with multiple front-ends. So if you want to have a different site for each language you support, or for product line launches, or for multi store ecommerce plans, you can.
Headless commerce: examples in action
Now you know what headless commerce is and why it's a powerful option, let's take a look at some examples—and in the next section, we'll explore some of the platforms in more detail.

Platform: Adobe Commerce
As a leader in sportswear, you wouldn't expect anything less than a stellar website from Nike. And that's exactly what's delivered here. It's blazing fast and the user experience is at the heart of the design.
Aside from the speed, the Nike website is categorized in multiple ways—for example, you can shop by Men, Women, and Kids, or opt to browse by sport which would show runners different product options to footballers.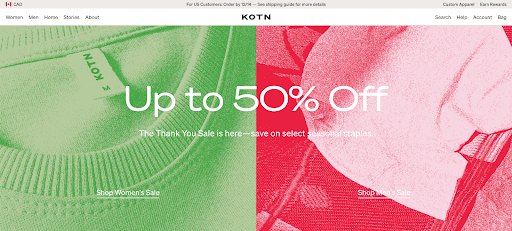 Platform: Shopify Plus
KOTN's website is extremely fast with a seamless user experience that highlights the benefits of headless commerce. Like Nike, KOTN's website allows visitors to browse by category—menswear, womenswear, or home. It also has enticing ecommerce features, such as the ability to rollover product images to see different options and quickly add an item to the basket without visiting the product page.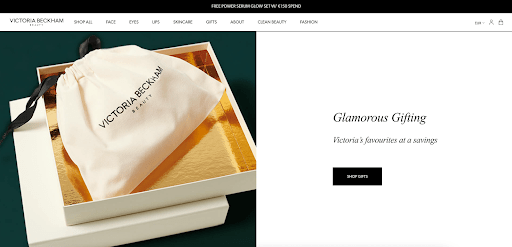 Platform: Shopify Plus
As the name suggests, Victoria Beckham Beauty is a brand that focuses on beauty—and it extends that philosophy to the website.
The Victoria Beckham Beauty site is a masterclass in headless commerce benefits: it's fast and responsive, splits products into different categories based on body part (for example, lips and eyes), and product rollover with quick add for a slick user experience.
The Fashion link in the menu even goes to a different website, highlighting the ease with which headless commerce lets you control multiple front-ends from a single back-end.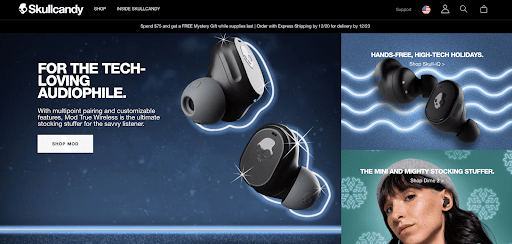 Platform: BigCommerce
An internationally recognized brand for headphones, Skullcandy needs a strong online presence. And it has one. Its website is vibrant, quick, clean, and easy to navigate.
In addition to allowing visitors to see every item at once, shoppers can also quickly visit the category most specific to them with a choice of headphones, earbuds, gaming, or accessories. On the individual product pages, selecting a different product color will also change the page color as a subtle way to enhance the shopping experience.
This is an example of the creative boundaries the Skullcandy team can push with headless commerce, prompting BigCommerce to explain the brand's headless uses in its blog.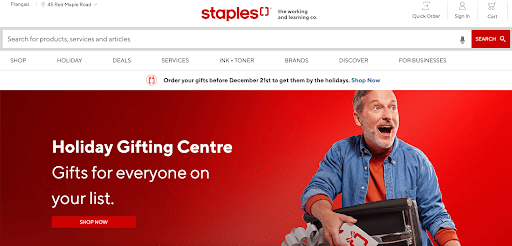 Platform: Shopify Plus
Staples is a huge company, selling a lot of products across a lot of categories. Many businesses can struggle with presenting a clean and intuitive website when it needs to include multiple product lines, but Staples isn't one of them.
The Staples website lets you easily shop across multiple diverse categories—from printers and laptops to cleaning and home furniture—and its homepage neatly presents entire categories alongside individual products. Headless commerce powers the Staples site admirably, offering a strong user experience on a site big enough to cause many traditional commerce systems usability problems.
Best headless commerce platforms
We've looked at some websites using headless commerce, now let's check out some of the best headless commerce platforms to power your store.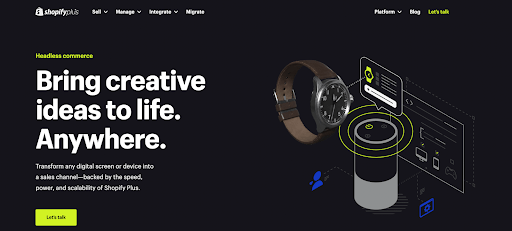 Shopify Plus is the enterprise platform of Shopify—meaning it powers the websites of some of the biggest and most innovative brands on the planet. It's trusted by more than 10,000 brands across 175 countries.
As you'd expect with those numbers, Shopify Plus integrates with the systems you need to run a successful, fast, intuitive website—including ERP, CRM and CMS systems. And if you need help getting set up, its network of partners is there to help.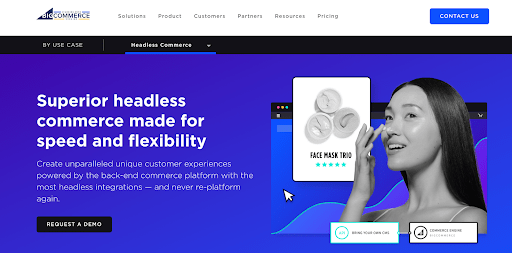 BigCommerce notes that it can support 600 SKUs—per product. That's a strong insight into the power of headless commerce. BigCommerce plays nicely with front-end frameworks, including developer-favorite Next and the fastest static-site generator, Gatsby.
You can then choose your preferred CMS, including WordPress, and the digital experience platforms that will delight your customers: this is where you create a personalized shopping experience.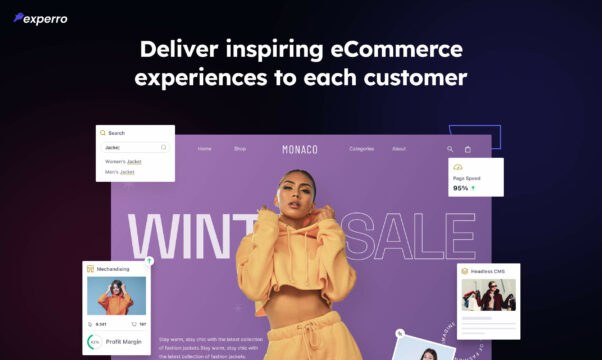 Experro is a comprehensive Digital Experience Platform that provides a range of powerful tools such as a Headless CMS, Headless eCommerce Storefront, Visual Website Builder, AI search & merchandising, and more to enhance eCommerce experiences for every visitor. It empowers marketing teams with no-code tools to swiftly launch new digital experiences on-demand by eliminating developer reliance.
Along with a headless storefront for eCommerce stores, you can use Experro to create headless BigCommerce stores.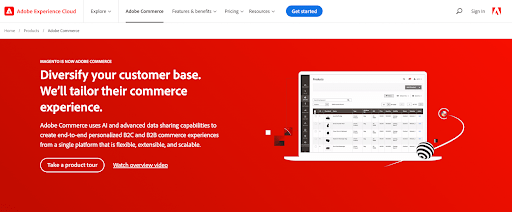 As the platform behind Nike's website, there's no doubting Adobe Commerce's pedigree. Formerly Magento, Adobe Commerce "uses AI and advanced data sharing capabilities to create end-to-end personalized B2C and B2B commerce experiences"—and it seamlessly integrates with other Adobe products. That includes analytics and real-time customer data, which helps you deliver more relevant experiences.
There's also unlimited payment processing across multiple storefronts, all handled from a single dashboard. You can create custom catalogs and price lists, manage inventory, and use the visual merchandiser to recommend relevant products to shoppers.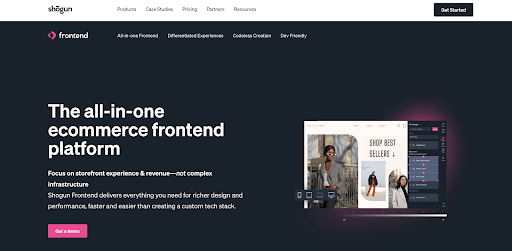 Shogun Frontend is a headless front-end that offers a visual experience manager, codeless updates, and a native CMS, allowing even the least technical person to confidently update the site. There are pre-built react.js templates, and it provides direct access to CMS data so you can create custom experiences and workflows.
Shogun works with leading back-end platforms including Adobe Commerce, Shopify, and BigCommerce—all of which have already made this list. This means that if you're happy with your checkout and payment systems, you can simply add Shogun as the front-end without changing any of the back-end.
Headless commerce FAQ
1. What is the headless approach to ecommerce?
Have you ever used Pick n' Mix to buy sweets? Headless commerce is a technology equivalent: instead of using one platform to handle all of your store's needs, usually relying on a list of third-party plugins as your needs grow, you can choose different platforms to handle back-end things (like payments and inventory) and front-end things (which is everything the customer sees).
2. How does headless commerce differ from traditional ecommerce?
The traditional ecommerce platform is also known as a monolith or monolithic solution. It's an all-in-one service, providing everything in the same place: interface, templates, images, inventory, payment processing, customer data, servers, and so on. This is convenient, especially for stores just getting started. By allowing you to choose different tools for the front-end and back-end, headless ecommerce allows you to create a faster, more personalized experience.
3. When should I consider headless commerce for my business?
If you have the means to use headless commerce early, there's little reason not to. But broadly speaking, businesses turn to it as they scale and either start to reach the limits of the monolith solution, or want to start offering higher-quality experiences for their customers. Headless is much more flexible and can support omnichannel touch points—but it takes more work to get your store setup and live.
4. Is Shopify headless commerce?
Shopify offers an all-in-one service where businesses can enjoy everything being in one place. But Shopify Plus is a headless enterprise solution, offering brands a leading front-end solution to pair up with their back-end tools of choice.
5. Are there any open-source headless commerce platforms?
Yes, there are a number of open-source headless commerce platforms to choose from. These include Spree Commerce, Fabric, Strapi, and Sylius.
Get started with Omnisend today & drive sales on autopilot with pre-built automation workflows
Start Free Today
related features
Want more sales?
Omnisend has everything you need to succeed.
Start free now
No Credit Card needed.