Voice search is an easy way for people to find the information they need. Perhaps it's because of this added convenience that the use of voice search apps is growing in popularity. In 2016, voice searches made up 20% of all queries on the Google mobile app and Android devices.
So if this is the case, even your ecommerce business needs to optimize for consumers who search by voice and cater to their needs more efficiently.
Why You Should Care about Voice Search
Still not convinced that your ecommerce business needs to optimize for consumers who search by voice?
You might change your mind after reading these stats that highlight the growth and importance of voice search and voice search apps:
1. Voice Search Allows for Hands-Free Search
This means that people don't necessarily need to type or hold their phones to find information. They can use a voice search app to complete their search by voice while getting dressed for a date, while cooking, or even while driving.
So it offers more convenience while completing other tasks. In fact, a study conducted by Global Web Index found that 42% of voice search users use it while driving, or when they're unable to reach for their phones.
2. Voice Search Makes for Quicker and More Efficient Search
The average person can type around 36 words per minute, while they can speak approximately 100-130 words in one minute.
This suggests that by completing their search queries through speaking, people can find the required information much faster. The previously-cited Global Web Index study even found that 43% of voice search users use it because it's quicker.
4 Ways to Optimize for Voice Search
Now that you understand some of the biggest reasons why voice search is important, let's find out what you can do about it. You might already have an ecommerce website that's properly optimized for regular search.
And if you wish to optimize your ecommerce business for voice search, here are a few tips to help you out:
#1: Improve Site Speed
You already know the importance of a fast load time to enhance user experience. But your site speed also plays a huge role in how users find your ecommerce business when they search by voice.
A voice search personal assistant or a voice search app comes up with a relevant answer in a matter of seconds. This means they have to find the most easily accessible information within that short span of time.
If your page loads slowly, it won't be able to provide the voice search app with information on time. So the voice search app will pass you up for faster-loading websites that may even be your competitors.
Since there are many elements to a website that can impact the load speed you might not know exactly what to do. You can use the Pingdom Website Speed Test to determine your page load speed and identify the problem areas affecting its speed.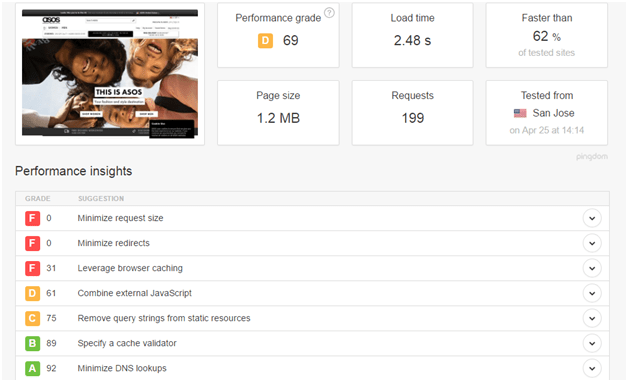 #2: Anticipate Specific Search Queries
If you've ever conducted a search by voice, you'd know that you use a different query from a regular search. For example, you might type in "running shoes" in Google search.
But when conducting voice search, you might say something like:
"OK Google, where do I find affordable running shoes" or "OK Google, which are the best running shoe brands?"
People tend to use phrases and complete sentences when conducting search by voice, just like they're conversing with someone.
So you'll need to make a list of long-tail keywords and question phrases relevant to your business.
For example, instead of using keywords like "women's fitness apparel" you can use longtail keywords like ,"top brands selling women's fitness apparel."
Or you can also use a question phrase like "Where to get stylish workout clothes for women." You can then test them out and see which of them perform best. And then further optimize your copy and webpages using these top-performing keywords and phrases.
To make a list of relevant question phrases, remember the five Ws and H. For example, you can optimize the keyword "workout clothes" as follows:
Who sells affordable workout clothes?
What brand of workout clothes is best for plus size women?
Where can I find workout clothes for kids?
When should I replace my workout clothes?
Why should I opt for durable workout clothes?
How do I choose between two workout clothes brand?
These are just some examples of the question phrases that you can come up with using a relevant keyword. But you can always omit any question that your target customers won't be asking.
Make a list of all the questions that are relevant to your customers and find out how to answer them.
For example, you may have a shopping advice section on the product page to answer these questions.
#3: Improve Mobile Experience
According to Global Web Index, one out of every five voice searchers are using mobile to conduct their search by voice. So what happens when your website pops up as one of the results of their voice search? Chances are they might want to visit your site.
But what if mobile users land on your site only to find that it's extremely difficult to navigate your site? Maybe they have to pinch zoom to read the content or some of the buttons aren't even working, for instance.
You already know that people who conduct search by voice do it for convenience. They're probably in a hurry too so they'd like to quickly access the necessary information.
But when they land on a website that's not mobile-friendly, they're going to have the exact opposite experience. This makes it crucial to optimize your site for mobile users.
A positive mobile experience will prevent voice searchers from moving on to another website that offers information that's more easily accessible.
Optimize your CTA buttons, page layout, toolbars, etc. in such a way that mobile users can easily navigate through your site and find what they need.
You can use Google's Mobile-Friendly Test to check out the mobile-friendliness of your website and whether there are any issues.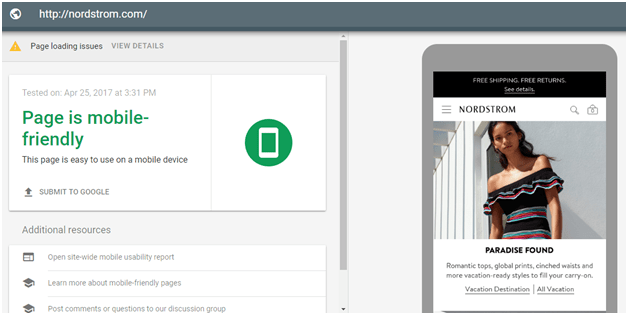 If you're using BigCommerce, however, chances are your website is already mobile responsive. That's why mobile cart conversions for BigCommerce sites is three times higher than the industry average/.
#4: Use Schema Markups
As mentioned in the first point,, a voice search personal assistant or voice search app provides results based on information that's readily available. Unlike regular Google search, they can't list out several results that are possibly relevant to the keyword.
So you need to use schema markup to ensure that search engines can easily find your information. You'll basically be highlighting the most crucial details about your product that you want searchers to know.
Ideally, you should use schema markup to provide important product information such as name, brand, size, price, stock availability, etc.
These are known as rich snippets and should help voice searchers find the most crucial pieces of information without even having to visit your site. And by finding out all the necessary details in the beginning, they get closer to the decision-making stage.
The screenshot below shows rich snippets for a pair of pants from Athleta. As you can see, searchers can find information like average star rating, number of reviews, and pricing.
So they can easily find out whether or not to check out the product page to learn more about it. If the pricing is too high or there aren't enough reviews, they might avoid the page altogether.

Conclusion
These are some of the best ways to optimize your ecommerce business for consumers who search by voice. Remember that if you also own a local outlet, make sure you also optimize for local search.
The goal is to make sure that voice searchers can easily find you. And if you have any questions or anything to add to this, let me know in the comments below.
About the author:
Shane Barker is a digital marketing consultant that specializes in influencer marketing, product launches, sales funnels, targeted traffic and website conversions. He has consulted with Fortune 500 companies, influencers with digital products, and a number of A-List celebrities.