Drive sales on autopilot with ecommerce-focused features
See Features
Reading Time:
5
minutes
The average US millennial spends more than eleven hours a day consuming media. They're well versed in moving from one app to another and are ambivalent about which platforms they perform actions on.
As a result, there are more and more digital spaces becoming vital sales channels. Nearly 25% of business owners are selling through Facebook and 40% are using social media to generate sales. Not only does social media influence what people buy, but 30% of customers say they would make a purchase directly through these channels.
But with social commerce becoming so common, as businesses begin to use (and overuse) the integration of their email marketing with social media, these channels are becoming diluted with sales messages from all kinds of players. And, with so much choice cluttering customers' news feeds, it can be difficult to get the right eyes on your brand.
So what can you do to get heard above the noise?
In this blog post, we take a look at three ways you can creatively use social commerce to engage your customers and keep them for the long-term by building customer loyalty.
Leverage the power of social media
While the share of traffic coming to ecommerce sites from social channels has doubled in the last two years, the value of each social visit has decreased by 11%. However, customers are still using social channels to browse and canvas opinion.
Use your loyalty program to reward customers points for following you on social media. Once they've followed you, they'll be exposed to your social posts on their newsfeeds and will be more likely to engage with you. Don't forget, this simple engagement could always turn into a conversion further down the line.
To make your customers feel valued, you could even share images from your community on your own social channels. Tie up the photos with captions that celebrate your customers and thank them for their contributions – just like Astrid and Miyu have done in the example below.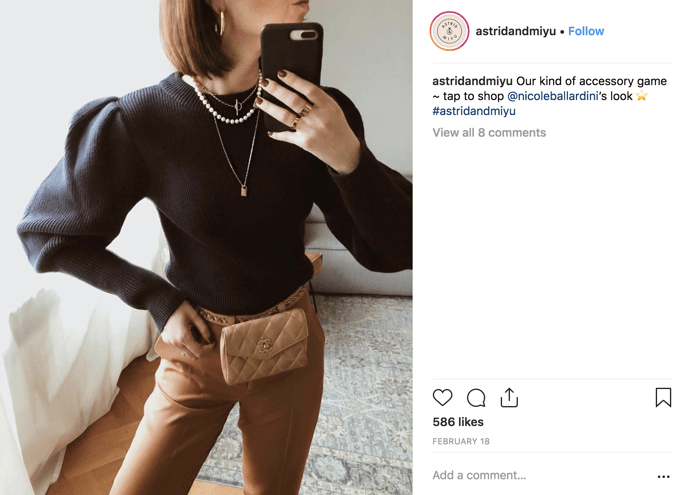 Beauty Bakerie even shows off its social community by displaying member photos on their loyalty page. This demonstrates that they value their existing customer base and creates a community new customers will be excited to become a part of.

With 84% of customers trusting online reviews as much as they do personal recommendations, they are a perfect way to build your social credibility. Reviews validate the quality of your products where customers are unable to try them on, touch them or test them out.
And, as new customers know they're from shoppers just like them, they act as a more authentic form of content.
Use your customer loyalty program to reward your existing customers for leaving product reviews on their recently bought items. You could then use these testimonials as fuel for your social campaigns. If prospect customers see that real people love your product, they'll be more likely to trust the integrity of your brand.
Engage in the inbox
When a customer completes their first purchase this shouldn't be the end of your relationship. They've just opened the door for communication, so don't miss the opportunity to build social bonds with them long-term. For many, emails are a great place to start.
Turns out, emails tied to your loyalty program perform 14 times better than regular marketing emails. They're a perfect way to build emotional connections with your existing customers and entice them back to your site.
Remind your members about the perks of your loyalty program in your emails.
You could send monthly updates that show customers their points balance, the rewards they've gained and the new offers available to them.
Or, include personalised points or product recommendations based on their previous purchasing behaviour. By showing products and rewards that have more relevance to your customers, they'll be more likely to return to engage with them.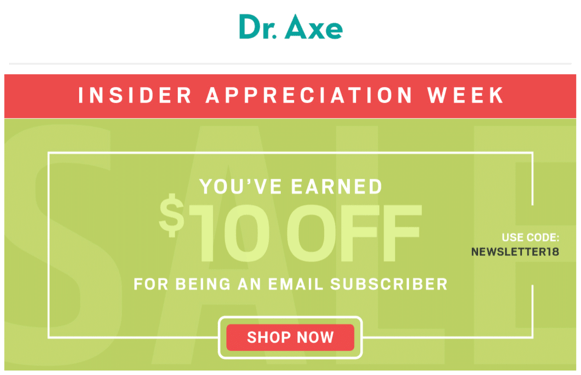 You could even use emails to engage customers who are becoming at-risk.
Maybe they haven't bought from you in a while or have items left in their cart. Emails are a great way to pique their interest before you lose them for good.
Try surprising and delighting them by moving them up a loyalty tier and letting them know over email.
This way, they'll be reminded why they chose to shop with you in the first place and will be excited by the prospect of having new points to unlock.
Use brand advocacy as an acquisition strategy
Research shows that customers are four times more likely to buy when referred by a friend. Be sure to foster a sense of community within your customer loyalty program and transform it into a social space like-minded individuals can engage with one another. Once a customer feels like they belong, they'll be more likely to tell others about your brand.
Annemarie Skin Care built up a circle of faithful customers with its "Honest. Wild. Beautiful. Tribe".
The loyalty program embodies the brand's beliefs and, as a result, the mindset of their customers. It also rewards members for referring friends.
This encourages these already loyal customers to act as advocates on the brand's behalf.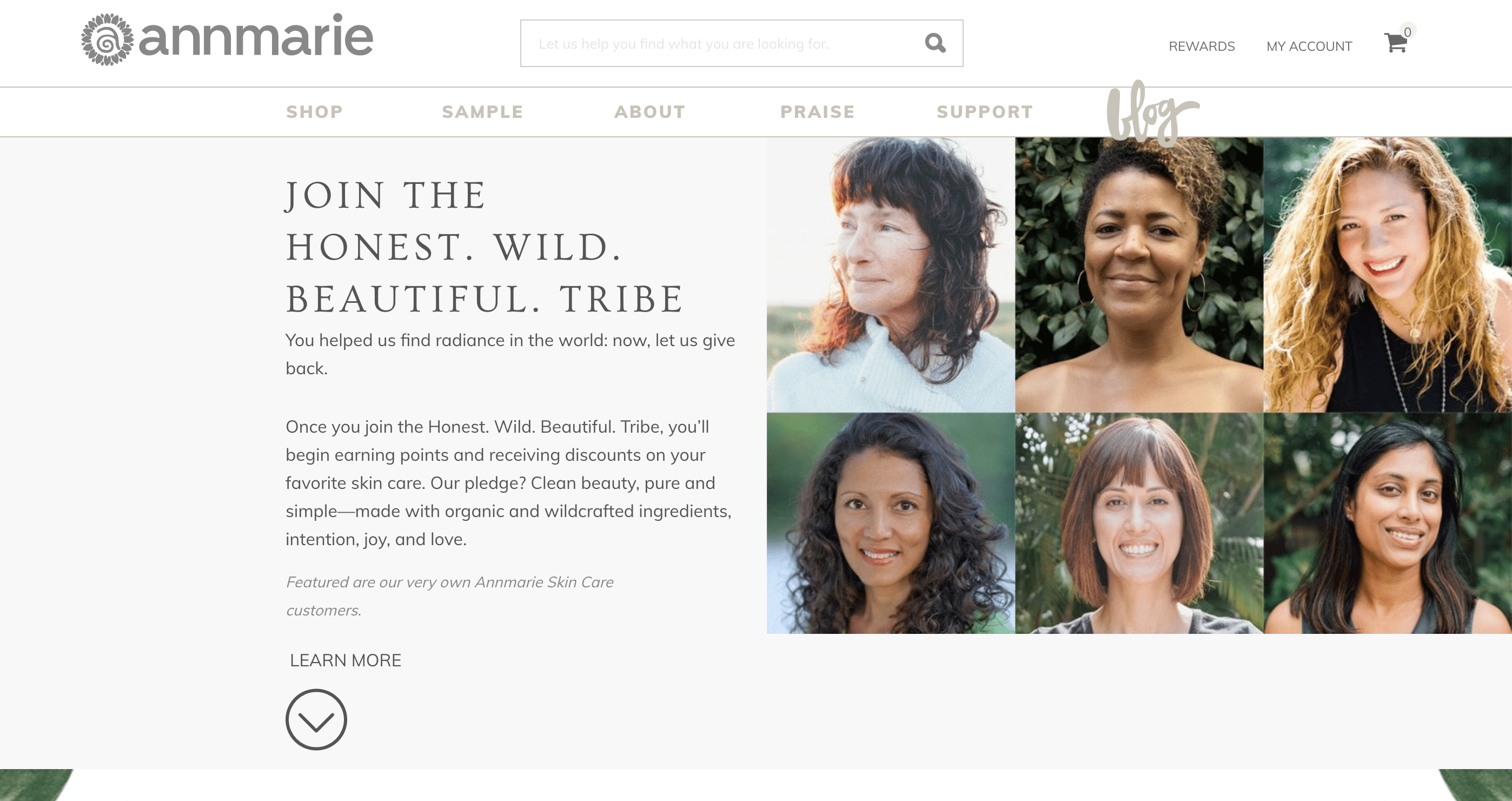 Take a page out of Annemarie Skin Care's book and reward your faithful customers points when they refer others to your store. They're a cost-effective way to gain new shoppers so don't let their engagement go to waste.
It's no doubt that social media and digital shopping are the new normal.
Instagram or Facebook influencers can boost your sales.
But with 97% of B2C marketers using Facebook and 65% using Twitter, it's easy for smaller brands to get lost in the noise. We hope this post has made you think of new and creative ways to leverage social commerce. Stay ahead of the trends and you'll be well on your way to securing long-term customer loyalty.
About LoyaltyLion
LoyaltyLion is a data-driven loyalty and engagement platform trusted by thousands of ecommerce brands worldwide. Merchants use LoyaltyLion when they want a fully customised loyalty program that is proven to increase customer engagement, retention and spend. Stores using LoyaltyLion typically generate at least $15 for every $1 they spend on the platform.
Get a personal 1-on-1 Omnisend demo that will supercharge your next campaign!
Get My Demo
related features
Want more sales?
Omnisend has everything you need to succeed.
Start free now
No Credit Card needed.