Best Practices for Ecommerce Email to Chime in Excellent Sales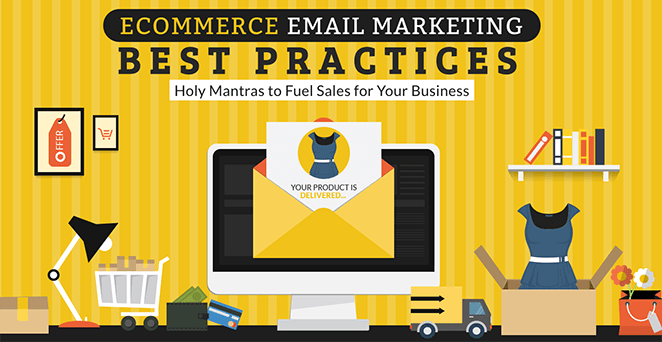 Reading Time:
3
minutes
Ecommerce industry is prospering. With more and more people becoming mobile users, shopping for commodities became more approachable via online ecommerce portals.
Tapping different sections of your mobile screen in the correct sequence brings the latest Fall collection, seen yesterday on TV, right at your doorstep.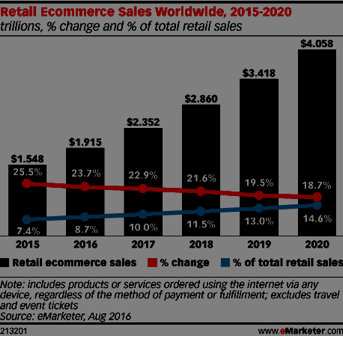 As the above graph denotes, the overall retail ecommerce sales increased by $368 billion in a span of 1 year (2015-16) and is expected to reach $4.058 trillion by year 2020. This is only achievable through proper customer acquisition and retention techniques.
The overall retail #ecommerce #sales is expected to reach $4.058 trillion by year 2020. https://goo.gl/YYdH1O
Click To Tweet
As per October 2016 survey data, Custora deduced that Organic search, Cost Per Click (CPC) and Email are top 3 channels for most ecommerce purchases with email marketing bringing 19% of the traffic.
Sending an email is a cost effective way to bring your brand to your customer, rather than waiting for them to chance upon your brand from the other two channels. So it is necessary for your emails to impress your subscriber as soon as it lands in your subscriber's inbox.
In the following Infographic titled "Ecommerce Email Marketing Best practices: Holy mantras to fuel sales for your business", seven of the best practices prevalent in the Ecommerce industry have been listed.
#1 "Mobile – First" Approach: As per a Litmus study, 56% of email opens are occurring on mobile devices. So, if the layout of your email gets disrupted on your subscriber's screen, you lose a sales opportunity. Hence, emails need to be responsive.
#2 Creative Subject Line: As soon as your subscriber receives your email, the deciding factor is the subject line and the pre-header text which shall prompt them to either open or delete your email. Those subject lines which generate urgency have been observed to convert better.
#3 Email Personalization: Everyone loves a personalized email with custom email content. This is achievable with improving your existing customer persona. The more questions answered by your subscribers = more precise customer persona you have.
#4 Incentives and CTA: Loyalty coupons or Free shipping offers are like magnets that increase customer engagement. Organic Aromas Boosted Newsletter Signups by 150% is an evident example of how a pop-up offering discount coupon at the correct time can help you onboard even more customers than expected.
#5 Email Send Time: Timing your emails is also important. An email sent early in the morning or late at night ends up getting lost in the clutter of other emails. The top 4 best email send times for optimum results:
10AM > 2PM > 8PM > 6AM
Sending ecommerce emails twice in a month has better conversion rate, ~0.27%.
Click To Tweet
#6 Testing your emails: The following elements of emails can be tested:
Offer
Preview text
Subject line
Landing page
Perfect sending time
#7 Automation: Though everyone desires personalization, it is not possible to do so manually. Hence, investing in an email automation is a valuable addition to your email strategy. Understanding the what, why, when to send triggered emails shall ease your efforts while pleasing your subscribers.
To get a better grasp on the above stated best practices in ecommerce email marketing, check out the full list of tips from Email Uplers.
Looking for a way to take your email marketing to the next level?
Get a Demo